Saint Tropez, the Côte d'Azur seaside town, is a Romantic Port of call which became a spectacular resort destination after World War II. Drawn for its unbeatable setting and glamorous vibe, St Tropez saw an influx of artists of the French New Wave then the European and American jet setters came along. But it was legendary actress Brigitte Bardot who put the town on the map when she filmed "And God Created Woman" here.
When we were in Southern France and we spent a perfect day in Saint Tropez, while we didn't get to the beach we spent a leisurely day exploring the town. We didn't have a plan like we most always do when boarding the boat to St.Tropez, we just wanted a day out in the Mediterranean waters, just a relaxing day. And that is exactly what it was, a Provencal escape!
One day in Saint Tropez
We enjoyed our boat ride from Nice to Saint Tropez and saw some mega yachts in the water as we crossed Cannes and Antibes.  When we reached the Old Port of Saint Tropez, it was filled with many more million-dollar yachts and the town had chic fashion shops and boutiques. 
We browsed through the provincial markets, we saw the hustle and bustle of the port in the La Ponche fishing quarter, walked around the cobbled lanes leading to St.Tropez Church and the 17th century Citadelle de St. Tropez.  This spot has fantastic views of the city! (scroll down to see it…)
Mega Yachts & Boats we saw along the way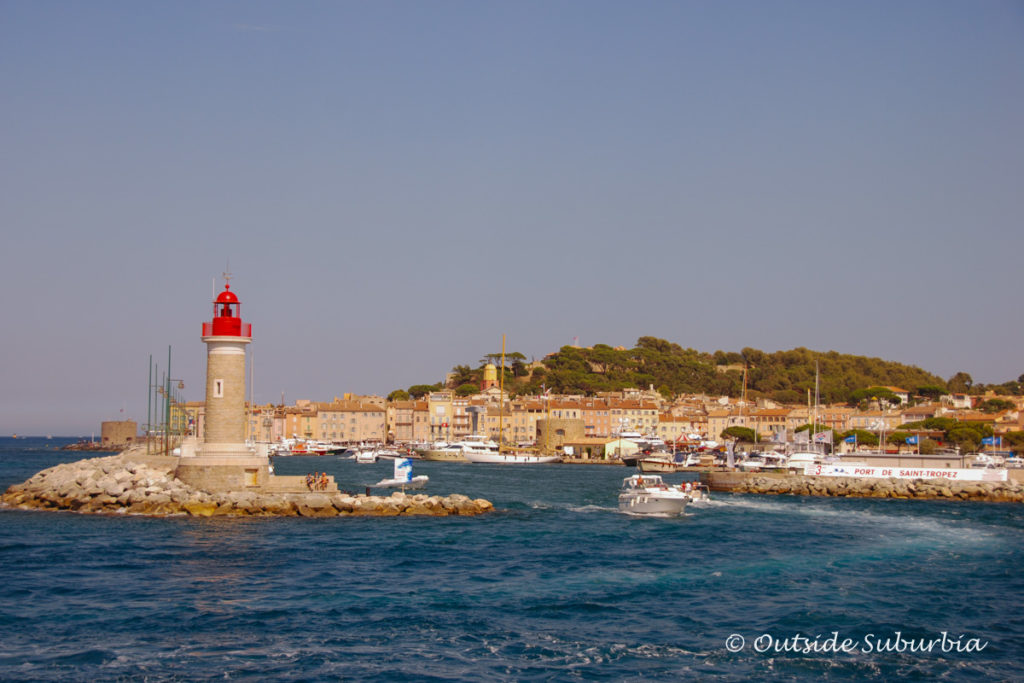 Exploring the town of Saint Tropez
After stopping at the provincial market and picking up some cheese and bread we walked around the cobbled lanes leading to St.Tropez Church and the 17th century Citadelle de St. Tropez for the best spot to see views of the city! I was kicking myself for not planning a stay in this charming town.
We then walked around town to check out some stores and do some shopping.
Shopping in Saint Tropez
A great spot for Lunch or Dinner is the Dior De Lices located in the stunning Jardins de L'Ambassade, Dior the fashion brand has an amazing restaurant in St Tropez, with a 3 Star Michelin Chef leading the kitchen. If not for a meal, stop by for some coffee, desserts, people watching and of course shopping.
Chanel sets up a popup store in Saint Tropez during the summer months. Gabrielle Chanel created a lot of her designs by getting inspiration from the Mediterranean atmosphere in Saint Tropez. The summer pop-up store is in the center of the town, until the first week of October, in the gardens of La Mistralée mansion.
For such a small village, Saint Tropez has some big brand stores. You will find the likes of Louis Vuitton, Hermes and more, in fact Saint Tropez is the number one shopping destination in all of Cote d'Azur.
After stopping by for a snack of French macarons from Laduree, we walk around the Provencal market where we saw everything from flowers, fresh fruits to olive oil, sausages and cheese.
Tarte Tropézienne
Made popular by French actress, Brigitte Bardot, who was in Saint Tropez filming her debut movie, "And God Created Women" Tart Tropezienne is a must-try when visiting Saint Tropez. This French pastry which is a brioche filled with a special cream should be available in all bakeries in St. Tropez.
Place des Lices in the heart of Saint Tropez is a delightful place where the open-air market is held. When it is clear of people and the markets, you can see how it is lined with 100-year old plane trees. When we walked through there later in the afternoon the canopies from the market were cleared and you could see the 60 feet plane trees lined up in the beautiful square.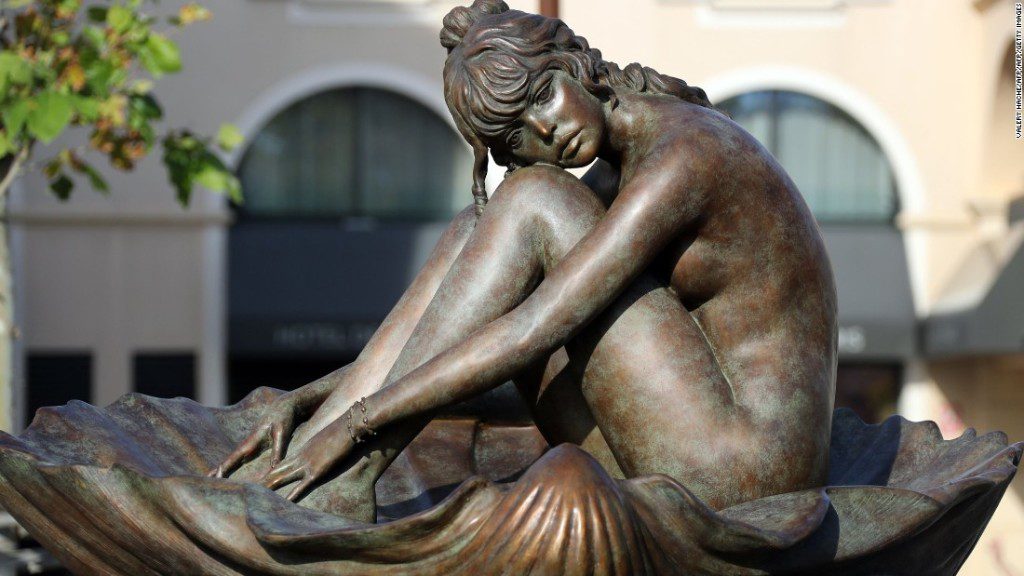 Best Beaches in Saint Tropez
We didn't really plan on going to the beach – we didn't even know such beautiful sandy beaches existed on the coast since most of the Cote d'Azur beaches were so pebbly. On the way back we saw some sandy feet on the boat and found out about the beaches. Unlike the beaches of Cannes and Juan Les Pins, St Tropez has some of the best and beautiful beaches – glorious deep white sand stretches out into fabulous azure blue water that gently slopes away into the bay.
Bummer!! We totally missed it but now I have an excuse to go back!
Here what we found out after our trip – The wealthy Plage Port Grimaud is the best beach to see and to be seen lounging in a Burberry bikini. Plage de Tahiti is notorious for its "unspoken" clothing-optional policy and risqué atmosphere.
The best beaches for families can be found at Plage de la Bouillabaisse, Plage des Graniers and Plage des Jumeaux, which also offer beachside playgrounds.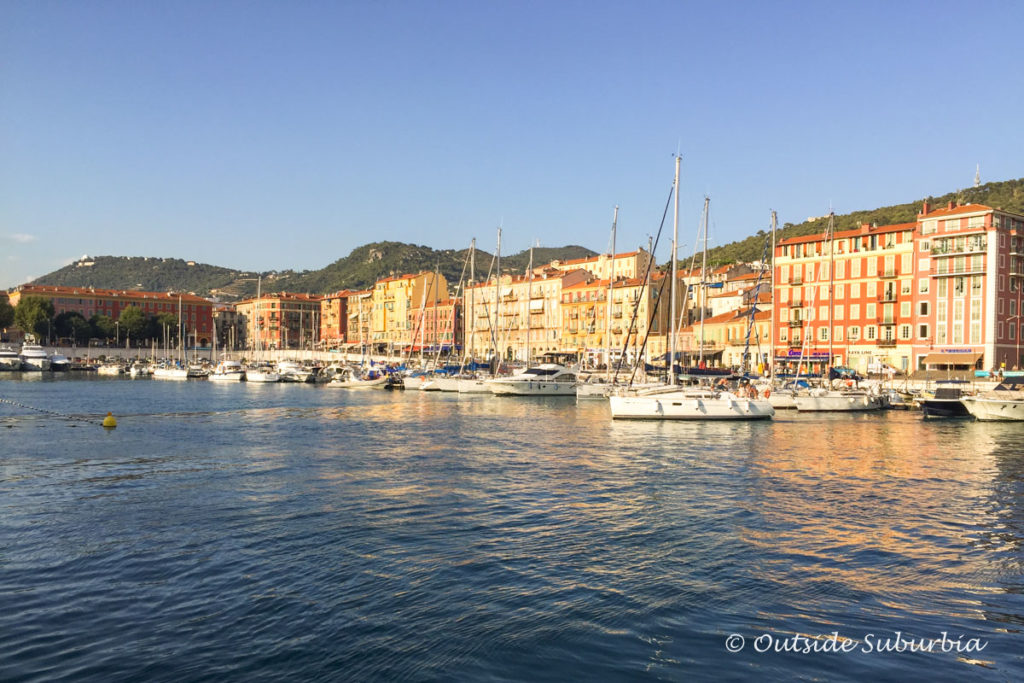 Most of the Côte d'Azur's other beaches (with the exception of the gorgeous Plage Mala in Cap d'Ail) are bordered by roads, apartment buildings, and even railway tracks!
Plage de Pampellone is 3 miles of beautiful beaches, bars and places to stop for snacks. Pampelonne Beach or Plage de Pampellone is actually not even located in St Tropez itself, but rather in the neighboring commune of Ramatuelle.
This is not the case with Plage de Pampelonne! There are more than 25 beach clubs on Pampelonne offering something to suit every taste. The 5 famous beach clubs are Club 55, Bagatelle, Les Palmiers, Nikki Beach and Tahiti Beach. You do not need to be a millionaire to go there as most of these beaches offer sunbeds from around €30-40. How much you spend on drinks is of course totally up to you 🙂
Where we ate
Near the harbor, we enjoyed a delicious meal and a glass of local favorite, Côte de Provence rosé at a sidewalk café – Cafe de Paris, I think we have ate at every possible Cafe de Paris we came across on this trip.
Best Restaurants in Saint Tropez
Some of the best restaurants in Saint Tropez I'm saving for next time are:
The Michelin star La Voile restaurant inside La Reserve Hotel & Spa offers delicious meals and a way to get to know this top hotel in Saint Tropez.
Three Michelin Star, La Vague D'Or at Cheval Blanc is the best restaurant in Saint Tropez followed by L'lsoletta, a charming Italian bistro in the Relais Chateau property La Bastide de Saint Tropez. Le Pationata's terrace inside Hotel de Paris is another popular spot for a meal at a reasonable price.
How to get to Saint Tropez
We took the Trans cote d'Azur boat from Nice which left the port at 9am and it took us two hours to get to Saint Tropez, we took the 4 pm boat back to Nice.
You can also drive from either Nice or Marseille, there are no direct trains to Saint Tropez. Nice is 90 minute drive away and Marseille is 2 hours away.
Planning a trip to the French Riviera? See where we stayed in Nice
Other things to do in Saint Tropez (If we go back again)
Tropez is one of the liveliest towns along the coast during the summer. You can delight in the sandy beaches, culture, gourmet food and nightlife of St. Tropez. If we go back again, we will plan on spending a few days there. We loved the quiet fishing village that has turned into a glamorous little town. The town was busy during the day with day-trippers like us but it gets pretty quiet after dusk.
Art lovers can admire the works of Signac, Denis, Matisse, Picasso and more at the Musée de l'Annonciade, converted from a 16th-century chapel to an eclectic modern art museum. The collection on show, ranges from 1890 to 1950 and is both of surprisingly high standard and homogeneity. The artists displayed have based their work upon the study of color as well as shape, the whole collection is composed of top range pictures, essentially belonging to the pointillist, Nabis and Fauvist movements. I really wanted to go but did not have time for it.
Where to Stay in Saint Tropez
Here are a couple of hotels that are on my list when we go back next time. Hotel de Paris-Saint-Tropez has elegant rooms and suites that evoke refined luxury. The hotel has been totally redesigned recently and even has a suspended glass-bottomed swimming pool. There are several restaurants and the rooftop lounge "Les Toits" is popular for sun-downers.
Just a few minutes from St Tropez and overlooking the Mediterranean, La Reserve Ramatuelle Spa Hotel has a large spa with a huge range of state-of-the-art treatments. The hotel has 9 rooms and 19 suites each with a private terrace or garden and a few luxurious villas. This design hotel boasts some of the best views and the PERFECT place for a voluntary exile!
With only 31 rooms and suites, Cheval Blanc St-Tropez is another beautiful hotel for the Tropezian holiday.
Located in the heart of the village and each room uniquely decorated in a Provençal theme Byblos Saint-Tropez is dreamy as it gets!
PIN IT FOR LATER
Note: This post may contain affiliate links, partnership or sponsored content. If you purchase an item via one of these links, we may receive a small commission at no extra charge to you. But as always images and opinions are our own. For more information on our affiliates and privacy policy at Outside Suburbia see here.
CONNECT WITH US