So you have been to Paris a few times but can you really check France off your list if you haven't visited Southern France?  Called Région Sud or PACA, Southern France includes Provence, French Alps and Côte d'Azur. You most definitely heard of the lavenders of Provence and the glitz and glamour of Cote d'Azur, or as we call it in English, the French Riviera!  From picturesque towns, to sandy beaches and mountain adventures there is plenty of things to do in Southern France on a Family Holiday. You would need a car to explore Provence and the Alps, but most towns are well connected by trains and other public transportation system that allow you to hop from place to place in the French Riviera.  We spaced out our activities to visiting Lavender fields, museums, just goofing around in the town squares and shopping for soaps, pausing for coffee and crepes in small towns…. so the kids are still enjoying this road trip. Here is our Provence and French Riviera Itinerary from a couple of summers ago when we went on a road trip in Southern France.
Where is Southern France?
Where is Region Sud or PACA? What places make up Southern France?
Région Sud is bounded to the east by the France-Italy border, to the south by the Mediterranean Sea and by the Principality of Monaco, to the north by Auvergne-Rhône-Alpes, and to the west by Occitanie, with the Rhône river marking its westernmost border.  It includes Midi-Pyrénées, Provence, The French Riviera and Languedoc-Roussillon and the beautiful island of Corsica.
A 10 day Southern France Itinerary
We started our trip in the capital city of Marseille, rented a car and drove to Aix-en-Provence.  We were a little late for lavender season but still managed to find a few fields. We explored a few towns in Provence and The French Riviera.  After a boat ride in the Mediterranean to St. Tropez and a French Riviera Road trip we took the train from Nice to Paris.  We spent 3 days in Paris before heading home. This is what our Southern France 10 day itinerary to Provence and the French Riviera looked like.
1 day in Marseille
1 day in Arles
2 days in Avignon
2 days Aix-en-Provence
4 days in Nice
Map for the Provence and French Riviera driving tour

Getting to Southern France 
If possible, book a multiple-leg itinerary to allow you to fly into Marseille and flying out of Nice Côte d'Azur airport, as this eliminates the need to return to Nice at the end of your trip. Alternatively, this itinerary can make a great add on to a France vacation that starts or ends in Paris. Air France has non-stop flights to Paris from many gateway cities. You can take the train from Paris to Nice or vice versa… it nice train ride along the French countryside.  We saw fields after fields of sunflowers on the train ride.  Renting a car (We use AutoEurope, you can get great deals and sometimes get upgrades) will give you the most flexibility of schedule, it is easy to drive in France especially in the country side.  This way you can find all the hidden gems, stop and take as many photos you want when you are on your Provence and French Riviera driving tour – believe me you can't help yourself! You could certainly use a French rail pass to do this itinerary tour of Southern France as well.
Provence Road Trip

Plane tree lined roads on the way to Saint Remy
Marseille, capital of Provence
Plan for at least a night in Marseille to discover the small fishing ports, the churches and sip a Patis, an anise-flavored spirit and apéritif at sunset on the Vieux-Port while watching the mega yachts and dream boats. The largest cities in the region and the administrative capital, there is plenty to do in Marseille. You can't miss the huge golden statue of the Virgin Mary and Child on top of the Basilique Notre-Dame-de-la-Garde, a19th-century basilica, the emblem of Marseille. Go inside for a remarkable ornate Byzantine-style interior. Take the boat trip out to the famous Chateau d'If where Edmond Dantes was wrongly imprisoned in The Count of Monte Cristo by Alexandre Dumas. Today it's a good place to get away from the Marseille crowds. Combine it with a visit to the Iles de Frioul.
If you have an extra day, you can do a day trip to Cassis which is a charming portside town tucked in between towering cliffs near Marseille on the Mediterranean coast. It is becoming a popular places to visit in the South of France due to its recent reputation as the new St Tropez.
Arles
If you love Van Gogh, you might want to spend a night here and walk in his footsteps. Arles is a small town with plenty to see and do in an afternoon. Take a free Van Gogh walking tour to see the exact spots depicted in the artist's work. You visit the grand amphitheatre and other sites and on the next day drive to Saint-Rémy-de-Provence monastery, where Vincent Van Gogh spend his later days.
The city indeed boasts several monuments inscribed on the UNESCO World Heritage List: Its Roman amphitheatre (Les Arènes); its ancient theatre; the Alyscamps, an alley lined by sarcophaguses; the Cryptoportiques, a network of underground galleries supporting the ancient forum; The Constantin's Thermal baths, the portal and cloister of the Church of Saintt-Trophime.
The Pont du Gard, the highest Roman aqueduct in the world is just a half-hour drive from Avignon and the perfect place to spend and afternoon when driving from Arles to Avignon.
Saint Rémy de Provence
The chic little and light filled town of Saint-Rémy-de-Provence is very well popular with artists for its charming boulevards lined with plane trees, its pretty narrow streets, its shops, its cafés and restaurants, and its République square, very lively during market days.  It was market day when we visited and we enjoyed browsing through all the art on display.
A little outside the town of Saint Remy is The Saint-Paul-de-Mausole monastery, which is a hospice since the 18th century. It is famous for having welcomed Vincent Van Gogh. Inspired by surrounding nature, the painter produced some of his most famous works there, such as the Sunflowers (Les Tournesols) and the Cypress (Les Cyprès).  See here for more about Saint Paul de Mausole and visiting the Van Gogh Asylum.
Les Baux de Provence
Les Baux de Provence has been declared one of the most beautiful villages in Provence, and home to the magnificent Château des Baux. Although the castle is now in ruins, it remains one of the most impressive châteaux in Provence, and there's plenty left to explore within the old walls and grounds.  This was a quick whistle stop after we visited Saint-Rémy-de-Provence on the way to Avignon.
Avignon
Hugging the banks of the Rhône River, Avignon is dominated by the fortress-like Palais des Papes (Palace of the Popes), the home of the French Popes who lived here for most of the 14th century.  Walk across the Pont d'Avignon which appears in most photos of Avignon. This famous bridge spanning the length of the Rhône, nowadays only 4 of its original 22 stone arches.  You can base yourself in Avignon and spend 3 to 4 days exploring the area, unfortunately we did not have that luxury.
If you have more time you can plan to visit the charming canal side town of L'isle-sur-la-Sorgue.
Gordes
Perched on its promontory, Gordes is postcard-pretty. This famous Provençal village is listed one of the most beautiful village in France. Its castle, narrow paved streets and pretty shaded square make it a lovely place to wander around. We drove from Avignon to Aix-en-Provence stopping at Gordes and Roussillon. We had ice cream and goofed around in village square in Gordes and shopped for soaps and lavender parfums.  This is another place where I wished we stayed longer and woke up to church bells in the morning… see the link to see what I mean.
If you have time you can visit The Sénanque abbey, a Notre-Dame abbey in Sénanque near Gordes that sits in the middle of the lavender fields. Built in the 12th century, this abbey is a beautiful example of primitive Cistercian architecture.  Be warned that the roads to the abbey are pretty narrow and there is no light when it gets dark.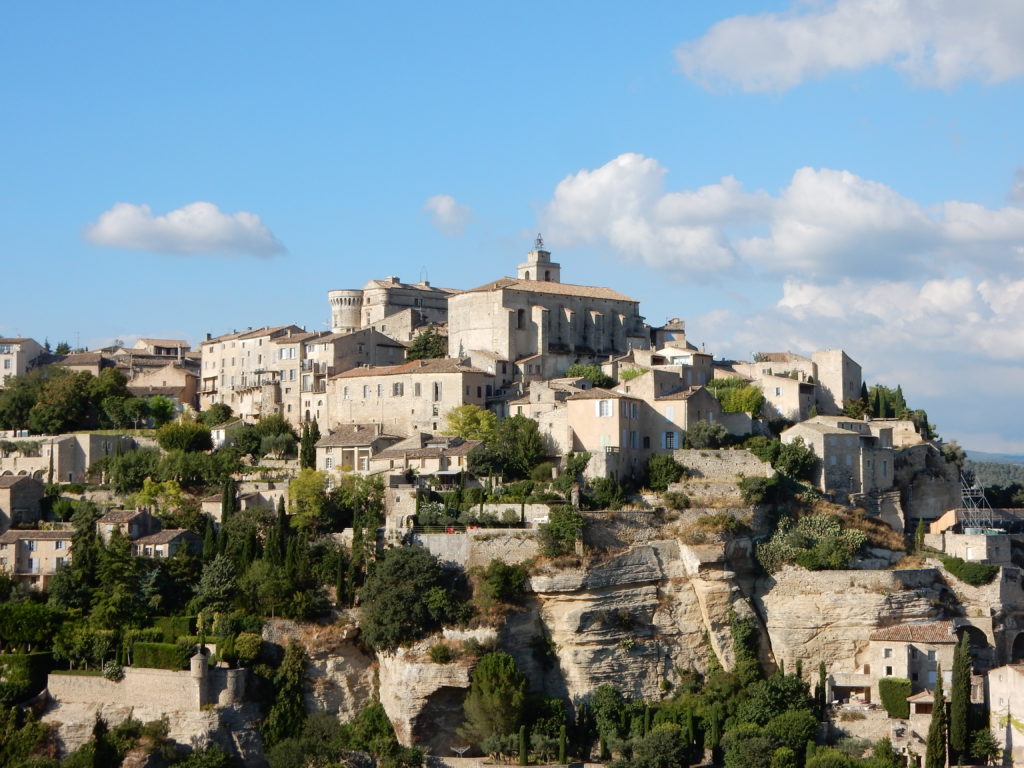 Roussillon
Roussillon is ochre village that you can not miss on our road trip in Provence.  Roussillon located in the heart of the Luberon, is another villages listed as one of the Most Beautiful Villages of France. The colors of the houses are so vibrant is shades of ochre color. The central square is magnificent, decorated with flowers and lined with restaurants where we had coffee and crepes while chatting with the owner. This village also offers a beautiful view of the peaks in the fairies' valley called Val des Fées and the giant's causeway Chaussée des Géants. We did not want to leave this place, see here for most photos from Roussillon, and you will understand what I mean.



Aix-en-Provence
Once we made our way to Aix-en-Provence and visited the markets in the evening we did not want to leave. The streets were so lively with that South of France charm, with plane tree lined boulevards and moss covered fountains at every turn. Our original plan was to spend just a night, we spent 2 nights and drove to Sault the next day looking for lavender fields. It was beginning of August embarked on our little road trip in Provence, which was well beyond lavender season.  Although hard to predict, the best time for seeing lavenders in Provence is July.  But one of the vendors who owns some lavender fields told us that there were a few unharvested fields near Sault in August, so we decided to drive to go find them the next day! A spontaneous trip hunting for Lavender, how could I refuse!


Evening market in Aix-en-Provence near Cours Mirabeau where we bought lavender everything and Calissons.  Calissons is a sweet delicacy unique to the region which is a mixture of finely ground almonds, melon de Provence and candied orange peel, all layered on a wafer bed covered with royal icing setting… one word yummy.  I bought them to give as gifts and finished them all on the trip 🙂



Aix-en-Provence is well known as the city of art and lights, many famous artists have lived here. These days it is a college town with a Provençal charm. Paul Cezanne was a French artist and Post-Impressionist painter who both Matisse and Picasso referred to Cezanne "is the father of us all".  The Sainte-Victoire mountain near Cézanne's home in Aix-en-Provence was one of his favorite subjects and he is known to have painted it over 60 times. Cézanne was fascinated by the rugged architectural forms in the mountains of Provence and painted the same scene from many different angles. We drove this mountain several times on our road trip in Provence.

Albeit a little gray, unharvested lavender fields near Sault, Provence we found in August during our road trip in Southern France
Harvested Lavender Fields near Sault, Provence
Sault
Early July is really the best time to visit lavender fields in Provence. The entire region is filled with vibrant purple fields. The Valensole Plateau, Sault Plateau, and the Luberon Valley are some of the best places to find lavender fields in Provence.  The upper Luberon lavender fields and the Château du Bois lavender are generally harvested around the 15th of July. The Lower Luberon fields, the Valensole lavender fields and those in Grasse and near The Sénanque abbey are harvested later in July. Keep in mind that by the end of July most are harvested.  If you're visiting Provence later in the season, your best bet for finding Lavender in August is Sault.



The fortified village of Sault sits on a ridge with thick wooded forest on one side and a rolling agricultural valley on the other. The village was sleepy with a few locals playing bocce in the city center. We picked up a walking tour map from the local tourist office, who also pointed us to some lavender fields near by. It was a quaint town painted in pastel shades of blue and green and we had a lovely day wandering through the medieval streets of this Provençal village.  Sault was the highlight of our Provence trip!
French Riviera Itinerary
Lunch at the famous Eden Roc Hotel which is perched on the tip of Cap d'Antibes
From Aix-en-Provence we drove to Nice for The French Riviera portion of our Southern France trip. With its sophisticated and vibrant towns such as Nice, Cannes and Saint Tropez, is was beautiful area to spend a holiday together as a family. You might come across famous celebrities here – especially festival season when Cannes hosts the annual Cannes Film Festival which has highly popularized the region among the international jetsetters and fashionistas. We based ourselves in Nice for 4 days and did a French Riviera road trip to Antibes and Monaco and took at boat to visit Saint Tropez.
Nice
Nice is a perfect place to stay for a few days for a classic South of France experience.  You can do day trips to so many different places on the French Rivera from here. We went to Monaco, Antibes and Saint Tropez from here. It is a perfect place to admire super yachts at the port, sip some chilled wine on the terrace or enjoy Al Fresco dining at the old town Cours Salyea. Elegant and glamorous this city is typical French!
Street performers in Place Masséna, Nice, France
There are some lovely museums and art galleries few miles or a train ride away like Picasso Museum at Antibes, Matisse's chapel and Chagall Museum. it helped that the Westminster Hotel was a quick uber or taxi ride to the train station. We spent the days in different towns of the French Riviera and evenings in town. There are plenty of pebble beaches to relax on or just walk along the Promenade des Anglais which was paved when the Royalty descended to the French Riviera and wanted to enjoy the Riviera without messing up their gown or shoes.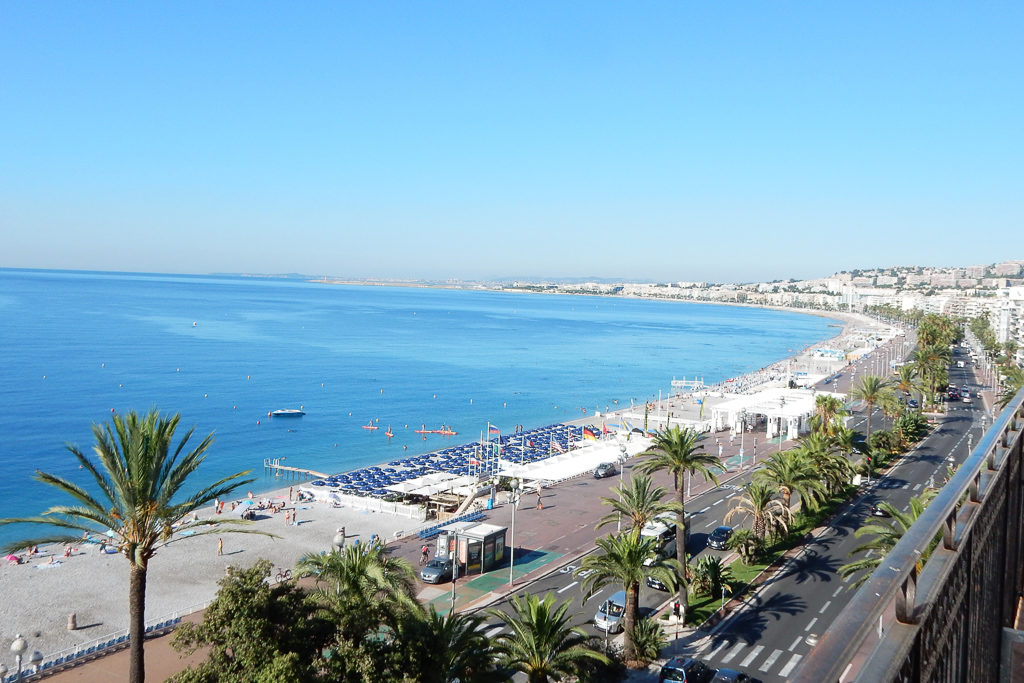 French Riviera Views from our Hotel in Nice.
The beach in Nice is pebbly, rocky and uncomfortable, head to Villefranche which is the closest sandy beach. It is a quick ride away by bus or train.  Get there early to score a spot.
Cap d'Antibes
Eden Roc is perched on the tip of Cap d'Antibes, overlooking the sea water pool blasted out of the rocks below, and bathed in sunshine, this was the place to savor the unquestionable style and pleasures of the French Riviera. Perhaps one of the most famous and exclusive luxury hotels in the world it is a favorite of A list celebrities and the world's elite. It is set amid a fragrant pine forest occupying 22 acres of perfectly manicured gardens right to the cliffs of Mediterranean Sea.
Yacht sightings at Lunch, view from Eden Roc Grill
You need pretty deep pockets to stay there so we decided to spend an afternoon at Eden Roc Grill and bar just enjoying a lazy afternoon of cocktails and lunch watching the sea lapping the rocks below, the big and small yacht with the Lerins Islands as a backdrop.  We had a lovely lunch and tried the homemade snickers bar, strawberry pie and chocolate cake, all dusted with gold foil. I loved the custom china at Cap-Eden-Rock Grill. It cost a pretty penny but the relaxing day, the amazing view and meal was worth every bit.
Port of Antibes known as Bay of Billionaires
It was such a relaxing day that we ditched our plans to see more of Antibes and visit the Picasso Museum located in the seaside Chateau Grimaldi and just spent the entire day enjoying the French Riviera Views.
Èze Village
The prettiest village on the French Riviera probably is the Eze Village which is perched on the top of a mountain, offering stunning views all around. From Nice you can take the #112 and #82 bus or you can take the train to Eze-sur-Mer, which is all the way down at the coast. Eze is a tiny little town with stone buildings, art galleries and a few restaurants, plus two luxury hotels called Château de La Chèvre d'Or and Château Eza.  You can easily spend half a day here before heading to Monaco.
If would rather go on an organized tour to visit the towns of French Riviera. You can enjoy coastal views, a seaside drive from Nice to Antibes, and visit Cannes and see medieval town Grasse and Eze in this
tour
.
St Tropez
Glamorous, chic and extremely crowded in the summer months, St Tropez is another of the top destinations on the French Riviera.  What started as a small fishing village now has boutique hotels which are some of the best in France, restaurants and bars that stay open into the small hours of the night and a visitor list that includes most of the Hollywood A-list particularly at the time of the Cannes Film Festival each year in May. Saint Tropez is a place to see and be seen.
We enjoyed our boat ride from Nice to Saint Tropez, we saw some mega yachts in the water as we crossed Cannes and Anitbes.  When we reached The Old Port of Saint Tropez, it was filled with many more million-dollar yachts and the town has many chic fashion shops and boutiques.  We browsed through the provincial markets, we saw the hustle and bustle of the port in the La Ponche fishing quarter, walked around the cobbled lanes leading to St.Tropez Church and the 17th centyury Citadelle de St. Tropez.  This spot has fantastic views over the city!  We enjoyed a glass of Côte de Provence rosé and lunch at Café de Paris.



Cannes
We skipped Cannes, it would be nice to visit Cannes during the film festival, although it might be crowded and hotel prices pretty high. If you visit you can stroll through "Le Suquet" and grab a nice meal in one of the many restaurants. We just saw is from a distance during our boat ride to Saint Tropez.
Monaco
No trip to the French Riviera would be complete without taking a trip to Monaco. We took the number 100 bus there and the train back to Nice. The bus journey in itself is beautiful, offering sweeping views of the ocean along the way. Covering only 485 acres, the tiny yet glamorous Monaco is a land of perfectly groomed streets, lush gardens, chic boutiques and one lavish casino.


Our first stop was the grand Casino de Monte Carlo.  We had lunch at the Cafe de Paris Monte-Carlo next to the Casino.  We then went to see the Princes collection of exotic cars which needless to say, the boys loved!
Nice Port at Sunset
Stunning landscapes and flower carpets we saw during Provence drives, walks along the sunny promenade in Nice, dazzling view of villas and yachts in St Tropez, extravagance in Monte Carlo, driving in the French Riviera on the Corniche, our road trip through South France, was everything we imagined and more!
We would love to go back to explore more of this beautiful region, linger in the french towns a little longer. There are towns like Bordeaux, Carcassonne, Toulouse, Montpellier and more still on our list…. the island Corsica warrants a trip on its own!
Have you been to the South of France?  If not hopefully we have convinced you to plan a week in Provence and showed you some of our favorite places to visit in Provence and the French Riviera.
You might like other posts from our trip to South of France and Monaco
PIN IT FOR LATER



Note: This post contains affiliate links and some sponsored content. But as always images and opinions are our own. For more information on our affiliates and privacy policy at Outside Suburbia see here.