Barcelona has some of the most unique and inspiring architecture in the world, masters like Gaudi and Picasso have left their mark in this vibrant city. Our daughter was so inspired by this city that her Extended Essay for her International Baccalaureate program in High School was based on this trip. Here is our 3 day itinerary and inspiring things to do in Barcelona with kids. We combined this with a visit to Southern Spain and spent 7 days in Andalusia before visiting Barcelona.
3 Days / 72 Hours in Barcelona Itinerary
Barcelona is perfect for a family holiday. From whimsical parks to sun soaked beaches to world class museums, there are tons of family friendly things to do in Barcelona that will keep kids and adults entertained.
OUR 3 DAY BARCELONA ITINERARY
Day 1 – La Sagrada Familia | Parc Güell | Casa Batlló
Day 2 – La Santa Maria del Mar | Picasso Museum or Camp Nou | La Barceloneta Beach
Day 3 – Catedral de Barcelona | Las Rambla | Montjuïc
Extra Day(s) – Girona, Pal and the Costa Brava region, Montserrat, or Figueres
Day 1 in Barcelona
Start your visit to Barcelona with the city's parks, museums and churches to understand the great master's influence. We started our day with tours of Antoni Gaudí's La Sagrada Familia and made our way to whimsical architecture in Parc Güell and then visited Casa Batlló. Plan for a stop for lunch in between at the bustling Boqueria Market.
Day 2 in Barcelona
Explore El Born, walk the labyrinth for a bit and enjoy some coffee in cafe. After breakfast visit La Santa Maria del Mar and then the Picasso Museum. Located near the famous Picasso Museum, is an authentic Pintxo Bar, Bar El Xampanyet – stop here for lunch before visiting Camp Nou, FC Barcelona team's soccer stadium.
If you are not a soccer fan then you can visit Parc de la Ciutadella, the biggest park in Barcelona which is home to the zoo and several museums. In the evening walk along the shores of La Barceloneta Beach and relax on the beach, finish the day with Paella and Cava (for adults) while people watching and enjoying a picturesque view of the Mediterranean.
Day 3 in Barcelona
On the third day explore Barri Gòtic, the Gothic Quarter. Visit Catedral de Barcelona, do some shopping at Las Rambla and have lunch at Plaça del Rei. Head to Montjuïc to see artist Joan Miró's museum full of playful and colorful works by the artist. Kids will love taking the cable car ride to the top for a view of Barcelona, you can see Sagrada Familia dominating the landscape and also perfect to catch a sunset on your last evening here.
We spent 3 full days in Barcelona and spent 2 more days on day trips from Barcelona. One day to Girona, Pal, and the Costa Brava region and one day to Montserrat. I wish we had an extra day to visit Figueres to see Salvador Dalí's museum.  Maybe next time!
Best things to do in Barcelona
La Sagrada Família
La Sagrada Família is not only considered to be Gaudí's most recognized work, but also his best. From 1882 up until his death in 1926, Catalan Art Nouveau master Antoni Gaudí devoted himself to the construction of La Sagrada Família, The Church of the Sacred Family), a towering Gothic style with a modern twist church.
Gaudí was not able to finish it during his lifetime and it is still under construction with an estimated date of completion to be 2026! Gaudí was known for saying "My client (God) is in no hurry." From the cross that hangs suspended in mid-air to the stained glass windows to spires that rise up to the sky as close as to heaven as possible and the nativity scenes on the exterior of the church – everything about this church is unique!
Get the tickets online and make sure you show up on time. Get the audio guides and have the kids read up a little about Gaudi and his vision before you go. This church leaves such an everlasting impression and you don't want to wander aimlessly inside.
The Stained glass work is so modern and unique and one of the best we have ever seen! Gaudí is believed to have said, "Sunshine is the best painter" and so much natural light is used to brighten up the interior of this remarkable church.
The church has the Nativity scenes and sculptures on one side and the sculpture group of the Crucifixion and Resurrection on the Passion side. The stained glass colors on the Nativity side, the yellows slowly move into greens and then deep blues and on the Passion side, the transformation goes from yellow into oranges and reds. Words can't do justice to how magnificent and grand this church is!
Gaudi was inspired by nature and included many motifs in the church – the columns of the church are made to look like palm trees. Do you see it?
Parc Güell (Güell Park)
Antoni Gaudí's Parc Güell is a whimsical park with colorful mosaic tiles works and interesting looking columns – a fun place for kids to explore. The park was originally supposed to be a housing community for the rich, commissioned by Eusebi Güell. Güell hired Gaudí but the project eventually folded due to the land's incompatible building conditions. Gaudí continued on, modeling the park after gardens he had seen in England. Güell means English in Catalan.  He is said to have built around the natural elements of the land instead of tearing them down.
Park Guell is located on the outskirts of the city, you might want to take a taxi there. The park covers 42 acres of space and features everyday park props with an interesting Gaudí twist. Most of the great architecture is within the monumental zone and you will need a ticket with a set time to visit. There is a green mosaic dragon at the entrance and on the terrace of numerous benches spread throughout, you see one long, wavy stone bench adorned with vibrant mosaics.  On a clear day you can the ocean from here, it makes a far lovely afternoon trip.
Casa Milà (La Pedrera)
Better known as La Pedrera ("the quarry") for its elaborate stonework, Casa Milà was the last civil project Gaudí completed before his death and represents the pinnacle of his career. The building, designed as a residence for Barcelona's elite, was a radical departure from anything the city had ever seen, with its wavy interior patios, curved walls, and slanting columns.
Perhaps the most striking element of the building is its rooftop, whose plunging stairways and lifelike chimneys evoke an otherworldly landscape. Around the corner of Passeig de Gràcia and Carrer de Provença, this eclectic Catalan-style art nouveau sits with the more classic architecture usually found in its neighborhood, Eixample.
Casa Milà has been designated as a National Monument of Interest by the Spanish government and a World Heritage site by UNESCO and one that should be on your list of things to see in Barcelona.

Casa Batlló
Sitting down the street from Casa Milà, Casa Batlló is known for its vibrant colors, intricate tile work, and skeletal terraces. The unconventional façade depicts the legend of St. George slaying the dragon to save the princess. The roof depicts the dragon's scaly back while the skeletal balconies and boney windows are said to represent the dragon's previous victims. The legend goes that someone would be sacrificed every day so the dragon wouldn't take the whole town.
After you've taken the time to absorb Gaudi's designs and details on the outside of the building, stop inside to tour the equally eye-catching interiors, including the Noble Floor, which was once home to the Batlló family. With your ticket, you're also able to access the roof to check out Gaudí's admirable mosaic work up close, including those on the dragon's back and the roof's many colorful chimneys.  Plenty of opportunities to talk to kids and teenagers about out of the box thinking and have your creative juices flowing here.
TIP: You can get a skip-the-line ticket and visit the Sagrada Familia, and get chauffeured around by a private guide in a comfortable vehicle and see other Barcelona highlights such as La Pedrera, Casa Batlló and more instead of trying to take cabs everywhere and standing in line for tickets.
El Born
The labyrinth that is El Born becomes most evident the moment you turn down one of its side streets. It is one of the few places you actually enjoy losing your way in, it is so full of energy regardless of the time of day. This neighborhood seamlessly transcends the old and new parts of the city. 
El Born has a vast array of restaurants ranging from fancy Michelin-star establishments to trendy fusion restaurants. The popular Picasso Museum is here and so it the Gothic cathedral La Santa Maria del Mar, where if you are lucky you might even catch a traditional Catalan wedding.
This is where our hotel was and it was safe to walk through the narrow streets.  Lined with cafes and flats where people live, it was interesting to see every life in Barcelona.  El Born is more homey compared to the touristy Gothic quarter.
One morning when the rest of the family was sleeping I took my book about Gaudi that I borrowed from the hotel and our dirty laundry to a laundromat nearby. I started the wash with the help of some help from a local conversing through hand signals and walked around the area for a bit. It is easy to get lost in the narrow labyrinth and side streets, luckily I had taken a photo of the laundromat so I could find my way back.
Museu Picasso (Picasso Museum)
While most people know Pablo Picasso for his distorted portraits, this museum displays his work on a timeline, allowing you to follow his progression from the more traditional works of his early years to the very iconic paintings and sculptures from the end of his career. Make sure you dedicate plenty of time to Picasso – the museum itself holds several thousand pieces by him, including works from his famous Blue Period. The museum also explores the artist's lifelong relationship with Barcelona, explaining why he chose the city for his museum before he died.
Most of us know Picasso for the abstract Cubism work where he shatters two dimensional perspective. Our kids have seen them in the Tate Modern at London and Dallas Museum of Art, where they have fun counting limbs and eyes… crooking their necks in unnatural poses, trying to make sense of it. Visiting Picasso Museum in Barcelona gave us a better understanding of his art and his progression.
The museum is housed in the Gothic quarter of Barcelona in a 13th century palace – Palau Aguilar, that belonged to the Aguilar family. The central courtyard has an open-air stairway, pointed arch gallery and flamboyant Gothic sculptures that dates from the 15th century. It looks like a palace than a museum. Picasso lived key years in Barcelona – those of his apprenticeship as an artist. He established and maintained strong links to the city throughout his life and it was here where he wanted his museum to be.
If you love art, in my opinion. this is one of the most important places to visit in Barcelona, after Sagrada Familia.  While photos are not allowed inside the museum, you can take photos in the atrium.
Camp Nou Stadium
Even if you're not a fútbol or soccer fan, Camp Nou is worth a visit to experience the pride Catalans have for the FC Barcelona team. Camp Nou is the largest stadium in Europe and can hold nearly 100,000 fans. The on-site museum showcases trophies and awards the team has garnered through the years. Although nothing compares to attending a live game, you can get a taste of the Barça experience on the guided tour, which brings the game day rush to life in the "players' tunnel" that simulates what it's like to walk into a roaring, full-to-capacity stadium.
La Barceloneta Beach
In between all the cultural and artistic attractions in Barcelona, it's easy to forget that the city is situated right along the brilliantly blue waters of the Mediterranean. The city's largest stretch of sand is broken up into two beaches; La Barceloneta and Platja de la Nova Icària. Both are separated by the Port Olímpic harbor, easily recognized by the two seafront skyscrapers and giant golden fish sculpture, El Peix.
La Barceloneta is the more visited of the two, known for its lively atmosphere on both the sand and there are plenty of vendors walking around selling everything from mojitos to on-the-spot massages. The beachfront promenade is a great place for lunch or dinner, there are cafes and bars situated across from the beach.
Gothic Quarter
The Barri Gòtic, or Gothic Quarter, is the oldest part of Barcelona, and considering its location next to the city center, also the liveliest. Here, you'll find beautiful examples of Roman and Medieval-era architecture along with the many shops, restaurants, alfresco cafes, bars, and clubs that line this neighborhood's narrow roads and picturesque plazas. And there are so many plazas to explore. Aside from Plaça de la Catedral, where Barcelona Cathedral loom, make sure you stop in Plaça Reial for coffee or lunch and people watch.
Catedral de Barcelona (Barcelona Cathedral)
Towering above the center of the Barri Gòtic is Barcelona's principal cathedral. The Gothic cathedral's construction began in the late 13th century and wasn't completed until the mid-15th century. It is another beautiful cathedral, from its exterior details to the many gold furnishings within, including the stately altarpiece, there is much to see and absorb here.
Plaça Reial (Plaza Real)
Plaça Reial (In Spanish Plaza Real means "Royal Plaza") is a square in the Barri Gòtic of Barcelona, Catalonia, Spain. Plaça del Rei was once the center of all noble activity in Barcelona. Palau Reial (Royal Palace) is located here. In fact, when Christopher Columbus returned from the New World, it was here that the Catalan-Aragonese monarchs received him.
These days Plaza Real is known for its many outdoor venues, restaurants, and nightclubs, Placa Reial is a popular meeting place during the summer when open-air concerts take place and during other celebrations.  We had lunch here and didn't stay late out at night to see how it transforms in the evening to party central and youngster hangout place.
Las Rambla
This is the touristic center of the city, full of street artists, stands and shops for souvenirs. It connects Plaza Catalunya and the Port Vell (Old Port) and divides two popular districts of the city, El Gotic and El Raval. This bustling thoroughfare is one of the city's major tourist hubs. So much so that if you're visiting Barcelona, you're bound to end up here eventually.
During the day, you can find souvenir stands, watch buskers and street performers, pick up some local art from artists selling on the street, or sit down and enjoy a light snack at one of the many alfresco cafes found here.
To get a bird's-eye view of all the action, finish your Rambla route at the 18th-story mirador at Columbus Monument for panoramic views of the city and sea. When the sun sets, it is a hangout place for all youngsters, as many bars and clubs can be found in the surrounding area. This is pickpocket central, keep your eyes on your belongings.
Parc de la Ciutadella
Much like New York's Central Parks, during summer this park is packed with locals and tourists alike. It is home to the Barcelona Zoo, a lake, large fountains, several museums, and the Catalan Parliament is also located here.  We didn't make it here are the pictures we had seen from here look lovely.
Montjüic
Montjuic is a prominent hill overlooking the Barcelona harbor and has nice views of the city. Head to Montjuïc and take the cable car, kids will love going to the top for a view of Barcelona. You can see Sagrada Familia dominating the landscape and also perfect to catch a sunset on your last evening here.
It was at Montjuïc where the 1929 International Exhibition was held in Barcelona and where the 1992 Olympic Games was held. The Montjüic Castle, the Sant Jordi Palace, the Olympic Stadium, Llu's Companys, the National Museum of Catalan Art, the Font Màgica aka the Magic Fountain are located here. You might enjoy visiting Catalan artist Joan Miró's Museum full of playful and colorful works by the artist, fun for all ages!
Where to eat and what Food to try in Barcelona
La Boqueria market has become a top tourist attraction in Barcelona over the years because of its central location on La Rambla. The Boqueria Market is Barcelona's first local market, having opened in 1840 and foodie heaven. It was pretty crowded with people with selfie-sticks and tour groups, we took a quick look at the tempting stall bought some fresh juice and churros and left to find somewhere else for a sit-down meal on Las Rambla.
As far as what to eat in Barcelona goes – you can't go wrong with ordering loads of crispy patatas bravas smothered in that special tomato sauce, slices of manchego (a cheese that can be dated all the way back to the Bronze Age), Jamon (Ham that you can see hanging in food stalls and restaurants everywhere in Spain), Paella, or a few Pintxos at the bar and finish with Crema Catalana, a Spanish version of Creme Brûlée.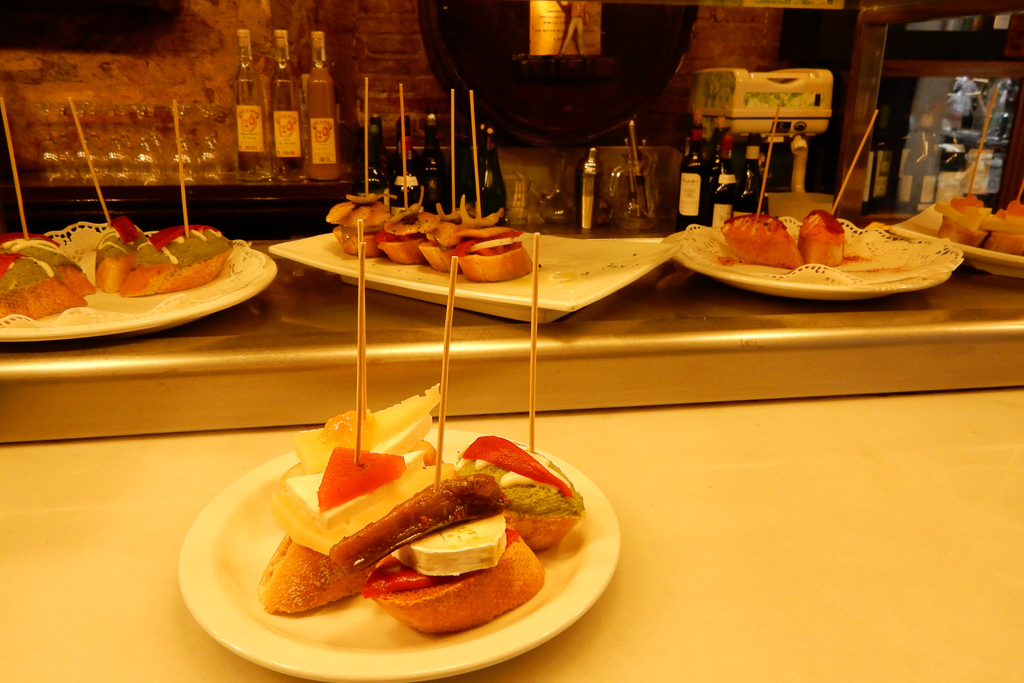 What is Pintxo you ask? Pintxo also called Pinchos are snacks or small bites kinda like tapas. Pinchos are small pieces of bread with some sort of topping, arranged beautifully on the bar counter. The main difference between pinchos and tapas is that the bread and other ingredients on a pincho are held together by a small skewer, which is actually what the word "pincho" means to pierce.
At traditional restaurants, you'll get charged for the total number of skewers on your plate at the end of your meal. As with tapas, a meal of pinchos is best when accompanied by a nice bottle of beer, a glass of wine or Cava. While Prosecco and other sparklers rely on industrial carbonization to make their wines bubble, Catalan cava, like fine champagne, gets its effervescence and complexity from bottle fermentation. So don't forget to try some when you are in Barcelona.
Where to Stay in Barcelona with Kids
Most European hotels are smaller and work for a couple but not so much for family travel. We love having some extra room and also like having it serviced…. we like our nice sheets and breakfast buffets in the morning. The Mercer House Boria BCN in the El Born was perfect for a stay. Based on our stay and the review we thought it was one of the best Family Hotels in Barcelona.
They had a nice library with a great collection of books – we borrowed a book about Gaudi that we poured through before visiting the Sagrada Familia. We had a two-bedroom suite and ample space to spread around. The breakfast buffet spread was pretty nicely stocked with fresh juices, cheese, breads, we were able to order custom made omelets and of course, they had some ham or jamon as they like to call it.
You can see other family friendly hotels in Barcelona and read reviews here
Day tours from Barcelona
After you have covered all the places to visit in Barcelona it is time for a few day trips. You can head to the Spanish hills for the day to hike the spectacular Pyrenees mountains or visit the Montserrat mountains and see the Black Madonna, there is plenty of day tours from Barcelona. If you like Dali, you might also want to go see his museum in Figueres, we didn't have time for it. I wish we have a couple of days more for other trips outside Barcelona. Here are three day tours from Barcelona that we did.
Montserrat
Located on what is called a serrated mountain, Montserrat is famous for its gothic shapes, beautiful views and trails – It is said to be the most important mountain in Catalonia. You can visit the Basilica and Monastery.  You can also see the Black Madonna, visit the Museum, see the Holy Cave or take the funicular up for some amazing views and hikes in the area.
Girona and Pals
For a day out from Barcelona, we headed to Pals, a picturesque medieval town on the way to Girona.  In contrast to what Barcelona was, the town was so quiet and ohh so charming with hilltop views, cobbled stone streets, and craft shops.  There is even a crescent shaped four kilometre bay with white sandy beach, resorts, and restaurants at Playa de Pals.  We then did a tour of the historic town of Girona to see its many wonders such as the Cathedral with the widest Gothic nave in the world, and the colorful spectacle of the houses along the Onyar River, which divides the city in two.  We wandered till we found Rocambolesc, Willy Wonka-esque Gelateria.
Costa Brava
Spain is almost entirely surrounded by beautiful coasts kissed by the Mediterranean and the Southern Atlantic. Our favorite one day excursion from Barcelona was an afternoon at Calella de Palafrugell.
Barcelona Tours
How to get to Barcelona
If you have just one day, you can still do Barcelona as a day trip from Madrid by taking Spain AVE high-speed train and back. It would take about two and a half hours each way. Albeit a little expensive, Barcelona might be the best day trip from Madrid and doable as long as you book a tour instead of doing all the sightseeing yourself, and Barcelona really deserves more than a day. We flew into Madrid Barajas International Airport, took Iberia Airlines to Seville spent a few days in Southern Spain, rented a car drove to Granada and then made our way to Barcelona and flew out of Barcelona International Airport.
As you can see from Gaudi masterpieces, amazing architecture, intriguing parks, the not to be missed Picasso museum to people filled squares and beaches, this large city in Catalonia is a fun and family-friendly destination. I hope this Barcelona Guide inspires you to plan your family trip to Barcelona.
This post was featured in Lonely Planet's round of best family blogs for February 2019.
PIN IT FOR LATER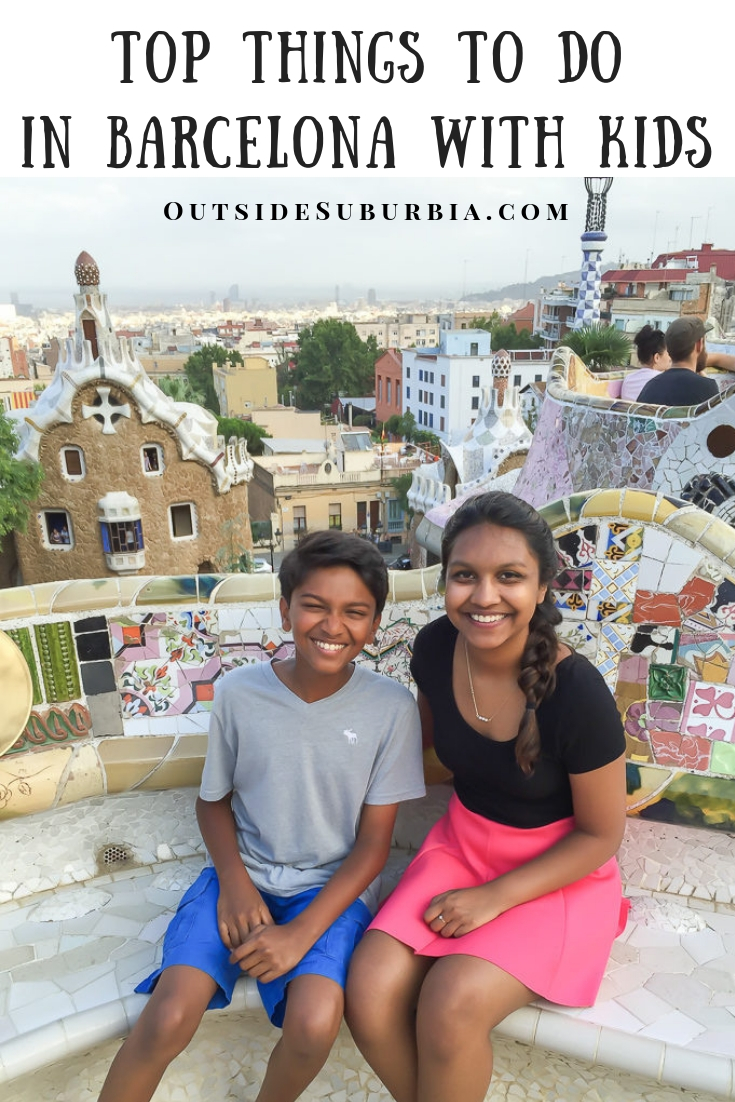 Note: This post may contain affiliate links, partnership or sponsored content. If you purchase an item via one of these links, we may receive a small commission at no extra charge to you. But as always images and opinions are our own. For more information on our affiliates and privacy policy at Outside Suburbia see here.
CONNECT WITH US