We visited London during the summer for a week and took a train to Scotland to spent another 5 days there. Here is our one week Itinerary of all the highlights to see on your first-time visit to London and the top things to do in London with kids.
London much like New York, Paris, and other major can't be visited in just a few days since there is so much to do. If this is your first time in London, this list of London Highlights will help you plan the must-dos, attractions and activities in London. Plan for a couple of day trips from London to Bath, Stonehenge, and Windsor. If you have more time you can visit some of the seaside towns and university towns.
One Week (7 Day) London Itinerary
Day 1 in London
Arrive and get oriented. Take a Hop-on Hop-off tour or go for a walk in Hyde Park. Visit China town or go shopping. Just take it easy!
Day 2 in London
Start at Westminster Abbey, walk over to the Tower of London and then to Tower Bridge. Make your way to Millennium Bridge and visit Tate Modern if Modern Art is of interest. Go for a cruise on Thames River or Take a ferry to Greenwich for the afternoon.
Day 3 in London
Start your day at Big Ben and the House of Parliament and walk to Buckingham Palace to see the changing of the guards (which happens in the morning around 11:30). After lunch, go up the London Eye, a giant Ferris wheel from which you can see all of London. Make your way to Covent Garden is an old fashioned indoor market and spend a relaxed evening there.
On Day 4 in London, go on a day trip to Windsor Castle
Day 5 is our Museum day!
Pick Museums (there are several to choose from) or special tours like Harry Potter or Sherlock Holmes tours depending on your families interest.
Spend Day 6 in the English Countryside
A day trip to Bath and Stonehenge or to the English countryside to Cotswolds, Oxford or Stratford-upon-Avon.
Day 7 and our last day in London
If you missed the changing of guards before, try to catch the Royal Horse Guard Parade which happens earlier at 10:30 am. Then walk over to Trafalgar Square and visit the National Gallery in the Square (if you haven't been already, it's free). Have one last afternoon tea! Walk around Piccadilly Circus and do some shopping at Oxford Street.
Best things to do in London with kids
Here are some of the must-do London attractions and best kids activities in London for your first-time visit.
Tower Bridge
Tower Bridge is a well-known landmark in London. It is beautiful, it is iconic, it defines the London skyline. You can also climb the bridge, for which you can buy tickets online. The ticket will also give you access to an exhibition about the history of this bridge. Next, to this, you'll find the Tower of London.
Tower of London
The Tower of London is a castle is not to be missed if this is your first trip to London. The Tower dates back to 1078 and has served as a fort, palace, jail and more. So much history in between these walls. You can also see the crown jewels here. You can take one of the public Beefeater Tours or do a private tour.
Millennium Bridge
This is, next to Tower Bridge, one of the most iconic bridges. This modern bridge is located between Tate Modern and St. Paul's Cathedral. It looks like the bridge connects the old London to the more modern London. You get an amazing view of the cathedral and take some great pictures here.
London Eye
The London Eye is a giant Ferris wheel from which you can see all of London. The entree fee is pretty pricey and there is always a line to go inside, so plan to get the tickets online. It is 135 meters in height and allows for impressive views of the city. From the cabins you will have a 360 degrees view of London, it turns around slowly and lasts about thirty minutes. Great views and worth every penny! Our kids loved this iconic London experience.
Big Ben and the House of Parliament
Big Ben is the star of London and appears on every postcard of London. It towers over the city and keeps an eye on everything from its location the Houses of Parliament. The Houses of Parliament houses 1,000 rooms, 100 staircases and 3 kilometers of hallways. Did you know that the tower is actually called the Elizabeth Tower? Only the clockwork is called Big Ben!
Westminster Abbey
This is the impressive church that is located next to the Houses of Parliament. The church was built in a Gothic style and is especially famous since it is the place where coronations and funerals of the English royal houses are being held. When you visit Westminster Abbey, London you can get an audio guide to learn more about history, especially when you have kids in tow.
Buckingham Palace
Plan to visit the Buckingham Palace in the morning around 11:30 am to see the changing of the guards. Arrive early since this is a very popular thing to do for most everyone visiting London for the first time. The Changing of the Guard is a centuries-old tradition that marks the official shift change of the Household Regiment. One of the world's most famous ceremonies and a top London experience, this ceremony gives kids the chance to witness the grandeur of a royal march. Dressed in their iconic red suits and bearskin hats, the guards exemplify classic British pomp.
If you missed it or it was too crowded try to catch the Royal Horse Guard Parade, The Horse Guards leave Hyde Park Barracks at 10:28 am weekdays and 9:28 am on Sundays to ride to Horse Guards Parade via Hyde Park Corner, Constitution Hill and The Mall on their way to the guard change ceremony. It is an easier alternative to the always crowded Changing of the Guard ceremony at Buckingham Palace.
Museums in London (that adults & kids will enjoy)
The Natural History Museum, The Victoria and Albert, The National Gallery of Art and Tate Modern are some of our favorite museums in London. Most museums in London are free, so it is nice to take smaller children and expose them to something new. National Gallery of Art had a great collection of art and paintings in the world – collection spans from the medieval period to French Impressionism.
V&A Museum is all about pop culture, design, art, engineering – it is a unique museum that families visiting London would love. The collection here spans over two thousand years of human creativity from many of the world's richest cultures – include paintings, sculpture, architecture, ceramics, furniture, fashion, textiles, theatre and performance, photography, glass, jewelry, and metalwork. London's British Museum is another nice museum with a stunning collection in an equally stunning building.
Tate Modern London is the national gallery of international modern art for Britain. Located in a disused power station in the heart of London, the collection at Tate Modern includes all the major modern art movements from Cubism to Fauvism and beyond. It features Picasso and Matisse, Dali, Ernst, and Mirò. There are works by Pollock, Warhol and more modern masters.
Trafalgar Square
Right next to The National Gallery of Art is Trafalgar Square, named in honor of the British victory led by Admiral Lord Nelson at the Battle of Trafalgar in 1805, Trafalgar Square was constructed in the 1840s according to a design by Sir Charles Barry who also designed the Houses of Parliament. Erected on the site of the erstwhile Royal Mews, it is home to the imposing 56 meters tall Nelson's Column, the world's tiniest police station and two gorgeous fountains.
Covent Garden
Covent Garden is an old fashioned indoor market, with many beautiful shops and restaurants. The atmosphere is very cozy. We wandered around the market and got some lunch while watching the street performers. During summer there are always some musicians performing here for free. The market has nice stores with pretty storefronts and makes for some beautiful photo opportunities in London. Our kids always love getting lunch here when we are in London.
Madame Tussauds
Spend some quality time with remarkable wax replicas of Her Majesty the Queen, Victoria or take a selfie with Audrey Hepburn. Yes, there is George Clooney and David Beckham here as well 😉 Kids enjoy the Marvel Super Heroes 4D Exhibition and we looked for classic Star Wars heroes like Yoda, Luke Skywalker and Princess Leia at London's famous Madame Tussauds. Put this on your list of things to do in London with kids, while we have been to a couple of other locations, this one is the best IMO!
China Town
China town has some of the best food and one of the cheaper places to eat in London. As you would expect, lots of Chinese restaurants, bakeries, supermarkets and souvenir shops can be found here.
Trafalgar Square and Piccadilly Circus
Also known as Picadilly Circus, Piccadilly Square is one of London's most iconic locations. This major street junction forms a large open space with easy access to main shopping and entertainment areas. Similar to Times Square in New York City, Piccadilly is famous for neon lighting and advertising signs. Although every building in the circle used to be pretty much covered with lighted advertisements, there is now only one building that has displays.
In the middle of the square, there is a fountain monument to Lord Shaftesbury who was a notable philanthropist in the Victorian era. He was much loved and the statue is often referred to as the Angel of Christian Charity. Atop this memorial is a statue of the Greek god Anteros, although most people believe it is his mythological brother Eros. Be sure you get your picture taken in front of this memorable figure.
A few more things to do in London with Children
There are lots of green spaces and market areas in London to explore with children.  We stayed near Hyde Park and walk through portions of it. One of the nice areas of Hyde Park is close to the Serpentine, where you can go boating.  There are bikes for rent all over the park which we did on a couple of occasions and went to see the memorial of Diana, Princess of Wales.
If you have older children they might enjoy catching a few shows at the theatre and visiting Shakespeare's Globe Exhibition. It is the world's largest exhibition devoted to Shakespeare and the London in which he lived and worked. Housed beneath the reconstructed Globe Theatre on London's Bankside, the exhibition explores the remarkable story of the Globe and brings Shakespeare's world to life using a range of interactive displays and live demonstrations.
Let us not forget shopping in London – from Harrods, the world's most famous department to Hamleys, the finest toys in the world to many High street brands, shopping is London id fun for all ages and budgets.  We love walking around, popping into the different stores on Oxford Street, lunch at the food hall in Selfridges. The kids still use the lunch bags and water bottles we bought from the Cath Kidston store in London.
London Tours and Attractions for the kids
Tip : I highly recommend getting a London Pass. You can discover London's top sights for one low price with The London Pass. You can choose from a 1-, 2-, 3-, 4-, 5-, 6- or 10-day sightseeing credits package, and enjoy access to more than 80 London attractions including skip-the-line access to Tower Bridge Exhibition and London Zoo. Your London Pass also includes a hop-on hop-off bus tour and some valuable shopping and dining discounts.
Hop-on Hop-off Tour
Hop-on hop-off buses are a great way to see a city like London. Kids learn about the places they are going to see before getting off the bus. And it saves some walking between all the landmarks. You can hop-off at the places you like to explore more, and then hop back on again. It is fun to sit at the top level and see London from above street level. Find a tour bus with live guides, not the pre-recorded ones. If you sit near to them and let them know that you are a big fan of Harry Potter, they will point to all the interesting sights. If you ask me this is one of those must do things for kids in London, especially on your first trip!
Sherlock Holmes Tour
If you love Sherlock Holmes and read the book, it will be a great tour for you when you are in London. During this tour, you'll visit all the places that you find in the books ánd the BBC series Sherlock.
Harry Potter Tour
If you have some Potterheads in the family, you might want to do the Harry Potter Walking Tour.  It covers Harry Potter film locations around the city and is fun for even the non-fans. Throughout the tour, our guide pointed out all the recognizable film locations, as well as some spots that inspired J.K. Rowling's settings. Fan like this girl here can immerse themselves in the magical world of Harry Potter on this 2.5-hour walking tour around the muggle capital of London.
Follow in the footsteps of one of the world's most famous fictional wizards as you step into the real Diagon Alley, catch a glimpse of the Leaky Cauldron, pose by the mythical Platform 9¾, and visit other fantastical locations featured in the Harry Potter movies. You can also get a behind-the-scenes look at the Harry Potter film series with the Warner Bros. Studio Tour London. Explore the Great Hall, pose next to the original 'Hogwarts Express,' set foot down Diagon Alley and more. While we didn't do this tour is on our list for next time.
Getting around in London
The tube system in London is fantastic, easy to navigate and makes getting around to the London attractions pretty easy.  The city is well covered and the trains are on time and frequent. Avoid peak hours as they can be crowded. It is fun to ride on the top of a London double-decker, it is a must-do in London!  Black cabs are metered and can be found near all major attractions.
Oyster cards are refillable cards that allow you to quickly pay for fares on all Transport for London trips including Buses, the Tube, Trains, Light Rail, etc. They're easy to use – you can purchase them either before you leave or from the airport as soon as you land at Heathrow or Gatwick airports. They save you money over paying for single fares.
Day trips from London
You can get to many places in the UK by train from London. Just an hour and a half away, Bath is one of the most popular day trips from London by train. This seaside town of Brighton makes for a beautiful day trip. If you want to check out the famous colleges, the university town of Cambridge can't be missed. Oxford is another great option for spending a day away from London. It too is only 60 minutes from London by train and is served by multiple trains every hour. You need more than a month or more to visit all the little towns. See this post for some of the best places in England for hiking.
But for a first-time visit to do, you can plan to visit Bath, Stonehenge, Windsor and maybe a day a ferry to Greenwich.
Windsor Castle
Windsor Castle is an official residence of The Queen and the largest occupied castle in the world. A Royal home and fortress for over 900 years, the Castle remains a working palace today. The Queen uses the Castle both as a private home, where she usually spends the weekend. It is less crowded than the Buckingham Palace and we loved seeing the change of guard here and also learned that the Queen was in the Windsor Castle when we visited, it made a nice day out from London.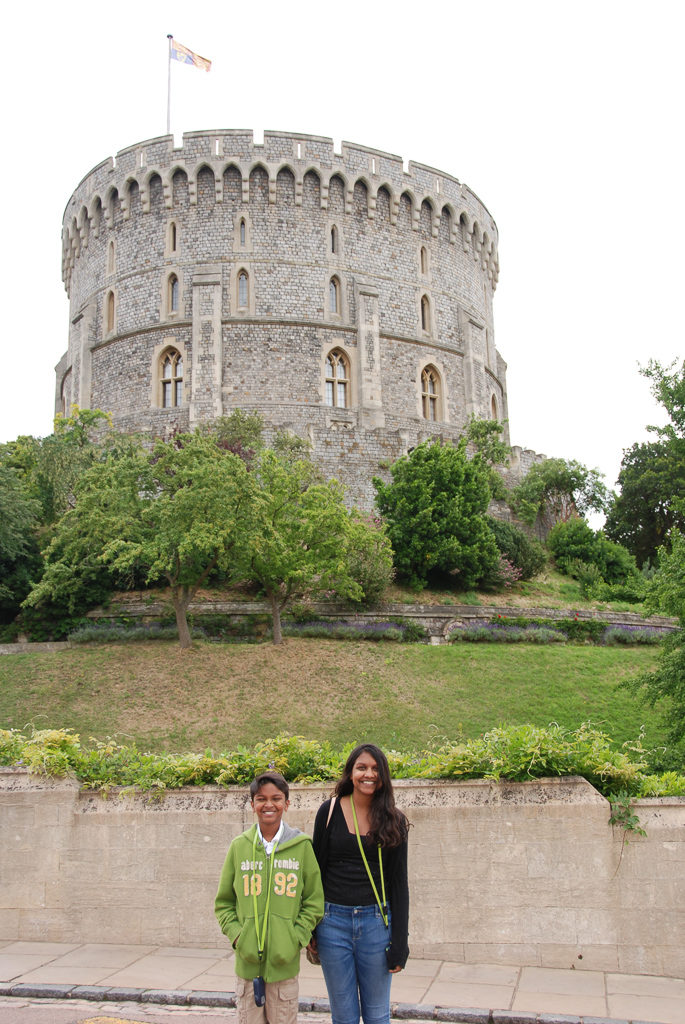 Greenwich
Greenwich is home to some great London attractions, like the National Maritime Museum, the Royal Observatory with the Prime Meridian Line and the sea clipper Cutty Sark. You can explore the Moon, constellations, planets and more at the Royal Observatory. You can stand on the Meridian line at the home of the Greenwich Mean Time (GMT) and journey through space in one of their thrilling planetarium shows. It is a quick 30-minute ferry ride from Central London to Greenwich on the MBNA Thames Clippers boat services and you cross the London Bridge and other sights on the way.
Bath
We booked our tour with Viator which departed from Central London. Stopping first in the stunning city of Bath, we enjoyed breathtaking Georgian architecture on a guided walking tour and visited the Roman Baths that date back to 40 AD built around Britain's only natural hot spring. Bath, the gorgeous city of Bath was the first city in England to be designated a UNESCO World Heritage site.
We had some free time to wander around River Avon, explore all the city has to offer, including the gorgeous 15th century Bath Abbey. The church is shaped like a cruciform and the fan vaults and stained glass windows are spectacular. We then walked over to the gardens near River Avon to admire the flowers and the Pulteney Bridge modeled after Florence's Ponte Vecchio.
Stonehenge
Stonehenge is a prehistoric monument located in Wiltshire, England, about 2 miles (3 km) west of Amesbury and 8 miles (13 km) north of Salisbury. One of the most famous sites in the world, Stonehenge is the remains of a ring of standing stones set within earthworks. It is in the middle of the densest complex of Neolithic and Bronze Age monuments in England, including several hundred burial mounds. Archaeologists believe it was built anywhere from 3000 BC to 2000 BC. Our tour to Bath stopped at Stonehenge first.
If you would rather go on an organized tour than take the train yourself, you can find many tours here including a tour to Oxford, Cotswolds and Stratford-Upon-Avon.
Best Experience in London – Afternoon Tea
You can't miss afternoon tea in London! The Quintessentially English Tradition of Tea, finger sandwiches and cakes. There is an incredible amount of places to have afternoon tea in London. Claridge's has been serving their award-winning Afternoon Tea for the better part of 150 years and is a famous spot for Tea. The Palm Court at The Langham London is famous for being the place where the tradition of afternoon tea was born. You can find afternoon teas that cater to kids as well. Plan early and make reservations! We had afternoon tea at Fortnum's on Piccadilly, the scones are some of the best we have ever had.
Another great spot for Tea that is on my wishlist is – Kensington Palace Pavilion and Tea Room. It is situated opposite the Sunken Garden where Duke and Duchess of Sussex announced their engagement. The Pavilion is the only place in London where you can also enjoy a traditional afternoon tea in the grounds of a royal palace. How awesome would that be to sit back, relax and treat yourself to beautiful tea and cakes surrounded by over 300 years of royal history?
Where to stay in London
From Dorchester to Four Seasons to Langham and Ritz, there are many iconic and luxe hotels in London, each with its own history, character, and charm. We loved the Principe Di Savoia in Milan which is a Dorchester property but have not stayed at the one in London. We loved our stay at the London Hilton on Park Lane. It was overlooking Hyde Park and close to West End theatres, shopping districts, and other landmarks. Buckingham Palace and Piccadilly Circus were under a mile and a brisk walking distance away.
You can see other family-friendly London hotels here and read reviews.
Don't forget to snap some photos in the iconic red telephone boxes of London!
Any time we fly British Airways, we find ourselves in London and I make a mad dash to Pret A Manger at Heathrow Airport to get some sandwiches and settle in the lounge before our connecting flight. If time allows we to make a quick trip into the city for a few hours. We have been on family trips to London a few times now and hope to someday spend a month or more exploring the city and venturing to the different towns in England.
I hope you find this First timer Guide to London and One Week Itinerary useful in planning your trip to London with kids!
PIN IT FOR LATER
Updated January 2021
Note: This post may contain affiliate links, partnership or sponsored content. If you purchase an item via one of these links, we may receive a small commission at no extra charge to you. But as always images and opinions are our own. For more information on our affiliates and privacy policy at Outside Suburbia see here.
CONNECT WITH US