Flamenco dancers, horse carriages, bright bougainvilleas, tapas, and elaborate Moorish castles are what is in store when you visit Southern Spain. Here is our 7 day Andalusia Itinerary to see the best of Southern Spain. While westerners spell Andalusia with a 's', Spaniards spell it as Andalucía! Andalucía called Al-Andalus (Arabic for "land of the west") was a Moorish empire for 781 years, from 711 to 1492.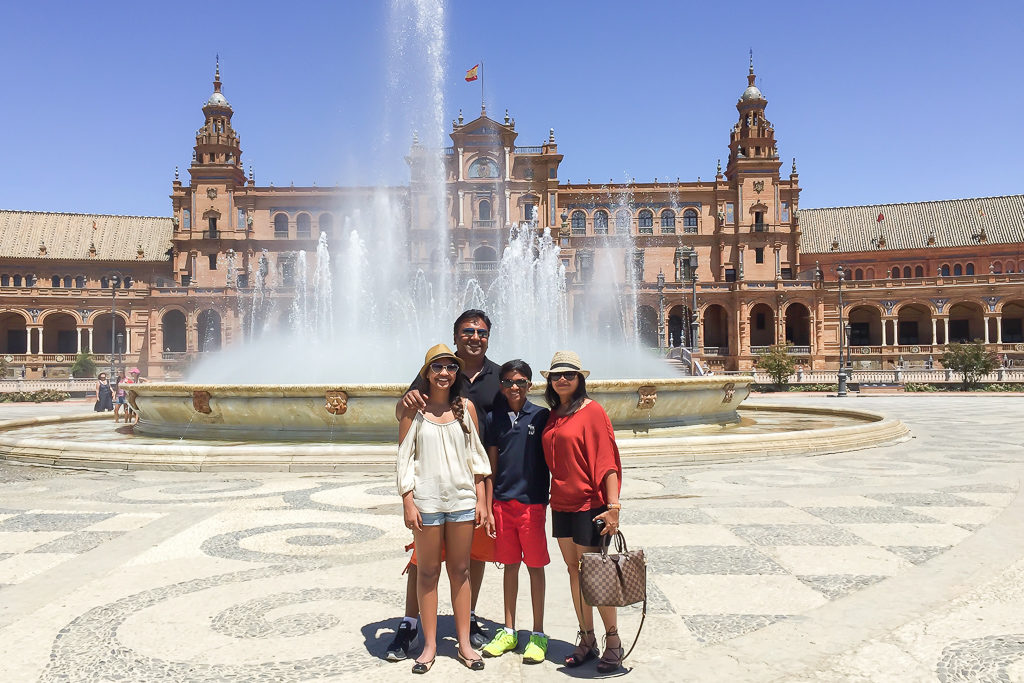 Spain is one of the best countries in Europe! We wanted to visit as much as possible of the romantic region of Spain that lies south of the Iberian peninsula. We landed in Madrid and took another flight to Seville, after a few days of tasting every plate of tapa and drinking quite a bit of sherry we made our way to Granada and the Alhambra palace driving through the Sierra Nevada.
We stopped at a few charming White villages that dot the region – Grazalema was our favorite. From Granada, we flew to Barcelona visited Monsterrat and spent a few days exploring Catalunya and the sun-kissed Costa Brava region in the Spanish Riviera before returning home.
7 Day Andalucia, Southern Spain Itinerary
7 day Southern Spain Itinerary
Seville 4 days
Cordoba day trip from Seville
Drive through the White villages with stops at a few and at Ronda
Granada 3 days
Barcelona 4 days with day trips to Montserrat, Girona, Pals and a visit to the Spanish Riviera
Charmed by Seville
Sevilla lived up to all its hype. We were charmed right when the taxi entered the old part of town, the narrow colorful picturesque orange tree-lined streets, the Moorish Palace, the beautiful Cathedral and the horse carriages at every corner made us fall in love with the little town in southern Spain.
See a short visual story of our day in Seville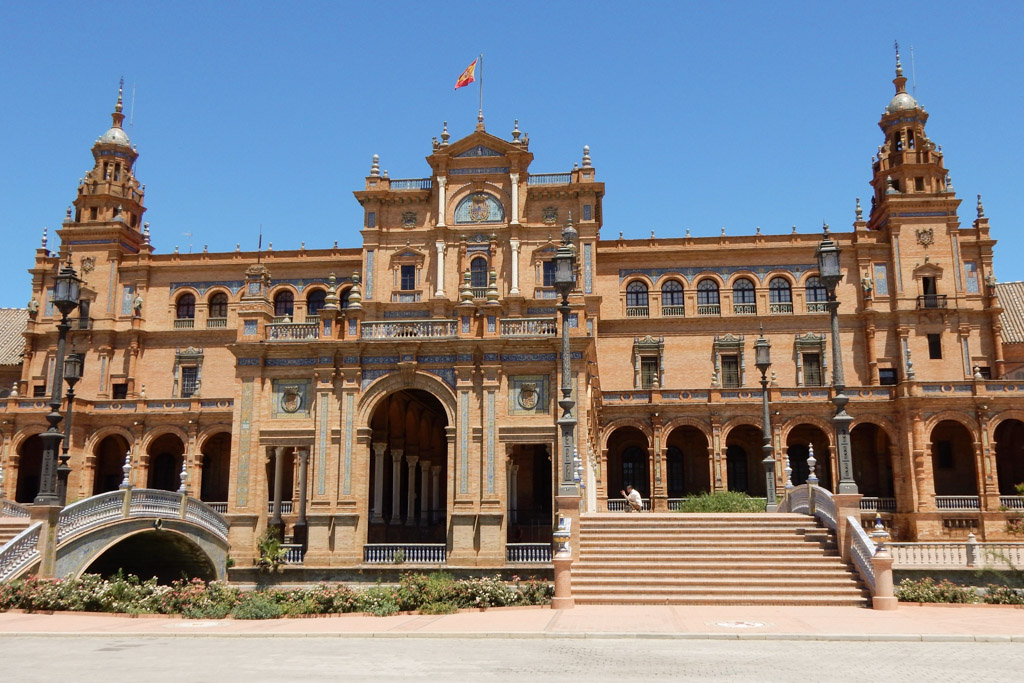 We spend 4 days in Seville exploring the alleyways, trying different tapas and catching flamenco shows. The first day we just wandered around and took a tram over to Plaza España around the golden hour.
The next day we started early to visit the Real Alcazar de Seville to avoid the crowds. This Mudejar palace was built by Pedro I on the site of Seville's former Moorish Alcazar and the architecture and the gardens are grand.
We then crossed the square to explore Seville's cathedral, where the great navigator Columbus's tomb is located. Make sure to climb the Giralda or belltower. It's 40 flights up but ascends via a smooth ramp, so there aren't stairs to climb.
I loved stopping every so often to get a view of the city below. Nearby EME Hotel has the best rooftop bar in Seville with a grand view of the Cathedral and serves up some refreshing cocktails.
Inside the Cathedral door of Seville's massive cathedral stands a monument to Christopher Columbus. His tomb is held aloft by four allegorical figures representing the four kingdoms of Spain during Columbus' life, Castille, Aragon, Navara, and Leon.
While we didn't see any matadors or bullfights in Seville, we did catch a couple of flamenco shows – Casa del Flamenco was absolutely gorgeous, set in an Andalusian patio in the charming Santa Cruz neighborhood. It is famous for not using microphones or amplifiers just natural acoustics and powerful musicians and the most authentic heel kicking dancers.
Another venue we loved was Casa de la Memoria. It was a small but authentic nightly show with a great mix of all of the flamenco's important elements of dance, song, and guitar. Go early to admire the tiles and artworks in their pretty patio and also to get the best seats in the house and of course get your tickets in advance.
After a flamenco show stop to catch a sunset view from the top of the wooden mushroom Parasol. In the Old Quarter of Sevilla amidst historic and beautiful buildings, a gigantic, modern interpretation of wooden mushrooms doesn't quite seem to fit but offers the (Second) best rooftop view. The basement floor houses a museum of ancient Roman and Moorish artifacts. Stop at Seville's Museo de Bellas Artes to see the Spanish art.
Barrio de Santa Cruz was once a Jewish quarter and now is the place to go to get to know the real Seville. A labyrinth of alleyways, white-washed housing, restaurants and boutiques, this area is definitely the highlight of the city.  Perfect for lunch, dinner, or a late-night chocolate con churro.
Where we Stayed in Seville: Petit Palace at Santa Cruz was centrally located and had a wonderful breakfast. Hotel EME is another great option, we were there for drinks and dinner one night and really loved the staff and the ambiance of the place.
Candy cane arches of Cordoba
We hopped on a train to visit the Candy cane double arches of Mesquita in Cordoba as a day trip. The Mesquita also called the Grand Mosque or Cathedral of Cordoba is quite unique.
Although originally built as a Mosque, the center of this magnificent building was converted to a Cathedral after the Christians conquered Spain.
After walking through the forest of pillars made from different colored granite, marble, and alabaster supporting dozens of horseshoe arches, that looks like candy canes stop for some Paella. The tiny streets around the Mesquita are filled with shops and restaurants.
Lunch at the Las Piconeras was one of the best we had in Andalucía – we had the best Paella, fried eggplant with honey, olives, and salmorejo – which is like gazpacho but richer and smoother. Next walk through the narrow Flower street, lined with blue pots brimming with foliage and a nice view of the bell tower of the Mesquita.
History buffs will want to go see the Alcázar de los Reyes Cristianos (Spanish for "Alcázar of the Christian Monarchs") – Isabella and her husband Ferdinand used the Alcázar for one of the first permanent tribunals of the Spanish Inquisition and as a headquarters for their campaign against the Nasrid dynasty in Granada which was the last of the Moorish kingdom in the Iberian Peninsula.
The monarchs are said to have met Christopher Columbus in the Alcázar as he prepared to take his first voyage to the Americas. The Alcázar also later served as a garrison for Napoleon Bonaparte's troops in 1800. Walk on the Roman bridge built over the Guadalquivir river, this river runs through the entire length of Spain; before catching the train back to Seville.
Road trip through Pueblos Blancos
Between the Atlantic in the west and the Mediterranean in the east, lies some of the prettiest hidden towns of Spain. If you are visiting Andalucia, you cannot miss a trip to "pueblos blancos", also known as white villages.
We stopped at the tourism office in Seville right behind the Cathedral to get some maps.  We had a GPS in the car but always good to have a good old fashioned map in hand, the tourism office gave us one marked "Route of the Pueblos Blancos or White Villages" we took this route to Granada where we spent the next 3 days. I highly recommend adding this to your Andalucia itinerary!
The "route of the white villages" is a tourist route that spreads from the region of la Sierra, the region of Janda, in the province of Cadiz and the Serrania de Ronda, in the province of Málaga.
The official route goes through these villages and towns: Alcalá del Valle, Algar, Algodonales, Arcos de la Frontera, Benaocaz, Bornos, El Bosque, El Gastor , Espera, Grazalema, Olvera, Prado del Rey, Puerto Serrano, Setenil de las Bodegas, Torre Alháquime, Ubrique, Vejer de la Frontera, Villaluenga del Rosario, Villamartín, Zahara de la Sierra.
These white villages, with whitewashed walls, red-tiled roofs, cobblestone streets, and ornate churches atop cliffs are rich in history. They date back to the Romans and Moors, offer spectacular flora & fauna, historical walking routes, and are havens for bird watchers & wildlife lovers.
The drive from Sevilla to Granada is about 155 miles or 250 kilometers. We drove to Arcos de la Frontera from Sevilla and from there stayed on A-372 till we got to Grazalema and then to Ronda. These hilltop towns warrant a day or two of exploring but if you are short on time like us, a stop for lunch or coffee still gives you enough time for a short visit. It was a long day but we made in time to catch the sunset in Granada.
Lunch stop at Grazalema
After getting lost in the labyrinth alleys of Arcos de la Frontera, our first white village stops we drove to Grazalema, a natural park with splendid flora and fauna that varies from Spanish fir, cork trees, maple woods to deer and Iberian wild goats. It's known for its great hiking routes and outdoor activity options.
Driving into the town, we saw quite a few bicyclists and hikers. Grazalema Natural Park has a trail of white villages going through it, many of which belong to the Natural Park.
The postcard-pretty hill town of Grazalema, was quaint will cafes, a little church and a square where you can watch locals playing cards and conversing. We walked around the whitewashed streets for a couple of hours after lunch before driving on to Ronda.
A coffee stop in Ronda on our Andalusia itinerary
The city of Ronda, Spain is perched high atop the two cliff faces of El Tajo canyon. The Guadalevín River, which courses through the city, has carved a deep canyon dividing it. The walls of the canyon are sheer drops to the river over 100 meters below and the white stone buildings are built to the very edge of the chasm.
Connecting the two parts of the city are three bridges, the Roman Bridge also called Puente Viejo, the Arab Bridge called Puente San Miguel, and the New Bridge Puente Nuevo. Pictured below is the not so new, New Bridge that was built in 1793.
In addition to its impressive bridges, Ronda is home to Spain's oldest bullfighting ring.  If you have more time, you can spend a leisurely day or two in Ronda. Ronda deserves a place on your Andalucia, Southern Spain itinerary.
Alhambra, the Grand finale in Granada
The highlight of any trip to Granada is a visit to the Alhambra and the view from Albayzín, the old Moorish quarter is my favorite.  Located on a hill across from the Alhambra, it has stunning views across to the palace. The area has a Moroccan feel to it and there are plenty of restaurants in the area that you can indulge in. 
At the San Nicolás terrace, you can catch some Gypsy music, especially during sunset. We made to the terrace viewpoint just in time for the magnificent sunset view, the red sandstone seemed to glow when the setting suns ray hit. It is virtually impossible to see the Moorish masterpiece, Alhambra without advance reservations. It is definitely better to get a tour booked than trying to visit on your own.
Where we Stayed in Granada: We stayed at a two bedroom suite in Granada, not counting the driving day, we had two days here.  I wish we had more!
Júzcar, the White village that turned blue
If you are a fan of the Smurfs cartoon show, you might want to add Júzcar to your Andalucia, Southern Spain itinerary.  Only 25 km from Ronda,  it is the only Smurf village in the world.  It is said that Sony Pictures executives asked this Andalusian village if they could paint the town blue as a publicity stunt for promoting Smurfs.
The residents of Júzcar, loved having the tourists visit their town and voted to keep the city blue when Sony offered to restore the town back to its iconic pueblo blanco after the promotion.  If you have a couple of extra days you can add the coastal area of Malaga and Cádiz to your itinerary.
Best time to visit Andalusia / Southern Spain
Wondering when is the best time to visit Andalusia, Southern Spain? The spring and fall months of April, May, June, September, October and November are the best time to visit southern Spain. Spain is said to be at it's most beautiful in October-November and March-May. If you are visiting during April don't miss the festivities of Feria de Abril (Seville April Fair).
We were there during our summer break in early July, while it was hot in Andalucía and Barcelona, just plan to take an afternoon siesta and drink lots of sherry 😉 or water when out and about. The streets were crowded but lively and we had no issues getting to museums and other sites that we had planned on visiting, as always a little planning always helps.
I hope you find our 7 day Andalucia Itinerary useful when planning your trip to Andalucia. If you are considering living abroad in Spain, here is some helpful information about the cost of living in Spain.
PIN IT FOR LATER
Note: This post may contain affiliate links, partnership or sponsored content. If you purchase an item via one of these links, we may receive a small commission at no extra charge to you. But as always images and opinions are our own. For more information on our affiliates and privacy policy at Outside Suburbia see here.
CONNECT WITH US