There are thousands of places to visit and things to do in San Francisco as you would expect in any city in California! Since Ms. Peachy goes to university here, I get to visit this city by the bay often, and here is our list of best things to do in San Francisco on a Girls weekend getaway. I usually plan my visits around a long weekend or my daughter's birthday weekend and we plan things that we want to do on our mother-daughter trip – usually a weekend itinerary of art museum visits, a show, some shopping, spa and of course some great eats (sometimes a quick trip to the wine country).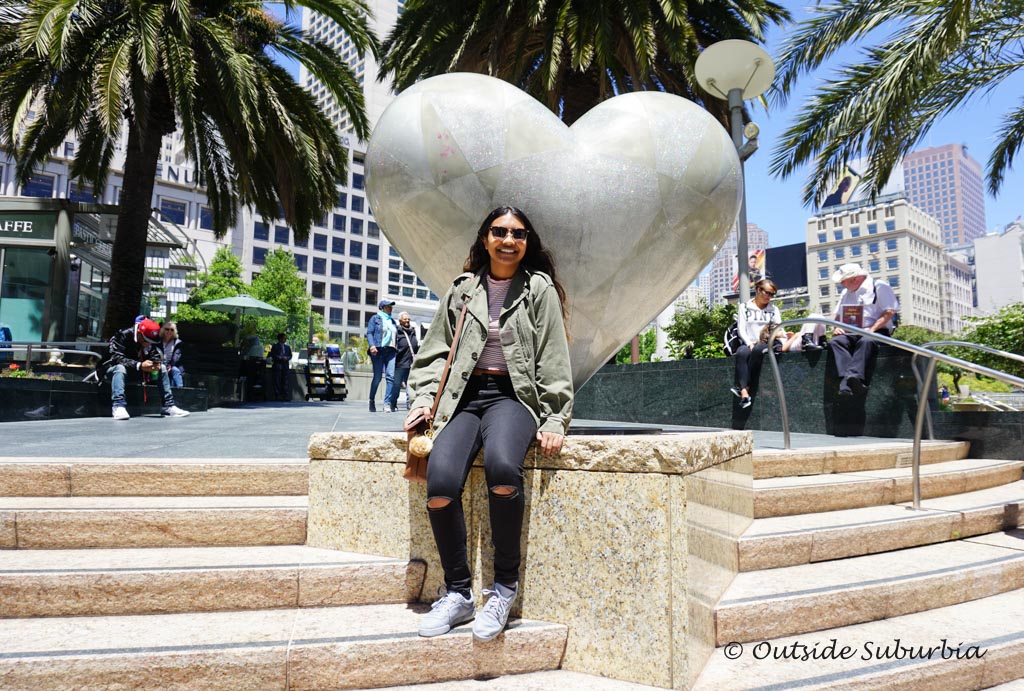 San Francisco is not just beautiful, it also has a personality that is hard to find anywhere else. From the Golden Gate Bridge to the historic cable cars, the city always makes for a charming visit. Whether you're going for three days or a whole week, you won't run out of things to do.
Girls Weekend Guide to San Francisco
Our 3 Days Weekend in San Francisco
There are plenty of awesome things to do in San Francisco, especially if it is your first time: walking on the Golden Gate bridge, exploring Chinatown, ride the iconic cable cars, cruising on the bay and strolling along Pier 39.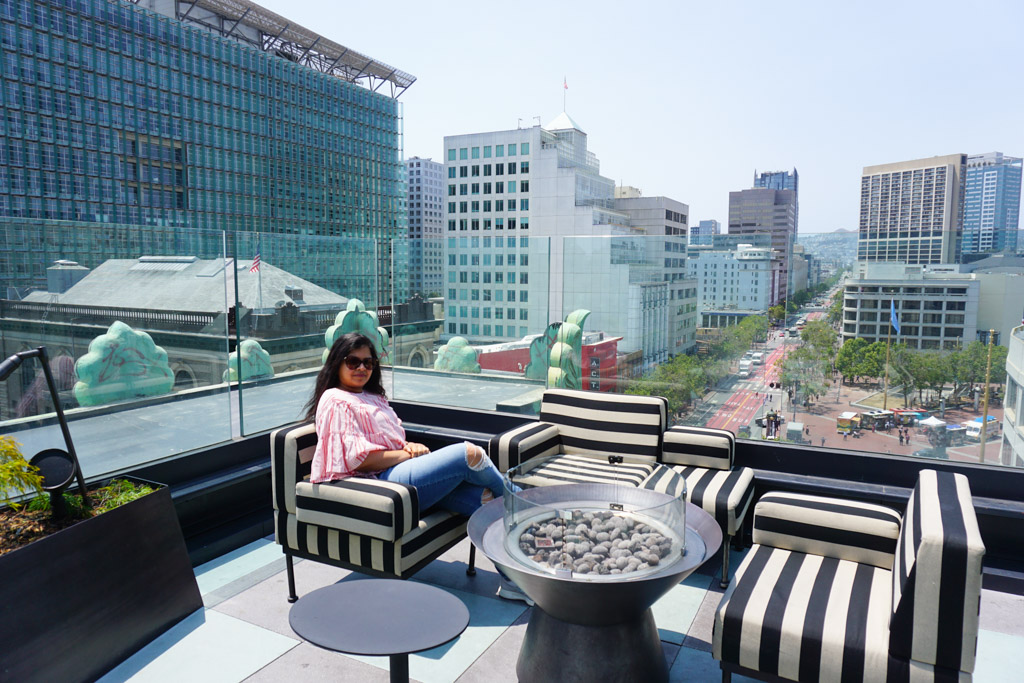 It is impossible to see everything on a girls weekend, it's best to have a plan based on your interests, here are a few things we love to do: Visit a museum, have a picnic (there are so many lovely parks in San Francisco), try one new restaurant, a stop at Ghirardelli for some ice cream and go on a few day trips – San Fran is so close to the wine region and so many quaint towns!
Best Things to do in San Francisco on a Girls Weekend
Ride the Iconic Cable Car
If this is your first time in San Fransico, you MUST ride the iconic cable cars of San Francisco over its roller-coaster hills. Hop off at Lombard Street to walk the "the most crookedest street in the world" and enjoy a stroll along the waterfront.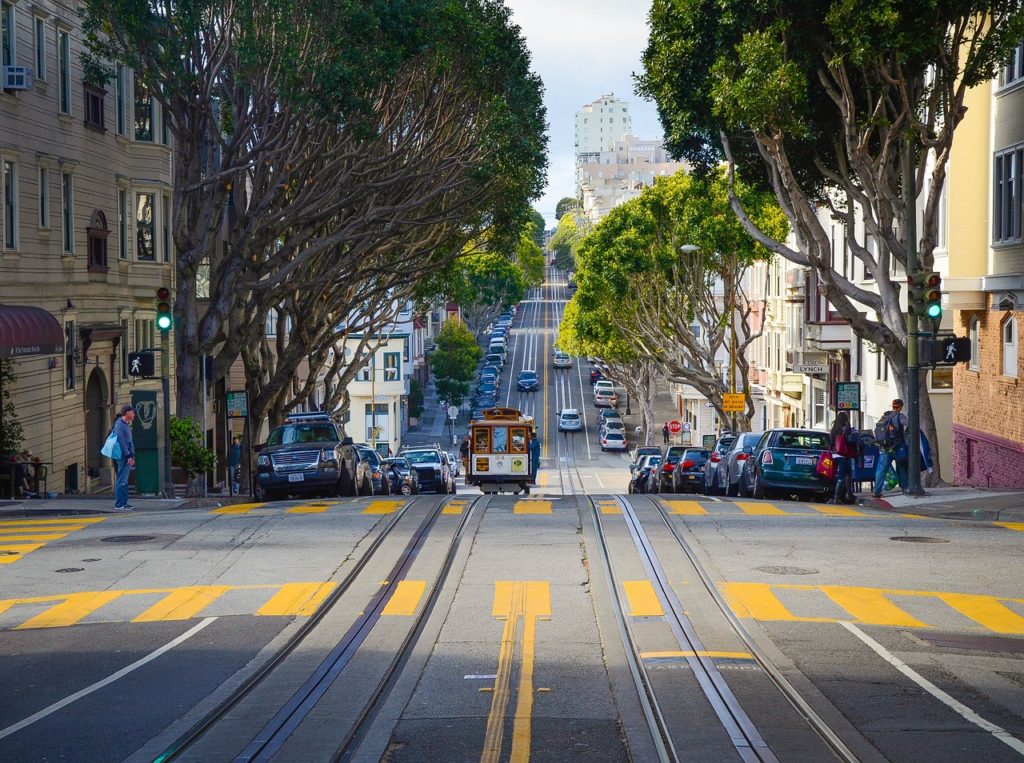 Another fun way to get around the city are these Bay Wheels (formerly Ford GoBike) which is a bike-share system in Bay Area. They have thousands of public bikes for use across San Francisco. You can get a Single Ride or Day Pass to use the system or sign up for an annual program. You simply use their mobile app or a card to unlock any bike in the system, ride around the city and dock it back when you are done. Now navigating those hills is totally up to you!
Drive on Crooked Street
Lombard Street is an east-west street in San Francisco, California that is famous for a steep, one-block section with eight hairpin turns. Stretching from The Presidio east to The Embarcadero. It is fun to see it from the top but not so fun to drive on it!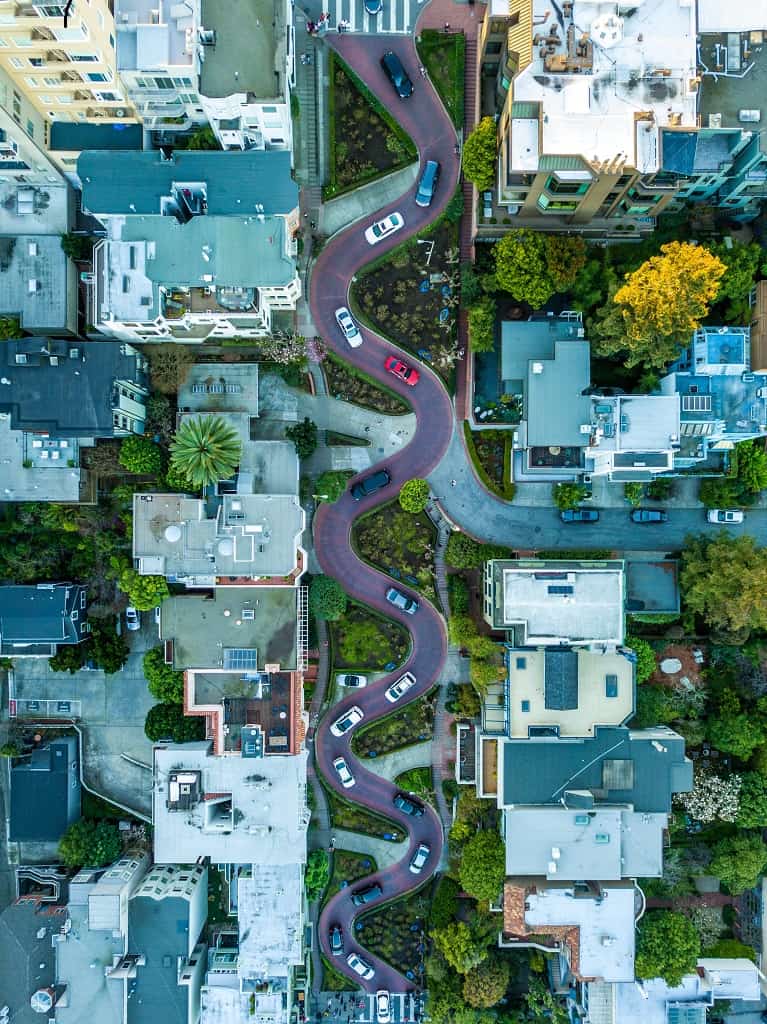 The Hyde Street cable car passes right by the top portion of the crooked street. You can catch it at a stop near here.
See the Painted Ladies
The next stop on our girls weekend in San Francisco is a trip to the affluent side of the city and a jaunt around Alamo Square. We make a quick stop at the Iconic row of historical Victorian homes, affectionately called the Painted Ladies, or sometimes bring a picnic to enjoy.
The neighborhood's hilltop park looks over much of the city. The Painted Ladies are extravagant Victorian rowhouses that survived the 1906 San Francisco earthquake and fire. The historical row of Victorian houses are icons of San Francisco and make appearances on movies, TV shows and postcards. Can you imagine, so much of the city once looked this way! Another reason we love San Francisco!
Take in the city views from Twin Peaks
Twin Peaks is a popular park with views of the Bay Area. It is famous for its 180-degree views of the Bay Area are offered at this 64-acre park with hiking trails. Stop at Twin Peaks to see a panoramic view of the city and in the Marin Headlands to see the city from across the Bay.
Take some photos at the Presidio
Presidio of San Francisco is another big park with trails and lookout areas. The 1,500-acre park was a former military post, is a major outdoor recreation hub. It has forested areas, miles of trails, a golf course and is very scenic.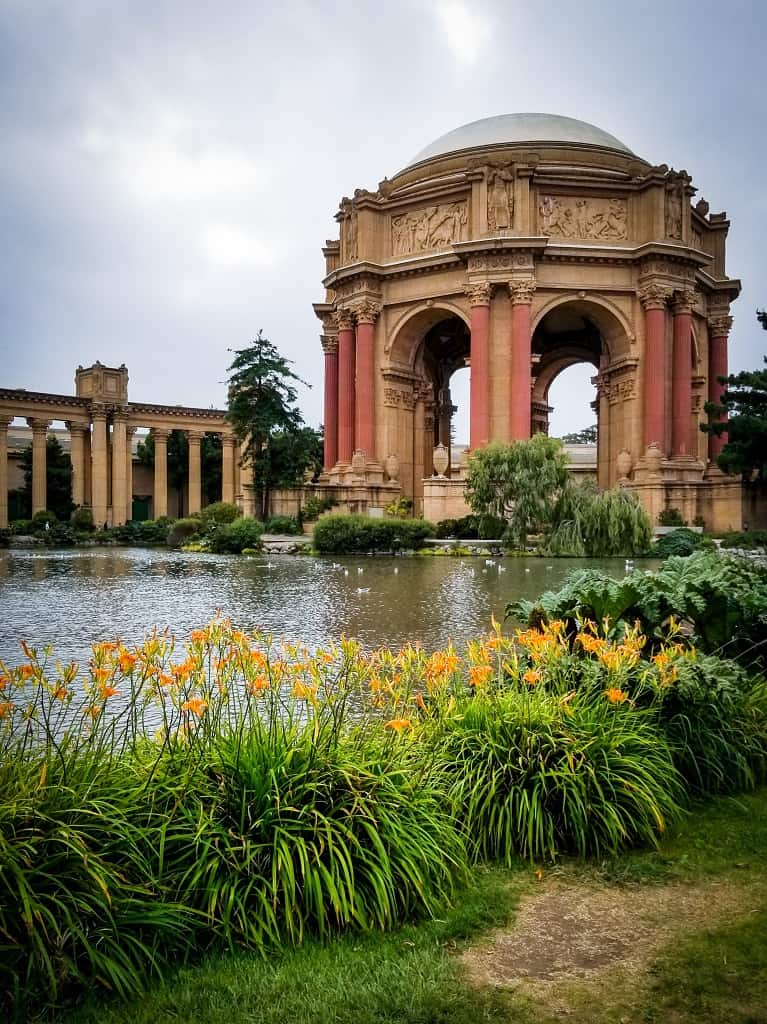 Another place for some beautiful photos in San Francisco is The Palace of Fine Arts. Its Greek-style colonnades and soaring central rotunda make it one of the most popular and recognizable features of San Francisco. It's a reminder of San Francisco's past, a symbol of the city's creative spirit, and one of the most dramatic backdrops for some photos.
The Palace is in a small neighborhood park that features lawns to picnic on and a tranquil lagoon populated with fish, birds, and turtles.
Take a postcard photo of the Golden Gate Bridge
Golden Gate Park, home to the California Academy of Sciences, the greenest museum in the world. It houses an aquarium, planetarium, rain-forest and natural history museum under a 2.5 acre living roof. And, of course, you can't miss a visit to the most photographed Golden Gate Bridge. It is the one of the MOST popular San Francisco attractions!
Tip: BEST Places to take a postcard shot of the Golden Gate Bridge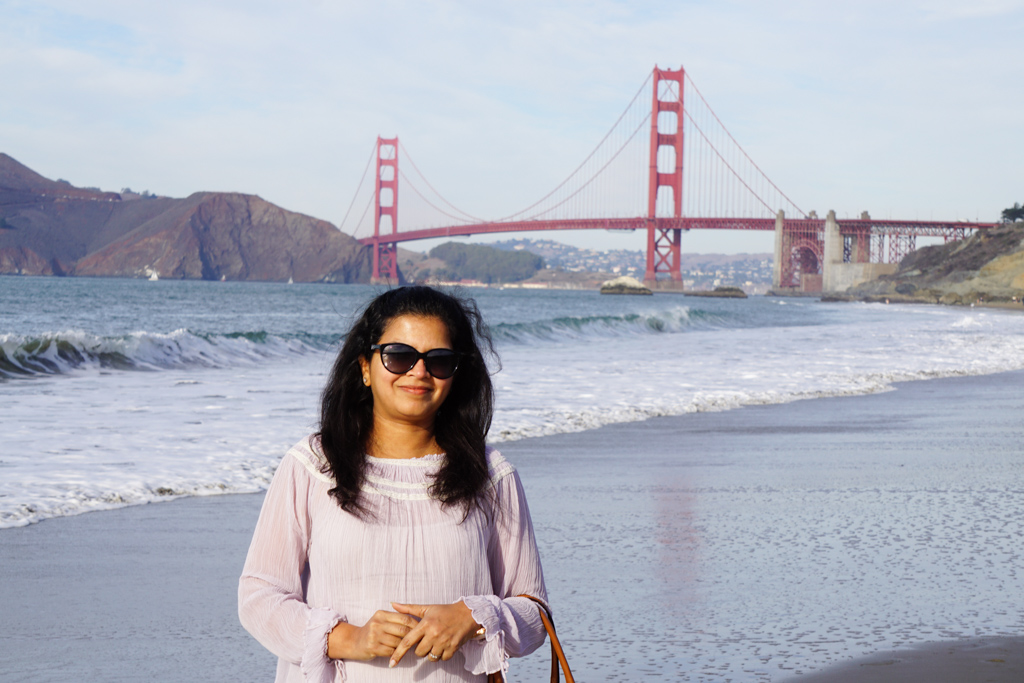 Stroll the 5 acres of the oldest Japanese-style garden in the U.S. (built in 1894) and view an eclectic collection of sub-gardens, buildings and artifacts.
Fisherman's Wharf & Pier 39
Fisherman's Wharf has lots of enticing shops and places to eat with Ghirardelli Square with a chocolate factory at its center. The Marina is a great place to join locals flying kites and walking dogs on a weekend morning. Don't miss the fun souvenir shops and stalls selling crab and clam chowder in sourdough bread bowls (We love Boudin!). You can see the Golden Gate and Alcatraz from here. There is also a colony of sea lions you can see by the pier.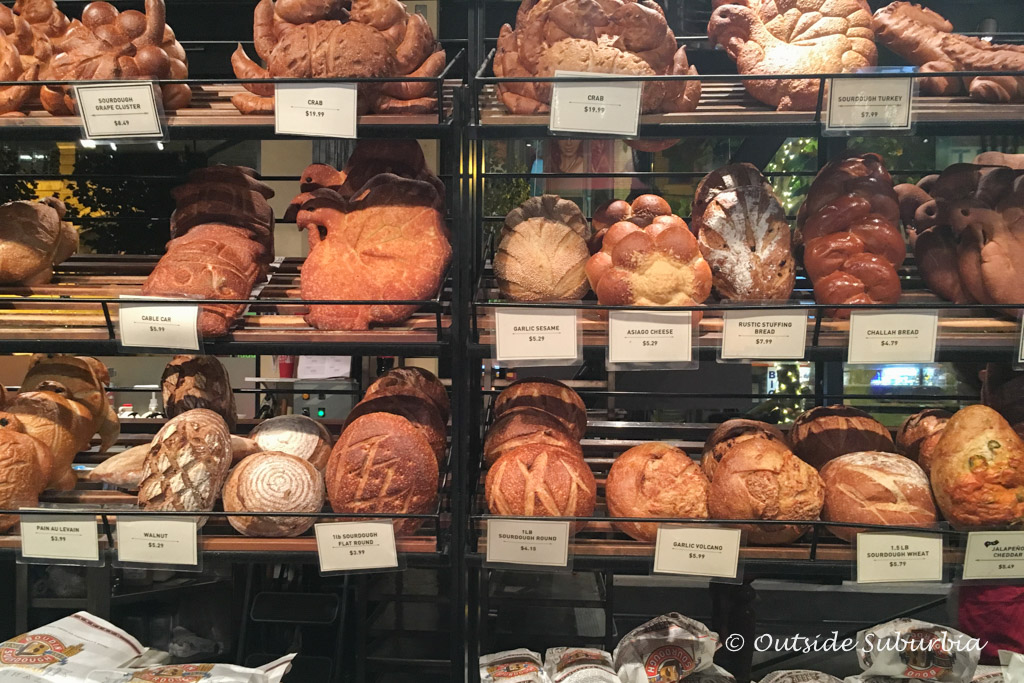 Go from Sea to Sky on the Tiled Stairs
A fun photo spot for your girls weekend in San Francisco is a colorful staircase hidden in the quiet Sunset district of San Francisco. This 16th Avenue Staircase is 163 steps of mosaic tiles, At the very top is the sun and at the bottom a seascape so you are climbing from the sea! We love the sea-to-sky theme!!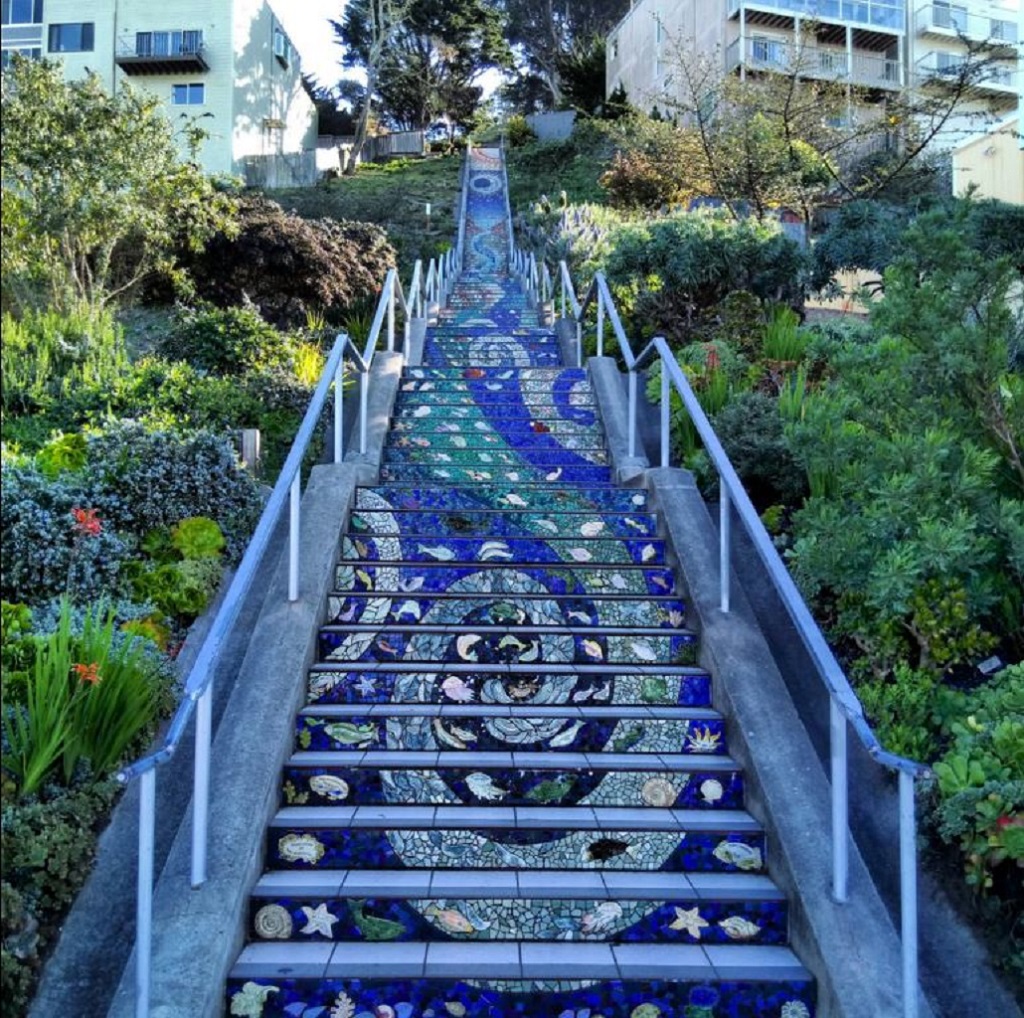 When you make the trip to this offbeat place in San Francisco, you will be rewarded with sweeping views of the city, and a beautiful garden design with succulents and native plants for the Green Hairstreak butterfly. The site is an important waypoint on San Francisco's famous Green Hairstreak Corridor. The Green Hairstreak Corridor is an urban wildlife corridor of 11 restored public lands habitat sites for the Green Hairstreak butterfly.
The project began in 2003 and was completed in 2005, with the help of artists and many neighborhood volunteers. All the mosaics are donated by the community and it is said to be inspired by the Selarón staircase in Rio de Janeiro, a brightly colored tiled staircase and popular tourist destination.
On Moraga St. between 15th & 16th Ave. San Francisco CA
AT&T Park (usually when D is with us)
Catch a ball game at AT&T Park, which is home to the San Francisco Giants and take in the breathtaking views and classic design. Even if it is not the season for baseball this ballpark with bay views offers tours and hosts special events. (This is usually D's favorite stop if we are visiting San Francisco as a family)
Yerba Buena Gardens
Just blocks from Union Square is one of our favorite parks – Yerba Buena Gardens and is located on Market Street across from Hotel Four Seasons San Francisco.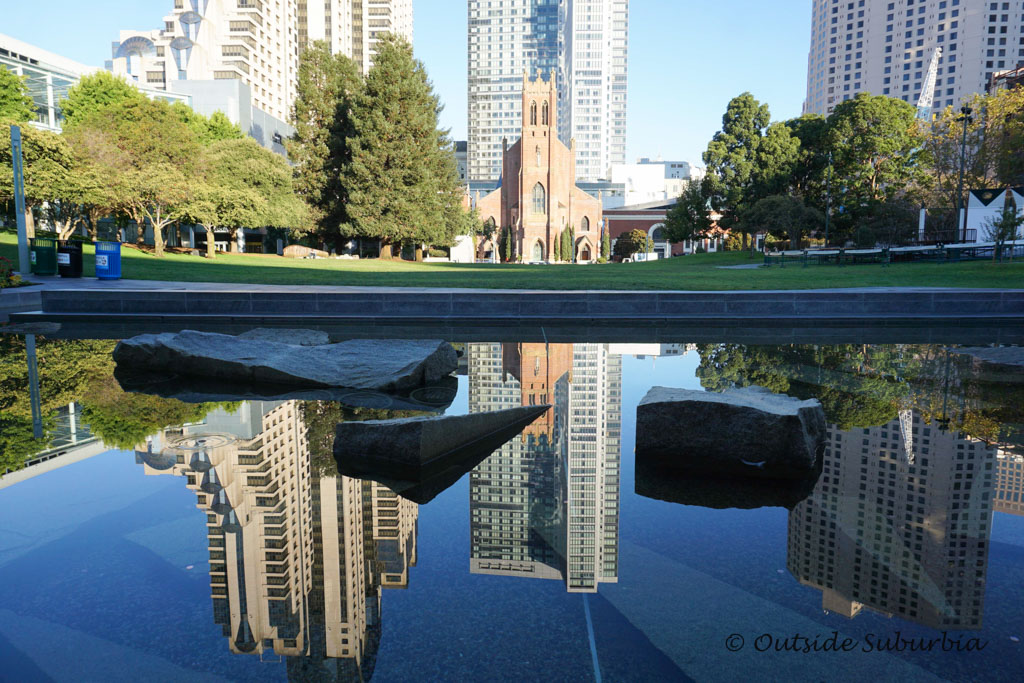 Dutch artist Lin Utzon designed the walls which flank the Martin Luther King Jr. Memorial and the sculpted waterfall and silvered forms to reflect the surrounding nuances of water, sky, and landscape. The fluted granite walls, emblazoned with immense silvered fissures, adjust to changes in sunlight and weather. We love spending time here before heading to SFMOMA.
Visit a few world-class Museums
San Francisco has some world-class museums. After a walk around the Yerba Buena park and taking in the arts that open a window on San Francisco's diverse and culturally rich art scene, head to SFMOMA.
SFMOMA, The San Francisco Museum of Modern Art is one of the largest museums of modern and contemporary art in the United States and a cultural center for the Bay Area. It houses a wonderful collection of painting, sculpture, photography, architecture, design, and multimedia arts.
See this post for my version of a virtual museum walk at the SFMOMO.
See some Murals and Public Art
Street art is not hard to find in the city of San Francisco but there is one street in Mission District that is filled with some amazing works. During our girls' weekend in San Francisco, we drove to Mission District for a do-it-yourself art walk. We started with the Clarion Alley. Clarion Alley runs one block (560 ft long and 15 ft. wide) in San Francisco's inner Mission District between 17th & 18th and Mission and Valencia streets.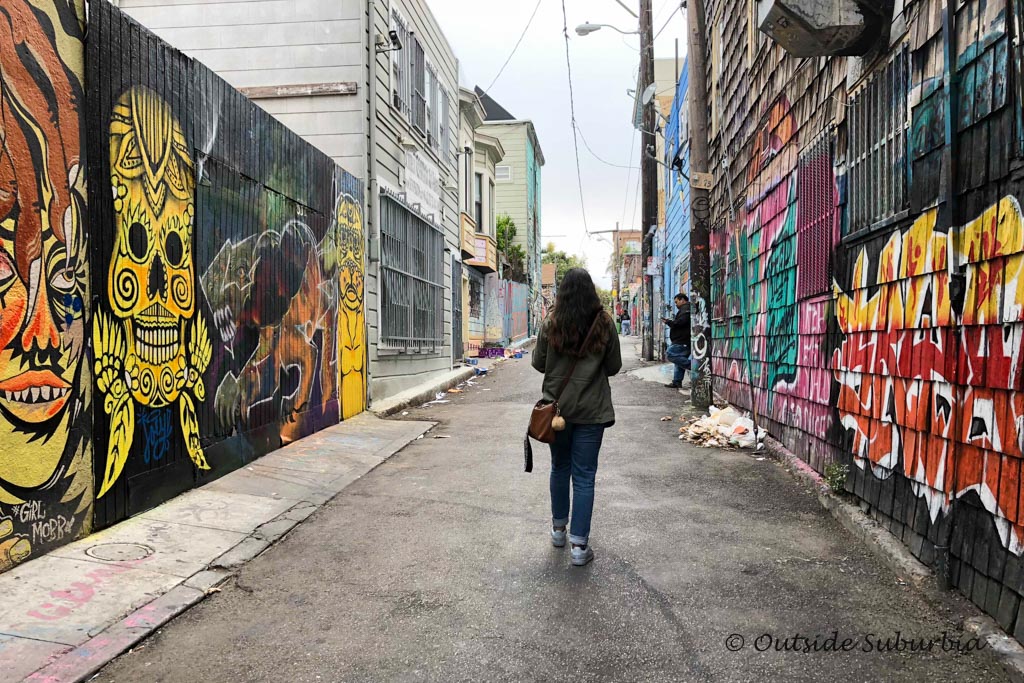 Clarion Alley Mural Project (called CAMP) was established in 1992 by a volunteer collective of six residents and artists, who were inspired by the murals of Balmy Alley. Although the neighborhood is a little gritty, it was pretty safe for us to walk around and find the different murals.
See this Post: Where to see Street Art in San Francisco
Climb up Coit Tower
If you have time to spare, climb up the Coit Tower, for a 360 degree view of the city. Coit Tower is a slender white concrete column rising from the top of Telegraph Hill, a 1930s-era building known for its WPA murals, 360-degree views & a resident flock of parrots.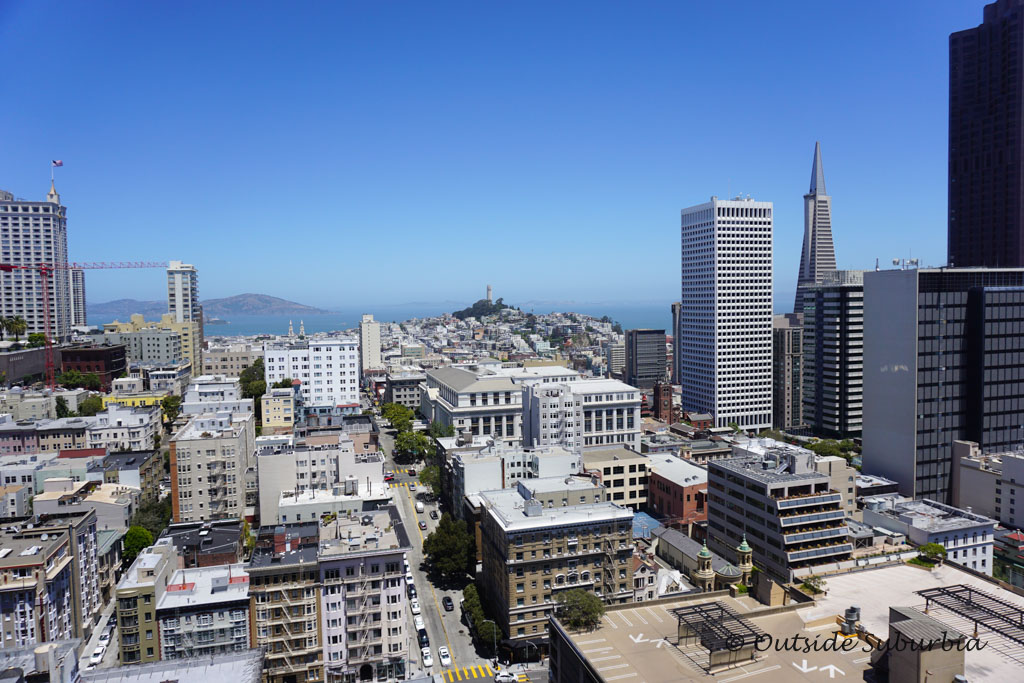 Best spots to see the San Francisco Skyline and have a picnic
If you want to get some photos with views of the San Francisco skyline, you can see them from a few different parks in the city. Mission Dolores Park tops my list of best viewpoints in San Francisco. One of my favorite things to do in San Francisco during our Girls Weekend was our picnic at this park.
We picked up some treats from Tartine bakery and some picnic supplies from Bi-rite on 18th Street and walked over to Mission Dolores Park for a picnic with our bounty of California figs, strawberries, cheese, and some rose.
You probably have seen Alamo Square Park in movies, TV shows, or postcards. The juxtaposition of the row of pretty Victorian and Edwardian timber houses in the foreground (the Painted Ladies) , with the towering modern skyscrapers behind, captures the essence of San Francisco. Another great spot for a picnic in San Francisco.
Located in a residential neighborhood close to the city and is free to access, Twin Peaks is one of the tallest viewpoints in San Francisco and a great place to see the skylines.
501 Twin Peaks Blvd, San Francisco, CA 94114
Bernal Heights Park is a hilltop expanse of grass in the western suburbs of San Francisco. It's also a great spot to watch a sunrise in San Francisco. The view from Bernal Heights is similar to the more famous Twin Peaks, but minus all the crowds.
3400-3416 Folsom St, San Francisco, CA 94110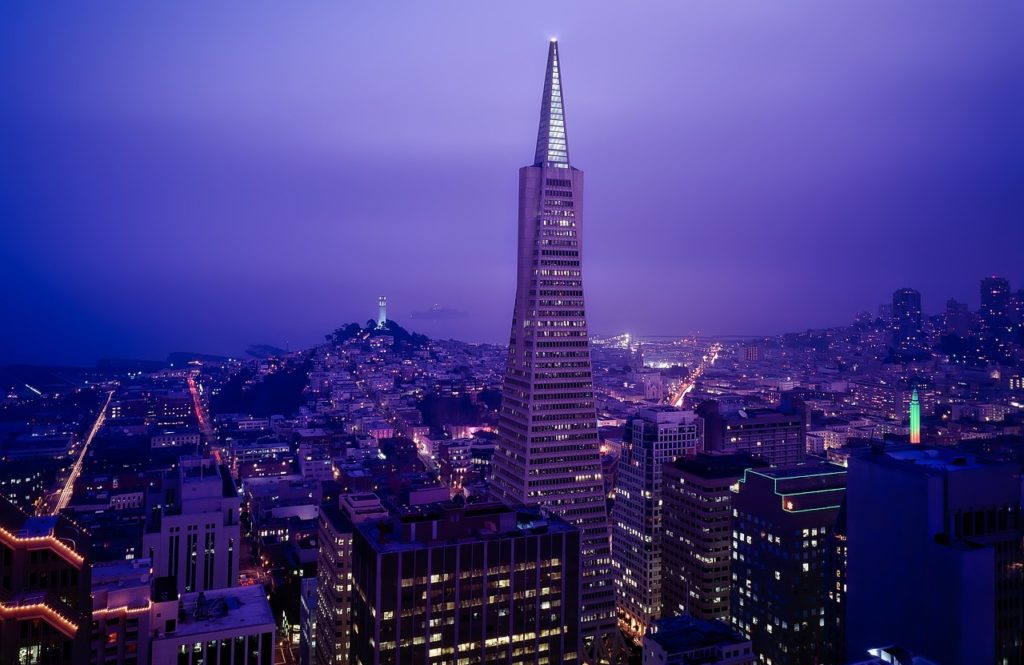 Ideas for Day trips from San Francisco
There is plenty to do within the city of San Francisco but if you have a few extra days, a trip to the wine country in Napa or Sonoma can be done in a day. For a longer trip, steal our California road trip itinerary ideas.
We love visiting the Point Reyes National Seashore, on the way to Point Reyes, you can spend some time on the trails at Muir Woods National Monument. It is part of California's Golden Gate National Recreation Area, just north of San Francisco and known for its towering redwood trees.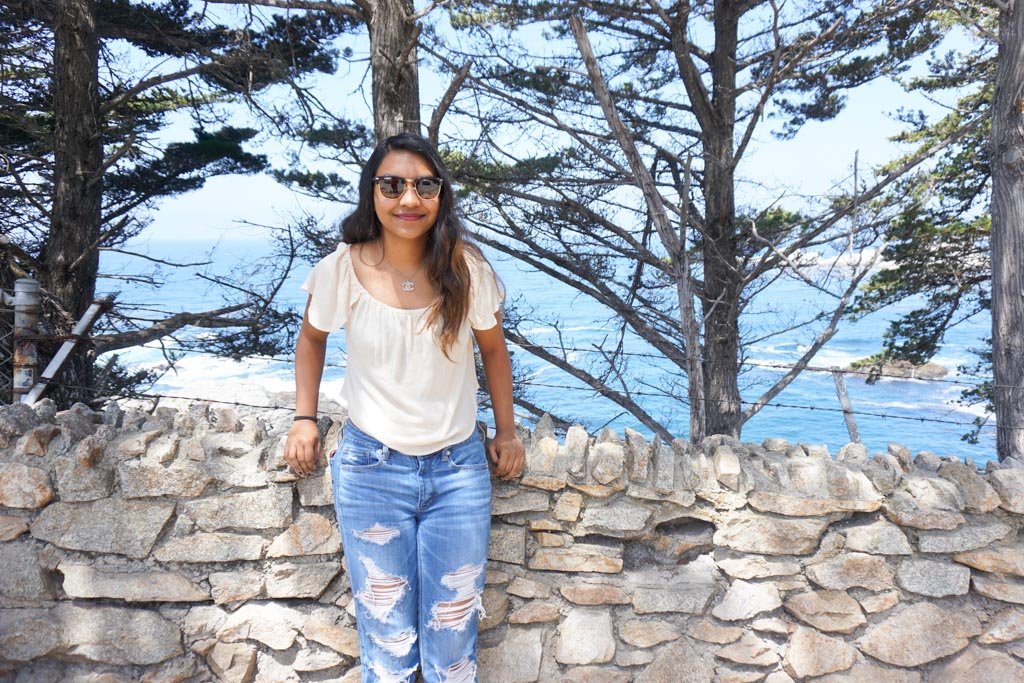 You can explore more of Northern California's charming towns on a road trip. Here are some favorites:
Sausalito
After you wander through California's Muir Woods, the last standing old growth forest in the Bay Area, head to Sausalito to hobnob with the rich and famous. Take in the cityscape and bay view from Farley Bar at Cavallo Point or dine at Scoma's.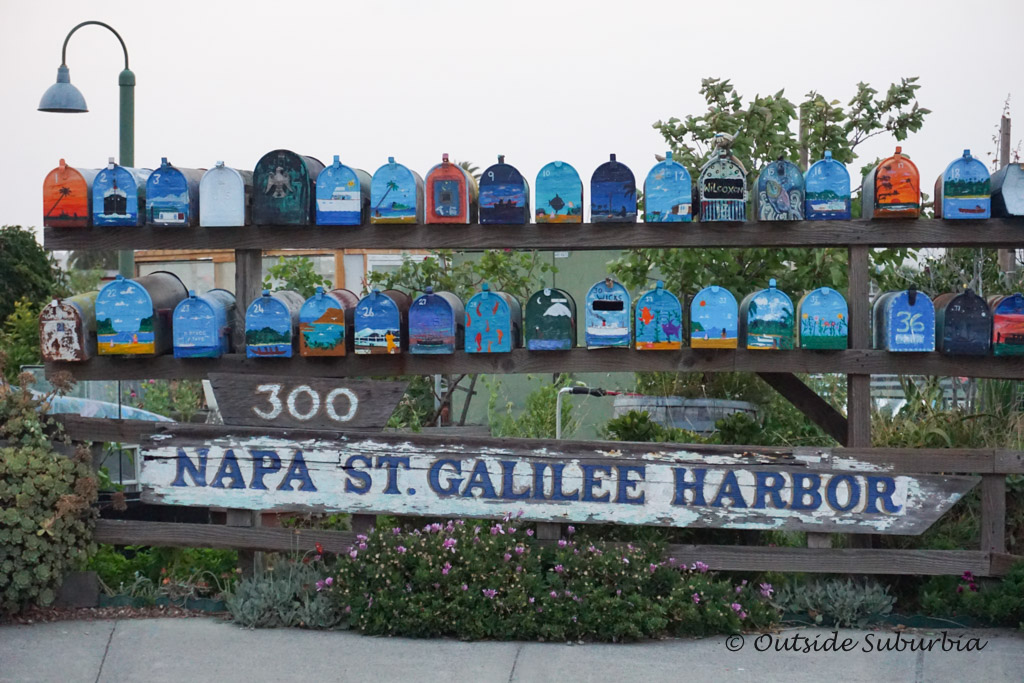 Point Reyes
Drive to Point Reyes and stroll out to the lighthouse on the windiest spit of land on the Pacific Coast. Point Reyes is the windiest place on the Pacific Coast and the second foggiest place on the North American continent. Weeks of fog, especially during the summer months, often reduce visibility to hundreds of feet. This vast expanse of protected coastline in Northern California's Marin County is one of the windiest places we have ever been, come prepared with some windbreaker jackets.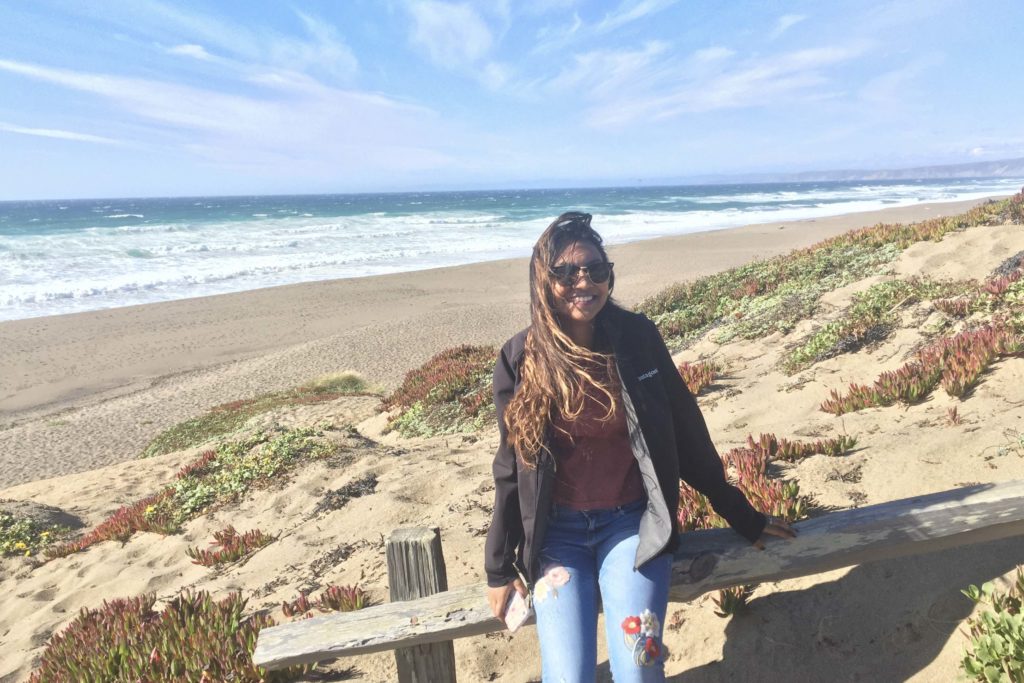 The Point Reyes Headlands, which just 10 miles out to sea, pose a threat to each ship entering or leaving San Francisco Bay. The historic Point Reyes Lighthouse warned mariners of danger for more than a hundred years. The Point Reyes Lighthouse, built in 1870, was retired from service in 1975 when the U.S. Coast Guard installed an automated light.
Napa or Sonoma Valley
There are more than 400 wineries in Napa Valley, one of the world's premier wine regions which in my books means multiple trips to try all that famous and prized Cabernet Sauvignon.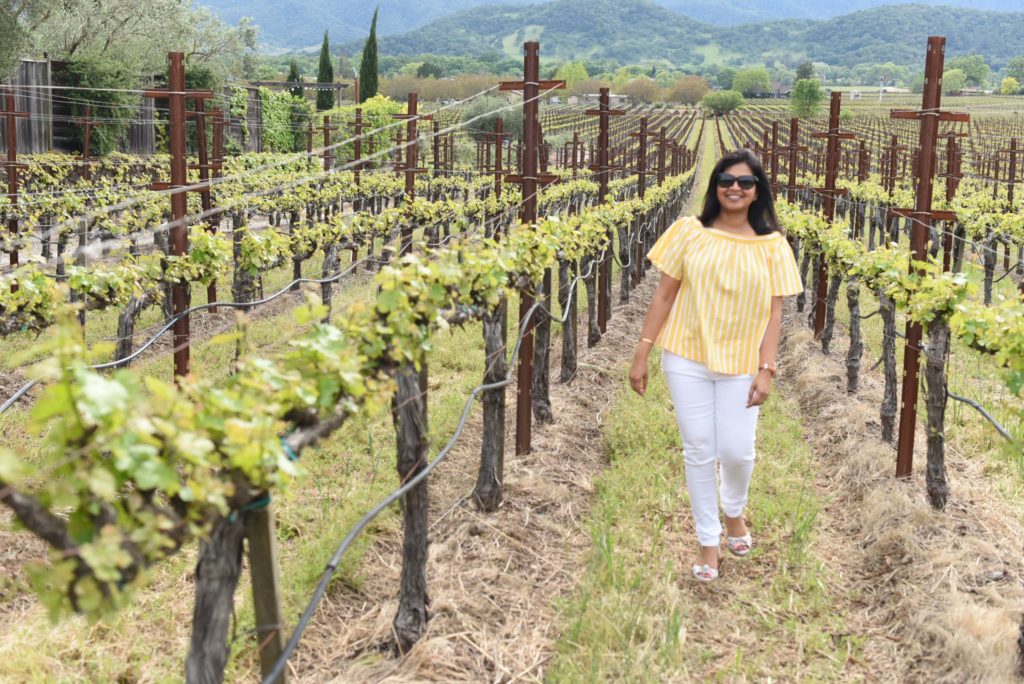 See our family trip to Napa here when we managed to find some kid friendly things to do.
Another wine region that makes for a great day trip from San Francisco is Sonoma Valley. Sonoma is a neighbor to Napa valley, and home to a whole new world of wineries. Wind through wine country on a vespa stopping for sips at the many wineries. We love the Jordon winery here! Stop at Oxbow Public Market, they gather the best of the bay area food and sundries under one, giant roof.
Halfmoon Bay
The San Mateo County Coastside is made up of over 300 square miles of beautiful California countryside, with easy access to sandy beaches, redwood forests, and the coastside encompasses a few cities including Half Moon Bay. It makes for a nice day trip from Sand Francisco. Pay a visit to the Purisma Creek Redwoods or see the sights via pony on a guided ride with Sea Horse Ranch.
Carmel by the Sea
Located just an hour and a half away, Carmel by the Sea makes for a great day trip from San Francisco. The charming village is so photogenic. It has a sliver of white sand beach, natural parklands nearby and flower-filled courtyards, and storybook-style cottages with names like Hansel & Gretel and Ocean's End.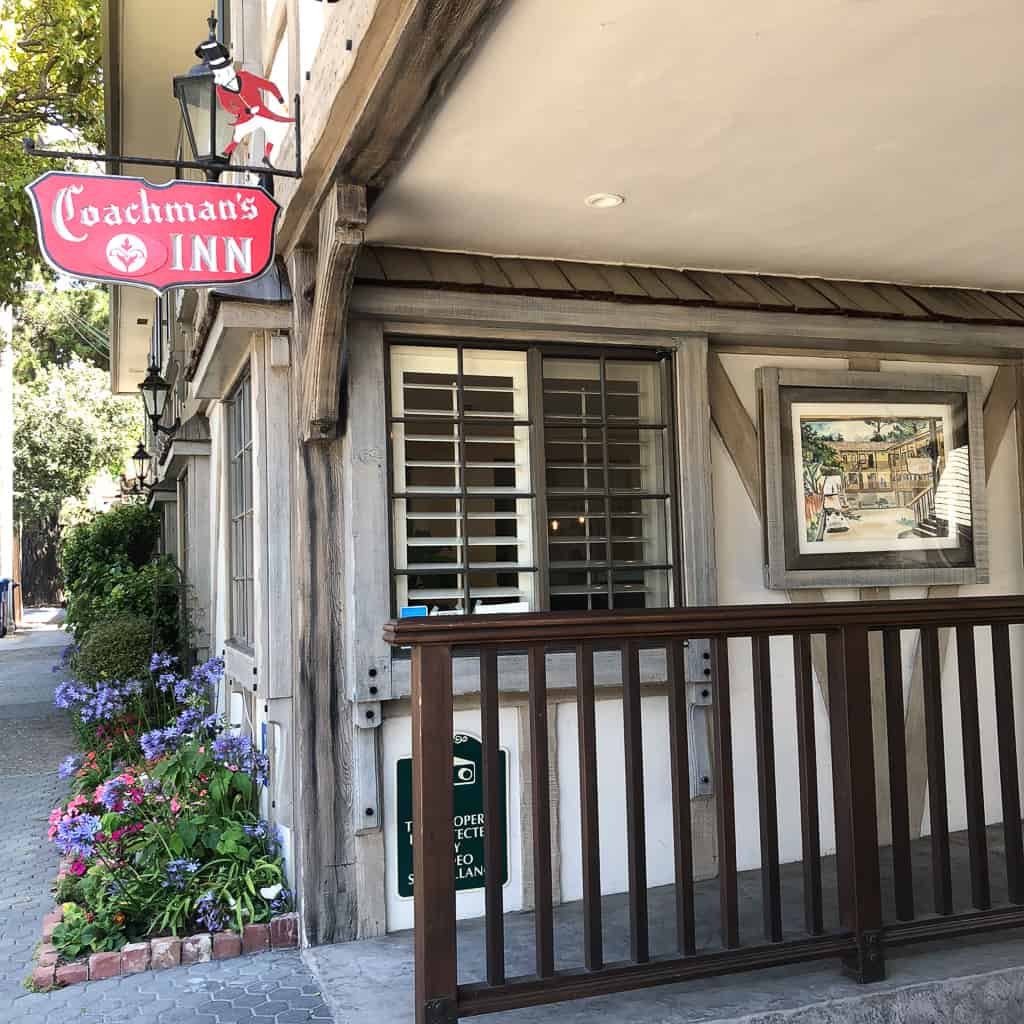 Here is how to save on tickets to San Francisco attractions
You can get the most out of your trip to San Francisco and enjoy access to five of the city's top attractions with the San Francisco CityPASS.
If you're going to visit all five attractions, the San Francisco CityPASS is definitely worth it. These are the best discount tickets to San Francisco attractions.
San Francisco CityPASS provides everything you need to make sure you maximize your time in the City by the Bay. It gives the flexibility to choose the attractions that best suit you and your family, whether you're into art, science or marine life. Plus you can enjoy a wealth of useful San Francisco tips and other savings at other venues and retailers.
The CityPASS booklet grants you free entry into: California Academy of Sciences, Blue & Gold Fleet San Francisco Bay Cruise, Choice of visiting Aquarium of the Bay or Walt Disney Family Museum. And an Option Ticket to either Exploratorium OR San Francisco Zoo and Gardens
Best San Francisco Tours
Where to Eat in San Francisco
When visiting San Francisco, stop for some dim sum in Chinatown or try the seafood at Fisherman's Wharf. Afternoon Tea at Fairmont San Francisco is one of the best things to do in San Francisco on a Girls Weekend. Garden Court at the Palace Hotel is a luxury place with ornate chandeliers, a glass dome, and marble, iconic columns. There's also a charming Japanese tea house for refreshments with a Pacific flavor at Golden Gate Park.
We love to end the day with some ice cream or treats at Ghirardelli Square. It even has a chocolate factory at its center.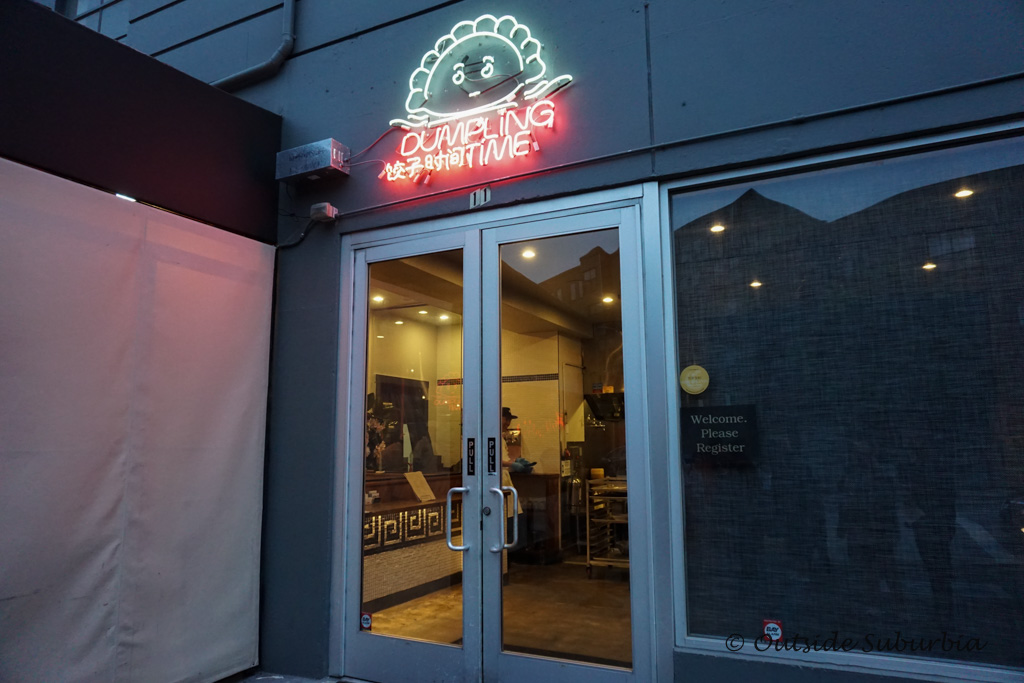 Also don't leave San Francisco without trying the famous sourdough bread, we love getting some world-famous New England-style clam chowder served in a sourdough bread bowl at Boudin Bakery by the wharf, they have vegetarian options as well. We also love Villion, Dumpling house and driving across the Golden Gate Bridge to Sausalito for catching sunset and dinner at Scoma's.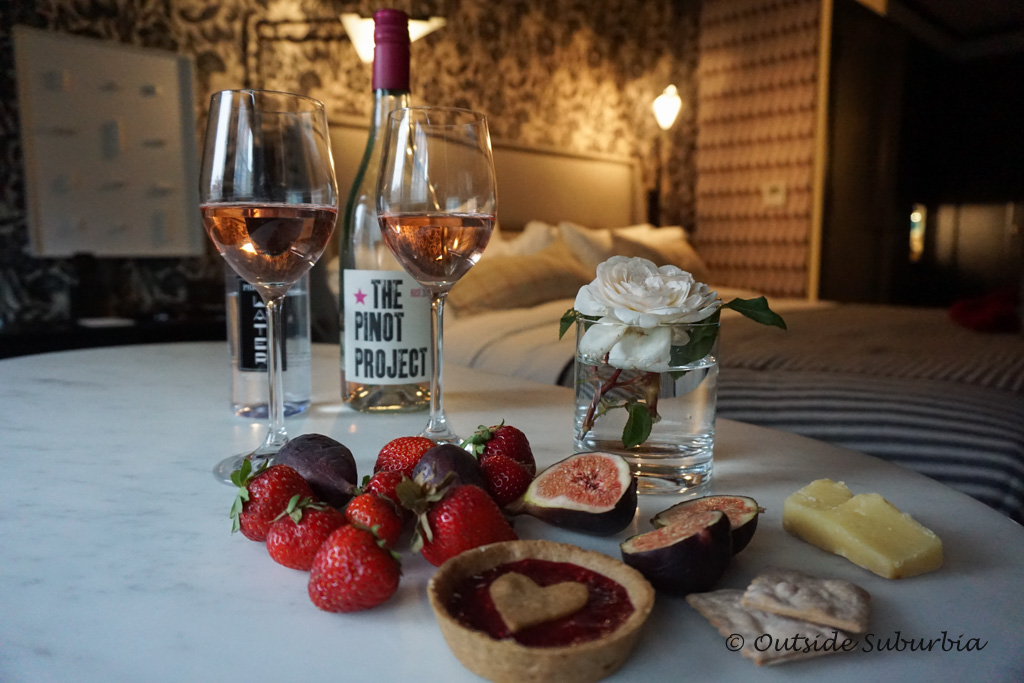 San Francisco had a great food scene, where you will find Mission District cafes to Michelin-starred dining rooms. See here for some great restaurants in San Francisco and a Visual story of Weekend Getaway in San Francisco
Where to Stay in San Francisco
The family-friendly Grand Hyatt has some of the best views and we also love the location of Four Seasons Hotel San Francisco. Lodge at the Presidio and Proper Hotel are other great options if you are looking for a boutique stay. I love the art-filled lobby and beautifully papered rooms at the Proper.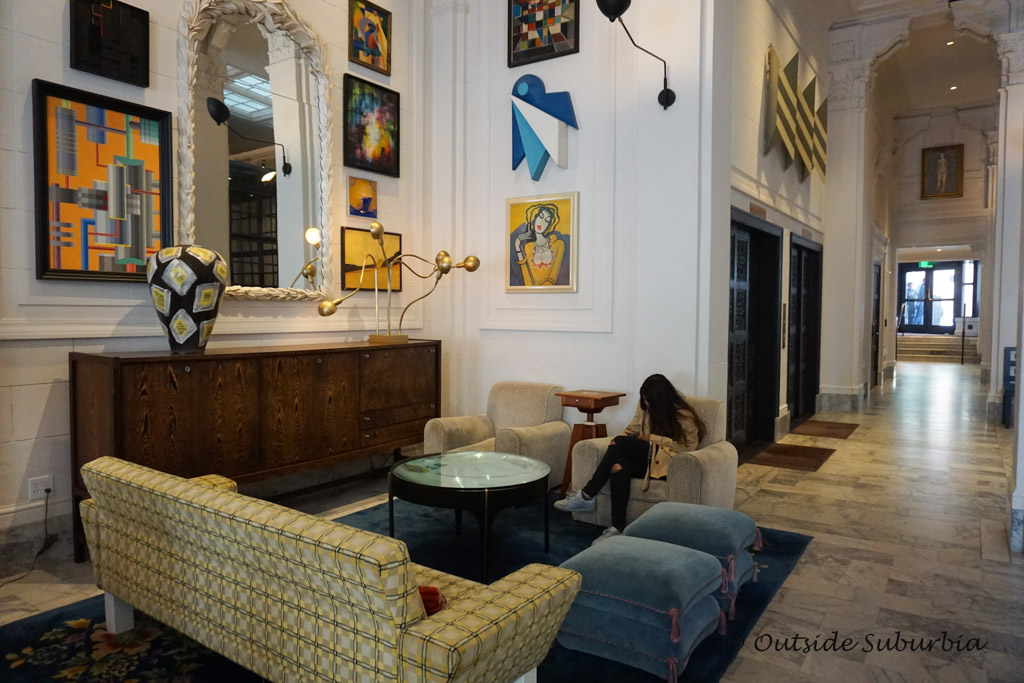 Did I cover all your favorite things to do in San Francisco? Where should we go next?
PIN IT FOR LATER
Note: This post may contain affiliate links, partnership or sponsored content. If you purchase an item via one of these links, we may receive a small commission at no extra charge to you. But as always images and opinions are our own. For more information on our affiliates and privacy policy at Outside Suburbia see here.
CONNECT WITH US