Whether you live there, visit for a weekend getaway, or a long adventure, there is no shortage of beautiful destinations in the Golden State to explore. With towering redwoods, grapevine-clad hills, tranquil towns, and bustling cities, there is so much to see. This epic California road trip itinerary ideas take you through some of the bigger cities, has detours ideas to National Parks and small towns, and has you driving along the epic Pacific Coast Highway. If you love long drives, beautiful hotels and stunning sunset views you will want to keep reading.
Our daughter goes to University in California and son attends a baseball camp there during summer and I have cousins that live there. Most of our summers start with us driving on some part of the PCH, on a California road trip. I think it is one of the most incredible places in the world. I often contemplate moving there and we end up making at least one trip every year.
While this is a 2 week California Itinerary, that takes you from San Francisco to San Diego, you can do parts of it depending on your interest. You can go on one of these California road trips for a weekend or a whole month! Whether you love the city or camping among ancient trees there is something for everyone in California.
Map out your future – but do it in pencil. The road ahead is as long as you make it. Make it worth the trip.

Jon Bon Jovi
San Francisco to San Diego: 2 Week California Road trip Itinerary
The 14-day California road trip itinerary would take us from San Francisco, through Monterey, Carmel-by-the-Sea, Big Sur, Santa Barbara, Malibu, Los Angeles, Palm Springs and finally San Diego. While these are just some of the stops on a Pacific Coast Highway Road Trip if you have time you can explore the towns and destinations in the detour section for a mini road trip.
See a visual story of a few California Road trip ideas
Two Week West Coast Road trip Itinerary
Days 1-2: San Francisco
Day 3-4: Napa and the wine region
Day 5: Monterey or Carmel by the Sea
Day 6: Big Sur
Day 7-8: Santa Barbara
Sneak in a drive through the Santa Ynez Valley
Day 9-10: Los Angeles and Malibu
Day 11: Palm Springs
Day 12: Joshua Tree
Day 13-14: San Diego
Begin your 2 week California Road Trip by flying into San Francisco or Sacramento. Rent Your Vehicle For Your California Road Trip, a convertible would be awesome but any set of wheels will do.
If you fly into Sacramento you can explore Napa and the wine country before you drive up to San Francisco.
Or drive to the wine country after spending some time in San Francisco. Explore a few places in Northern California before driving South. Like I mentioned before you can do this California drive in 2 weeks or as multiple mini road trips and weekend getaways.
California Road trip Itinerary Map
How to Use This Map: Use your fingers or computer mouse to zoom in on the details. Click the tab in the top left-hand corner of the map to view the layers (places and the driving route). You can click the icons on the map to get more information about each point of interest.

If you click the star next to the title of the map, this map will be added to your Google Maps account. To view it on your phone or computer, open Google Maps, click the menu button, go to "Your Places," click Maps, and you will see this map on the list.
Start your California road trip in either San Francisco or Sacramento
If you are starting your California road trip in San Francisco, start your day at The Golden Gate Park. Take some postcard shots of the famous bridge. Then spend some time in Fisherman's Wharf, Alcatraz Island. Ride on the famous San Francisco tram and make sure to walk down Lombard Street.
Check out street art in San Francisco, then walk over to Mission Dolores Park to enjoy a picnic and great views of the city. Eat some dumplings and try the world-famous New England-style clam chowder served in a sourdough bread bowl at Boudin Bakery. There are tons of things to do in San Francisco.
Sausalito (Sauzalito) is Spanish, meaning "small willow grove." Pre-World War II it was known for its shipmaking. Now it is an artistic houseboat community of over 400 boats. You can take a boat from San Francisco or drive on the Golden Gate Bridge and have dinner at one of the restaurants in Sausalito.
Where to stay in San Francisco
We have stayed at a few different places, Four Seasons San Francisco, Grant Hyatt and the art filled Hotel Proper are some favorites.
See this post for some fun things to do in San Francisco
Detours and mini California road trip ideas from San Francisco
Visit the Point Reyes National Seashore, a vast expanse of protected coastline in Northern California's Marin County – it is one of the windiest places so go prepared with some jackets.
On the way to Point Reyes, you can spend some time on the trails and walk among the ancient trees at Muir Woods National Monument. It is part of California's Golden Gate National Recreation Area, just north of San Francisco and known for its towering redwood trees.
If you're coming straight from San Francisco along the Pacific Coast Highway you will pass the stunning Half Moon Bay. You can spend a night here at The Ritz-Carlon right on the beach and visit Santa Cruz the next day.
The Santa Cruz Beach Boardwalk with its old-school Americana vibe and my kids love it. You can also visit The Mystery Spot – a collection of strange that makes for a few hours of entertainment.
Tahoe, Yosemite National Park makes great detours and mini road trips from San Francisco or Sacramento.
Sip wine in Napa and the wine country
With over 500 wineries in the region, the wine country of Napa and Sonoma is a beautiful place for a California road trip with rolling hills and farms. The Wine Country is not just about wineries, there are many upscale Michelin starred eateries(have breakfast at Boon Fly Cafe, brunch at Auberge and skip dinner and stop a few tasting rooms instead ).
Napa is also a perfect place to relax and unwind in the country, go on hikes and road trips to stop and just admire the rustic landscape!
Where to Stay in Napa
You are spoilt for luxury stays and romantic inns at the wine country. You can't go wrong with Calistoga Ranch or Solage, part of Auberge Resorts Collection. If you need a little more room and bringing along the clan on your California Road trip, stay at the Silverado.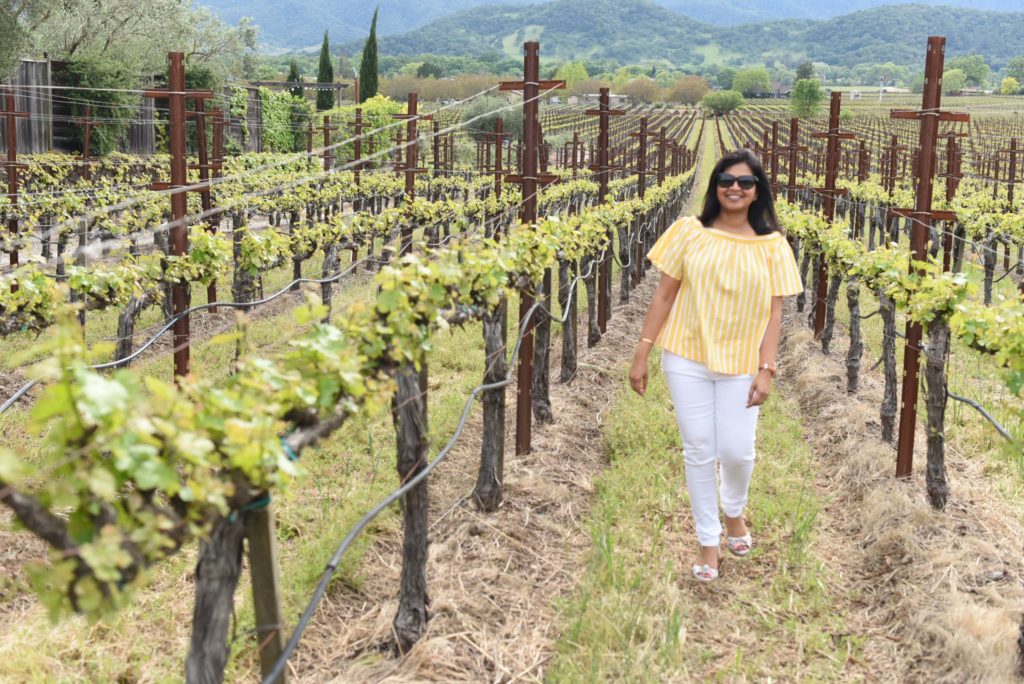 Detours and mini road trip ideas from Napa
Plan your winery visits, there are several to choose from. Benziger Family Winery is a great one to visit. The winery has meandering paths and it offers an off-road tour that showcases the vineyard where you will find sheep, longhaired Scottish Highlander cattle, an insectary and several birds.
Located a little further from Napa Valley but the award winning tour of this green farming certified biodynamic winery is worth the drive and the road to get there is scenic.
Wander around downtown Napa or Yountville admiring all the art. Visit Safari West located right in the heart of California wine country. Families can explore the Sonoma Serengeti on an African wildlife safari alongside herds of exotic wildlife or relax in a luxury safari tent.
If you have time, plan for a hot air balloon ride in Napa, to get a unique perspective of the valley. It is especially gorgeous in Spring when the mustards are in bloom and in Fall when the area is ablaze in colors of gold and burgundy.
Sink your toes in the beach at Carmel by the Sea
Our next stop on the epic California road trip itinerary is Carmel by the Sea, a charming little coastal town in California. Tucked away in California's Monterey Peninsula it has fairytale cottages, quaint shops, art galleries and a pretty sliver of sandy beach that you will want to sink your toes into. You can't wear heels while in town and the cottages don't have numbers, there are no street addresses.
Where to stay in the Monterey Peninsula
There are lovely cottages and inns in this small village but book real early if you want to stay in Carmel since there are only a few Inns in town. We stayed at the Coachman's Inn and The Hideaway and the Cypress Inn, are other great places to stay in Carmel. The other option would be to stay at Monterey. You can visit the Monterey Bay Aquarium and play a round of golf in Pebble Beach.
Detours and mini road trip ideas
The beaches and coastal terrain found in Point Lobos State Natural Reserve are worth exploring, plan for an afternoon if possible a whole day. Another mini road trip idea is the 17-Mile Drive, the scenery never disappoints. Hugging the rugged Pacific coastline, the drive offers breathtaking views of the ocean, as it weaves through the Del Monte Forest.
Drive on the iconic Bixby Bridge and explore Big Sur
You can catch Highway 1 not too far from Carmel by the Sea and drive your way up to Big Sur. The highlight is the Bixby Bridge – one of the tallest single span concrete bridges in the world and one of the most photographed bridges on the West Coast. It's 714 feet long and 280 feet high.
This rugged coastline, with its many twists and turns, and countless viewpoints will make you want to stop every few minutes. With Santa Lucia mountains on one side and the Pacific Ocean on the other, this two-lane stretch of Highway 1 is one of the prettiest parts of the California Road trip and possibly the planet.
Where to Stay in Big Sur
The drive and the scenery are spectacular but the lunch and the views from The Sur House in Ventana are still etched in my brain. You can stay at the glamping sites here or at the Post Ranch Inn, where there are two heated infinity pools look out over the Pacific! A slice of paradise!
Detours and mini road trip ideas
There are many beautiful mini road trips and stops along the Big Sur – Pfeiffer Beach, McWay Falls, Point Sur State Historic Park to mention a few. If you have time, take a few days to relax along the route, soak up some of the scenery. Pfeiffer State Beach is definitely worth the trek, don't miss the 80-foot waterfall that plunges from granite cliffs.
Stay in Santa Barbara on Day 6 and 7 of your California Road Trip
Santa Barbara and the coastal town of Montecito are where many celebrities like Oprah, Ellen Degeneres and Tom Cruise call home. Spend two to three days in Santa Barbara and you will understand why many call this the American Riviera. There is Spanish architecture to see, exotic gardens to explore(Don't miss the exotic LotusLand), and farm-fresh food & local wine to enjoy. If your schedule and travel dollars allow you might not want to leave and stay here for weeks!
Have lunch at StoneHouse at San Ysidro Ranch where the Kennedy's honeymooned, dinner at Bouchon in Santa Barbara and Tre Lune Ristorante located on Coast Village Rd in Montecito.
Where to Stay in the American Riviera
We stayed by the beach at Rosewood Miramar Beach. Nearby The Biltmore, a Four Seasons Resort is an all-time favorite and the San Ysidro Ranch, a TY property is perfect for a romantic getaway.
Detour and mini road trip ideas
Just a 45-minute trip from Santa Barbara, Solvang is worth a quick trip, or detour. It is easy to access from 101 and is located in the wine country of Santa Ynez Valley. Founded in 1911 by Danish-American immigrants, it has a windmill and restaurants that serve the best waffles. Try some Danish eats including aebleskiver, a Dutch jam-filled donut. Then explore the rest of the Santa Ynez Valley. 
Sneak in Santa Ynez Valley to you California Road trip Itinerary
You can take the 101 between northern and southern California and stop at San Luis Obispo before getting to Santa Barbara. It makes for a perfect midway stop or a detour. You can spend 2 days here, a weekend or a whole week! It all depends on how much you like wineries and beautiful landscapes. You are off the coast a bit here but not too far.
If you are, stay at the Madonna Inn. Downtown San Luis Obispo is full of funky cafes, bars, and restaurants. They even have a Bubblegum Alley. Also, take a tour of the Hearst Castle in San Simeon on the way. More than 1 million people visit every year this 165-room castle and grounds, it is the number one attraction in San Simeon. Check out the Elephant Seal Rookery at San Piedras Beach in San Simeon, more than 15,000 elephant seals migrate here every year.
Pismo Beach makes for a lovely little stop, it has a nice big beach, restaurants, ATV rentals to ride on the sand dunes, wine tasting, fishing, surfing and even skydiving. Some call it the "Clam Capital of the World", Pismo Beach is another classic California beach town makes for a fun stop. Add it to your California Road Trip Itinerary! Remember I mentioned you might want to stay near Santa Barbara for weeks, this is why!
Look for stars in Los Angeles
One year we thought we would indulge our star-struck teenager and let her plan our California road trip itinerary. She wanted to immerse herself in the celebrity sightings and drive through Beverly Hills looking for the stars' homes. So we went on a trip spotting stars in Los Angeles.
You can visit the Kodak Theatre, walk along the Hollywood Walk of Fame, take a tour of the Univeral Studios Hollywood and check out the Santa Monica Pier. Our favorite pastime in LA is driving down Sunset Boulevard, strolling around in Rodeo Drive and riding scooters on Venice Beach. When visiting LA you want to go find the iconic Hollywood sign. The sign was first erected in 1923 and originally read "HOLLYWOODLAND". Or check out the awesome views of the Hollywood sign from Griffith Observatory.
Where to Stay in Los Angeles
Beverly Wilshire, Beverly Hills (A Four Seasons Hotel), where the hit movie Pretty Woman was filmed is a favorite. I love having brunch here and doing some (window)shopping at Rodeo Drive. and The Beverly Hills Hotel is another great place to stay if you want to see celebrities in LA. Nearly every celebrity you could possibly think of has stayed in the famous pink stucco façade hotel.
If you want to stay by the beach, drive to Santa Monica and stay at the Shutters on the Beach or the Loews.
Detour and mini road trip ideas
Kids might want to check out the Disneyland Park in Anaheim. Ojai is known for outdoor fun, wine tasting, and romantic small-town feel, and it is only a couple of hours from LA. D loves to visit Angel's Ballpark Stadium here. He has been to all 4 MLB ballparks in California.
You will drive through Ventura and Oxnard and Malibu before getting to LA from Santa Barbara. The drive from Malibu to LA makes for another nice scenic drive. It had 15 miles of incredible beaches and the open road all the way from Ventura. Follow the signs to Point Dume and you will find a beautiful sandy beach, headlands, cliffs and rocky coves.
Stop at the Malibu piers for a beautiful sunset and dine at the Nobu Malibu or one of the many healthy restaurants in the area. Located along a strip of coastline nicknamed Billionaire's Beach, Malibu Beach Inn, is a great place to stay if you want to take a break and stay right the Pacific Coast Highway.
Drive inland for about 250 miles from Los Angeles to Death Valley National Park, one of the hottest and driest spot in the USA. There are dunes that look like mountains, colorful canyons and salt flats that are below sea level to explore.
Spend a day in Palm Springs, a vacation spot for Hollywood stars in the '50s
The drive to Palm Springs isn't the most scenic if you are taking the I-5, but once you get closer to the desert, there is a swath of windmills that make for an interesting contrast against the natural desert landscape. Stop at Cabazon Outlets for deals on designer brands. Then have some date shake and enjoy all Modernist architecture in town, a mecca of midcentury modern design.
We planned a trip to Palm Spring last year and had to cancel last minute. My friend Nancy from Luxe Travel Family recommends Las Casuelas Nuevas and Evzin Palm springs for dinner and Ernest Cofee & Koffi for a mid-day caffeine boost. She also recommends shopping at El Paseo Drive.
Where to stay in Palm Springs
Stay at the Parker Palm Springs, Ace Hotel or Kimpton Rowan and don't forget to try date shakes that Palm Springs is famous for.
Detour from Palm Springs
Drive about an hour east and south of Palm Springs to check out Salvation Mountain, a brilliantly colorful artist enclave near the Salton Sea.
Marvel at the night sky in Joshua Tree
The next day head to Joshua Tree National Park to stay at a campsite so you can enjoy the night sky. There are several hikes you can go on, Barker Dam hike is scenic and only a mile and a half. Bring lots of water and sunscreen if you are visiting in summer. More to come on this since its still on my wishlist. But here is a photo that shows how incredible the night sky is!
Spend 2 days in sunny San Diego
With 70 miles of coastlines and more than two dozen beaches, life is a beach in sunny San Diego. After brunch at Gaslamp Quarter, a16 square block in the heart of downtown San Diego is full of historical buildings with brick facades, visit Balboa Park which is home to the famous San Diego Zoo, historical Old Globe Theatre, San Diego Museum of Art, Aircraft Museum, Natural History Museum among others and a picturesque Spanish Art Village.
There is plenty to do in San Diego, from world-class golf, catching a game at the Ballpark, visiting LegoLand and more. Drive along Mission Beach, Pacific Beach and La Jolla for a scenic drive.
Where to stay in San Diego
Stay in one of the hotels in Gaslamp. We loved the historic The US Grant, part of the Luxury Collection this Hotel has hosted 15 U.S Presidents and 5 First ladies. Or drive over the 2-mile-long Coronado Bridge as it snakes its way across San Diego Bay and stay at Coronado. If you play golf drive north and stay at the Lodge at Torrey Pines. Travel + Leisure rates it as one of the Top 50 Hotels in the United States and Canada.
Detour and mini road trip ideas
During Spring drive 2 hours from San Diego to Anza-Borrego Desert State Park to see the desert blooms in shades of purple, yellow and orange owing to the verbenas, desert sunflowers, and golden California poppies.
If you don't want to drive that for but still want to see some spring blooms when visiting, take a road trip to The Flower Fields in the North Coast. Visiting La Jolla is another must on your California Road Trip Itinerary. Have lunch at George's by the cove, see the sea lions at the La Jolla cove, stroll through the galleries and boutiques in the village. If you have time see the paragliders at the Gliderport in Torrey Pines.
Catch a California Sunset – the perfect way to end a California road trip!
Pause for those Pacific Coast Highway Sunsets
Thes best part of driving on the Pacific Coast Highway is the killer California sunsets you get to witness. The Cali sun always puts on a good show and the sky shows off in brilliant hues of blue, purple and pink. Check for sunset times beforehand and pullover to the nearest beach, pause and enjoy them. See here for some great California beaches to watch a sunset.
Nature is painting for us, day after day, pictures of infinite beauty if only we have the eyes to see them.

John Ruskin
It is almost impossible to watch a sunset and not dream.

Bern Williams
…it always gets me dreaming of that next road trip!
If this post got you thinking about living in Los Angeles, consider these pros and cons.
For an even longer road trip idea, make your way into Tijuana and then drive to Baha Mexico and all the way to Cabo. According to google maps, it is a 20 hour drive, we have only flown there though!
I hope you found this California road trip Itinerary, ideas and travel inspiration helpful in planning your trip. The drive from San Francisco to San Diego on the Pacific Coastal Highway is truly one of the great American road trips.
We are hoping to someday do a full West Coast Road Trip, a complete road trip from California to all the way to Washington and Olympic National Park covering all the destinations. Fingers crossed!
PIN IT FOR LATER
Note: This post may contain affiliate links, partnership or sponsored content. If you purchase an item via one of these links, we may receive a small commission at no extra charge to you. But as always images and opinions are our own. For more information on our affiliates and privacy policy at Outside Suburbia see here.
CONNECT WITH US