Anytime we are in Singara Chennai, we make our pilgrimage to Mahabalipuram or Mahabs as it called by chennaites.   This UNESCO World Hertitage site is probably the most underrated sites in India.  We typically do this as a day trip from Chennai with family.  Mahabalipuram also known as Mamallapuram is a town in Kancheepuram district in the Indian state of Tamil Nadu. It is around 60 km south from the city of Chennai. It is an ancient historic town and was a bustling seaport, ancient Indian traders who went to countries of South East Asia sailed from the seaport of Mahabalipuram.
Chennai to Mahabalipuram Day Trip
Mahabalipuram lies on the Coromandel Coast which faces the Bay of Bengal, so make sure you are there for the sunset. Mahabalipuram was an established sea port during the 7th and 10th centuries of the Pallava dynasty. This was the second capital of the Pallavas who ruled Kanchipuram. The former name of  'Mahabalipuram' has a history. History and Indian Mythology says that once a very rude cruel king Mahabali reined this place and in a fierce battle king Mahabali was killed by Lord Vishnu and the place was named after the dead, arrogant kind Mahabali.  It was during the reign of King Narasimha Varman I, the name Mahabalipuram was changed. It was renamed Mahabalipuram which is called till now.
You can buy a ticket at the entrance and it applies for all of Mahabalipuram sites and places to see. It is valid for the entire day. Most of the monuments are walking distance from each other, though if you go in the afternoon or during a holiday, it may be exhausting to walk in the heat and through the crowds. Plan for an early morning or late afternoon visit, it should take about 4 to 5 hours to visit all the monuments.
Things to see in Mahabalipuram
Mahabalipuram is known for its historical monuments, sculptures, scenic beauty, culture and tradition. The art in Mahabalipuram can be divided into four categories: open air bas-relief, structured temples, man-made caves and rathas (chariot temples). The famous Arjuna's Penance and the Krishna Mandapa adorn massive rocks near the center of the village. There are sixteen man-made caves in different stages of completion, scattered through the area. The striking feature is that all the sculptures here are monolithic – giant structures carved from single rocks.  Of that monuments and temples – The beautiful Shore Temple towers over the waves, behind a protective breakwater is my favorite. It is believed that there were seven magnificent temples what are known as the seven pagodas, built near the sea share, but the lonely survivor is the shore temple. You can also see India's oldest lighthouse built by King Mahendra Pallava in 7th century here.
Tips for visiting Mahabalipuram
Its is pretty hot in summer, so make sure and bring along some water. Its better leave after city rush hour which is around 9:30 and try to get there before the noon or plan to be there around 3 or 4pm.  We stop at Taj's Fisherman cove either on the way or while coming back depending on time. You can buy many small sculptures and statues made of granite stones at the artistry workshops nearby.  Make sure you buy them at the shop rather than the from people walking around trying to sell you mini versions of the mahabalipuram lookalikes – usually they are of poor quality and not made from granite. We always stop if we find some coconut vendor selling fresh coconut and stock-up.  I usually keep a backup of some straws in case the coconut-walla runs out.  Kids love them and it is refreshing after walking around the temples and climbing on rocks!
Photos from our Mahabalipuram Day Trip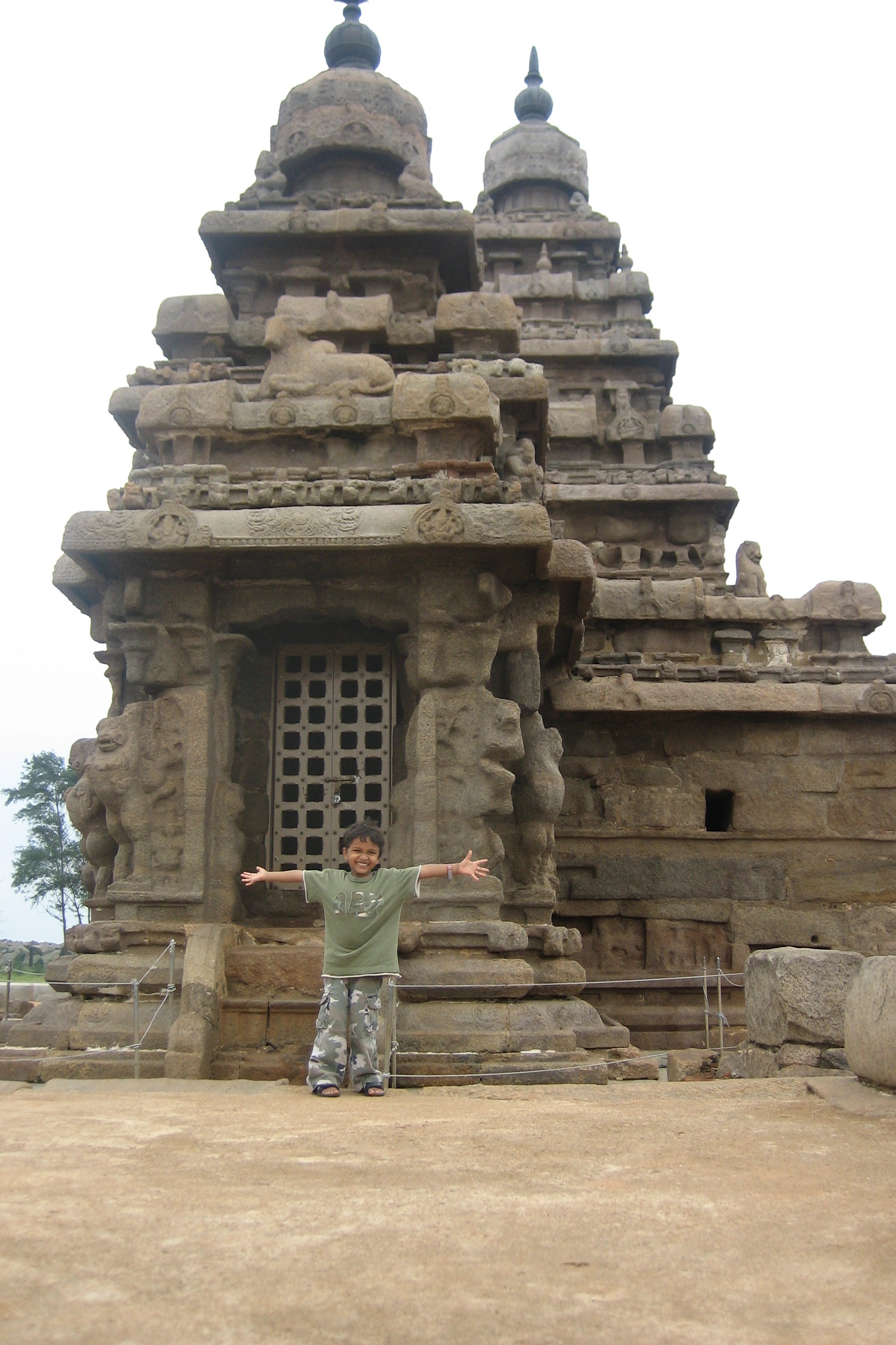 Make sure to stop Taj's Fishermans cove resort enroute for some tea and snacks or some cocktails and beer.  It is a charming property with amazing views of Bay of Bengal.  Our kids love to play in the beach there,  the beach is private and hence not that crowded.  While you can visit Mahabalipuram as day trip from Chennai, if you have more time you can stay in the area and enjoy one of the beach resorts.  We have stayed in Temple Bay before and loved it.  Intercontinental Mahabalipuram is a new resort in the area and comparable to Temple Bay. Or you can include this in your trip to Pondicherry and visit the Sri Aurobindo Ashram. Either way don't miss out on this historical and cultural gem when you are visiting South India.
PIN IT FOR LATER