Rising 3776 meters above sea level, Mount Fuji is Japan's tallest mountain and its most iconic landmark. On our recent trip to Japan, seeing Mt Fuji closer topped our list and we researched the best places to see Mt Fuji from.
Best Time to Visit Mt. Fuji
Fuji San is often shy – on the clearest of days, its white-capped peak may be visible from hundreds of kilometers away but more often than not the view of the mountaintop is hidden by low-hanging clouds or poor visibility. To increase your chances of success, try to see the mountain in the early mornings or late afternoons, especially during the colder winter months when visibility tends to be better than during summer.
The mountain's famous snow cap is typically visible from around November to around May.  Since we were there during December we got to enjoy some of the best view of Mt Fuji with its snow cap from an airplane, a bullet train, from our hotel in Tokyo, and a few other spots.
10 Best Places to see Mt Fuji
Images of this nearly perfect, solitary volcano have appeared in paintings, woodblock prints and other artworks for centuries. Some collections even attempt to capture the essence of seeing the mountain from various viewpoints, Hokusai's in his famous "36 Views of Mount Fuji" captured it in Ukiyo-e woodblock printing. Although there are more than 36 views of Mt. Fuji – we settled for a handful of spots that were relatively easy to get to that were still the best places to see Mt Fuji.
Here are the best places to see Mount Fuji if you want to get a close up view of the legendary mountain, Mt. Fuji.
Mount Fuji From the Airplane
The best view of Mount Fuji can be enjoyed on domestic flights heading from Tokyo's Haneda Airport to destinations in western Japan when the planes often fly very close to – if not right above – the mountain. Flights from western Japan in the direction of Haneda Airport usually pass further south, but can still provide nice views. We took a flight from Haneda to Osaka to enjoy this view.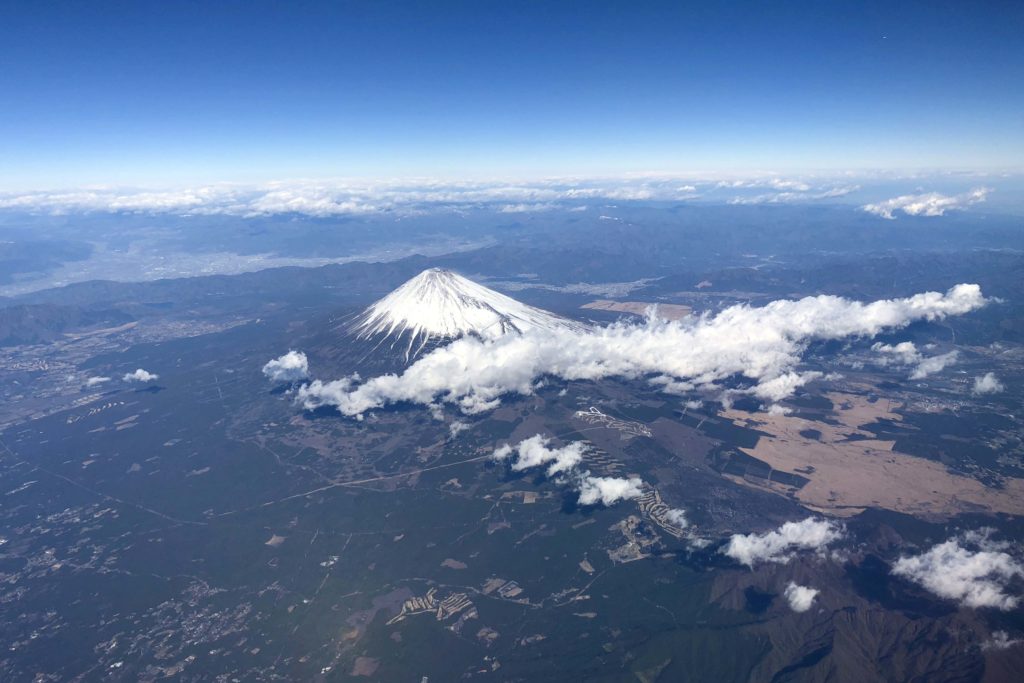 Mount Fuji From Tokyo
Of the numerous observation decks in Tokyo, the centrally located Bunkyo Civic Center provides some of the most striking views of Mount Fuji, as the mountain can be seen looming large behind the skyscrapers of the Shinjuku district.  We also loved seeing Mt Fuji from Tokyo — from the 41st floor Peak lounge at Park Hyatt, Tokyo. 
Do you see the perfectly shaped white-capped mountain in the background? How awesome to enjoy a cocktail while enjoying one of the best views of Mt Fuji!
Mount Fuji From the Train
Mount Fuji can be seen from the Tokaido Shinkansen between Tokyo and Osaka. When coming from Tokyo, the mountain appears on the right side of the train and is best viewed around Shin-Fuji Station, about 40-45 minutes into the journey. Sit on the left if you are coming from Osaka. See here for schedules and book your train tickets.
The rooftop of the train station, Fujisan (Mount Fuji) Station offers a great view of Mt. Fuji. If you have time to enjoy this close-up view of Mt. Fuji.
Mount Fuji from Fujikawaguchiko Town
During the Fuji Shibazakura Festival, there is an explosion of pink flowers in the Kanto area. Approximately 800,000 flowers create a beautiful pink carpet and are a sight to behold. Spring is no doubt the best season to visit Japan. The festival is usually held at the end of April to the end of May. Instagram friends Xavier and Katie were there and captured this image and many other beautiful photos during their visit when Japan was an explosion of Sakura, wisteria, and other spring blooms. Needless to say, I lived voraciously through their photos and still dream about walking through that pathway. Don't miss this view of Mt Fuji if you are visiting Japan during Spring.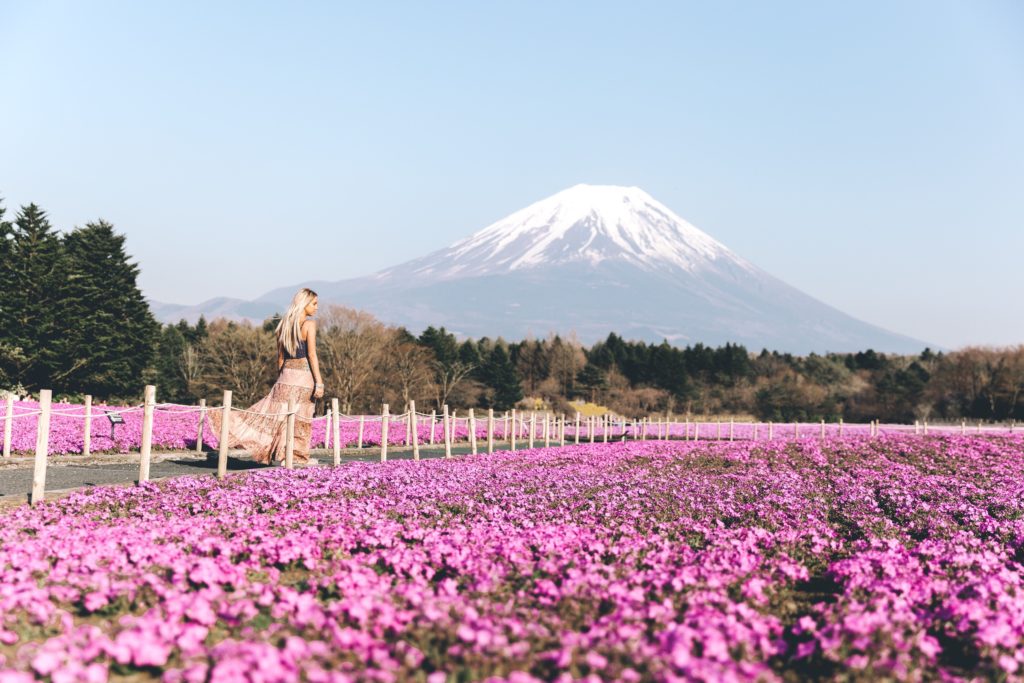 Epic View of Mount Fuji from Chureito Pagoda
The Chureito Pagoda is a five-storied pagoda on the mountainside overlooking Fujiyoshida City. The pagoda is one of Fujigoko's most popular cherry blossom spots where you can get beautiful views of Mount Fuji rising up through a sea of cherry blossoms.  The pagoda is part of the Arakura Sengen Shrine and was built as a peace memorial in 1963. 
You have to climb 400 steps up the mountain from the shrine's main buildings but the view is totally worth it with or without the cherry blossoms.  Mt Fuji in spring is magical!
We hired a private car to get there but many great Mt Fuji Tours are available. (This is the Mt Fuji tour we booked).  On the way down don't forget to snap a shot of Mt. Fuji framed by a Torri gate – It is definitely one of the best places to see Mt Fuji and the highlight of our trip!
Mount Fuji from Kachi Kachi Ropeway
The Kachi Kachi Ropeway leads to an observation deck overlooking Mount Fuji and Lake Kawaguchiko from 400 meters up the side of Mount Tenjo. A hiking trail leads from here to Mount Mitsutoge, a popular day hike with good views of Mount Fuji. The ropeway reaches the summit in three minutes, and from the observation area at an elevation of 1,075 meters, there is a 360-degree panoramic view of Mount Fuji and Lake Kawaguchi. While we didn't make this hike, it is on our wishlist for our next trip to Japan.
See Mount Fuji From a private Onsen
One of the most relaxing ways to see Mount Fuji is from an onsen. A private Onsen that it! Imagine soaking while enjoying one of the best view of Mt Fuji! There are a few popular hot spring resort towns around the mountain; however, there are surprisingly few ryokans and public baths from where you can actually view the mountain while relaxing in the steaming hot water. 
Konansou and Fuji View Hotel both have excellent views of Mt. Fuji from their onsens.
Mount Fuji From the Ski Slopes
While skiing on Mt Fuji is not possible you can still ski with views of Mt Fuji. The Fujiten Snow Resort is located 12Km from Kawaguchiko interchange, the resort boasts an outstanding location, overlooking the majestic Mt. Fuji. There are 4 lifts and 7 courses from beginner to more advanced. There is also a snow park that is equipped with various items popular with kids including a 'Chibikko (kids) Island'. The resort is open from early December to late March.
See Mount Fuji From Hakone
Hakone offers some of the most beautiful views of Mount Fuji… when you can actually see it. Unfortunately, sometimes visibility is poor, especially during midday when fog and low clouds may gather on the mountain. But on a clear day, the view and the reflection in Lake Ashi is pretty spectacular. You can take the train yourself, it can be easily done as a tour and day trip from Tokyo. This is another great Mount Fuji Tour.
Enjoy Mount Fuji From shores of the Fuji Five Lakes
Mt.Fuji is located in Yamanashi prefecture and there are a lot of tourist attractions and viewing spots. Fuji Five Lakes area which includes Lake Kawaguchi, Lake Yamanaka, Lake Sai, Lake Motosu and Shoji Shoji are all worth a visit, as all five lakes offer different views of Mt.Fuji.
The northern shore of Lake Kawaguchiko offers some of the most breathtaking views of the mountain that sometimes come with a reflection in the lake. The shores offer views of the lake and mountain in combination with cherry blossoms usually around mid-April and with autumn colors usually around mid-November. 
During the winter months, you can catch a rare view of "Diamond Fuji" when the setting sun aligns with the top of the mountain.  One of the best places to see Mt Fuji IMHO. Period! While we saw the sunset perfectly on the top, due to the clouds we were not able to fully see the Diamond effect.
Learn about Mt Fuji at Fujisan World Heritage Center
Make sure to stop by the Fujisan World Heritage center to learn about the formation and geology of this majestic mountain. The center consists of two halls, the North Hall and the South Hall. The South Hall requires an admission fee and visually introduces visitors to Mount Fuji with movies and a 15 meter wide model of Mount Fuji made of washi paper. Meanwhile, the North Hall is free to enter and features an information desk with details about climbing and weather conditions, as well as about tourist attractions around the mountain and Yamanashi Prefecture. You can pick up maps and souvenirs here and the kids will enjoy learning about the folklore associated with Mt. Fuji.
See this post about all the Japanese Food we tried during our trip!
Have you been to Japan?  Have you seen this iconic mountain?  Which is your favorite place to see Mt Fuji?
PIN IT FOR LATER
Note: This post may contain affiliate links, partnership or sponsored content. If you purchase an item via one of these links, we may receive a small commission at no extra charge to you. But as always images and opinions are our own. For more information on our affiliates and privacy policy at Outside Suburbia see here.
CONNECT WITH US