Visiting Japan, the Land of the rising sun, red-lacquered bridges, orange Torii gates and the sacred Mt Fuji has been on our wishlist for a while now.  We finally got to visit Japan in Winter. Given that our school breaks never coincide with the time when the beautiful Sakura flowers or the Cherry blossoms put on a show, we decided to plan a trip during our December holidays and see some of the wintry landscape.  The fear of navigating a country without knowing the language had kept us from planning a trip to this beautiful place full of Torii gates, temples, shrines and rich in culture.  Here is our Two Week Japan Itinerary. First-time visitors will find it helpful when planning a trip to Japan.
When you mention Japan, most people think of the cosmopolitan city of Tokyo but Japan is also a country with a lot of natural resources, from mountain ranges to seashore, valleys and natural hot spring there is plenty to explore. Our Two week Japan Itinerary does cover everything, but it does include all the highlights and the best sites the country has to offer. The scenery here reflects beautifully the passing of the seasons— cherry blossoms in spring, the vibrant green of new leaves in summer, colorful autumn foliage and snowscapes in winter. 
While most people visit during Spring or Fall, Japan in Winter turned out quite nice, fewer crowds, more illumination & lights and a little bit of snow!
Two Week Japan Itinerary
Our Two Week Japan Itinerary
Day 1 to 3 – Tokyo
Day 4 – Day trip to Mt Fuji Five lakes area or Hakone
Day 5 – Osaka
Day 6 to 9 – Kyoto
Day 10 – Visit Hiroshima, stay in Miyajima
Day 11, 12 – Nagoya
Day 13, 14 – Back to Tokyo
Day 14 – Fly Back Home
Tokyo
We were welcomed by the distant fireworks in Tokyo Disneyland as we made our way to our hotel in Shinjuku from Narita International airport. We could see glimpses of the high rises, luxury hotels, the Tokyo Tower and a maze of office buildings that was bustling with activity and people as the neon lights were turning on and the sun was setting. Once we made our way to our rooms on the 42 floor of the 52-storey tower where Park Hyatt Tokyo was located – it finally felt like an oasis, with all the chaos of the city like twinkling stars at a distance.
Having made the 12 hour trip from Dallas we were not in the mood to leave our calm and comfortable space to go out and explore the city that looked like a concrete jungle.  We were not too anxious to reenact scenes from the movie "Lost in Translation", not just yet, and instead opted for the view from the Peak Bar while eating our not-so-Japanese meal of chicken nuggets and Pizza.  At least we ordered some sake to start off our trip!
Day 1 of our Japan Itinerary started in Tokyo
The next morning was a clear, crisp day, we could see Fuji-san in the far distance among the tall skyscrapers of the city. We had a nice view of The NTT Docomo Yoyogi Building from our room — at 790 ft it is the fourth tallest building in Tokyo. We were jet-lagged and enjoyed some green tea and the quiet as the city was slowly waking up.
After breakfast, we talked to the friendly concierge who convinced us that we don't have to book our bullet train tickets in advance. After being assured that we should easily buy them at the station, we walked up to Meiji Shrine.
It was a brisk 20 minute walk from Park Hyatt and we spent some time at the Yayogi park people watching after leaving our wishes and prayers on votive tablets at the shrine. We then made our way to the shopping district of Harajuku and walked east on Omotesando, browsing the shops along the way. You can continue east all the way to the Nezu Museum and go to explore the Japanese garden after checking out the museum. Since it was pretty cold, we decided to skip the garden.
We took the JR train to Shibuya and exited the station via the Hachiko exit and then crossed the famous Shibuya Crossing. We made it up to the Starbucks for a cup of coffee to help fight off the sleepy eyes as our body clock still kept working in Dallas time.
The crossing is pretty insane, the crosswalk goes in all directions and you can see hundreds of people crossing the road in an orderly fashion that the Japanese are known for. In the midst of all that people were trying to take pictures and videos of the crossing. We walked to the big department stores and browsed through the boutiques of Shibuya and had a quick bowl of noodles ordered from a vending machine (more about that later) before heading back.
While making your way back to the train station stop by the Hachi statue – The dog who is remembered for his remarkable loyalty to his owner, for whom he continued to wait for over nine years following his death. Hachikō is known in Japanese as chūken Hachikō "faithful dog Hachikō" That was a lot for the first day in Tokyo and we were wiped out!
Day 2 in Tokyo
There are two sides to Tokyo – traditional Tokyo and modern Tokyo! If you have only a week in Japan, spend 2 days in Tokyo – one exploring modern Tokyo and the other visiting the traditional places of old Tokyo or Edo as it was called before.  To visit traditional Tokyo, start with the Asakusa Temple.
The temple is quite unlike anything else in the city—and as one of Tokyo's most popular attractions, it's pretty crowded. You can visit on your own or join a sightseeing tour that includes a visit to the Tokyo Skytree, Tokyo Tower, Imperial Palace Plaza, the Tsukiji Fish Market, and the Nakamise-dori shopping district. For an in-depth experience in the Asakusa area, you can also opt for a walking tour, rickshaw tour, or evening food tour.
The must-see Asakusa Temple (also known as Senso-ji or Asakusa Kannon) combines architecture, centers of worship, Japanese gardens, and traditional markets to offer visitors a modern-day look at Japan's rich history and culture. Erected in AD 645 in what was once an old fishing village, Asakusa Temple was dedicated to Kannon, the Buddhist goddess of mercy. Stone statues of Fujin (the Shinto wind god) and Raijin (the Shinto thunder god) guard the entrance, known as Kaminarimon or the Thunder Gate. Next is Hozomon Gate, which leads to Nakamise's shopping streets, filled with vendors selling handicrafts and Japanese snacks. Don't miss the Asakusa Shrine or Kannon-do Hall on your Tokyo, Japan Itinerary.
The temple can get crowded around midday, particularly on weekends, so if you'd like more elbow room, visit before 10am or after 6pm. It was busy but not too crowded, another plus point for visiting Japan in Winter. Senso-ji is located in Asakusa, within central Tokyo's Taito district. The temple is just a few steps away from Asakusa Station, which is served by Tobu Railways and the Ginza and Asakusa subway lines and of course, you can take a taxi there. Make sure to try a green tea soft serve here.
Day 3 in Tokyo
We spent a lazy morning in Hotel on Day 3 before making our way to Imperial Palace and the East Garden to take a stroll. December 23rd is the Emperor of Japan's birthday and the only day the Palace gates open for the public. We then made our way to Ikebukero to meet our private guide from Context Travel. It was a two-hour Tokyo for Kids and Families Tour, where our docent explained what it is like to be a child in Tokyo today. He took us to arcades and introduced us to the world of manga (comic books), anime (cartoons) and themed cafes.
Kids in Japan are pretty independent and it is a very safe environment.  After school, most kids go to hang out in the arcades with their friends.  D tried to play the renowned Taiko no Tatsujin (a Japanese rhythm drumming game) after some basic instructions from Edgar Peláez.  Peláez who is a Ph.D. candidate in International Studies at the Graduate School of Asia-Pacific Studies is well versed in Japanese popular culture. 
We were not big anime or manga fans, so this tour helped us delve into these realms as our docent explained the history and current trends associated with these fascinating subjects. My teens loved this part of our Japan Itinerary!
If you want to live in a comic book, Tokyo is the place – from maid cafes to colorful Kawai Monster Cafe to riding Mario carts in the middle of the city in costumes there is plenty to make that inner child happy. Our docent talked about the reason why cat cafes and dog cafes are popular – we were intrigued and decided to check out an owl cafe in Ikebukuro. We felt a little sad for the owls confined to the small space, there were owls of different sizes and colors.
Edgar also told us about one of Tokyo's highlights and highly acclaimed studios, which is the Ghibli Museum, the mecca for all those anime (Japanese cartoon) lovers. It's an interactive display of design with fun displays for the young and old to enjoy. We made a note of it for next time and had a quick lunch, before visiting shopping mecca of Ginza and then the electronic town of Akihabara, known for its wonderful array of neon lights and electronics stores.
Additional Tokyo Ideas to add to your Japan Itinerary if you have 2 more days
If you are visiting during Spring Park – Cherry blossom trees are everywhere in Tokyo but Shinjuku Goeya Park, Yoyogi Park, and Ueno Park are a few of the best places to catch Cherry Blossoms in Tokyo. Other than that, don't forget to explore the quirky markets of Harajuku, urban chaos in Shibuya, temples in Asakusa, shopping malls in Ginza, and local eateries in Shimbashi and Ueno during your 2 weeks in Japan!
See: Best Art Museums, Galleries and Digital Art Experiences in Tokyo
An hour by train from the crush of Tokyo Station is the charming town of Kamakura, home to one of Japan's most widely recognized religious icons—the 13.35-meter-tall Great Buddha of Kamakura. You can visit this in half-day Kamakura Tour or spend an entire day there exploring on your own. You can visit the massive bronze structure as well as some of Kamakura's other important temples and shrines, such as Engaku-ji and Hase Temple.
Another day trip idea to add to your Japan Itinerary would be to visit Disneyland in Urayasu, Chiba or Odaiba a man-made island out in Tokyo. Odaiba is easily reached by monorail, a fun way to see the city from above. Once in Odaiba, there is everything for the whole family to enjoy; trick museum, future driverless cars, walking robots, a super 'Science of the Future' museum, fantastic shopping and even a reconstructed traditional hot spring bath-house to relax in.
Where to Stay in Tokyo: While I can't recommend Park Hyatt Tokyo enough, there are other budget friendly options from the Prince Hotels which is a big Hotel Chain in Asia to Hilton Tokyo where we spent a night on the way back. It was super crowded and the service, staff and views were nothing compared to the Park Hyatt.
Day trip to see Mt Fuji up close
Mount Fuji, or Fuji-san, as it is more commonly known in Japan, has been the subject for many artists over the years, from the famous "ukiyo-e" woodblock prints of Hokusai to being printed on the back of a JPY 1000 note. At 12,400 feet (3,776 m), Mount Fuji is the tallest mountain in Japan and its near symmetrical-shaped cone has attained almost mythical status.
Mount Fuji is one of Japan's three holy mountains and was first ascended by a monk in 663, with women being forbidden to climb it until the Meiji Era, in the late 1800s. It was believed that your soul is rebooted after you climb Mt Fuji, your slate cleared. If you loved the mountains, you need to add this day trip to your Japan Itinerary.
After much contemplation, we decided to do a day trip to the Fuji Five Lakes area instead of spending a night or two there. If you are going to be there in March or April, I highly recommend a stay in the area to your Japan Itinerary. You can walk through the flower fields and soak in the scenery. Located at the foot of Mount Fuji, in Yamanashi Prefecture, this region is one of the most scenic spots from which to view the mighty mountain.
If you plan on climbing Mt Fuji – it is only open to hikers from 1 July to early September. You can follow up on the accomplishment by a relaxing visit to an onsen, one of the hot spring baths that abound in this volcanic archipelago of Japan. The Japanese have made the baths, and the accompanying nudity, a part of their lifestyle, communing with nature in the midst of a serene landscape – try it at least once, the sore muscles will thank you!
Our first stop in that Fuji Five Lakes area was the Fuji Information center to learn a little history about this famous dormant volcano that had last erupted in 1708. Then we climbed a few hundred steps to get to the top to see the Chureito Pagoda.
We saw a baseball team running up and down the stairs as part of their warmups, we were teasing D that he needs to go introduce himself to the coach and join in on the training while we huffed and puffed our way up the shrine.
While there were no cherry blossoms to frame Mt.Fuji – a picture I can easily conjure up if I closed my eyes, it still was breathtaking to see the snow-covered volcano peak against a cloudless blue sky. The photo does not do justice to how pretty Mt. Fuji was, a great bonus for visiting Japan in Winter!
One of the benefits of traveling during winter months is that there are more chances of seeing the Fuji-san who is known to hide under a veil of clouds during the summer months. So visiting Japan in Winter worked out perfectly! The region is home to five, clear-water lakes (hence the name of the area), with Kawaguchi-ko being the most accessible.
There are good views of Mount Fuji from the lake, particularly on the northern shore. Most of the accommodations are located on the south-east side of the lake. We hired a private car with English speaking driver who was also our tour guide for the day. We suggest visiting the pagoda mid afternoon and staying around till sunset. The pagoda and its surroundings are beautiful in the evening light. We were there midday and it didn't make for any good photos as the sun was against us.
The other option would be to go to Hakone – situated less than two hours from Tokyo and accessible by bullet train and private line trains, the Hakone National Park is an area of equally natural beauty, volcanic and thermal activity and weather permitting, an ideal spot from which to view Mount Fuji.
Most visitors to Hakone adopt a standard circular route around the park, which can be enjoyed over a couple of days or you can do a tour. The loop is serviced by various modes of transport, including a cable car, switch-back mountain trains, a ropeway and even a lake crossing on a mock pirate ship. This place is popular and probably on everyone's Japan Itinerary.
Where to Stay: There is a Hyatt Regency near Hakone we were looking at also Prince Hakone Lake Ashinoko with views of the lake. But if you want an authentic experience and an onsen with a view I would say stay at Konansou or Fuji View Hotel in the Fuji Five Lakes area near Kawaguchi-ko.
Osaka
We decided to fly from Haneda to Itami airport in Osaka – to experience a local airline and also to get another look at Mt. Fuji, this time from air. The view of the majestic mountain peeking through the clouds did not disappoint. You can also take the Shinkansen or the bullet train from Tokyo to Kyoto – if you do, ask for a seat on the right, from the right hand side of the carriage, if you are traveling south from Tokyo.
We stopped to visit the Osaka castle which is one of Japan's most famous landmarks that played a major role in the unification of Japan during the sixteenth century before making our way to our Luxury Ryokan in Kyoto. If you have more time in Osaka make sure to visit Universal Studios. Osaka has a vibrant food scene, shopping and entertainment and with one of Japan's best aquarium.
Kyoto
Kyoto is full of Zen gardens, many mysterious Buddhist temples, beautiful Shinto shrines and graceful geishas. Our Relais and Chateaux Ryokan located in the Honeyanocho district, renowned for crafted fans were just steps away from the Nishiki food market and many restaurants and microbreweries. Futon beds, tatami mats, bamboo furniture and true serenity welcomed us at the Kanamean Nishitomiya, one of the best Ryokans in Kyoto.
The best part of visiting Japan in Winter is that you have most places to yourselves, it is not crowded like it would be during Spring or Summer. We had most places to ourselves except for the bamboo garden,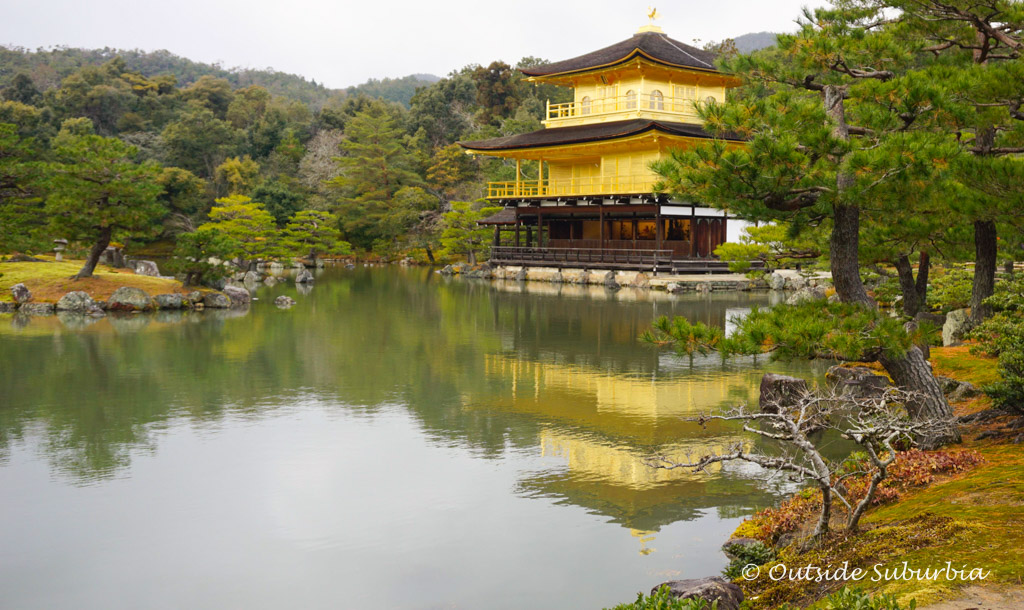 Visiting Kyoto is a culturally-enriching experience that will give you a better understanding of Japan. Even if you have only one week in Japan, add Kyoto to your itinerary. Kyoto was Japan's capital city for 1,200 years. Kyoto is known to be the city where Japanese culture was born and shaped into what it is today. Kyoto cultural offerings include World Heritage zen temples and gardens, architecture, tea ceremonies (sado), flower arranging (kado), incense ceremonies (koudo), paintings as in wooden block or silkscreens, music and other arts. Instead of just visiting places, we hired private guides that would help us understand and experience better.
We visited Japan's most famous shrine called Fushimi Inari Shrine, where the mountain path is lined with thousands of orange torii gates. There was a huge torii( entrance gate) with two stone foxes symbolizing Shinto shrines. It was snowing the day we visited the beautiful Golden Pavilion (Kinkakuji) that sits in a relaxing garden to the north-west of the city.
Arashiyama bamboo forest is another popular place to visit. When we went there, I was very disappointed — there were thousands of people walking around, including multiple tour groups, there was no zen! You couldn't hear birds or the creaking of the bamboo in the wind even though it was a chilly 35 degrees. I guess it is on everyone's Japan Itinerary! There is a private pathway for rickshaws that seemed a little quieter. Don't miss the temple complex located in the bamboo forest, it is beautiful to visit, hear gongs every now and then and smell the incense.
Kyoto is the only city where the culture of Maiko and Geiko still exists in Japan. Maiko and Geiko are young women who expertly sing, dance and play a shamisen (a three-stringed instrument) as a form of delightful entertainment at a banquet. A Maiko is a young girl (about 15 to 20 years of age) who is yet to become a Geiko. After training for 5 years as a Maiko, the girl then holds the title of a Geiko. Maiko and Geiko are affiliated with "Okiya" that are centered around Kyoto's Gion area, and from each Okiya, they are called to perform in tea houses.
The Next day we made our way to the Yasaka Shrine, in the Gion area. This is where we spotted a few Geisha, may be Maikos shuffling away in their cumbersome zori sandals, elaborate makeup, hairdos with pretty hair ornaments and their exquisite kimonos. Gion is the area where the geisha are usually spotted, however, they can be elusive and you may leave Kyoto without seeing one. You can see a geisha show at the theater house called Gion Corner. Here you can see a traditional Geisha performance, as well as other traditional Japanese ceremonies and cultural skits. The tickets are $25 and you have to line up at the Gion Corner and wait for the tickets. Another place to see Geishas is in Hanamikoji street, where there a few tea houses that they frequent – the best time to see them is after 5pm we were told.
'Ninja' conjures up the world of Japanese culture perfectly, especially for kids. So we signed up for a quick Ninja lesson at Ninja Dojo. The class included demonstration and training for Ninja sword, Sword training, Kunai(Dagger) training, Shuriken(Ninja star) training, Ninja blowgun(blow darts) training. They also got to some basics of ninja meditation – equally as important in ninja training. Not sure where they will practice it though but it was a unique experience. We added this last minute to our Japan Itinerary but totally fun!
Another thing to try when visiting Japan is experiencing an onsen or two, see this post to see how this family went about trying the traditional bathhouses. Add it to your Japan Itinerary!
If you missed visiting one of the animal cafes in Tokyo, don't worry they are there in Kyoto as well – check out this adorable Pug cafe!
Of all the temples in Kyoto, this one is the most popular with children – Kiyomizu-dera Temple. Because it's a "participatory" temple – there's plenty to do here, including ringing bells, drinking holy water and walking from one famous "love stone" to another. And don't forget the incredible underground passage known as the Tainai Meguri. Before we left Kyoto, we woke up in the morning and walked to Toji Temple, which is only a few blocks away from Kyoto Station. Toji Temple is home to Japan's tallest pagoda, and also a very nice Japanese garden and temples with ornate shrines inside, which you are not allowed to photograph.
Where to Stay: We wanted a traditional Japanese Inn experience, so we chose Kanamean, there are other luxury hotels in Kyoto like the recently opened Four Seasons Kyoto with one of the biggest pool and spa areas and an 800-year-old pond garden and Ritz Carlton Kyoto featuring Japanese elements and stunning views of Kamogawa river. There are other budget friendly Ryokans, family friendly machiyas (traditional wooden townhouses found throughout Japan ) and hotels as well.
Nara
Nara is an easy day trip from Kyoto. It is in the ancient capital of Nara where Buddhism was first introduced to Japan nearly 1,500 years ago. We begin with a stroll through the lovely expanse of Nara Park, home to hundreds of freely roaming deer; in the ancient faith of Shinto, these gentle creatures are believed to be messengers of the Gods and the animals here have been designated as a natural treasure. On the grounds of Nara Park, Todai-ji Temple is one of the largest wooden structures in the world.
Inside the temple, you will see an immense bronze statue of Buddha, towering nearly 50 feet high and flanked by two Bodhisattvas. We then strolled along peaceful lantern-lined paths to visit Kasuga Taisha, one of Japan's most celebrated shrines, first established at the same time that the city of Nara was founded. The stone lanterns are donated by merchants and lit up for special occasions – during two Lantern Festivals, one in early February and one in mid August. You can take a JR train from Kyoto to Nara or do a tour that covers most of the key sites.
The kids really enjoyed visiting Nara, they both claimed that seeing the deer bow was the highlight of their trip right next to those Ninja lessons in Kyoto. You can buy a few biscuits for the deer, it is amazing and amusing to see how the deer have learned to bow for food. Don't miss Nara on your Japan Itinerary.
Hiroshima
We took our first bullet train from Kyoto to Hiroshima – As you probably know Hiroshima was where the Atomic bomb was dropped. During the final stage of World War II, the United States dropped nuclear weapons on the Japanese cities of Hiroshima and Nagasaki on August 6 and 9, 1945 causing catastrophic destruction. 
Today a memorial stands in Hiroshima which lists 300,000 names of the hibakusha – a Japanese word that literally translates to "explosion-affected people" who are known to have died since the bombings.
The peace park and museum are very thought provoking and the image of all the paper cranes, the symbol for peace, is one of beauty and melancholy. These are paper cranes made by Sadako Sasaki, a child made famous by the book Sadako and the Thousand Paper Cranes. Sadako was diagnosed with leukemia from the bomb radiation and she made thousands of paper cranes, hoping that if she made enough she would be granted her wish, which was to survive cancer.
We then made our way to one of Hiroshima prefecture's highlights – the gate of Itsukushima Shrine often referred to as Miyajima torii, particularly beautiful at high tide. We took a train and then a ferry from Hiroshima to Miyajima Island to see the famous Itsukushima Shrine. When the tide is high it appears to be floating, when it is low you can walk up to the Torii. This is the only Torii gate that sits in the ocean.
Nagoya
While we didn't make it to the famous Nagoya castle – we added Nagoya as a last-minute detour since our daughter wanted to see the Illuminations at the Nagashima Resort. Nabana no Sato is a theme park and botanical garden in the Nagashima Resort. During Spring you can see rows of tulips and hydrangeas and irises in summer and carpets of cosmoses in fall. During winter instead of flowers, the park features over 8 million LED lights to illuminate the different installations in the park. Another great activity to add to your itinerary if you are visiting Japan in Winter.
It was a 30 to 45 minute taxi ride to Nabana no Sato from the Nagoya Hilton where we were staying.  Nagashima Spa Land where the illuminations are can be reached by bus as well from Nagoya Station to Nagashima Resort.  Luckily the hotel arranged for a Taxi that waited for us and brought us back to the Hotel. 
During the 40 minute ride, he tried to make conversation with us using Google translate, we were so touched by his kindness.  He had a warm tea from a vending for us when we got back in the taxi after walking around in the cold and seeing the led light displays (yes you can get hot coffee, tea, and chocolate milk from vending machines) We didn't encounter a single rude person or ill-mannered person the entire trip.  Japanese were the kindest, sweetest and most humble people we have ever seen in our travels.
Where to Stay: We were at the Hilton in Nagoya. We didn't spend too much time at the hotel to form an opinion.  The beds were comfortable and the rooms clean. 
Shirakawago and Takayama
This part of the Japan Itinerary I was looking forward to – a guaranteed snow day in the Japanese Alps.  This was the best part of visiting Japan in Winter!! We boarded a bus at the Nagoya station bright and early at 7:50 am for a 12 hour road trip to the snowy Alps.  Our first stop was Takayama, known as little Kyoto.
We strolled down the narrow streets of the old part of Takayama and taking in the traditional charm of the old ancient wooden houses which makes you feel like you are back in the Edo/ Samurai-period. I got to try some steamed bean bao buns while the boys had the hida beef.  The red lacquered bridge made a striking contrast against the snowy landscape and perfect for some pictures.
We then drove a couple of hours after a hotpot lunch to Shirakawago. Once we parked, we geared up for the snow with snow pants and jackets since it was snowing as expected. Snowfall in this region can get pretty intense and Ogimachi village in particular usually gets covered in 1 to 2 meters of snow, making the town into its own unique winter wonderland. We crossed the bridge over the calm Shokawa River leading us to the reason why we came here – the Ogimachi village famous for its unique gassho-zukuri buildings.
You can see more photos from Snowy Shirakawago here.
Gassho-zukuri is a unique architecture style special for the Hida district of Japan (inland in the mountains). They are steep straw-roofed homes made of wood. Due to harsh and unforgiving winters with a lot of snow, the roofs of the houses are steeply angled to prevent the snow from piling up. If had more than two weeks in Japan, I would have loved to spend at least a night in one of these houses. Maybe next time!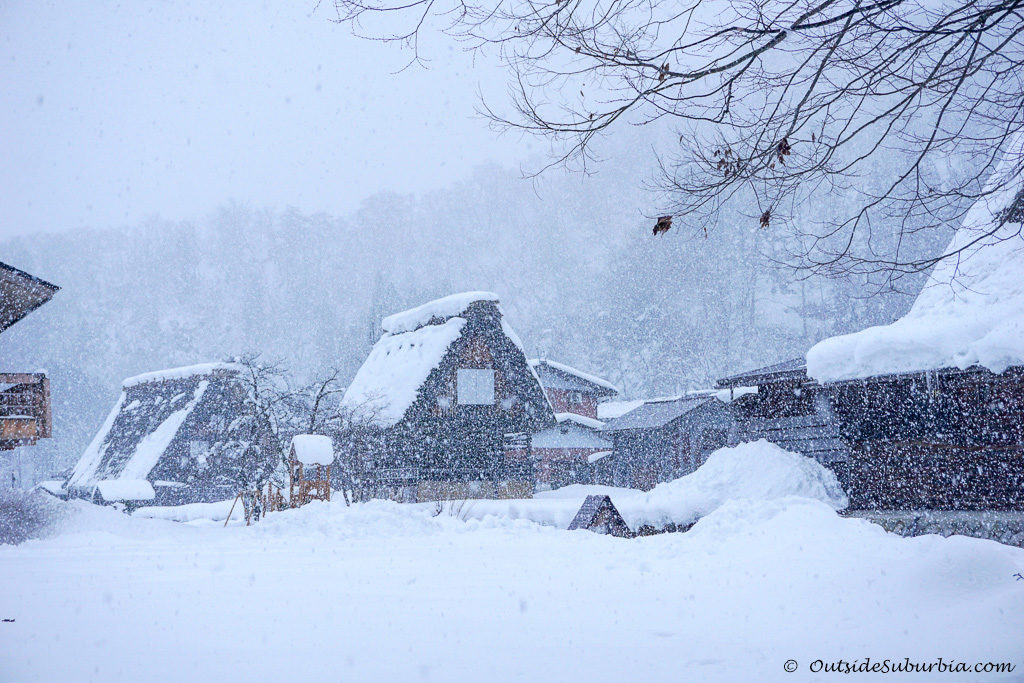 Shirakawa-go and Gokayama are beautiful in every season — may it be spring (sakura or cherry blossom season), summer, autumn or winter. Though if you would only have to choose one, I would highly suggest visiting in winter during the famous Shirakawa-go Winter Light-Up!  On select Sunday and Monday evenings in January and February, the village organizes a special illumination event for visitors in which many of the gassho-zukuri farmhouses are given light from 5:30 to 7:30.
Back to Tokyo, the last day of Japan Itinerary
We originally had plans to visit the giant Buddha of Kamakura, on our last day in Japan but were tired and wanted to take it easy.  So we decided to take the train to Harajuku for some crepes and see Shibuya again and indulge in some shopping at Ginza. Shinjuku Station is the busiest train station in the world with 3.6 million users every day, essential to the hub of Tokyo. 
People still queue up for trains and go about their business in an orderly fashion – almost a controlled chaos.  There is plenty to eat at the Shinjuku station and nearby areas from set menu restaurants to conveyor belt sushi – the food in Japan warrants its own post!  I was able to find vegetarian options without any issues.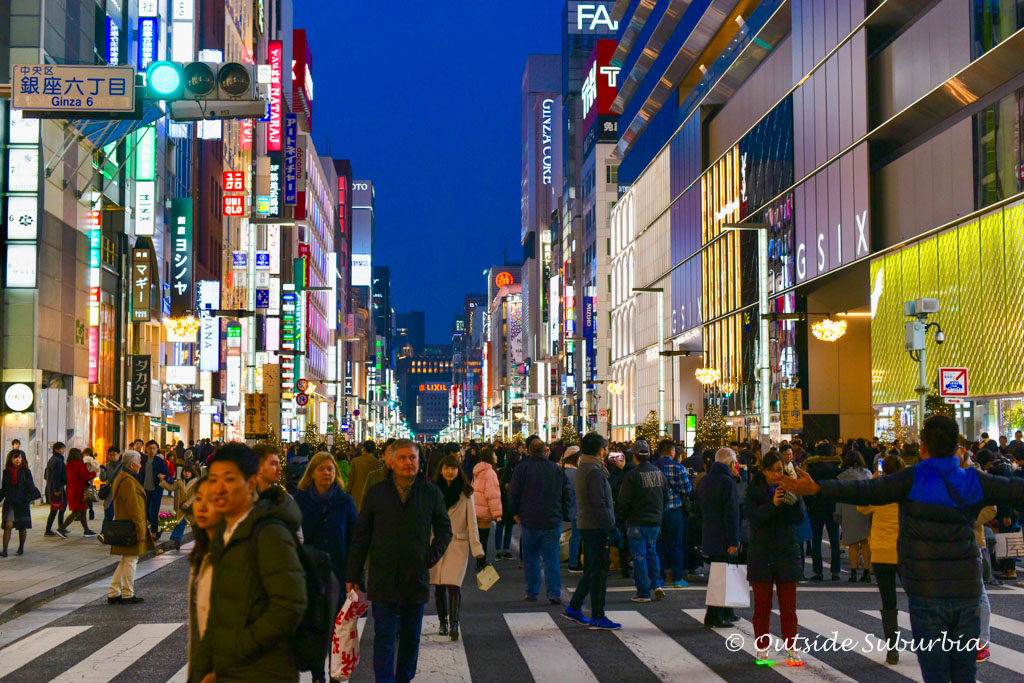 Getting around in Japan
If you are planning at least 7 days in Japan, I heard it is beneficial to get the JR pass – which is valid on all the JR trains and the slower bullet trains. Since we were taking taxi to most places and wanted to experience Nozomi, the fastest bullet train we didn't buy the JR pass but got individual tickets. You can see the train schedules (including the Shinkansen fast trains and buy the tickets here. Beats waiting in lines at the train station!
Few more options if you are visiting during Winter in Japan
Our itineraries are always packed since we have to work with a 2 week holiday period, but if you have a few more days here are a couple of options to add to your Winter in Japan Itinerary provided you like the colder temperatures.  You can visit the snow monkeys of Yudanaka – at Jigokudani Onsen in Nagano, Japanese macaques can be seen taking a dip in the open-air baths, their facial expressions vividly conveying just how relaxed they feel. 
This trip can be done as a day trip from Tokyo but it will make for a long day.  If you are visiting Japan in Winter make sure to add a day at Sapporo to see the beautiful Snow sculptures at the Snow Festival in Sapporo.  There are many places in the Japanese Alps where you can go Skiing – Furano or Niseko are known for their world class powder.  Some Skiing in Nagano can be organized as a quick day trip from Tokyo where you can rent all the ski gear and clothes.
Some Helpful Japanese Phrases
Hello: Konnichiwa (Kohn-nee-chee-wah)
Thank you (normal): Arigatō. (Ah-REE-gah-tohh)
Thank you (less formal): Arigatō gozaimas (Ah-REE-gah-tohh goh-zahy-mahs)
Thank you (informal): Dōmo (DOHH-moh)
Excuse me: Sumimasen (Soo-mee-mah-SEN)Yes: Hai (Hai)
No: Iie (E-eh)
I'm a vegetarian "Watashi wa bejitarian des"
I don't eat meat or fish. "watashi wa niku toh sakana wo taberarimasen" "Taberarimasen" means "I don't eat" so you can add any word in front of that.
Oishi katta – that was delicious.
I'm sorry: Gomen nasai (Goh-men-nah-sahy)
Is there someone here who speaks English?: Dareka eigo ga hanasemasu ka? (Dah-reh-kah ey-goh gah hah-nah-seh-mahs kah?)
Help!: Tasukete! (Tahs-keh-teh!)
Cheers!: Kanpai! (Kan-pie!)
Goodbye (long term): Sayōnara (Sah-yohh-nah-rah)
Goodbye (informal): Ja ne (Jahh neh)

Are you planning a trip to Japan to see the 2020 Olympics or to maybe see the Cherry blossoms in bloom during April or May? If you are planning a trip to Japan, I hope you found this Two Weeks in Japan Itinerary useful. I did add some links to tours that we were looking into and some that we did book.
You might also like other detailed posts about the different experiences that we covered here in our Two Weeks in Japan Itinerary!
Till next time… Sayōnara!!
PIN IT FOR LATER
Note: This post may contain affiliate links, partnership or sponsored content. If you purchase an item via one of these links, we may receive a small commission at no extra charge to you. But as always images and opinions are our own. For more information on our affiliates and privacy policy at Outside Suburbia see here.
CONNECT WITH US