While we were exploring shrines, looking for torii gates and eating all the sushi in Japan last December, I was secretly counting down to a day in the Japanese Alps. We normally don't enjoy cold weather, (we are from Texas after all) or go on group tours, this was one tour that I was super excited about! Set in the mountainous region that was cut off from the rest of the world for a long period of time, these villages with their Gassho-style houses survived on the cultivation of mulberry trees and the rearing of silkworms. It was a long journey to get to these distinctive houses often called the Japan's Snow Houses and I was looking forward to seeing them in person and having a snow day in the Japanese Alps at Shirakawa Go.
A trip to the Japanese Alps
We boarded a bus at the Nagoya station bright and early at 7:50 am for a 12 hour road trip to the snowy Alps. Our first stop was Takayama, known as little Kyoto. We strolled down the narrow streets of the old part of Takayama, taking in the traditional charm of the old ancient wooden houses which makes you feel like you are back in the Edo/ Samurai-period. I got to try some steamed bean bao buns while the boys had some hida beef. The red lacquered bridge made a striking contrast against the snowy landscape and perfect for some pictures.
Gassho-style houses of

Shirakawa Go
After a hotpot lunch, we drove for a few more hours through snowy landscapes Once the buses were parked, we geared up for the snow with snow pants and jackets since it was snowing as expected. Snowfall in this region can get pretty intense and Ogimachi village in particular usually gets covered in 1 to 2 meters of snow, making the town into its own unique winter wonderland. We crossed the bridge over the calm Shogawa River leading us to the reason why we came here – Ogimachi, which is the largest village and famous for its unique gassho-zukuri buildings. Gassho-zukuri is a unique architecture style special for the Hida district of Japan (inland in the mountains). The Gassho-style houses found in the Historic Villages of Shirakawa-go are rare examples of their kind in Japan. They are steep straw-roofed homes made of wood. Due to harsh and unforgiving winters with a lot of snow, the roofs of the houses are steeply angled to prevent the snow from piling up. Gassho-zukuri means "constructed like hands in prayer", as these farmhouses' steep thatched roofs resemble the hands of Buddhist monks pressed together in prayer.
Wondering where is Shirakawa Go
Where is Shirakawa Go?
The Shirakawa-go and neighboring regions that line the Shogawa River Valley lie in a very remote mountains part that spans from Gifu to Toyama Prefectures.  These villages have existed since the 11th century and have a strong sense of community, which helps them survive the harsh winters.  Ogimachi, Shirakawa-go's largest village and the main attraction are more accessible compared to Gokayama . The large houses with their steeply pitched thatched roofs are the only examples of their kind in Japan.  Despite economic upheavals, the villages of Ogimachi, Ainokura and Suganuma are outstanding examples of a traditional way of life perfectly adapted to the environment.  They were declared a UNESCO world heritage site in 1995.
Here are a few photos from our snowy day in Shirakawa-Go, Japan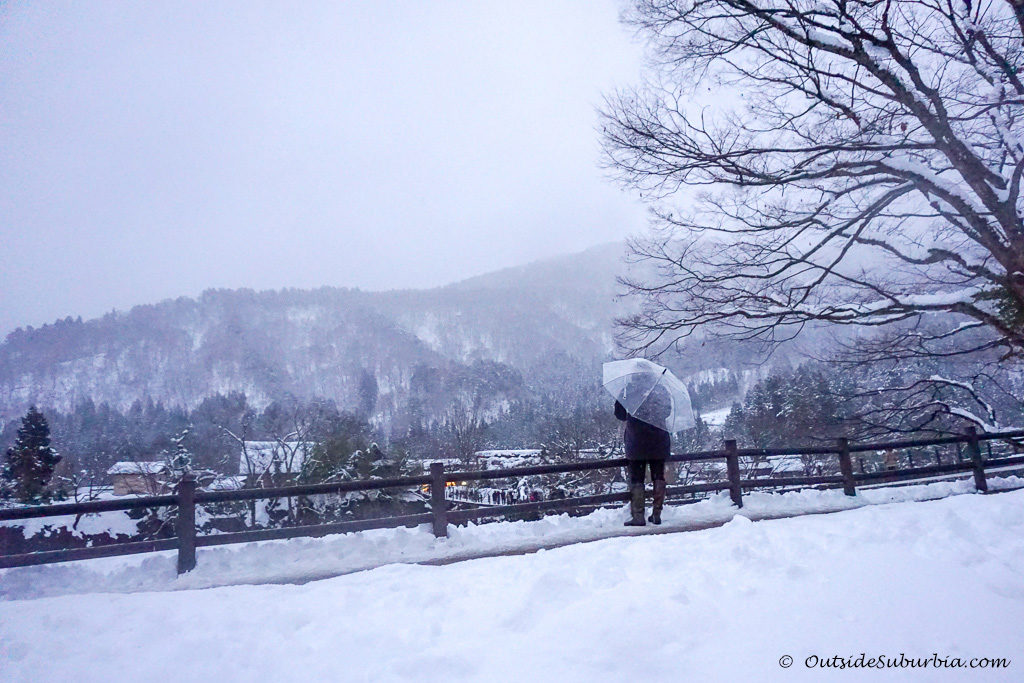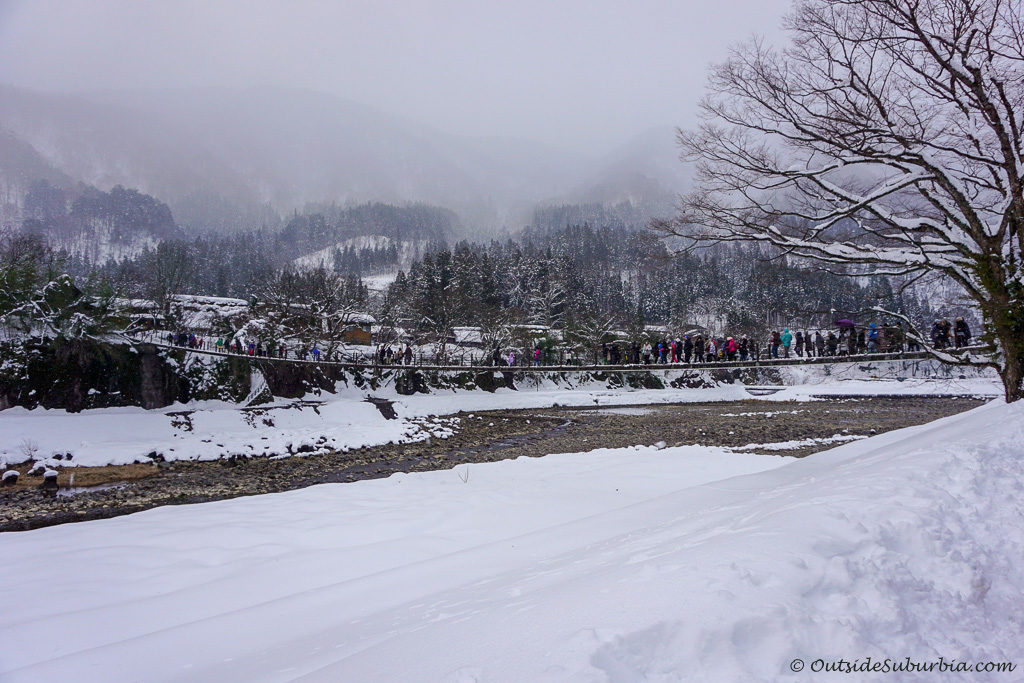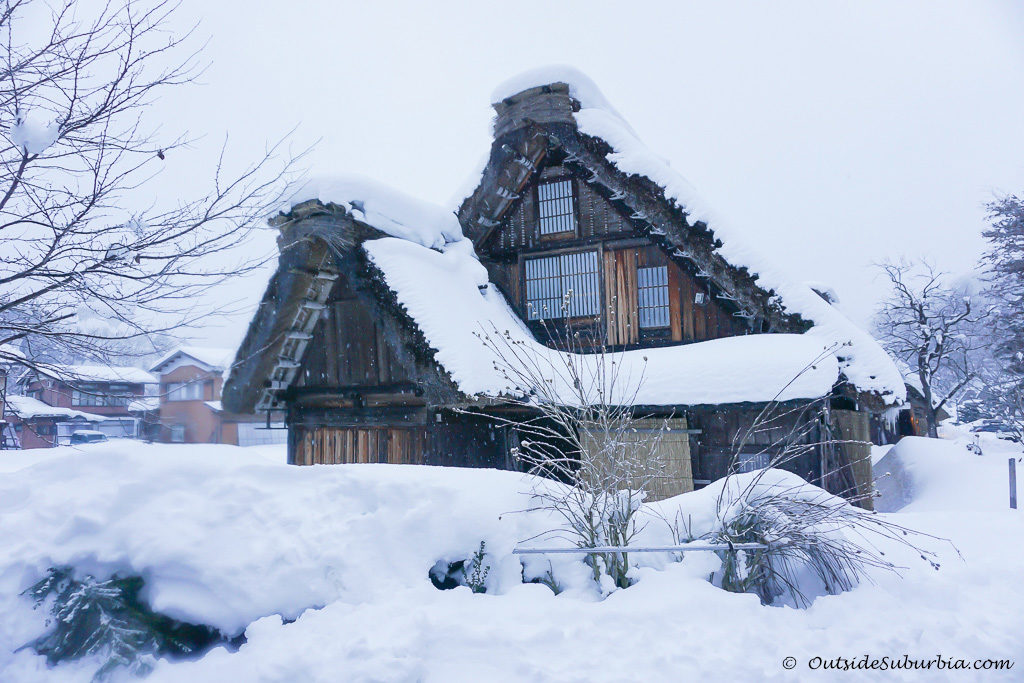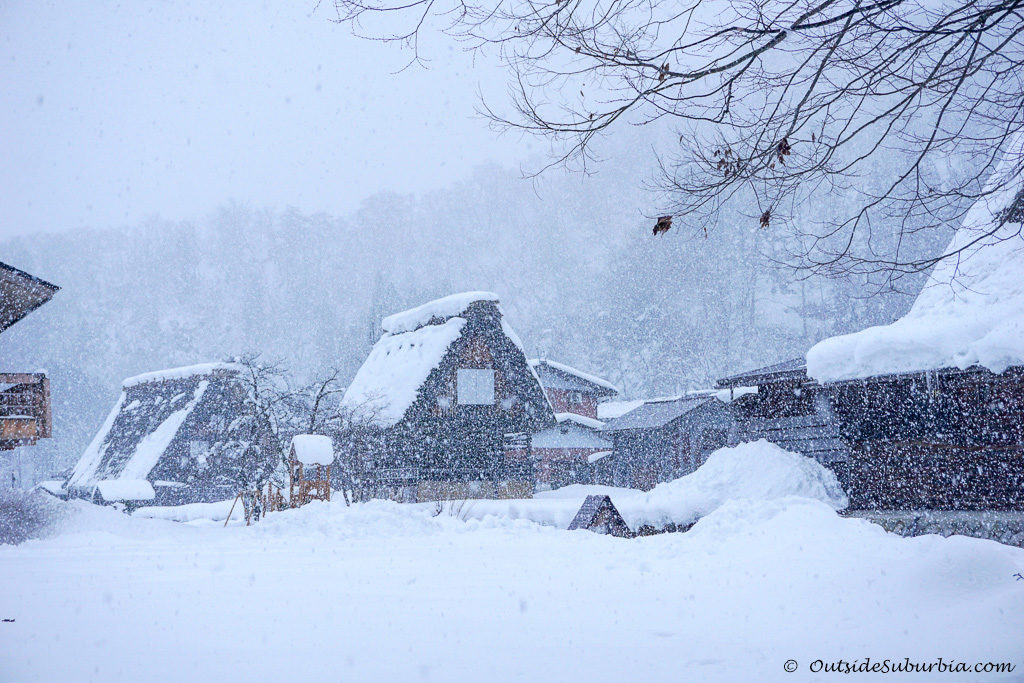 Shirakawago and Gokayama Tours
The villages of Shirakawa-go and Gokayama's are beautiful in every season — may it be spring (sakura or cherry blossom season), summer, autumn or winter. Though if you would only have to choose one, I would highly suggest visiting in winter during the famous Shirakawa-go Winter Light-Up! In select Sunday and Monday evenings in January and February, the village organizes a special illumination event for visitors in which many of the gassho-zukuri farmhouses are lit-up from 5:30 to 7:30pm.
See this post about all the Japanese Food we tried!
If you find yourself in Tokyo during winter don't miss a visit to see the Gassho-zukuri houses and play in the snow at Shirakawa Go, Japan.
PIN IT FOR LATER
Note: This post may contain affiliate links, partnership or sponsored content. If you purchase an item via one of these links, we may receive a small commission at no extra charge to you. But as always images and opinions are our own. For more information on our affiliates and privacy policy at Outside Suburbia see here.
CONNECT WITH US