A few summers ago we went to Switzerland for our holidays with the kids. We were at the picturesque Lucerne for a couple of days and stayed at the Grand Hotel National Luzern. We didn't know much about the hotel other than its beautiful location right on the lake with sweeping Alpine mountain view and that they will accommodate our two kids and provide us with a rollaway bed.
Why Grand Hotel National Luzern is our Favorite Swiss Hotel, a Review
Once we got there the hotel swept us away. It was a traditional and luxurious 5-star hotel that was founded by César Ritz of Ritz Hotels. It looked like a French chateau with Italian renaissance details. But that is not what the kids remember, they still remember the little hot chocolate mugs and stuffed sheep they were given at check-in.
The interior was palatial from the glorious red brocade walls, marble floor, the shimmering corridor lined with paintings and had an amazing view from our balcony. The staff was sweet and friendly to our kids. My picture (taken before my blogging days) doesn't do justice to the hotel. We stayed at the Deluxe Lake view room, do check out their website for the photos you will sure to have a wonderful holiday if you chose to stay here for your next family Swiss vacation!
Things to do in Luzern
Here are a few things to do in Luzern. See this post more things to do in Lucerne.
The Chapel Bridge is Luzern's most recognizable landmark, it is Europe's longest roofed timber bridge. Halfway along the bridge is the octagonal Water Tower, Switzerland's most-photographed historical monument.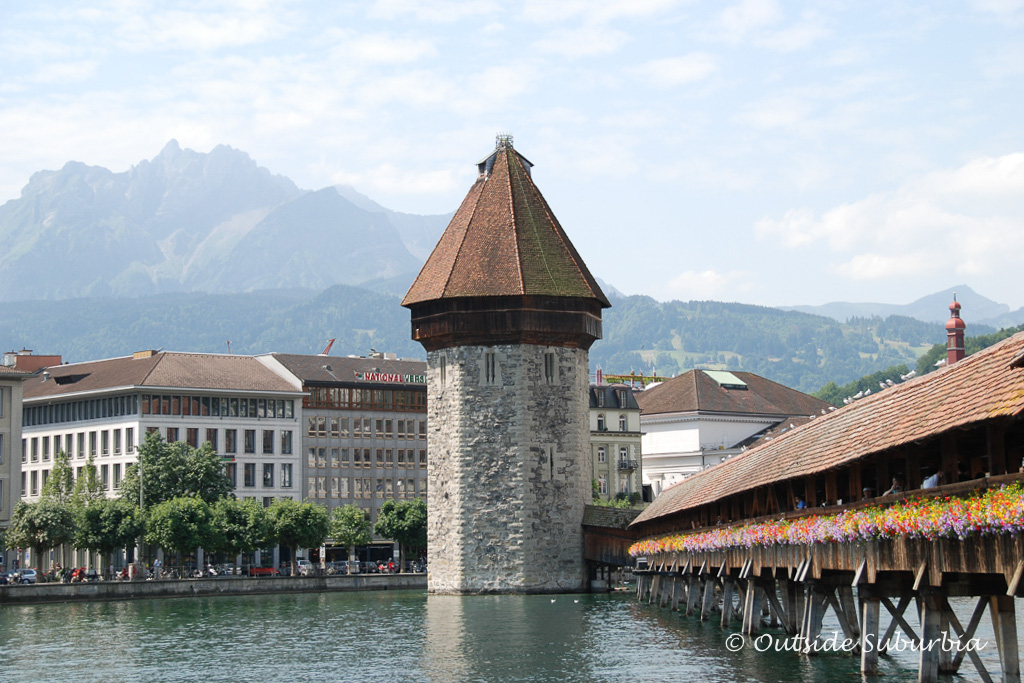 The Lion Monument was Switzerland's first preserved figurative monument. Carved out of the naturally occurring rock, it commemorates the heroism in 1792 of Swiss soldiers who died attempting to protect the Tuileries Palace in Paris.
Shopping in Lucerne is great! There are many unique shops and boutiques in the city, as well as some of the larger and more expensive stores that you would expect to see. The first thing that most people think of when it comes to Switzerland is the Swiss Army Knife or the Swatch. If you are in the market for watches, Switzerland is the place to buy them – from Rolex to Omega there are so many boutiques. There are many exclusive watch brands available here, the largest being the Bucherer showroom near the antique wooden bridge. Of course, who doesn't love the Swiss Chocolate!?
We went on a Golden Round trip to see the panoramic views of the Alps at Pilatus and also went on a day trip to try some Fondue at Schwyz and to Rigi Kulm.
Check here to read additional reviews of the Grand Hotel Lucerne and book your hotel for your trip to Lucerne.
PIN IT FOR LATER
Note: This post may contain affiliate links, partnership or sponsored content. If you purchase an item via one of these links, we may receive a small commission at no extra charge to you. But as always images and opinions are our own. For more information on our affiliates and privacy policy at Outside Suburbia see here.
CONNECT WITH US