If you're an art lover, then you'll definitely want to check out the modern and contemporary art galleries in Dubai. There are some amazing galleries here, showcasing some of the best talents in the world. Whether you're interested in modern or contemporary art, there's something for everyone in Dubai's art scene. In this blog post, we'll take a look at some of the best galleries in town!
Art Galleries and Museums in Dubai & The Middle East
The Third Line
Founded in 2005 by a group of friends who were troubled by the lack of visibility for Middle Eastern and North African artists in Western galleries, The Third Line has become one of the leading forces in promoting contemporary art from the region.
Housed in a series of white corrugated metal buildings on Alserkal Avenue, The Third Line is home to both gallery spaces showcasing daring and dynamic exhibitions, and a store selling limited-edition prints and books by affiliated artists.
In addition to providing a much-needed platform for regional talent, The Third Line is also dedicated to education and engagement, with a busy schedule of talks, workshops, and performances.
Whether you're an art lover or simply curious about the art scene in the Middle East and the Arab world, a visit to The Third Line is sure to be an enlightening experience.
Opera Gallery
If you're looking for a dose of culture amid all the designer stores and fancy restaurants in DIFC, then you should definitely check out Opera Gallery.
It's a glossy showroom for modern paintings, avant-garde installations, and cutting-edge photography, and it's quickly become one of the best galleries in Dubai.
Shepard Fairey, an American activist, artist, and the founder of skater clothing label OBEY, even held his first solo Dubai exhibition here.
So if you're looking for a break from the shopping and dining scene in DIFC, be sure to visit Opera Gallery and check out some of the amazing artwork on display.
1×1 Art Gallery
Malini Gulrajani founded 1×1 Art Gallery in 1996, originally to house Indian contemporary art. The gallery has since grown into a large warehouse space, and Gulrajani has shifted the focus to Emirati and Middle Eastern talent.
The gallery's works have an even bigger platform with the gallery's participation in international fairs, museums, and galleries, as well as collaborations with independent curators.
1×1 Art Gallery is just one of the many galleries that make up the Alserkal community in the industrial area of Al Quoz. This community is home to a growing number of artists, designers, and other creatives, and is quickly becoming a hotbed of artistic activity in Dubai.
With its central location and wide range of facilities, Alserkal is the perfect place for 1×1 Art Gallery to continue its mission of promoting Emirati and Middle Eastern art to the world.
See: Where to find Street Art Murals in Dubai
Tashkeel
Tashkeel is a non-profit organization that was set up in Dubai in 2008 by artist Lateefa bint Maktoum. It is dedicated to supporting the development of contemporary art and design in the UAE through residencies, exhibitions, workshops, talks, and other educational programs.
Tashkeel has two venues: the main gallery in Nad Al Sheba, which runs exhibitions and artist-led tours; and a second venue in a historic villa in Al Fahidi, where you can meet some of the artists in residence.
Tashkeel has helped to craft a career path for some of the city's biggest names, including rising star eL Seed. If you're interested in exploring the work of emerging Emirati artists, Tashkeel is well worth a visit.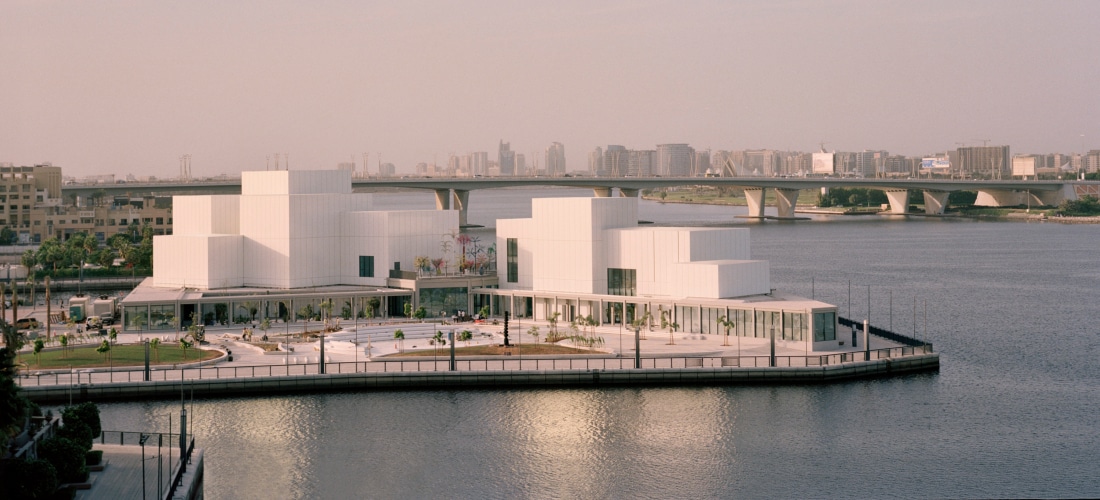 Jameel Arts Centre
Jameel Arts Centre is one of Dubai's most popular tourist attractions. Framed in a building as beautiful as the artwork it presents, this architectural masterpiece on Jaddaf Waterfront is a 15-minute drive from the airport.
Reflections of the gleaming white building ripple in the Dubai Creek, attracting photographers at sunrise and sunset. It hosts rotating exhibitions and a library for artists.
Chill out in seven mini gardens themed to desert eco-systems around the world; or grab a coffee in the cool espresso bar. Jameel Arts Centre is the perfect place to spend a day exploring Dubai's culture and art scene.
Ayyam Gallery
Ayyam Gallery has been a big success in the region and has three outposts, including one in the founding city of Beirut. In Dubai, contemporary art fans are spoiled for choice, with offerings in both the Al Quoz and Dubai International Financial Centre (DIFC) neighborhoods.
The latter is more of an upscale area and has been managing established and emerging talents, taking them around the United States, Europe, and Asia. It's all part of their mandate to spread art far and wide, a non-profit scheme to ensure more equal representation across the industry. They also have a multilingual publishing division and a custodianship program that manages the estates of trailblazing artists.
Even if you're not in the market to buy, it's worth visiting just to appreciate some of the finest contemporary art from across the globe.
Elmarsa Gallery
Elmarsa Gallery is all about showcasing the talents of artists from around the Middle East. Founded in Tunisia in 1994, Elmarsa has since participated in events in Paris, Miami, and Marrakech, and launched a Dubai location in 2015.
Elmarsa is dedicated to supporting its artists as they push the boundaries of contemporary art. You'll be impressed by the innovative pieces on display from artists tackling subjects such as the impact of Mediterranean, African and Arab heritage on global issues. Abdulaziz Ashour, Emna Masmoudi, and Omar Bey are just some of the talented artists you'll find at Elmarsa Gallery.
Infinity des Lumières: Art of the future
Infinity des Lumières is the art of the future. 130 projects, 58 speakers and thousands of images bring contemporary art to life at this venue at The Dubai Mall. Currently playing are two masterpieces of future-oriented and futuristic digital art: DESTINATION COSMOS – The Ultimate Challenge, and DUBAI DATA.
The exhibitions are cutting-edge and groundbreaking, innovative that take you on an immersive journey. An absolute must for art and technology lovers alike. Past exhibits were Dreamed Japan where you could step inside an amazing dreamlike space, where the poetically beautiful world of 19th century Japan floats all around you, blending seamlessly Hokusai's portraits and landscapes of Japan and Verse, a hypnotic, metaphysical journey into the Cosmos.
Museum of the Future
If anything, go to see the stunning building of the Museum of Future. It is an architectural and engineering marvel. The circular building is said to represent humanity while the green mound it sits atop represents the earth and the void represents the unknown future. Located adjacent to Jumeirah Emirates Towers in Dubai, the museum is a space for innovative and futuristic exhibitions.
You can have some immersive experiences at the Museum of Future like the take a Voyage to a space station 600 kilometers above the earth and gazing out the window and witnessing the moon. Or immerse yourself in a mixed reality recreation of the Amazon rainforest and see the interplay of hundreds of species and observe details invisible to the naked eye.
Pro Tip: Get your tickets for the Museum of Future ahead of your trip, they sell out fast.
Dubai Walls at City Walk
City Walls is a project where 15 of the best urban artists from around the world are given an area to decorate in one of the most popular districts in Dubai.
The project started in 2016 and includes statement pieces and interactive art in sizes from full wall installations to pop-up model art. From spray paint to old-fashioned paint brushes, there are street art murals to see in all styles.
JBR Walk and La Mer in Jumeriah are other places in Dubai where you can see street art murals.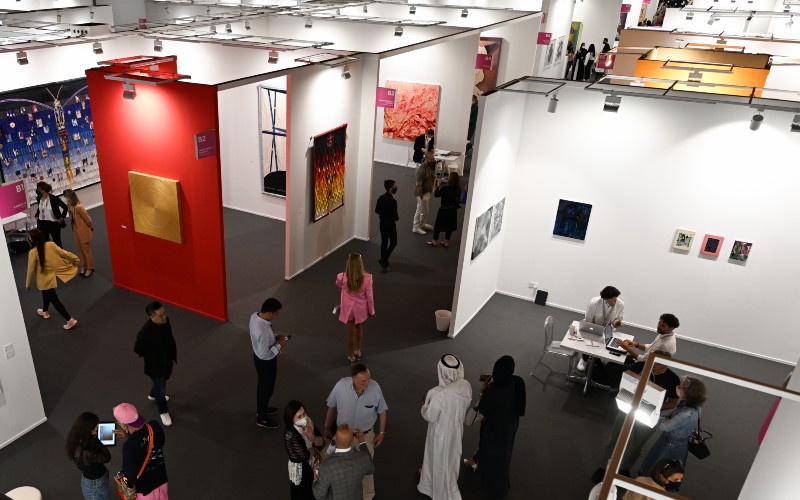 Map of Dubai Museums, Galleries & More
Art Dubai
Art Dubai is the Middle East's leading international art fair, taking place every March in Dubai, UAE. As one of the world's most international art fairs, Art Dubai has further expanded its commitment to cultivating a culture of discovery, offering exciting new global perspectives and broadening conversations about art beyond traditional Western-led geographical scopes and narratives.
Last year the Art Fair has artists from over 44 countries represented and pulled in galleries from around the world, making it an unparalleled opportunity to see a global variety of artworks in one place.
With strong representation from the MENASA region – making up almost 60% of galleries at the fair – Art Dubai continues to play a key role in promoting artistic exchange between gallerists, artists, collectors, institutions, and visitors from around the globe.
Louvre Abu Dhabi
Just an hour and a half drive from Dubai sits another art destination that you must visit in the Middle East. Louvre Abu Dhabi was formed by an unprecedented partnership for cultural exchange between UAE and France. The architecturally stunning building (a floating dome of light and shade) represents the dynamic nature of the contemporary Arab world while celebrating the region's vibrant and multicultural heritage.
Expect to see Matisse, Monet, Manet, and Mark Rothko along with other artifacts, sculptures, contemporary art, and installations. Louvre Abu Dhabi is located on Saadiyat Island and has a lovely Jean Nouvel-designed café and outside terrace, which serves distinct Emirati and European flavors.
Pro Tip: Book a day trip from Dubai tour to visit Louvre Abu Dhabi and the Grand Mosque
Abu Dhabi also hosts an annual art fair each November bringing together a number of local and international galleries offering modern and contemporary artworks for sale which are shown alongside exhibitions, artist commissions, and installations.
I hope you add these art destinations to your itinerary and get to experience some modern and contemporary art in Dubai during your visit.
PIN IT FOR LATER
Note: This post may contain affiliate links, partnership or sponsored content. If you purchase an item via one of these links, we may receive a small commission at no extra charge to you. But as always images and opinions are our own. For more information on our affiliates and privacy policy at Outside Suburbia see here.
CONNECT WITH US