Sabyasachi recently released a collaboration with H&M called Wanderlust, which has me lusting… for all the flowy pieces and faraway places!
It's no secret I'm a huge fan of Sabyasachi along with millions of other women from the Indian Diaspora. His designs are a revival of Indian craftsmanship and art! He made sarees vogue and now with this new collaboration making them global and accessible!
The Kolkata-born Indian fashion designer Sabyasachi is known for his rich textiles, bridalwear, high-end jewelry beautifully weaves, and traditional silhouettes and techniques.
"I don't believe in topical themes, seasonal style, or the line between couture and pret. I make modern heirlooms. Things of beauty, heritage, and value that cut across generations and time. Rare in its craftsmanship, layered in artisanal effort, and refined by an age-old culture and the syncretic legacy of India." – Sabyasachi
Wanderlust Collection
Sabya's collection called Wanderlust features flowy silhouettes, tropical prints & patchworks. It includes clichés like strutting Bengal tigers, dancing peacocks, Taj Mahal that the Sabya is not afraid to include in his design. They are both modern and classic! Outfits for both men and women are included in the drop along with accessories like bracelets, rings, and shoes.
The brass-colored jewelry mimics his heirlooms pieces that are usually at investment prices. How amazing is that bag with coins and sequins?
Sabyasachi x Bergdorf Goodman
Earlier in 2020, Sabyasachi jewelry was presented at Bergdorf Goodman, New York. A fashion house that needs no introduction! Sabya is a man on a mission and when asked about his collab with Bergdorf Goodman is known to have said "I want to create Sabyasachi as the next Cartier from India." His jewelry is wildly creative, colorful, beyond stunning, and fearless. Owning one of his jewelry pieces is my life's mission 🙂 maybe just a cocktail ring.
An exquisite vintage diamond ring is designed by master couturier Sabyasachi Mukherjee for De Beers Forevermark, Zanyah Collection.
The last time I bought a Sabyasachi sari, my mother-in-law had a mini heart attack. She has no second thoughts on dropping that kinda dough on diamonds or a Kanjeevaram saree, but didn't think a georgette saree with sequins was worth that price tag. Because it has resale value she would explain. But I buy something… a sari or bag because I LOVE it — because it is a work of art! Different perspectives 🙂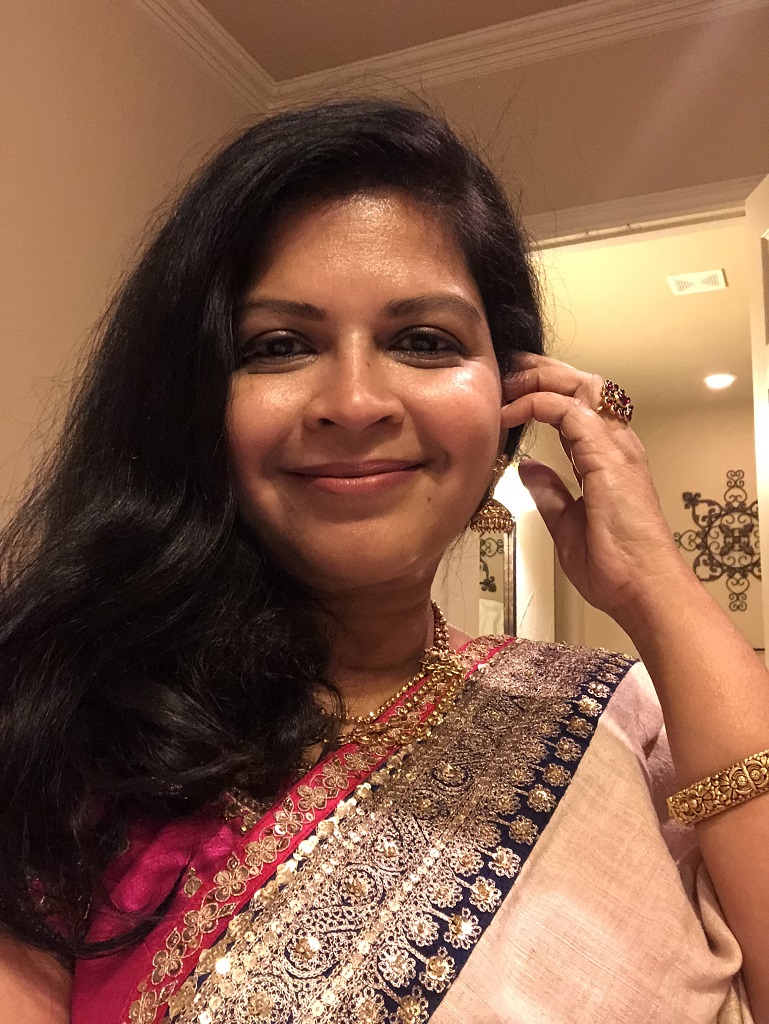 My collection of Sabyasachi saris so far includes a red georgette with sequins, a khadi with a pretty border, a black and white embroidered saree, and a hand-painted chiffon saree with flowers.
Sustainability & Craft Centric
Another reason I love Sabyasachi is how he has revived Indian craftsmanship and popularized regional weaves. Textiles and handicrafts are a very very important part of India, in fact, it is the second-largest industry. Fashion from India is always going to be craft-based. It is the backbone and big part of Indian culture.
Sustainability is a big part of this craft ecosystem. Whether it is filigree work, enamel in jewelry pieces, or zardozi in sarees and lehenga… Sabyasachi puts craftsmanship at the front and center. This means the craft is preserved for generations, the art is valued and the craftsmen enjoy sustainable living.
The beloved Indian label's collection with H&M was originally planned to be launched many months ago, it was put on hold due to the Covid-19 pandemic.
The whimsical Ads for the collection were shot in Kolkata, India… but they give me all the Jaipur, Marrakesh, Istanbul, Los Angeles vibes. The handcrafted design that showcases the design houses' craftsmanship at an accessible price point puts India firmly on the global fashion map.
Pieces from the Sabyasachi x H&M Wanderlust Collection
In an interview with ELLE, Sabyasachi delves deeper into his expansive design process…
"Wanderlust" as the collection name (not-so-subtly) is largely inspired by the wonder and experience of going down the very real rabbit hole of traveling and exploring the rich diversity of our many cultures. It's an acknowledgment of our differences across borders and oceans, but also of what binds us together. We're a bunch of global nomads, notwithstanding the pandemic, of course, but if anything, the last year has been a reminder of the significance of travel in our lives. So prints and embroidery that form an integral part of my brand find a very real place in this collection, where we have used artisanal techniques and, with the aid of technology, we have been able to scale it up.
He adds, "We've seen the boundaries blur in couture with street inspiring bespoke—this was a chance to explore that the other way around, so you see the details of couture but with elements of streetwear".
The collection is sophisticated and glamorous, yet understated… eclectic, and bohemian… catering to my nomadic heart. If I manage to get my hands on a few pieces I'm packing them for my next trip (quite possibly every trip) to Mexico, Madras, and beyond!
New York Store now open at 160 Christopher Street
Wanderlust by Sabyasachi x H&M is an international collection with an Indian soul —and I'm here for it!
Love,
Priya
CONNECT WITH US