When we were in Whitefish Montana we stayed for a few days at the mountain lodge, Kandahar. Located just a few miles from the town of Whitefish, the lodge is perfect for summer adventures in Glacier National Park and winter fun at Whitefish Mountain Resort. But regardless of the season, a meal at Cafe Kandahar located inside the Kandahar Lodge is a must when you visit Whitefish Montana.
Café Kandahar in Whitefish Montana
Café Kandahar located inside the Kandahar Lodge in Whitefish, MT is privately owned and operated by Chef Andy Blanton. Chef Andy is a four-time James Beard Foundation Semifinalist, the Foundation's mission is to celebrate, nurture, and honor chefs that make America's food culture more delicious, diverse, and sustainable for everyone. He was even invited to travel to the James Beard House in New York to prepare a meal! It was a treat to have a meal prepared by Chef Andy.
The menu at Cafe Kandahar is designed keeping in mind both the seasonality and locality of ingredients, mentioned Chef Andy. I opted for the four-course dinner paired with wine and was pleasantly surprised. While Elk, Yak Carpaccio and Scollops are the highlights here, there are some wonderfully delicious vegetarian choices. The other great option at Cafe Kandahar is The Chef's Tasting which consists of five small plates carefully paired with wines, which provides the quintessential dining experience.
My vegetarian four-course meal at Café Kandahar
We started with some champagne and my first course was the Forest Mushrooms with Madeira Crème and Montana Chevre served on a flaky pastry was divine, I have had my share of mushrooms and this was the best ever. He was kind enough to share his mother's recipe for the dish which you can find below.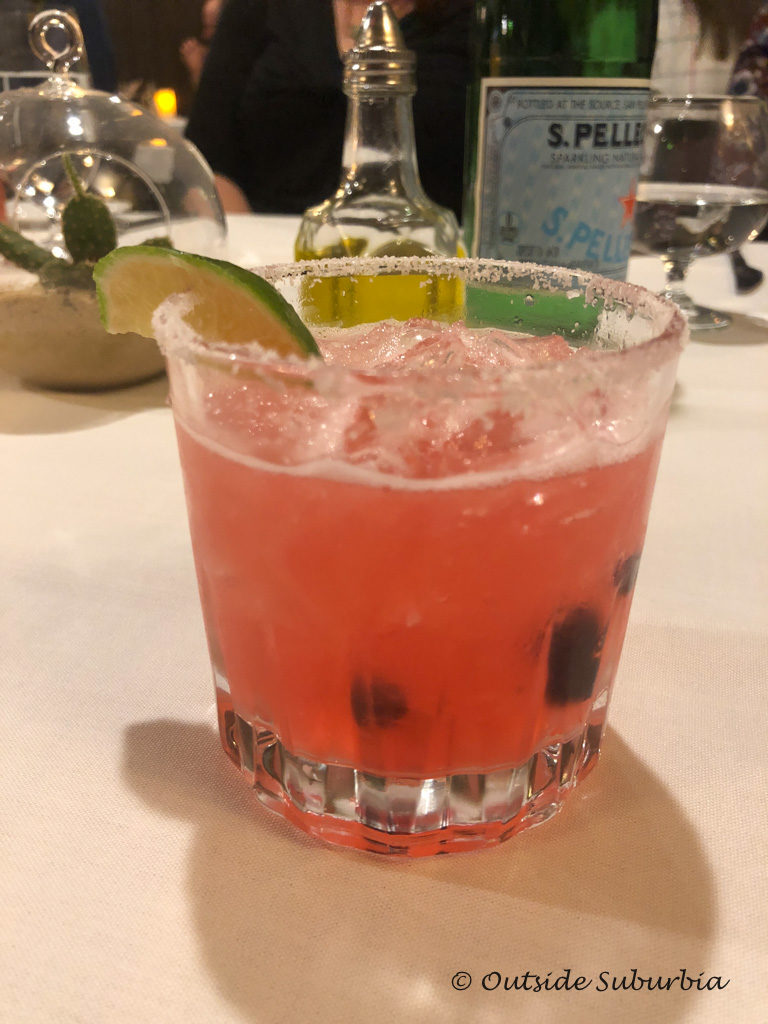 It was followed by a Living Butter Lettuce with Gorgonzola, Hearts of Palm and Maple Pecans. I opted to leave out the Bacon that is usually on the salad. For my main entree, I had the crispy soca crepe filled with veggies reminded me of the markets in Nice. We then enjoyed a few desserts including a Huckleberry Tart. You just got to try Huckleberry when visiting Montana, it tastes good both in drinks and desserts 😉
Wine suggestions from Sommelier Renee Nadon at Café Kandahar
Amuse Bouche, Contratto, For England Pas Dosé Rosé Brut, Canelli, Piedmonte, Italy 2012
Forest Mushrooms, Goodfellow Family Cellars, Richard's Chardonnay, Whistling Ridge Vineyard, Willamette Valley, 2016
Butter Lettuce Salad, Domaine de Pallus, Les Pensees de Pallus, Chinon, Loire 2015
Socca Crepe, Foradori, Teroldego, Vignette delle Dolomiti, Alto Adige, Italy 2016
Creme Brulee, Nigl, Gruner Veltliner Eiswein, Kremstal, Austria, 2016
Forest Mushrooms Recipe by Chef Andy Blanton
Forest Mushrooms, Madeira Crème, Montana Chevre, Thyme Pastry
Serves 4
Ingredients (preparation time 35 minutes):
1 oz olive oil
½ red onion (thinly sliced)
1 pound forest mushrooms (oyster, shiitake, chanterelle, morel, porcini or any combination, stems discarded)
1 Tbs garlic (minced)
2 Tbs flatleaf parsley (finely chopped, leaves only)
2 oz Madeira
4 oz heavy cream
1 oz goat cheese
1 Tbs fresh thyme (picked, leaves only)
Kosher salt
Fresh ground black pepper
Balsamic (optional)
Heat olive oil on high heat in a large skillet or sauté pan until beginning to smoke.
Carefully add onions, stirring constantly, and sauté until onions start to caramelize slightly (light brown), add forest mushrooms, garlic, and a good size pinch of kosher salt, a smaller pinch of black pepper. Continue to sauté on high heat, stirring constantly, until the mushrooms develop a nice golden brown hue.
Remove skillet from heat and add parsley, tossing quickly, immediately pour in madiera, put the skillet back over the heat. Reduce until almost dry, keeping the skillet moving, then pour in the heavy cream and allow to cook until desired consistency.
Fill thyme pastries (can use puff pastry, filo dough, pie dough, etc…) with goat cheese. Serve immediately, when hot, by spooning mushroom mixture over thyme pastry. Garnish with balsamic glaze (or a 12 yr Aged Balsamico).
Kandahar Lodge
Kandahar Lodge at Whitefish Mountain Resort near Whitefish, Montana was warm and welcoming. Evenings were cozy with a crackling fire in the great room and guests catching up after a busy day of adventures. It is a perfect location if you are visiting for winter fun. The free S.N.O.W. bus provides convenient access from Kandahar to the town of Whitefish. The lodge has been recently renovated and has 50 rooms, but come prepared to climb up the stairs as there are no lifts or elevators. Along with Cafe Kandahar, there is The Snug Bar where you can enjoy sips and snacks and a nice Spa with Hot tub.
Kandahar Lodge is great place to stay near Whitefish, Montana. It is conveniently located 7 miles from the town of Whitefish. I loved starting my mornings with some warm coffee and mountain views. Continental breakfast is included. The property was beautifully landscaped with lots of flowers and pretty corners to enjoy.
During the summer months, you can walk from Kandahar Lodge to Zip Line Tours, Alpine Slides and the Aerial Adventures in the Whitefish Mountain. You can ride the chairlift or hike(if you choose) to the 7,000 foot Summit. There is a restaurant on top of the mountain, the only one of its kind in Montana. Summit House is the highest restaurant in northwest Montana with some of the best views of Glacier National Park and the surrounding area. Grab a soup and a table by the window. You can also ride more than 30 miles of lift-accessed and cross-country mountain bike trails. Glacier National Park and the famous Going to the Sun Road is only 30 minutes away.
PIN IT FOR LATER
Note: This post may contain affiliate links, partnership or sponsored content. If you purchase an item via one of these links, we may receive a small commission at no extra charge to you. But as always images and opinions are our own. For more information on our affiliates and privacy policy at Outside Suburbia see here.
Follow OutsideSuburbia
Instagram | Facebook | Twitter | Pinterest | Tripadvisor