With kids in school and balancing all their activities, it is not always easy to getaway for long trips but that does not mean you can't take a break from routine and go on a little holiday.  With direct flights and access to loads of kid friendly activities – there are plenty of places to visit in the USA for a short break.  Here are a few family weekend getaway ideas recommended by fellow Family Travel Writers for exploring the cities of America one weekend at a time. 
Ideas for a short Family Weekend Break in some of the Best US Cities
Family Weekend Getaway in Boston, Massachusetts 
Packed with history and charm, Boston makes a perfect destination for a family getaway. Start off with either a walking tour of the historic Freedom Trail, or splash into the Charles River on one of Boston's famous duck boats. Afterwards, you can pick up lunch at the Boston Public Market or sample the goods from the food trucks on the Rose Kennedy Greenway. Afternoon is a perfect time to either take a whale watching cruise, do some island hopping on the Boston Harbor Ferry, or visit the penguins and sea lions at the New England Aquarium.
On the second day, start off at the Boston Tea Party Museum and Ships. Not only will the kids learn about the events that kickstarted the American Revolution, they get a chance to throw bales of "tea" into the harbor. Afterwards it is a short walk over to the Boston Children's Museum, with a stop at the Barking Crab for a lobster lunch first. End your day with a good old-fashioned American past time, baseball. If the Red Sox aren't in town, you can still join a tour of the historic Fenway Park.
If you have an extra day to spend in Boston, start off with brunch at Stephanie's on Newbury, followed by a walk through the Public Gardens where you can take a ride on a swan boat and seek out the "Make way for Ducklings" statues for a cute photo opportunity. Finish up with a view of the city at the Skywalk Observatory on the top of the Prudential building.
by Tamara Gruber from We3Travel
Family Weekend Getaway in Chicago, Illinois
Chicago is a fantastic visit to visit with your family any time of year.  From plenty of places to see such as the famed Navy Pier to outdoor festivals such as Taste of Chicago in the summer, Chicago should be on your list for a family friendly weekend getaway!
Chicago boasts numerous museums that are perfectly suited for families.  The Museum of Science and Industry is a hit for kids of all ages as its hands-on exhibits provide children with challenging experiments and activities.  The planetarium and Shedd Aquarium are world renowned and a short distance from one another on the shores of Lake Michigan.
A stroll along Michigan avenue will bring the allure of the city to greet you during the day.  With hundreds of stores to pop into, you walk north toward the shops and spend hours exploring the storefront. Walking south you enjoy a walk over the Chicago River and down to the Art Institute of Chicago or walk a block over to ride on the elevated "L" train. Enjoy Chicago pizza with a stop at Gino's East or Lou Malnati's pizzerias, or grab a Chicago hot dog at Gene and Jude's or Portillo's.  If you manage to get an hour with your significant other, a stop at Hancock's 95thfloor Signature Room is a great way to finish your evening with stunning views of the city in the evening.  A no trip to Chicago is complete without snapping a picture on the Skydeck at Willis Tower, one of the tallest buildings in the world.
by Diana from The Elusive Family
Family Weekend Getaway in Philadelphia
Living in Philly for nearly 7 years brought it dear to my heart. It's the perfect combination of big and small city; terrific museums, food, and history, with a familiar neighborhood feel and just a little bit of grit. Here's what I'd do with a weekend there!
Start off with brunch at Sabrina's Cafe & Spencer's Too (closer and less crowded than the original location). The mile-high stuffed French toast will prepare you for your next stop at the Philadelphia Museum of Art with its impressive Impressionist collection. Stop at the famous Rocky statue and get a picture running up the steps. Behind the museum is the beautiful Boathouse Row, where you can watch scullers rain or shine. Nearby are a plethora of world-class museums – the Rodin, the Barnes Foundation, and Franklin Institute are some favorites.
Next, head to the Italian Market. Stop at both Pat's and Geno's to compare the famous cheesesteaks! Then head to lauded Federal Donuts. If you're up for more, head to a performance with the Philadelphia Orchestra or a Phillies baseball game!
The next day, head first to Independence Hall. Take the tour, then head across to the Liberty Bell. Walk down Elfreth's Alley, the oldest street in the country. The Constitution Center is wonderful, or check out the newer Museum of the American Revolution. Don't miss ice cream at the old-fashioned Franklin Fountain. Next, go to Reading Terminal Market for a million options for a late lunch. The Amish booths are especially fun! Walk by City Hall and through Rittenhouse Square and delight in the charming old homes. Lastly, sit down at Lolita for some excellent upscale Mexican fusion for a final meal.
by Preethi B. Harbuck from Local Passport Family
Family Weekend Getaway in NYC
You could easily spend a week or more in New York on a family holiday, however if you only have the time for a weekend trip, don't worry it's still completely worth it – you'll just have to be selective.
Firstly, Central Park is a must-see. Whether you're visiting the Central Park Zoo, Bethesda Terrace or the Strawberry Fields, just make sure you see Central Park. It's an iconic attraction that is simply the one must-do thing in New York City. Talking about iconic, how about visiting the incredible Empire State Building? Or seeing the Statue of Liberty! Both of these places are world-famous, and you'll love coming home with the stories to tell.
For some family friendly museums take a trip to the American Museum of Natural History which was featured in the film the Night of the Museum. If you still have time on your hands, visit Gulliver's Gate's in Time Square, take a cruise down the Hudson River, take a movie location tour or even see a family friendly show on Broadway.  My tip on where to eat for the families that love all thing musical – Ellen's Stardust Diner.  Here the waiters and waitresses take it in turns to sing fantastic songs which will have the whole family singling along.
by Melissa Delaware from Thrifty Family Travels
Family Weekend Getaway in Washington, D.C.
There is plenty to do in the Capital of the United States, from 14 free museums that are in walking distance from each other to the National Monuments. Start the weekend by exploring the nation's capital starting at the the White House, Lincoln Memorial, and pay your respects at the Arlington National Cemetery.  Thanks to a gift from the mayor of Tokyo in 1912, Washington DC has been home to thousands of cherry trees for more than 100 years. Plan a visit during Spring when these cherry blossoms are blooming and the air starts to warm up in the capitol.
The next day plan to visit some of the Smithsonian Institutions' museums.  It is made up of 19 free museums, and there is not way you can visit all the museums found in Washington DC in a weekend.  Pick a few that the family will be interested in, some of the must-sees are at the National Mall, including the National Air and Space Museum, the National Museum of American History, and the National Museum of Natural History.
by Priya from Outside Suburbia
Family Weekend Getaway in Charleston
Charleston is quite possibly the best weekend getaway in the USA, especially in the winter months. Charleston South Carolina has mild winters and is the perfect escape to warm weather. Besides the weather, Charleston is known for its architecture, plantations and, of course, the food scene. The city is totally walkable and flat and makes for a great family trip. Over a weekend trip to Charleston, an ideal family friendly itinerary is easy to make. Your first stop has to be Callie's Little Biscuit. This hole in the wall spot has THE best biscuits and you will see a quick moving line around the door. You can make any type of biscuit concoction anyone in your group can think of. Afterwards, stroll up and down King Street, the trendy shopping street and main drag of Charleston. Then make your way all the way to downtown Charleston to the Charleston Battery and walk around the waterfront and take in the views. While walking around the bend, find yourself in front of the picturesque Rainbow Row – where you will inevitably will take a ton of colorful pictures. After working up an appetite, head to dinner at Husk, one of the most famous restaurants in town – don't forget to book a reservation beforehand.
The next day, grab brunch at Hominy Grill – a quintessential Southern brunch. Afterwards, get an Uber and head to Magnolia Plantation and Gardens, about a 20 minute drive away from downtown Charleston. This Plantation is absolutely stunning and you can walk around the grounds marveling at nature. For young kids, there is also a mini zoo that you can walk in and see the chickens, horses, peacocks and more! After spending the day at Magnolia and having tired kids from running around chasing chickens, head to a family friendly typical BBQ dinner at Poogan's!
by Rachel Shulman from From East to West with RMS
Family Weekend Getaway in Cincinnati
So many options to fill up a family weekend getaway! Depending on the time of year, some of these may not be an option but they are definitely worth revisiting on another trip at the right time of year 🙂 First, spending a day at Kings Island (an amusement park) is always a must. And it's not just for those thrill-seekers. There are plenty of shows and several 'rides' you can still enjoy without going fast or upside down 🙂 If you love the outdoors, The Little Miami River is a short drive away. They have canoe, tube, kayak and raft rentals. There's also riverside camping too!
Or, if you are a sports family, why not check out a Cincinnati Reds baseball game? The stadium is beautiful and looks out over the Ohio River. Usually you can get pretty cheap tickets and if your schedule allows you can go on a promotions day and hopefully get a free giveaway 🙂 Now, while you're there you can't miss eating a few local and delicious specialties. La Rosa's for the pizza lover (and so much more), Skyline Chili for the combo chili lover (chili on top of hot dogs or spaghetti), UDF (United Dairy Farmers) and/or Graeter's for the ice cream lover.
by Cassie Trin from White Sands and Cool Breezes
Family Weekend Getaway in Outer Banks, North Carolina  
Living in North Carolina, we have loads of great places to visit for a weekend getaway. One of my favorites is the Outer Banks. This string of barrier islands has something for everyone from high end resorts to spacious vacation homes and budget-friendly hotels. The central region of Kitty Hawk, Nags Head and Kill Devil Hills has the most development providing both indoor and outdoor recreation, shopping centers and restaurants for easy vacation getaways. The northern and southern ends are less crowded for quiet escapes.
Of course, beaches and water sports are a huge attraction on the North Carolina coast, but there's so much more to the OBX! Stretching over 100 miles, the Outer Banks is home to five lighthouses, three national parks including the Wright Brothers Memorial, and four wildlife refuges including the world famous dunes of Jockey's Ridge State Park. It's a great place to try something new, too. Learn kite boarding or stand up paddle boarding at Real Watersports in Cape Hatteras. Make your own souvenir, like a glass fusion sun catcher, at Studio 12 in Avon. Discover the origin of the US Coast Guard at Chicamacomoco Life Saving Station near Rodanthe.
No trip to the Outer Banks would be complete without eating fresh catch. But, if you're in Duck, eat at the original Duck Donuts! And, locals know that the "apple uglie" from the Orange Blossom Bakery and Café in Buxton is a must.
by Karen Dawkins from Family Travels on a Budget
Family Weekend Getaway in St. Augustine, Florida
St. Augustine is one of my favorite cities to visit on the East Coast and a great spot for a family weekend getaway. Located on the northern coast of Florida, St. Augustine is a unique place to visit as it is considered the oldest city in the United States founded in 1565. The city is filled with colonial Spanish architecture everywhere you turn. The cobblestone streets and historical, quaint downtown immerse you back in time.  Around the downtown area, you will find Castillo San Marcos (the oldest masonry fort in the country), the oldest wooden schoolhouse, the Pirate and Treasure Museum and the Fountain of Youth archaeological park.
Visiting St. Augustine with kids can be a fantastic historical and cultural experience for all members of the family. When it comes down to food, there is no shortage of great restaurants. The cuisine here has a blend of Spanish, Caribbean, and Southern flair. Some of our favorites include Mojo BBQ, the Floridian, and Columbia. St. Augustine makes for a perfect family weekend getaway, as the city is small enough to be explored within a couple of days. I highly recommend a visit to St. Augustine for a one of a kind experience that mixes colonial style with old world Florida.
by Margie DQ from DQ Family Travel
Family Weekend Getaway in South Walton, Florida
If you are looking for a family friendly beaches with sugar white sand and emerald waters, South Walton is just the place. There are 26 miles of beautiful beaches in South Walton.  It is located in the northwest Florida panhandle, which is known as the Emerald Coast and easy to get to from Panama City Beaches International Airport. There are very few resorts or hotels in the area, but you can rent nice beach houses. South Walton is home to many small beach communities affectionately called the beaches of 30A and includes the many family friendly coastal communities like Inlet Beach, Rosemary Beach, Seacrest, Alys Beach, WaterSound, Seagrove, Seaside, WaterColor and Sandestin among others.
Plan to visit St. Andrews State Park which is situated on a peninsula at the far eastern edge of Panama City Beach where you can go on a boat ride to see dolphins in the wild. To add to all the fun, the South Walton Artificial Reef Association has deployed more than 150 artificial reef structures that lie close to shore and at easy-to-reach snorkel depths. Or you can always choose to do nothing and enjoy lazy days in the beach house relaxing with cocktails while watching the kids swim in the pool and then bike to the different communities to see some stunning South Walton sunsets.
by Priya from Outside Suburbia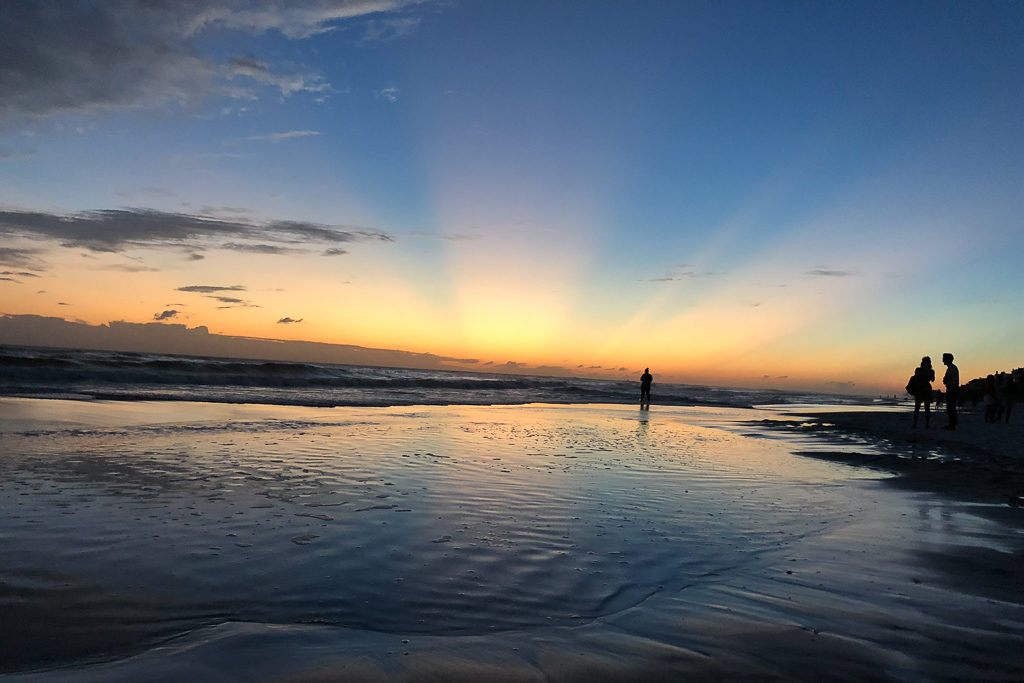 Family Weekend Getaway in Tampa, Florida
If you are looking for a weekend getaway, especially to escape the cold winter months in the Northern US, check out Tampa, Florida. It isn't as well knows as Orlando and the Florida Keys, but Tampa can pack a punch with family-friendly things to see and do. From its main theme park Busch Gardens and fun waterpark, Adventure Island, there are plenty of thrills to keep you busy. Looking for something different? How about going on a real pirate ship where the kids get to learn to be pirates! The crew will entertain while you enjoy some drinks. Win-win! Don't miss the beautiful Florida beaches, which are a short drive from downtown Tampa.
If you have an animal lover, they won't be disappointed with the Florida Aquarium, Lowry Zoo or drive a bit further to visit Winter (the injured dolphin from the movie) at the Clearwater Marine Aquarium. Then you can top it all off with the amazing culinary delights, my favorite is finding the best key lime pie!
by Chelsea Sipe from Pack More Into Life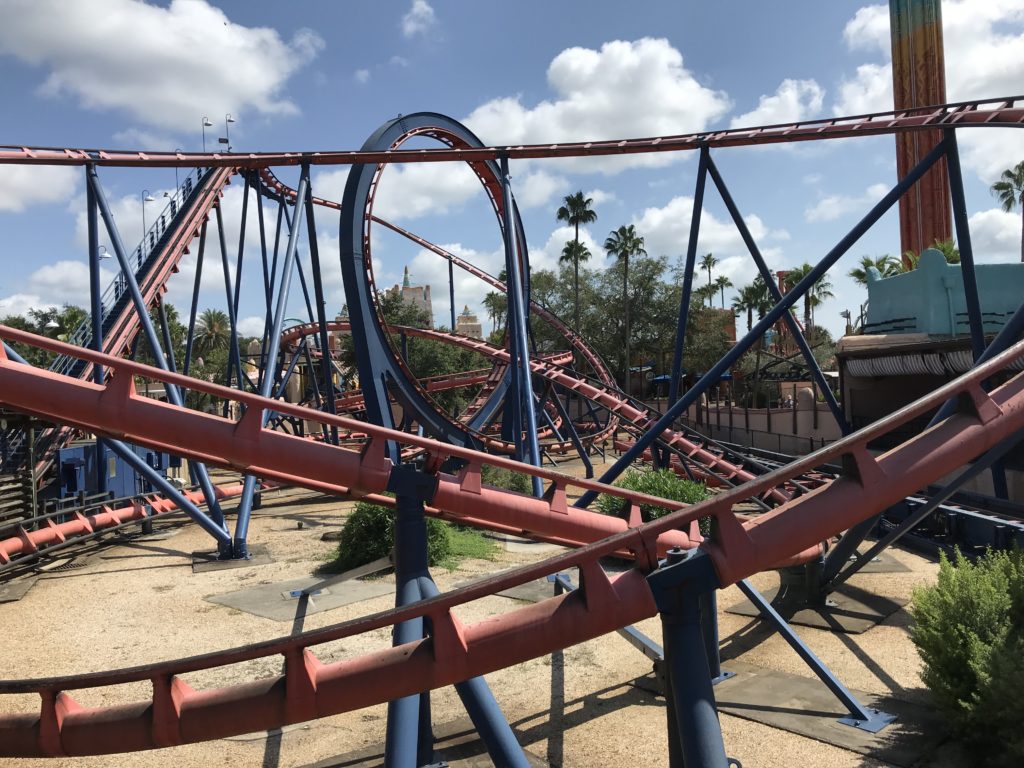 Family Weekend Getaway in Colorado Springs
Home to America's Mountain, Pikes Peak, Colorado Springs is a great getaway for all ages. Tour the Olympic Training Center, the Air Force Academy, and get outside. This thriving city is the perfect weekend getaway when you want both outdoor adventure and the comforts of city eats and treats. Spoiler alert: a long weekend in Colorado Springs may not be long enough.
If you're looking to hit the best of Colorado Springs in 3 days, make a bee line to Garden of the Gods (including the Visitor's Center) on the first day, followed by a tour at the U.S. Olympic Training Center. On Day 2, head to the Cheyenne Mountain Zoo – the highest zoo in America at 6800' and one of the best zoos across the nation. Meet giraffes face-to-face, watch grizzlies wrestle, and spy hippos playing. End your day walking the grounds at the Broadmoor Hotel nearby.
Spend your third day enjoying the great outdoors. Consider the short day trip to the Royal Gorge for high adrenaline fun, hike to the Broadmoor's Seven Falls, or hike and bike trails in nearby Red Rock Canyon Open Space. Not much of a hiker? Drive to the top of Pikes Peak and enjoy the view at 14,114 feet.
Fantastic local eateries for families in Colorado Springs include fun places downtown like Bingo Burger and Bambino's Urban Pizzeria. Looking for Colorado brews and pub food? Check out the Bristol Brewery at the old IvyWild elementary school. Grab dessert at Josh and John's where they serve up scrumptious homemade ice cream.
by Tanya Raedeke from Rad Family Travel
Family Weekend Getaway in San Francisco
Home to the iconic  Golden Gate Bridge, San Francisco is a fun city to visit with the family for a weekend getaway.  Start with the Golden Gate Park, home to the California Academy of Sciences, the greenest museum in the world which houses an aquarium, planetarium, rain-forest and natural history museum under a 2.5 acre living roof.  And, of course, you can't miss a visit to a photograph by the Golden Gate Bridge. Kids will love riding the iconic cable cars of San Francisco over its roller-coaster hills. Hop off at Lombard Street to walk the "crookedest street in the world" and enjoy a stroll along the waterfront.  Fisherman's Wharf has lots of fun shops and places to eat with Ghirardelli Square and the chocolate factory at its center.
The nest day if you want to really see the essence of San Francisco you go to Mission District, see some murals and spent some time at the Dolores Park.  You can see a nice view of the city from here. If you are a baseball fan you can catch a ball game at the AT&T Park, that is home to the San Francisco Giants and take in the breathtaking views and classic design. If you like art SFMOMA is a must, this contemporary art museum has a great permanent collection art, and works specially commissioned for this new museum.
by Priya from Outside Suburbia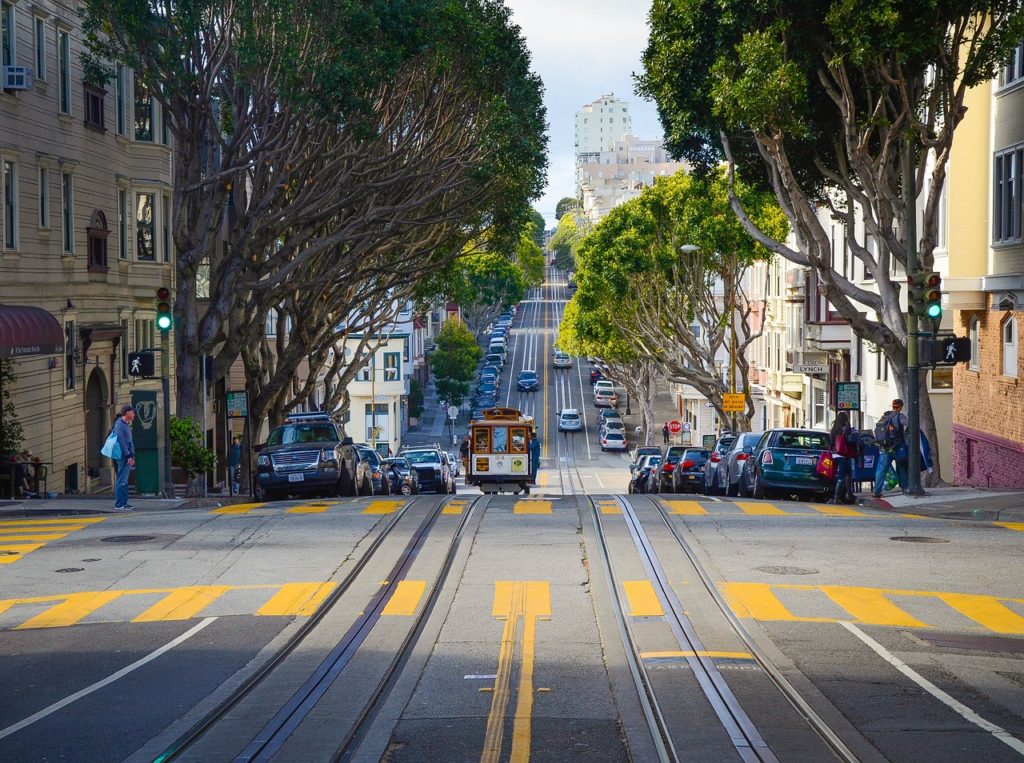 Family Weekend Getaway in Big Bear California
An awesome weekend getaway stop in the US, is Big Bear, California. This quaint little town is about 2 hours from Los Angeles, in Southern California. It's in the mountains, so it is the perfect place for a getaway in any season. If you're going in the Summer, you'll have a chance to spend your days on Big Bear Lake. You can rent a pontoon and relax around the lake, kayak around the marina, or try your hand at Stand Up Paddle Boarding. Kick back on the beach and enjoy the beautiful weather.
Big Bear also has lots of great hiking spots, with Castle Rock being a popular favorite. If you head to Big Bear in the winter, they are known for their ski resort, so you can spend the days on the slopes skiing, snowboarding, or even snow tubing. Rent a cozy cabin, and it's the perfect winter getaway. Big Bear also has a cute little downtown full of fun shops and great restaurants. Big Bear is the perfect place to escape the busy Los Angeles area, and you would never guess you were just 2 hours away. If you love the outdoors and want a great relaxing weekend getaway, Big Bear is the place for you!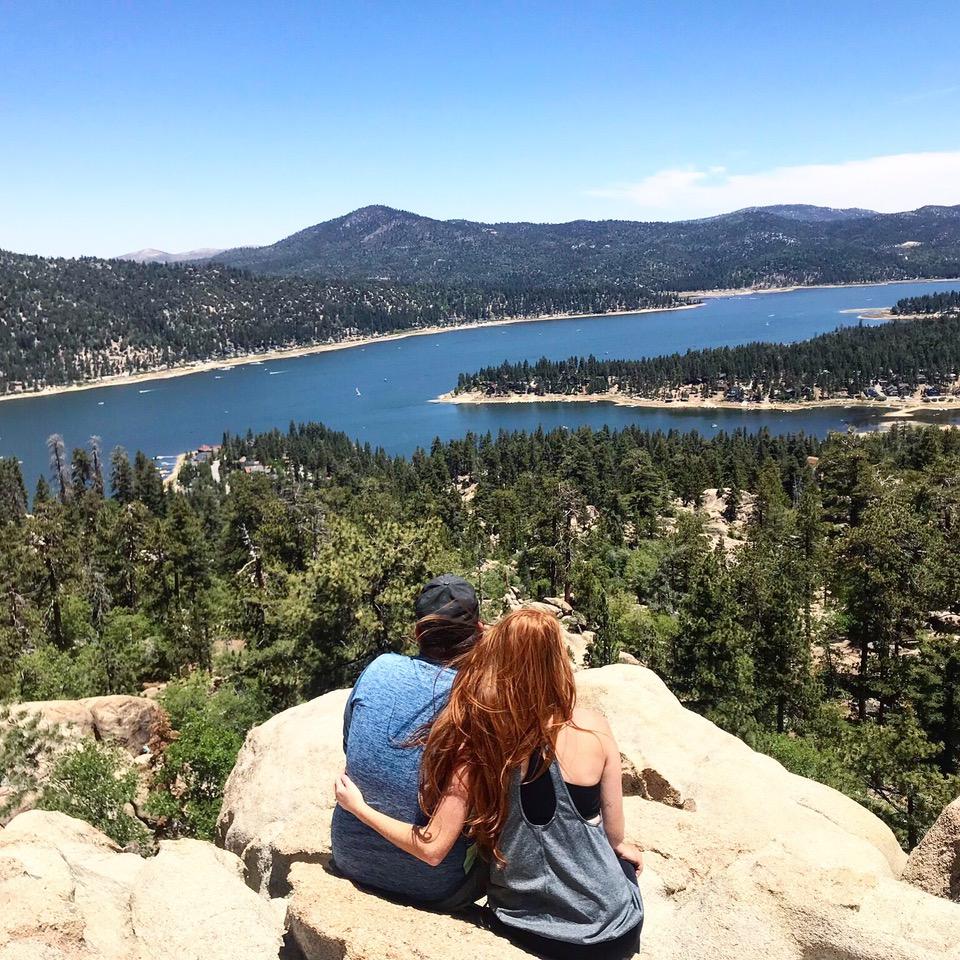 Family Weekend Getaway in Newport 
Newport, Rhode Island is a quintessential New England seaside town and one that everyone should visit if they get the chance. For starters, it's beautiful, located on Narragansett Bay, with views of both the bay and the Atlantic Ocean. The town itself is full of cobblestoned streets, historical architecture, a picturesque harbor, trendy shops, and hopping restaurants. There is an energy to Newport that is both old-world and modern at the same time, which is part of its allure, and why it draws people to it year after year.
Home to the Newport Jazz and Folk festivals, and for years the home of America's Cup, there is something for everyone in Newport – it attracts families, couples, and groups of friends. As for kids, it makes for an ideal family weekend get-away, as there is so much to do, especially in summer. There are its beaches, each one different depending on your style. There is its harbor, a quaint area of town where kids can look upon the water and sailboats. There is the famous Cliff Walk, where you can really take in the essence of Newport. There are the fun restaurants, many of them kid-friendly. And of course, no post on Newport would be complete without mentioning the Newport mansions. Mansions for kids? Yes! The Breakers, for example, has an audio tour for kids.
Newport, in short, is fun, and beloved by everyone who visits this special town on the sea. Go once, and you will probably return again!
by Corey from Fifi + Hop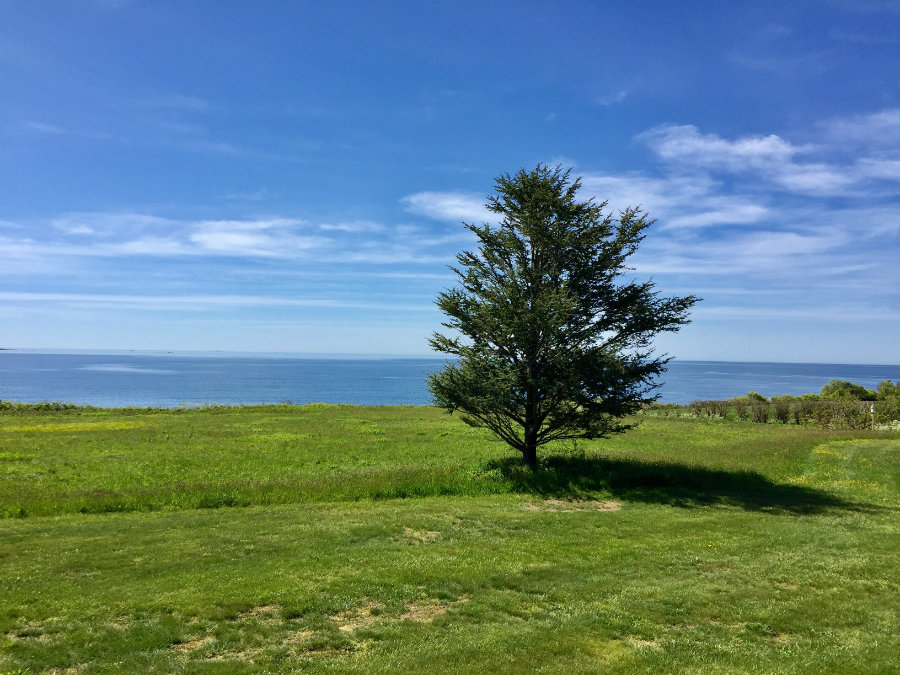 Family Weekend Getaway in Dallas
Having lived in Dallas for over 20 years, we have a big list of favorite things to do in Dallas.  Dallas is a fun cosmopolitan city to visit, there is more to Dallas than Cowboys and Rodeos…  I'm yet to run into a cowboy in Dallas.  When we are not planning major trips, we like to spend weekends exploring the different Dallas areas – Downtown Dallas has world class museums, an urban park built over a highway, an robust restaurant scene, a superb shopping and wholesome fun for the whole family.
If you are visiting during Spring, you can't miss the Dallas Arboretum when hundreds of colorful  tulips make you wonder if you have been transported to the Tulips gardens of Netherlands. In Spring the gardens are bursting with colorful spring blooms and come Fall the garden is filled with pumpkins and fun festivals. Dallas Museum of Arts is another must visit – the collection here is made of more than 24,000 artifacts, dating from the third millennium BC to the present day, with works from the great masters like Picasso, Rodin, Cezanne, Monet to name a few.  You can see some cool murals at Deep Ellum and go up the Reunion tower for a 360 degree view of Dallas, sunset is a great time to do this.  Perot Museum and Dallas World Aquarium are fun for kids to visit.  Bishops Arts District is another fun area to explore, have brunch, wander around looking for more murals and finish the day with coffee and a slice of pie at the famous Pie shop – Emporium Pies.
by Priya from Outside Suburbia
Family Weekend Getaway in Rapid City
Looking for the perfect long weekend away in the US that is great for the whole family? Then look no further than the hidden gem of Rapid City South Dakota! Whether you are a city person or an outdoorsy person Rapid City has something for you! Within the city families can  enjoy the presidential walk, dinosaur park and for those with younger children the fab storybook island! Dinosaur Park dates back to the 1930s and was created to capitalize on the tourists that were in the vicinity to visit Mount Rushmore (more on this later). The park contains seven dinosaur statues on a hill overlooking the city and is now on the National Historic Register of Places. A really quirky must see! Another quirky must see for the youngest visitors is the Story book Island, recreation fairytale tableaus with a train ride!
While in the city we recommend eating at Murphys for their unbelievably tasty meatloaf and the iconic Firehouse Brew Company!
However, let's be honest, most people go to Rapid City for its nearby attractions  as there is an abundance of natural wonders at your finger tips including Custer State Park, the badlands National Park and the famous Mount Rushmore!  None should be missed! From seeing the Burro at Custer, the breathtaking landscape at Badlands and of course the iconic Mount Rushmore! It is truly a brilliant place to base yourself to get lot of things ticked off your bucket list! I have no idea why it is so underrated, but if you decide to visit you like me will come away singing its praises.
by Leona Bowman from Wandermust Family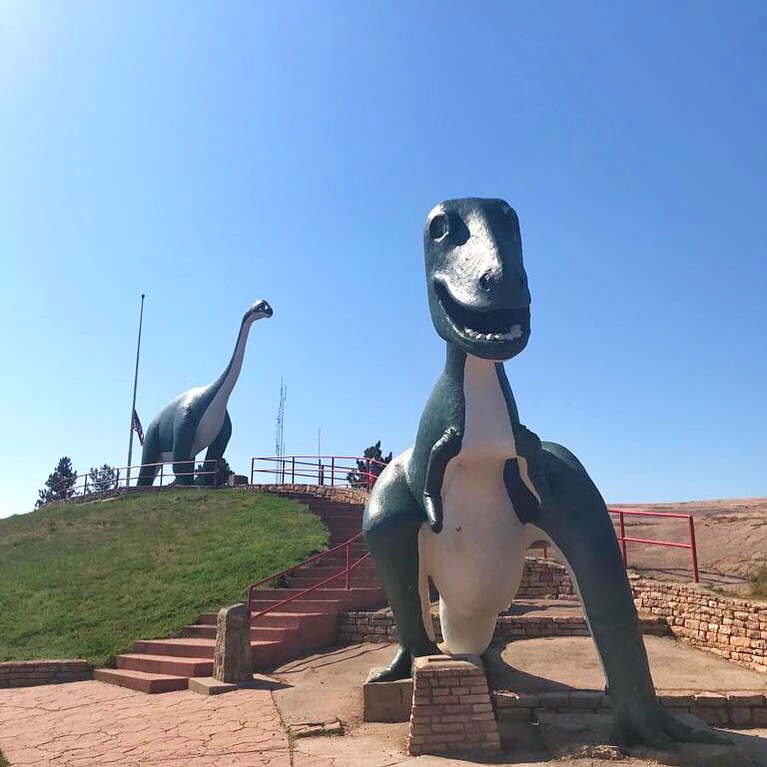 Family Weekend Getaway in Savannah
Savannah, Georgia is a great weekend getaway for families! First of all, it's walkable and bikeable, so there's no need to spend a fortune on taxis to get from one to place to the next. Sekka Bike actually offers budget-friendly rentals, and it's fun to cycle around the Historic District to enjoy the architecture or even over to the Bonaventure Cemetery, which is beautiful and full of history.
For foodie families, Savannah Taste Experience shows you the culinary side of Savannah. Sweet tooth calling? A peach cobbler at Mirabelle Cafe is a must, though also don't miss the free praline samples at Savannah Candy Kitchen. For a fun meal, Funky Brunch Cafe has tasty food and hopscotch. And when the kids (or, let's be honest, the parents) need a rest, there are 22+ lovely squares to sit on a bench and cool down.
by Jessie from Jessie on a Journey
Family Weekend Getaway in Nashville
Nashville is such a fun city to visit with kids. Whether you have a weekend or a full week, I highly recommend taking the time to visit the nation's music capital of the world. You see, there are many kid-friendly things to do in Nashville. Start your weekend out with a visit to Centennial Park and take a tour of the Parthenon, a complete replica of the Parthenon in ancient Greece. There's a playground and a lot of green space for a picnic there too. Then plan to drive into downtown Nashville to grab dinner at one of the many eateries on Broadway. Be sure to arrive well before dark as it does get busy and have a 'bar feel' after dark, which is not the best experience when you have the kids in tow. Pro tip: park at Cumberland Park for free and walk across the bridge into downtown!
The next day, plan to visit the Opryland Hotel, if only for a chance to see all the indoor gardens! You can walk around between gardens and grab a treat or coffee. Next door is a place you don't want to miss, The Grand Ole Opry. Buy tickets ahead of time and experience the Music City's famous venue as a family. If you have one more day to explore, than I highly recommend visiting the Nashville Zoo or the Country Music Hall of Fame, depending on the ages of your kids and what their interests are. We found both to be educational and fun for our entire family with kids under the age of 10.
by Jill Greising-Murschel from Lets Travel Family
Family Weekend Getaway in Monterey
Nestled on the rugged central coast of California lies the beautiful county of Monterey, which includes the city of Monterey and surrounding cities. Full of charm and history, this area is a perfect weekend getaway for families.
If you're visiting Monterey, the best way to see the splendor of this region is by car. You won't want to miss the iconic 17-Mile Drive, where you can find homes of the rich and famous, the famous lone cypress, (the most photographed tree in North America), and stunning views the entire windy 17 miles of your drive. Another incredible drive in Monterey is the drive to Big Sur, where you'll cross one of the most recognizable bridges in the world, Bixby Bridge, and be treated to even more beautiful scenery along the way. Be sure to stop into Pfieffer Big Sur State Park and take that famous photograph of McWay Falls!
If you're looking for some classic California history, check out the Carmel Mission, founded in 1771, where you can also visit Father Junipero Serra's grave. The grounds are beautiful and peaceful to wander, and there is so much to learn about California history here. If you're traveling with younger kids, don't miss the Deniss the Menace Playground, voted one of the top 3 playgrounds in California! There are so many unique features at this playground that even the grownups will love it!
And visitors of all ages will enjoy the renowned Monterey Bay Aquarium, which has been voted one of the top 10 aquariums in the world! They have many amazing programs for children and adults year round. Don't miss the wave room and the jellyfish!
by Vanessa from WanderlustCrew
You might also like – Top things to do in the Big Island of Hawaii, Fun things to do in Frisco, TX and other posts from North America
PIN IT FOR LATER