Park Hyatt was our base in Zanzibar, an equatorial paradise, with a warm climate and year-round temperatures between 82 and 91 degrees. It is a perfect place to unwind and relax after a few safari days in East Africa.
We flew from the Seronera airstrip in Serengeti to Arusha and then made our way to the island in a small 13 seater Cessna aircraft run by Regional Air. We were looking forward to exploring Stone Town and enjoying the sun on the shores of the warm Indian Ocean at Park Hyatt Zanzibar and finding the secret beach in Zanzibar. Here is our review of Park Hyatt Zanzibar.
A Review of Park Hyatt Zanzibar
Warm Swahili smiles welcomed us at the entrance of Park Hyatt as soon as our car doors opened. We were picked up from the airport in a comfortable SUV and handed cold towels and water bottles. Highly recommend arranging for a car service directly from the hotel. Located right on the edge of StoneTown, our base to experiencing Zanzibar was from the five-star Park Hyatt Zanzibar.
The lobby was bright and open and had an understated elegance to it that we have come to expect with Park Hyatt properties. Unparalleled yet luxurious with a personal touch is a standard here. The check-in was seamless and we made our way to the Living Room restaurant to get some lunch before heading up to our rooms.
History of Park Hyatt Zanzibar
Sitting majestically on the beachfront, the hotel is housed in two buildings, one of them, UNESCO Heritage site Mambo Msiige, a building steeped in history and grace, dating back to the 17th century. Mambo Msiige is a striking example of a traditional Zanzibari mansion with its Omani style arches, intricately carved wooden doors and lovely courtyards. Mambo Msiige sits on the most westerly point of the Shangani beachfront in the heart of Stone Town.
Zanzibar and the island is defined by its intricate tapestry of people, history, culture and tradition, tightly woven into its very being. The Portuguese, having arrived on the island during the 15th century, remained there until the end of the 17th century, before being ousted by the Omani Arabs.
Then, in 1840, Sultan Said moved his court from Muscat to Zanzibar. This marked the true beginnings of Park Hyatt Zanzibar. Mambo Msiige was built between 1847 and 1850 by Sheikh Salim bin Bushir bin Salim al Harthi, a wealthy and prominent Swahili tradesman from a prominent Omani tribe and a dear friend of SeyyidSaid, the then ruler of Zanzibar.
The story goes that Sheikh Salim built Mambo Msiige to compete with two rich friends, Sheikh Abdalla and Sheikh Suleyman Habib. It remains the only building of the original three still standing. Sadly, Sheikh Salim became embroiled in the failed 1859 coup of Seyyid Bargash and Seyyid Majid confiscated the mansion. He was later executed in December 1889.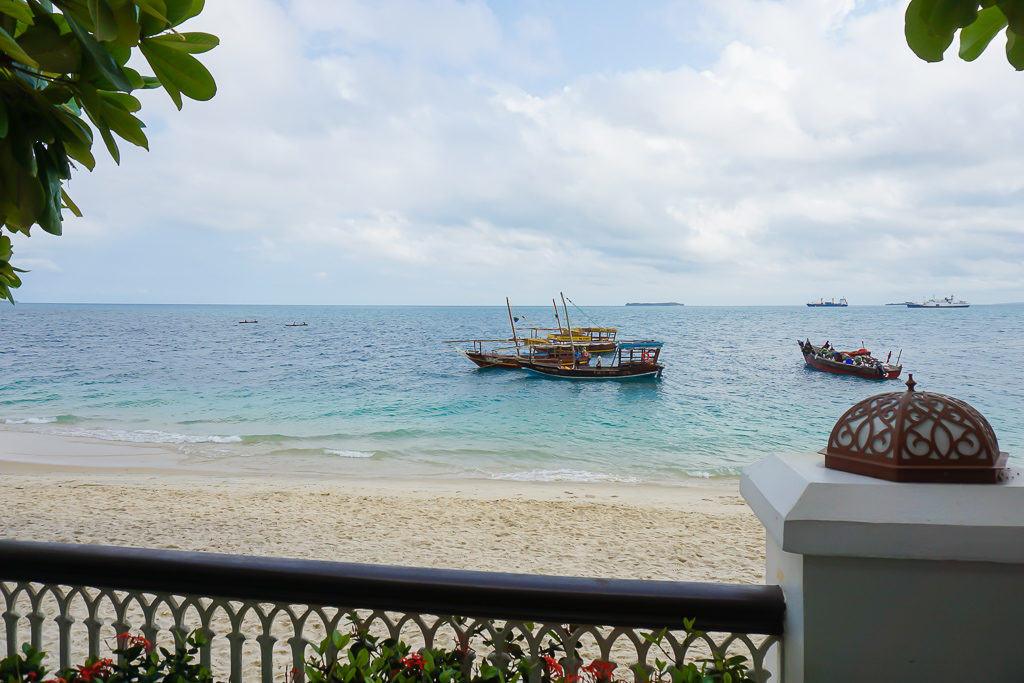 Rooms in Park Hyatt Zanzibar
We had a Park Deluxe King and a Park Deluxe Twin room with a little balcony that opened to the views of the Indian Ocean. In the mornings we woke up to sounds of fishermen getting their boats ready for the day. Some days there was a group of women exercising, there were also a couple of boys making a seat out of the sand and watching all the morning action from their comfortable perch.
Park Hyatt Zanzibar features 67 luxuriously appointed guestrooms, including 11 suites, that have a balcony with expansive views. The best part was the mornings waking up to room service coffee and fruits (including a few exotic Asian fruits like Rambutans) and the sounds of the island.
Things to do in Stone Town
Beyond the elegant, oceanfront rooms and the spectacular terrace, where you can enjoy sundowners while watching sensational sunsets, Park Hyatt Zanzibar offers unique experiences. Walking through the maze of the old town and the markets felt like we were transported back in time.
There is fantastic snorkeling, kite surfing, sunset Dhow cruises, a giant turtle sanctuary and an abundance of colorful sea life and a very secret beach. Once we heard about this sandbank beach that disappears at high tide, we decided to go check it out.
See other great things to do in Zanzibar.
The Nakupenda Sandbank is one of the best eight secret beaches in the world. It is just a 20-minute boat ride away from Stone Town to this little strip of sand in the middle of the ocean. The hotel staff arranged for a private boat and a guide to go with us. We left early morning and we had the whole beach to ourselves.
A woman was setting up her shop to sell fresh fish and homemade crafts. Later, a few other boats made their way to the beach. We spent the afternoon walking from one end of the strip of sand to the other and soaking in the soothing sun's rays. It is a perfect picnic location or simply laying in the sand. Once the tide rises the strip of land is submerged in water.
Practical Information for visiting Zanzibar
We were visiting Zanzibar after our Safari in Serengeti, we flew from the Seronera airstrip in Serengeti to Arusha and then made our way to the island in a small 13 seater Cessna aircraft run by Regional Air. You can also fly from Dar es Salam to Zanzibar.
The local currency in Zanzibar is the Tanzanian Shilling; the exchange rate is roughly 1 US$ to 2200 shillings. Most places accept US dollars but it works out a bit cheaper if you pay in shillings.
Zanzibar is a Muslim island so dress appropriately. While tourists are ok to wear shorts and sleeveless dresses that show the limbs it is better to dress conservatively. Bring a coverup or scarf.
At the time of writing, you can get in Tanzania a visa on arrival, you don't need to apply for it in advance. Although you can if you want, which we did. Once you arrive at the airport, just head to the immigration office.
There are two different transportation options to get around in Zanzibar. One is by taxi, and the other option is by Dalla Dalla( small buses that the locals use for public transport). We chose a private taxi that the hotel arranged for us since is much safer, faster and convenient.
The local language in Zanzibar is Swahili, but most people like vendors and hotel staff speak a bit of English. Two good words to know are Asante (Swahili for thank you) and Hakuna Matata (Swahili for no problem) which seem to be used everywhere in East Africa. It felt more of an attitude than a phrase, everything was possible and nothing was a problem!
I hope you found this review of Park Hyatt Zanzibar helpful. See the hotel website for availability and rate information.
PIN IT FOR LATER
Note: This post may contain affiliate links, partnership or sponsored content. If you purchase an item via one of these links, we may receive a small commission at no extra charge to you. But as always images and opinions are our own. For more information on our affiliates and privacy policy at Outside Suburbia see here.
CONNECT WITH US