After a few days of safari in East Africa, we were looking forward to a slower pace of travel and some Rest and Relaxation.  As we got to the last part of our African Adventure, I'm so glad we planned to spend some in Mont Rochelle Franschhoek, in the winelands near Cape Town, South Africa.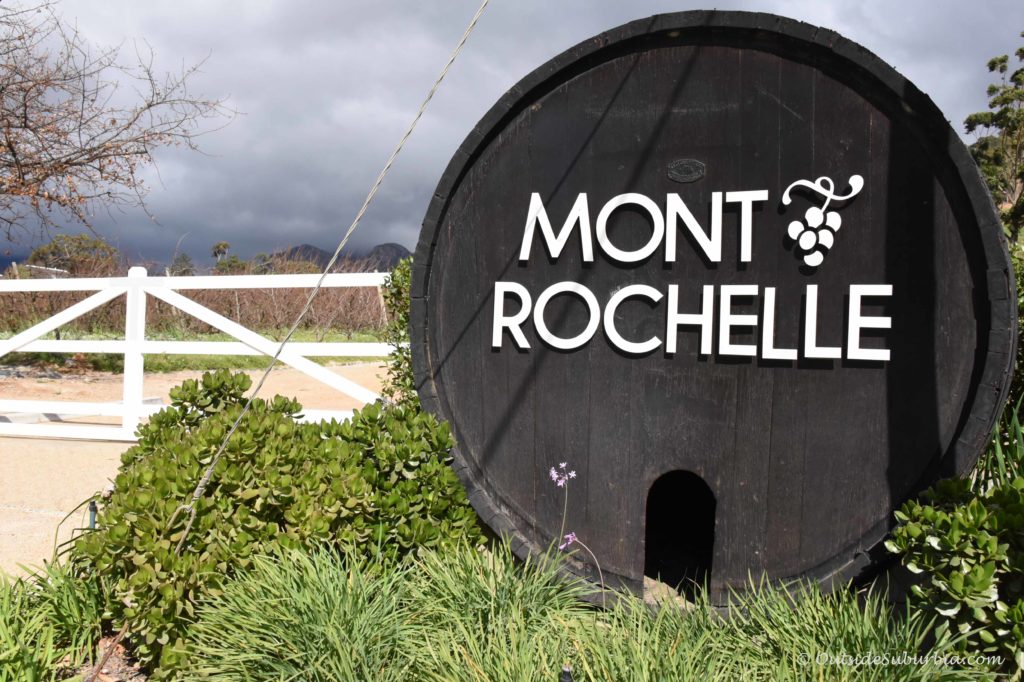 Part of Virgin Limited Edition, Sir Richard Branson's collection of unique retreats and luxury hotels Mont Rochelle Franschhoek is a stunning property located in the most beautiful part of South Africa in the Western Cape.  After dropping our daughter who was starting her 5-week internship at the Cape Town University we drove through the scenic wine country for a weekend of wine tasting and relaxing in Franschhoek. In the Afrikaans language, Franschhoek means 'French corner' which as the name suggests was once a French enclave and that it was the town reminded me of our trips to Napa Valley and Provence, France.
Mont Rochelle Franschhoek's Story
We were picked up at our Hotel, Taj Cape Town in a van for our drive to the winelands. En-route we stopped at Stellenbosch for a quick peek at the cafe-lined Church Street and made our way to Mont Rochelle in time for lunch at the Country Kitchen. It was a pleasant hour's drive from the city. Cape Town's wine country has more than a few grand wineries and tasting rooms that a weekend is absolutely not enough to explore it all. We decided to take it easy for this trip and just sample a couple and enjoy some downtime.
Over the years, this beautiful boutique estate in the shadows of the magnificent Klein Dassenberg Mountains was owned by Erwin Schnitzler and Miko Rwayitare. In 1940, Abraham Michelson purchased this land which housed twenty large oak vats in the cellar, the majority of vines having been planted at the turn of the century. Michelson then started Franschhoek Winery after the second world war with Italian farmers. Currently owned by Sir Richard Branson, the property has a subtle and understated luxury vibe.
Rooms at Mont Rochelle Franschhoek
Mont Rochelle is perfect for a romantic weekend or for intimate celebrations. The property has 26 bedrooms between six distinct houses and wings. There's something for everyone in the family or your little entourage. Mont Rochelle has four Shiraz Rooms with king-size beds and all feature courtyard or valley views, six Merlot Rooms are larger than the Shiraz Rooms that also have king-size beds with valley views.
There are six Cabernet Rooms that include a private terrace overlooking the valley. There are four spacious Pinotage Suites which each feature a separate lounge and fantastic views and the largest rooms are the Cap Classique Suites. We were in Pinotage Suite, where the staff put a single bed in the lounge area for D.
All of the bedrooms feature king-size beds that are convertible into twins and a living area – ours had a pretty balcony overlooking the gazebo and the 100-acre garden. We had a lovely en-suite bathroom with heated floors, marble counter, big rain-head showers, dual vanities, and Africology products. The mini-bar was stocked with sodas and drinks and we also had a complimentary selection of refreshments all included in the room. I loved the pop of bright pink in the fittings and accessories.
I listened to the advice to 'Save Water ' and drank some extra wine while enjoying the views of the Dassenberg mountains and snacked on chocolate and cookies late night with some Amarula. If you haven't tried it, it tastes like Baileys but better 🙂
Garden and Grounds at Mont Rochelle Franschhoek
The best part of being outside suburbia and in the country is being surrounded by nature and Mont Rochelle does it beautifully with immaculate gardens, pools, gazebos covered with roses, vineyards, lush valley and ohh those Dassenberg mountains.
I loved looking for the different varieties of grapes while wandering through the uniform rows of grapevines. The management at Mont Rochelle respects the environment and the approach of Virgin Limited Edition includes a commitment to fair trade policies and ethical dealings with employees and the local community. Most of the food is sourced locally in South Africa to ensure maximum economic benefit for its people and to reduce the miles the food travels. And they have even removed all single-use plastic.
We saw some horses and a brightly painted Virgin Atlantic white fiberglass rhino owing to Sir Richard Branson's support to the conservation and protection of rhinos from poaching and extinction. These magnificent prehistoric animals that have roamed planet earth for more than 50 million years are hunted and killed ruthlessly for their horns. Did you know that the White Rhino is not really white, it is gray just like the black rhino? The white rhino is square-lipped and is wider, i.e substantially larger in size than its counterpart, the black rhino has a hook-lip. Wide was misunderstood for white, something I learned from our Safari in Kenya. You can buy mini versions of these colorful rhinos at the shop at Mont Rochelle if you would like to one home.
Learn more and support organizations like World Wildlife, WildAid and Leonardo DiCaprio Foundation that are making a real difference in this war against wildlife.
While there are 5 Heated pools, 2 of which are privately accessed through the Cap Classique bedrooms and ample Sun loungers, we spent most of the day walking around the gardens or taking the complimentary shuttle to explore the quaint town of Franschhoek. If we come back during the summer months, we will have to give that pool a try. I can already imagine myself with a glass of crisp white wine on one of the bright green loungers taking in the views of the mountains and the landscape.
D is not old enough to indulge in wine tasting (only 18 and above are served alcoholic beverages) but he didn't mind have a little downtime, catching up with his friends on wifi. He wandered the gardens and vineyards with us, ordered some room service and wiped out all the cookies and chocolates in the room 🙂
Even though we were there in August which was Winter in South Africa, we were blessed with sunny days and gorgeous sunsets.
Glorious garden pathways, fountains and protea flower arrangements
Wine tasting at Mont Rochelle, Franschhoek
Mont Rochelle estate includes two restaurants, a cozy and colorful bar, spa, gym, and heated outdoor swimming pools, but the best of them all in wine tasting at the Country Kitchen in my opinion. There was a cloud cover over the mountains when we arrived, we lingered around the white picket fences for a bit and the red frame was asking to take a photo – so naturally, I had to oblige! We enjoyed a complimentary wine tasting session since we were staying at the resort. We had a delicious lunch when the sun started breaking through and gave us glimpses of breath-taking views of the Franschhoek valley.
That malva cake with a side of Amarula ice cream was divine. So were the Ravioli, zucchini fritters and chicken curry the boys had.
Miko Restaurant
The flagship restaurant where dinner is served is named Miko after the previous owner Miko Rwayitare. It is a charming place, with light streaming in from the windows that frame the views over the Franschhoek valley. You can choose to dine at the stunning terrace surrounded by glass doors, giving the feeling of an alfresco dining experience all year round. The contemporary colors and wrap-around views together create a magnificent place for a meal be it dinner, light snacks or breakfast. We ended up have a late lunch and skipping dinner, only to opt for room service. We enjoyed the breakfast in the mornings which was a beautiful spread of slices of bread, homemade jams and granola, fresh fruits, mini nonalcoholic bloody marys, and fresh juices.
Activities at Mont Rochelle
If wandering through the winery, visiting the cellar, wine tasting and relaxing is not your cup of tea, there are other activities that the staff at Mont Rochelle can arrange. A favorite activity for many guests is picnicking. The kitchen can arrange a well-stocked basket along with some chilled bottles especially paired from the outstanding wine cellar to be enjoyed after a hike in the mountains nearby. You can ride the bike or take the complimentary car shuttle to the town of Franschhoek for coffee or dinner. For additional fees, they can also arrange horseback riding and hiking through the Mont Rochelle Nature Reserve.
The hotel has immaculate gardens and rolling greens with walking trails that are ideal for strolls and was our favorite activity. While the space is intimate and romantic, kids are welcome as well. D tackled garden games like giant chess and croquet.
Spa and the Hammam
Apart from the gym and heated outdoor swimming pool, Mont Rochelle also has a lovely Hammam and spa which unfortunately we did not peruse. I really need to start allocating some spa time when we travel. I get caught up in all the other experiences and tend to miss out. With its vases of dried lavender and soft candle lights, ho relaxing does this place look?!
What we loved most at Mont Rochelle
While the cloud covered mountain backdrop and the beautifully furnished rooms create a tranquil atmosphere, it is the staff and the hospitality at Mont Rochelle that leave an everlasting memory.  Especially the cheery gentleman at the front office who for everything we asked, would say "Not a problem at all" with a big sweet grin and a clap of his hands. 
The conversations with our driver who picked up from Cape Town and dropped us back, the friendly young man at the Country Kitchen restaurant who talked about his long bus trip home to see his family, the things we learned about the townships where they stay – all these little things that tugged at our heartstrings is why we loved about our stay at this lovely estate set in a romantic winery.
We were just spending just the weekend at Mont Rochelle and packed a small bag, wished we had planned for a longer stay! If you are planning a visit to South Africa, see rates and book your stay here at Mont Rochelle Franschhoek!
Until next time, Afskeid
PIN IT FOR LATER
Note: This post may contain affiliate links, partnership or sponsored content. If you purchase an item via one of these links, we may receive a small commission at no extra charge to you. But as always images and opinions are our own. For more information on our affiliates and privacy policy at Outside Suburbia see here.
CONNECT WITH US