Volunteers are building an unbelievable replica installation of the "Descent of the Ganges," a masterpiece work at Mamallapuram, a timeless artwork of the Pallava dynasty for the National Annual Convention of Tamil Nadu Foundation happening in Dallas May 27,28,29 – 2022.
Our family is from South India and supports this wonderful organization and has contributed to the TNF but unfortunately, we won't be attending the event this year due to some planned travel commitments.
If you are interested in connecting with your roots and celebrating your Indian heritage, empowering needy students, making a difference in underprivileged communities, and want to get involved in the development of rural India ― here is how you can help and be part of this wonderful initiative.
What is Tamil Nadu Foundation (TNF)
Tamil Nadu Foundation (TNF) is a nonprofit foundation created in 1974 by a group of Americans of Tamil origin who wanted to help people from their native province of Tamil Nadu in India. The mission of the organization is to empower the underserved in Tamil Nadu (India) through Education, Women's Empowerment, Rural Development, and Health & Hygiene by enriching their educational, social, economic, and cultural status.
26 chapters across the USA including Houston, Austin and Dallas.
TNF is the only organization that has signed a Memorandum of Understanding (MOU) with the Government of Tamil Nadu to work inside the government schools during school hours.
TNF Chennai is self-sustainable & optimized to spend all the donations to the welfare of TN.
TNF USA hosts a yearly national convention to congregate and celebrate project achievements and 2022 national convention is planned here in Dallas for the first time (May 27,28,29 – 2022)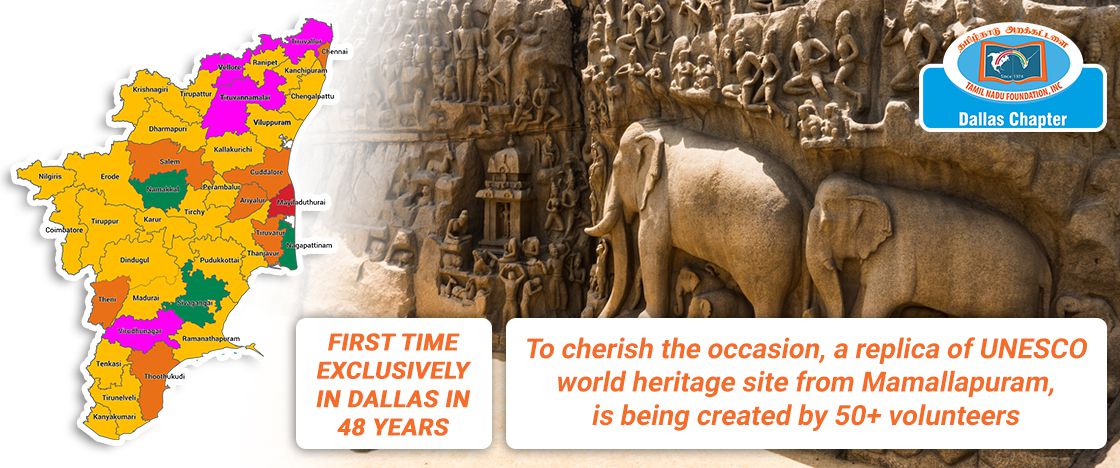 Mann Vaasanai & TNF's District Endowment Fund
"Mann Vaasanai" is a historic and the single most significant fundraising initiative since the formation of TNF in 1974. Only the interest generated from these funds will be used to expand and sustain TNF's educational (ABC Projects) and humanitarian projects in the various districts of Tamil Nadu in India. The goal of "Mann Vaasanai" initiative, launched by the TNF Board in 2018, is to ensure the sustainability of selected TNF USA Board sponsored projects that will be implemented in all the 38 districts for the continued statewide presence of TNF.
Click here on this Mann Vaasanai to learn about the various project initiatives in the different districts of Tamil Nadu. Pick ones that tug at your heartstrings. Donate! And buy tickets to the TNF convention here.
To celebrate and cherish the occasion, many fun-filled programs such as a Classical Music concert, a Patti Mandram, a Dance Musical Extravaganza, a Comedy Skit, a Vazhakkadu Mandram, CME, an Entrepreneur Forum, a Youth Convention and a Light Music concert by popular artists have been arranged. Hotel accommodations have been planned along with sumptuous South Indian food, district booths with vital info, and district parades.
TNF Major Accomplishments
$ 1 Million worth of projects are carried out annually in Tamil Nadu using TNF platform
300,000 + Underprivileged beneficiaries
79,901 students empowered via ABC project
Implemented over 600+ projects so far
2022 TNF 48th Dallas National Convention Objective
Annual General Body meeting of TNF life members/ supporters to review projects, finances, and operational strategies followed by brainstorming and Q/A session
Aim to raise 1 million USD ($25,000+ for each of the 38 districts of Tamil Nadu) towards Mann Vaasanai (TNF's District Endowment Fund)
Interest from each district fund will meet the most underprivileged Government School for the Visually Challenged/Hearing Impaired/Physically Challenged and ABC Projects/Scholarships at Government Schools in each district every year.
ABC Project: Educating the poorest of the poor
The ABC project was to enable grade level proficiency for underprivileged rural students who otherwise will become school dropouts. Based on the positive feedback on the pilot, ABC project's scope was expanded to benefit all students, ranging from academically challenged to highly ambitious, in TNF adopted schools.
As of 2017, ABC projects are operational in 50 government or government-aided schools across 10 districts in Tamil Nadu and have enriched more than 50,000 students. The objective is to build a unique, sustainable and cost-effective statewide initiative that can be replicated in all 32 districts in Tamil Nadu.
The 3 core components of the initiative are:
Achieving grade level proficiency – Uplifting slow learners from 6 to 9th grade
Boosting the morale – Soft skill training including Exam preparation for 10th grade
Championing for higher aspirations – College tour, Scholarship and Job placement for 12th grade
Click here on this Mann Vaasanai to learn about the various project initiatives in the different districts of Tamil Nadu. Pick ones that tug at your heartstrings. Donate! And buy tickets to the TNF convention here.
CONNECT WITH US