Kyoto, the ancient capital of Japan is known for its history and culture. No trip to Kyoto is complete, without visiting at least a few of the thousands of temples and shrines. While I was hoping to visit at least a few of these ancient treasures, the one activity my kids were excited about was the Ninja Training in Kyoto. Where else can you dress up like a Ninja and throw shuriken, use the ninja sword and learn some stealth moves?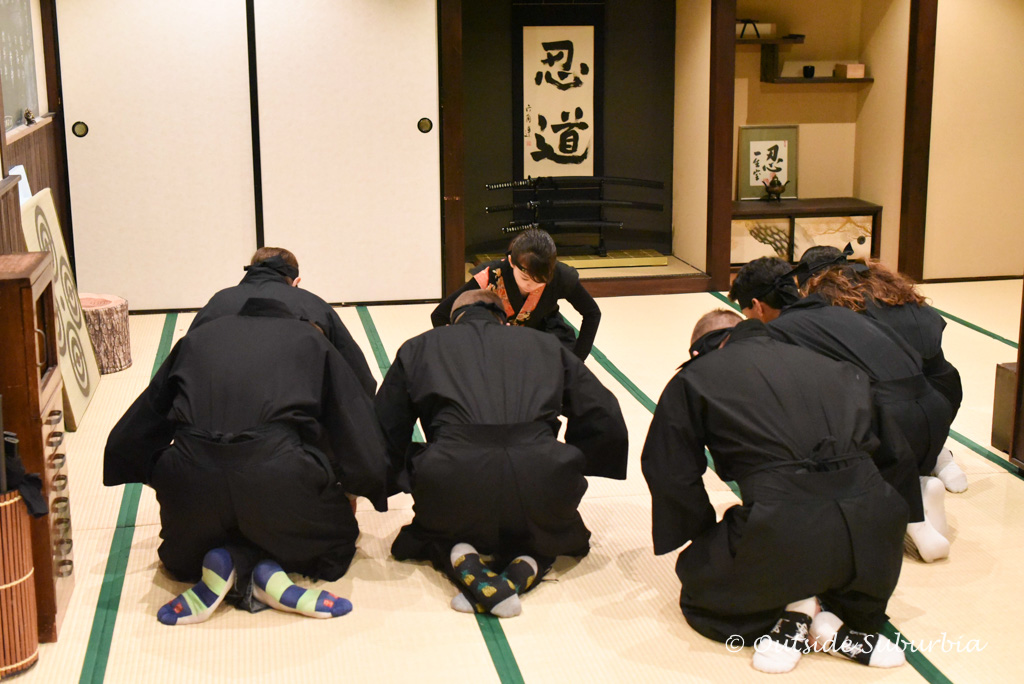 Ninja Dojo and Store in Kyoto offers this unique experience in a traditional ninja training class – a tatami dojo where adults and kids can learn Ninja meditation 'Kuji-In', Ninja breathing, Ninja walking, Introduction gimmick and also experience a ninja trick house. We got there one evening after a visit to the famous Kinkaku-ji Temple, known as the 'Golden Pavilion' one of the most iconic sites in all of Japan. After changing into black Ninja gear, the demonstration and training started.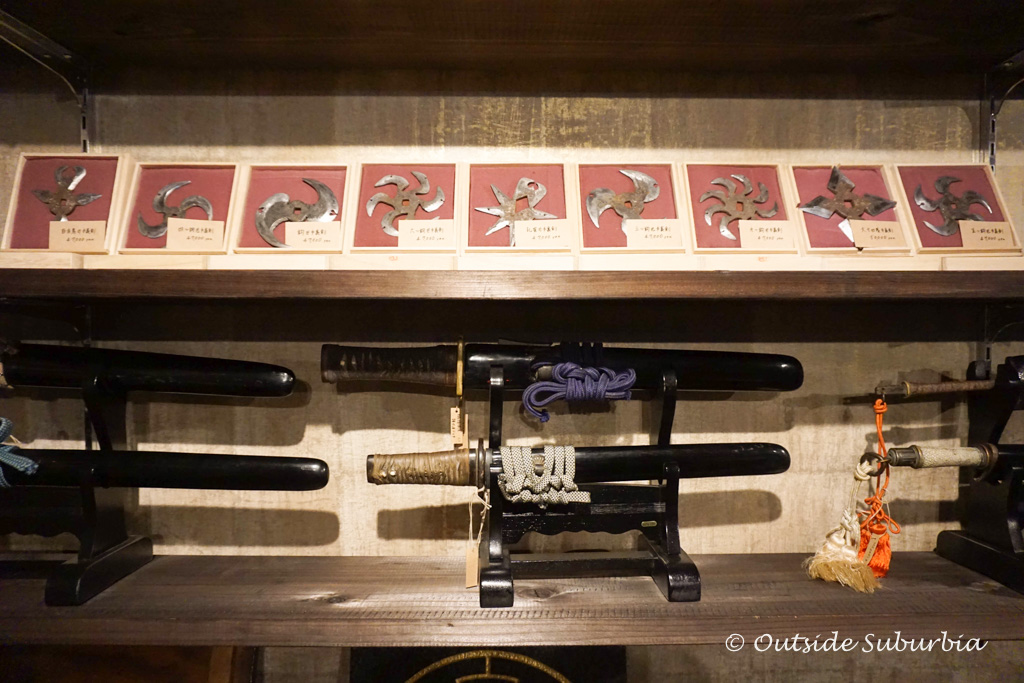 The first lesson was learning the numbers in Japanese followed by Ninja meditation and breathing. After some training on how to move without being seen, they were giving each a shining Sword and training on how to draw the sword slowly and purposefully.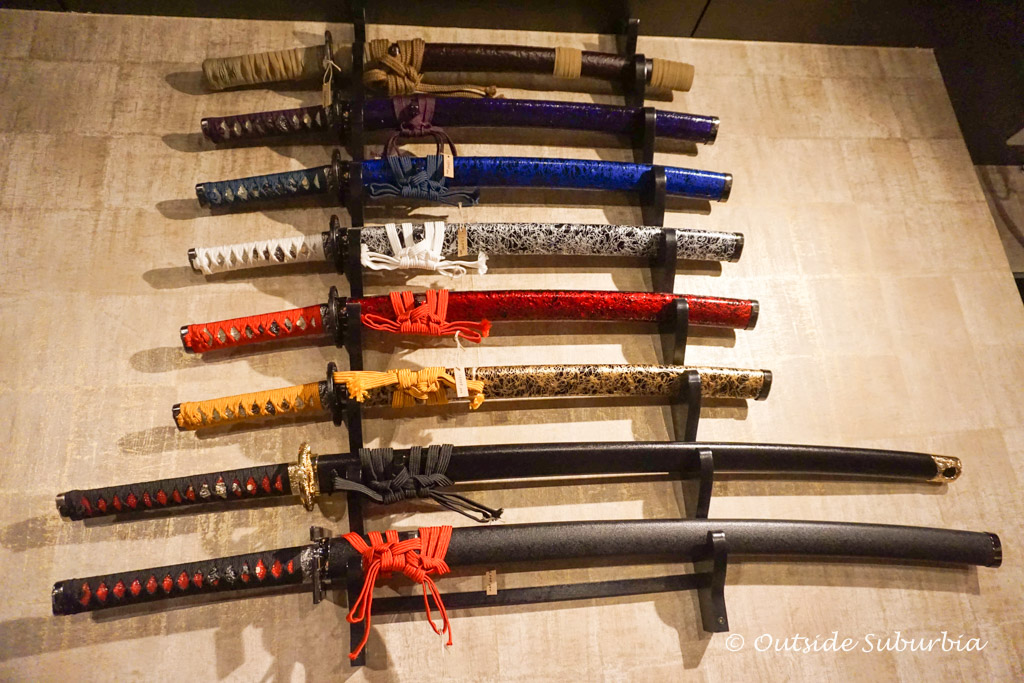 While a Samurai, observed strict rules about honor and combat, Ninja was a covert agent or mercenary. The functions of the ninja included espionage, sabotage, infiltration, assassination and guerrilla warfare. They were called shinobi, meaning "those who act in stealth". Ninja employed deception and forgery tactics to take opponents out by surprise. They were training in armed combat, weapon techniques, military strategy and breathing synthesis. They played key roles in some of the most important events in Japanese history. Ninjutsu was passed down through generations within families or directly from teacher to a selected one or a few disciples.
This secrecy is why little factual information exists about the ninja. After giving their swords back reluctantly, the kids learned to use the Kunai or Dagger, then it was time for the Ninja Stars. D our baseball pitcher was very good at it, the teacher had a hard time removing the stars from the target. They had fun trying the Ninja blow darts using a blowgun – thankfully they were not the poison darts that the Ninjas used back in the day. You can see a small video clip of the lesson on our Facebook page.
Before we knew it, time was up and the lessons were over. We browsed through the store looking at the various ninja arms, tools, costumes and other goods at the store. My American Ninjas learnt a few tricks which hopefully they won't use around the house.
Additional Information for Ninja Training in Kyoto
Ninja Dojo and Store, is the only place you can be a ninja in Kyoto, where you can have authentic and awesome ninja experiences. Ninja clothes rental were included during the training and the lessons were in English. We paid 8000 yen each for the 1 hour lesson. If you don't have time for the entire Ninja training, you can get a one-on-one lesson on how to shoot shuriken and fukiya (blow darts). Shuriken(ninja star) experience – Real metal shuriken is 1,000 yen for 15 throws. Ninja blowgun(blow darts) – Long blowgun is 1,000 yen for 15 darts.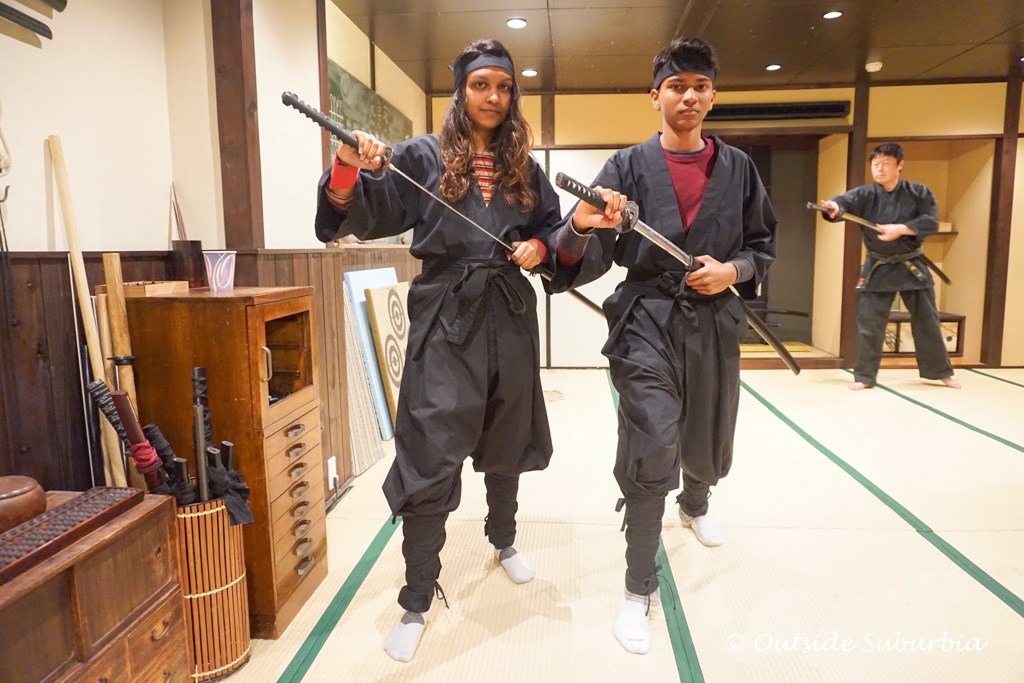 My kids were 14 and 18 but it is perfectly safe for adults and younger children as well, they have rubber shuriken and short fukiya for kids. The short lessons for kids(under 14) are 500 yen for 15 throws of rubber shuriken and blowgun each.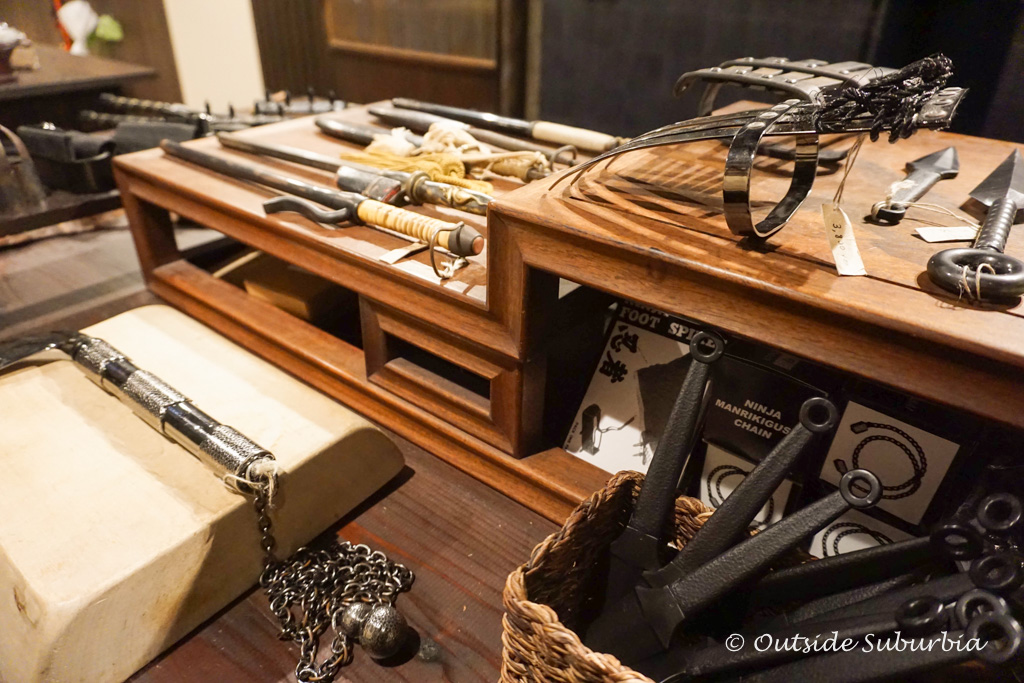 NINJA DOJO and STORE
2F 528 Hakurakuten-cho, Kyoto, Japan
600-8422
Access: 3-minute walk from Shijo-Karasuma, Shijo station on the Subway Karasuma line and Karasuma station on the Hankyu Kyoto line. 15-minute by taxi or train from Kyoto station on the JR line.
You might also like Our Japan Itinerary other posts with details about our different experiences in Japan and photos from our trip!
Note: This post may contain affiliate links, partnership or sponsored content. If you purchase an item via one of these links, we may receive a small commission at no extra charge to you. But as always images and opinions are our own. For more information on our affiliates and privacy policy at Outside Suburbia see here.
CONNECT WITH US