While we were in the land of fire and ice we drove around the ring road and stopped at many waterfalls and went on many easy adventures in Iceland but the best of them all was our hike to find Iceland's bluest secret waterfall, Bruarfoss!
Brúarfoss translates to 'Bridge Falls' and is a relatively small waterfall compared to many of its Icelandic counterparts. What it lacks in size it makes up with its icy blue waters. Often labeled as 'Iceland's Bluest Waterfall, it is one of Iceland's hidden gem. We spent an afternoon following up a stream, hiking through meadows and running into friendly and shaggy haired Icelandic horses till we made it to waterfalls with the help of a couple of locals.
About Bruarfoss
Brúarfoss is roughly one hour and twenty minutes east of Reykjavik. The waterfall takes its name from a stone arch that once stood over it, acting as a bridge for those who wished to cross. According to legend, this natural stone bridge was destroyed in 1602 by a minion of the Skálholt episcopal see. At that time, Iceland was suffering a severe famine, and by destroying the bridge, the minion prevented the starving peasants from reaching the bountiful lands claimed by the church.
Brúarfoss makes up just a small part of Brúará, whose origins lie in the mighty Hvita river which runs from the glacier Langjökull. This is why the water is an icy blue color. The glacial river Brúará falls, ends in a U-turn at the base of the waterfall, where the river is concentrated into a deep crevice. The blue rapids of the river are pretty strong and the area surrounding waterfalls is lush green with plenty of plants and flowers in summer.
We probably would have got to the waterfalls faster if we had not paused for so many photos and what is the fun in that!?
Not sure why the boy got his baseball gloves to Iceland, but D has many pictures of his glove in different areas in Iceland and insisted on playing catch with his Dad
Visiting the secret waterfall Bruarfoss
Most waterfalls in Iceland are off the ring road and are well marked but Bruarfoss is off the beaten path and a little difficult to get to. If you are doing the Golden Circle trip, between Geysir and Þingvellir Park, take route 37. Most directions point you through a neighborhood of summer homes, which is actually private property and you would be trespassing.
Instead of going into the summer house area, stop right before the 355 road, immediately after crossing the bridge. You would be coming from Laugarvatn Fontana and heading to Geysir on 37. There on your left, you can park and walk upstream along the river for about 3.5 km. There is a small chain hanging over the path, but no worries that is just to stop cars from driving inside and to also keep the horses in. The walk upstream is beautiful, it took us about 3 hours.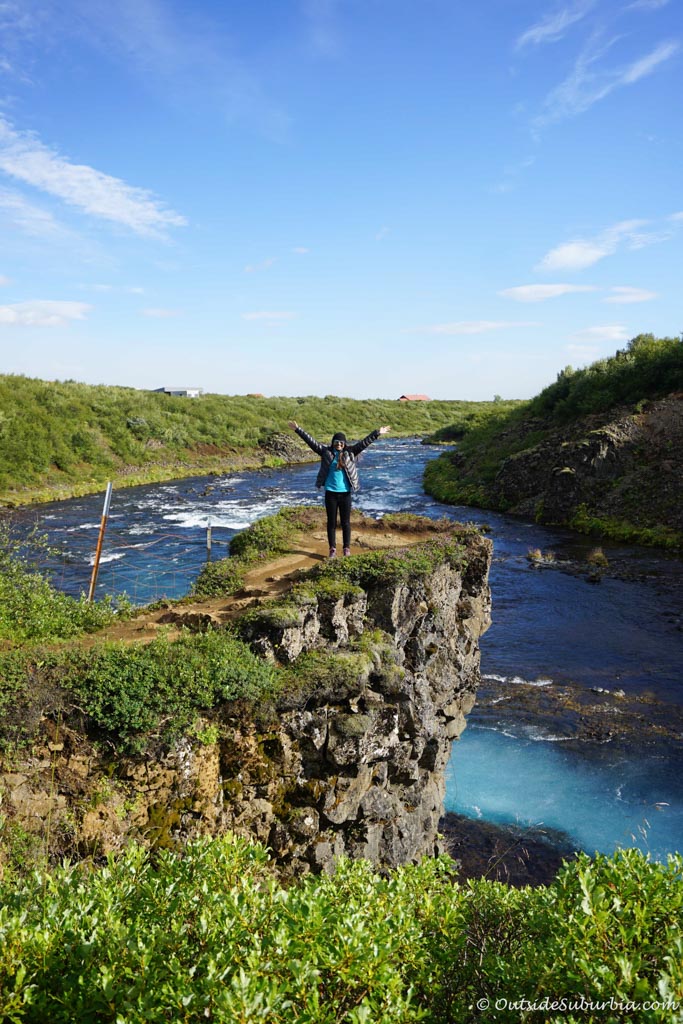 Halfway through we thought we were lost and turned back, luckily we ran into to some locals who lead the way. They lead us to the sign and a bridge. Once we crossed the bridge we could hear the waterfall. We were spellbound once we saw this secret waterfall, by far, this is one of our favorite waterfall in all of Iceland – we stopped at quite a few on our drive around the island – both named and well-marked and other unnamed ones waiting to explored.
The popularity of Iceland as an adventure destination has steadily increased over the years. The special thing about Iceland is that if you have a camper, you can drive around and park anywhere, spend the night explore to your heart's content. This also means it is easy for people to trespass private spaces, litter and trample its delicate natural landscapes. If you are going waterfall chasing in Iceland to find this secret waterfall, just be mindful and respectful of the surroundings and enjoy the beautiful Bruarfoss.
Brekkuskógur, Iceland
PIN IT FOR LATER
Follow OutsideSuburbia
Instagram | Facebook | Twitter | Pinterest | Tripadvisor