We loved our visit to Portugal's second-largest Porto and the hotel we stayed at, so much so that we extended our stay. The city has a strong artistic presence, plenty of personality and photogenic spots. If you are wondering what to do in Porto here are some things we loved and photo spots we discovered during our 3 full days in Porto, Portugal.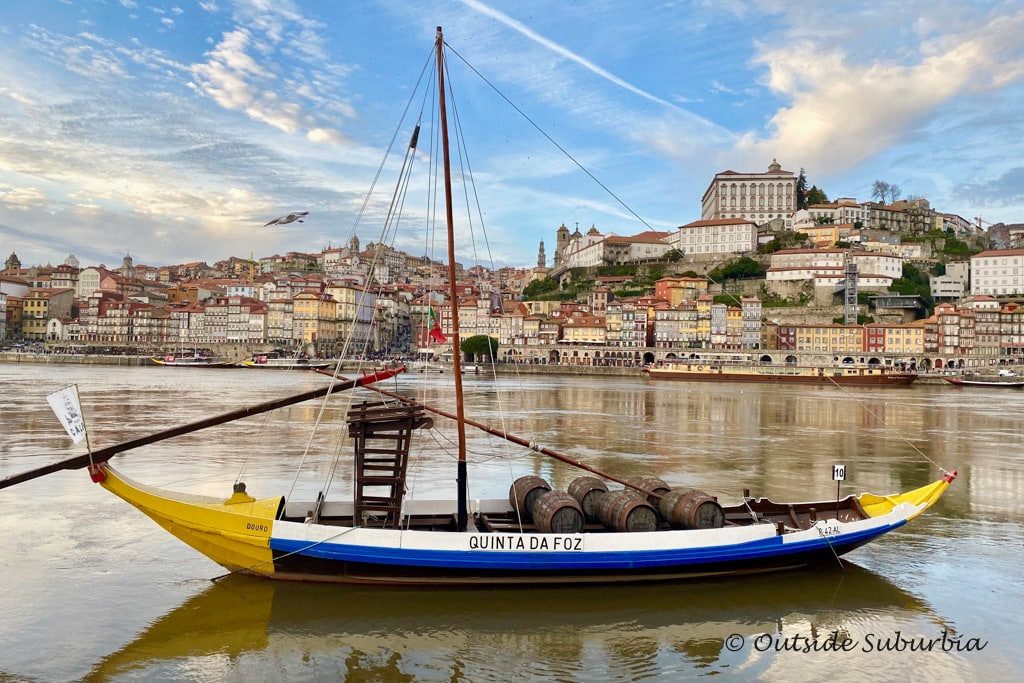 Porto has many beautiful baroque churches that are decorated in azulejos tiles, port wine tasting at centuries-old wine cellars in Vila Nova de Gaia, sprawling plazas and a Unesco World Heritage Site at Ribeira district all connected with narrow and hilly pedestrian-friendly streets and lovely viewpoint or miraduros to watch sunsets from.
We flew from Marrakech to Porto with a brief stopover at Lisbon. It was Christmas eve and there were no taxis to be found at the stands that could take us to our hotel. We ended up waiting a while before we found a Uber and crammed into the small car with luggage on our laps. Porto is where Portugal was born and is only a few hours away if you are driving from Lisbon. The city actually has two official names: Porto and Oporto.
The stunning view from The Yeatman
First things first, let's talk about that view from the balcony from our room. The Yeatman is a luxury wine hotel and spa in Porto. We had 2 rooms looking over the spectacular views over the UNESCO World Heritage city and the Douro River. Member of Relais & Châteaux collection of hotels and distinguished with two Michelin Stars, The Yeatman Hotel is regarded as the best hotel in Porto. The hotel sits over a hill about the wine lodges and the view from their Spa and Pool is one of the best in Porto. The hotel is elegant has everything you would expect from a classic luxury hotel.
See: More Photos and our stay at the Yeatman Hotel
The Portuguese are well known for their love of desserts and there are literally hundreds of Portuguese desserts you can try. We got to taste a few at the hotel's lovely breakfast every morning.
Best things to do in Porto
Chrismas morning José Manuel from Pictury Photo Tours picked us up from our hotel for a photo tour of the city. Most places were closed and streets were empty which worked out in our favor, as far as taking some neat photos. He had a detailed Porto itinerary planned for us with all the best things to do in Porto. Our one day in Porto covered exploring the Ribeira, finding all the beautiful azulejo tiles and visiting the famous Livraria Lello bookshop.
Our first stop was at The Serra do Pilar (Pilar Mountain). While it is not in Porto but in the nearby city of Gaia, it is, however, one of the best viewpoints and one of the spots to catch the sunset over Porto and the river Douro. It was a great spot to start our 3 days in Porto. This miraduoro is a favorite among locals and they bring picnics to enjoy in the garden while enjoying the city's clay-topped roofs.
Dom Luís I Bridge is an iconic arching iron bridge that straddles the Douro River, connecting Porto to Vila Nova de Gaia. Though Porto is known for having quite a few bridges, the Dom Luís I Bridge is special because it was designed by a student of Gustave Eiffel, the mastermind behind the Eiffel Tower in Paris. You can get some of the best views of the city from this double-decker bridge and you can walk on either the top or bottom levels of the bridge. I recommend the top and go during sunset to catch a beautiful view of the city and stay till the blue hour when the lights start twinkling.
You can take the Teleférico de Gaia on the Gaia side of Porto for a view of all of the Port cellars as well as the Douro river. Though the ride is short, it is a faster way to get to the riverbank than walking down the hilly streets. And offers pretty incredible views of Porto. See here for tickets details.
Where to find azulejo tiles in Porto
The word azulejo has Arabic roots, meaning 'small polished stone' and dates back to the 13th century. Portugal's King Manuel I brought the idea to Portugal after his visit to Seville. Portugal embraced this artwork into its culture and these tiles were used to cover up the large areas of blank walls.
It started as a simple geometric design before evolving into elaborate designs. From outside walls to inside buildings and churches you can find azulejo tiles in many places in Porto.
Built on the former site of a Benedictine monastery, the São Bento Railway Station is one of the best places to see azulejo tiles.
The station located in the historic centre of Porto connects Porto and many of its northern suburbs. With over 20,000 painted blue and white tiles that highlight the history of Portugal, it is one of the most unique and beautiful railway stations in Europe.
The Capela das Almas (Chapel of Souls) is a small church located in the middle of the Rua de Santa Catarina, one of the best known shopping street in the city. It is famous for its exterior of blue and white azulejo tiles that depict the scenes representing moments in the life of Saint Francis of Assisi and Saint Catherine.
A small church in the historic centre, the Igreja de Santo Ildefonso was completed in the mid-18th century. It has an iconic blue-and-white facade comprising of more than 11,000 azulejo tiles, you can't miss this seeing this beautiful church when visiting Porto! The inside of the church is beautiful too.
The Church of Our Lady of Carmo dates back to the 18th century, and like many of the Baroque-style structures in Porto, it features an eye-catching azulejo facade. The sprawling panel on the side of this church is probably one of the largest azulejo-covered walls in Porto. It is one of the popular spots and it is best to visit the church before noon while the sun still hits it. From here you can walk across to The Livraria Lello bookstore.
The Clérigos Tower is one of the landmarks of Porto and offers some of the best views of the city. Add this tower to your Porto itinerary! You have a demanding climb of over 220 steps to reach the top, but the panoramic views across Porto city are stunning. After climbing the tower you can also make your way around the church and museum. The church has some beautiful azulejo tile decorating the altar.
The Cathedral of Porto is a Romanesque church built in the twelfth and thirteenth centuries. It has undergone several extensions and renovations over the years. A visit to this beautiful fortified church is a must if you want to see the pretty blue tiles. From the Cathedral square, you can go down towards the Douro River and explore the historic city center.
We actually walked the other way and came up to the Porto Cathedral (Sé) Square. It is one of the best viewpoints in Porto. Whether you sit on the stairs in front of the cathedral's entrance or head to the square, this is one of the best views over the Ribeira district.
A few more Photo Spots in Porto
While walking up to the Porto Se Cathedral we stopped for at a few more photo spots in Porto. This walk was so photogenic with candy-colored houses and the cathedral peeking out between the buildings… walls covered in murals, a lady feeding a cat, we could see everyday life in Porto — a hidden Porto! There were some of the best Instagram Photo Spots in Porto!
Our 3 day Porto Itinerary
Our 3 day Porto Itinerary:
Day 1 – Photo tour covering all the highlights of Porto. We didn't get to go inside the churches since they were closed for Christmas.
Day 2 – A scenic drive to Douro valley
Day 3 – Visit more churches, Lello Bookstore, visit a few wine cellars
More top things to do in Porto
The Livraria Lello is considered one of the world's most beautiful book stores. It is more than a hundred years old and features a stunning stained glass ceiling, huge cabinets and a beautiful wooden staircase. It captivates your right when you enter the book store. This famous bookstore in Porto was on the top of Miss Peachy's things to do in Porto list.
Livraria Lello is thought to have inspired J. K. Rowling and the Harry Potter series, and probably the reason why Livraria Lello is constantly busy and there is always a line of people waiting outside. The bookstore crowded as it was but didn't fail to impress. Added it to your Porto itinerary if you are a Harry Potter fan.
You might also want to visit this library in Portugal that inspired Rowling.
If you love wine you can't visit Porto without touring a Port cellar. Vila Nova de Gaia is filled with many Port cellars offering cellar tours. The scenic riverside road Cais de Gaia is filled with small restaurants and cafe terraces with views across the Douro. There's even a Port Wine Museum dedicated to teaching the history of the port wine trade and production development. Sandeman, Taylor, Offley cellar are some of the most recognizable wine cellars situated along the picturesque bank.
Another popular attraction is Porto is the Palácio da Bolsa. It is known for its exquisite neoclassical facade and ornate gilded Arabian Hall. Located in the historic center of Porto, this massive building was once the city's stock exchange that wooed European bankers and investors. Today, you can tour the interior with a guide and see the glass-domed Pátio das Nações (Hall of Nations) and the magnificently golden Salão Árabe (Arabian Hall, which was designed to mimic the Alhambra Palace in Granada, Spain).
Located right next to Palácio da Bolsa is Igreja de São Francisco. This church looks rather plain on the outside with a stone facade that has gothic and baroque styles, but once you step inside and you will find it decorated with gilt and gold, lots of it. This UNESCO World Heritage Site church has Tree of Jesse, a massive family tree sculpture that traces Christ's genealogy and dates back to 1718.
Cafe Majestic Porto is probably the most well-known and beautiful cafe in all of Porto. It is located on Rua de Santa Catarina. Cafe Majestic serves up a delicious Francesinha sandwich but there was a long line waiting outside and we didn't have the patience to wait.
Porto is home to one of the most beautiful McDonald's in the world. We stopped for lunch and it didn't disappoint. Set in the remnants of the Imperial Café after a major restoration project it worth a stop even if you are not a fan of the fast-food restaurant. The stained glass windows and chandeliers make a visit to this McDonald's unlike most others. Located on Avenida dos Aliados, it is easy to get to from any part of the historic downtown of Porto.
Popular Porto Tours
Photo Spots & Porto Photo Tour
On our photo tour with Pictury Photo Tours, we ventured through the historical area and touristic riverside, exploring the charming streets filled with locals who call the city home. Jose took us to the city's most mesmerizing viewpoints, monuments and some secret spots only locals know. He offered suggestions on what other things to do in Porto and other Photo spots we should visit.
Where to eat in Porto
If you look up what to eat in Porto, this first thing that comes up is Porto's most Popular Porto Food, The Francesinha. A Sandwich which literally means "little French girl". This adaptation of the French sandwich, croque-monsieur is said to have been brought to Porto by some immigrants from France. A Francesinha sandwich is made with bread, ham, sausages, and steak and typically covered with melted cheese and an egg on top. It is served with a thick tomato sauce. Salty cod is another staple in Porto.
One of the best dinners we had at Porto was at Boa Bao, a unique Asian place in Portugal. Their menu has dishes from Thailand, Vietnam, Laos, Cambodia, Malaysia, Indonesia, Philippines, Korea, Japan and China. When we arrived we were given a boarding pass and asked to wait at the bar. We enjoyed some small plates and drinks while we waited for our table.
Another place we really loved was Mendi – which was recommended as the best Indian restaurant in Porto by our concierge and it lived up to the reputation. Small, cozy and beautifully decorated Mendi is open just for dinner and from the clientele you could tell it was a local favorite.
Every meal comes with a stunning view of the Douro River and the Porto skyline at the two-Michelin-starred The Yeatman restaurant. The restaurant serves three tasting menus, encompassing traditional flavors of Portuguese cuisine with modern flair and seasonal produce. The wine pairings are fantastic, drawn from a cellar packed with rare bottlings.
Casa de Chá da Boa Nova (Boa Nova Tea House) is another place that is highly recommended. It provides a dramatic ocean view with waves crashing against the rocks below. This Michelin-starred restaurant, helmed by acclaimed chef Rui Paula, serves traditional Portuguese dishes, local seafood and fish. I love that they have a menu featuring vegetarian dishes featuring local potatoes, fava beans, and greens. I didn't know about this fabulous place till after the trip, we will go back to Porto to try it next time.
I hope you find this Porto Travel Guide of the best viewpoints in Porto and where to find azulejo tiles and Portugal travel tips useful when planning your trip.
Here is a short web story video of Porto
PIN IT FOR LATER
Note: This post may contain affiliate links, partnership or sponsored content. If you purchase an item via one of these links, we may receive a small commission at no extra charge to you. But as always images and opinions are our own. For more information on our affiliates and privacy policy at Outside Suburbia see here.
CONNECT WITH US