Last summer we did a room refresh of my daughter's room with Havely. We worked with a Havenly designer who collaborated one-on-one throughout the entire process to find stylish solutions that fit the style and budget we had in mind. My adult daughter loves art, and traveling and has enmassed quite a collection of vinyl records, and wanted a colorful, happy room with easy maintenance.
Concept Phase
Once we selected our designer from the Havenly website, we sent her the measurements of the room and had a quick call to discuss what our expectations were and what design styles, and colors we had in mind.
Kayla, our designer with Havenly came up with a concept plan and then selected these products, especially for my daughter's room. We were then asked to rate the items based on our style and budget. We rated each item to let her know yay or nay! If she missed the mark with anything, all we had to do was just let Kayla know and we got some new suggestions.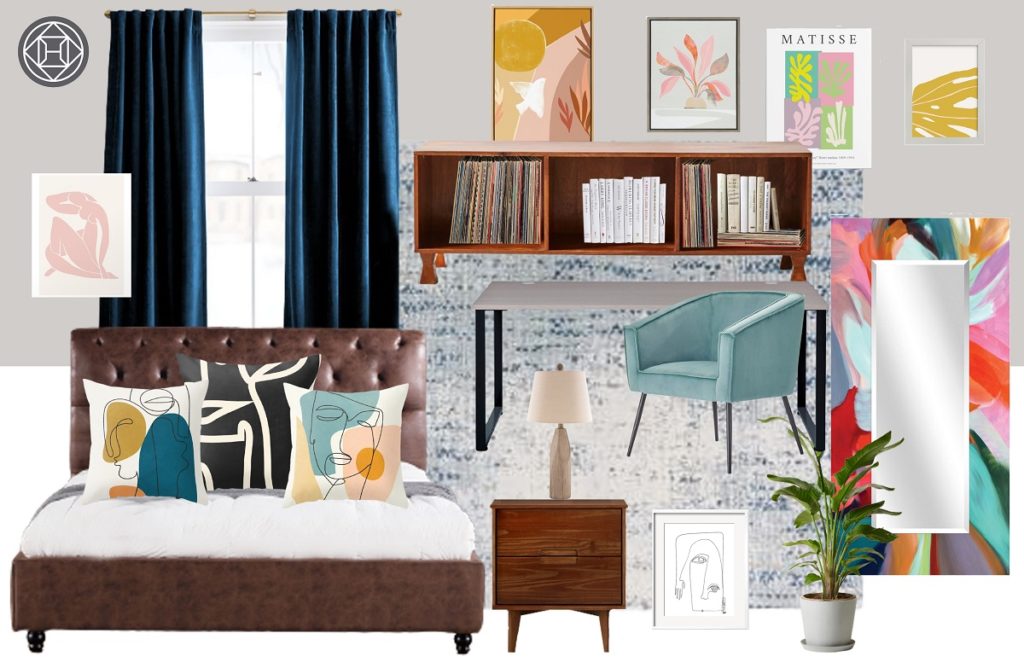 The Before: A Childhood bedroom with lots of memories
Miss Peachy was home after four years of college and the room had all her things from middle school through high school years.
Going forward, she wanted the room to be a little more grown-up but still cozy and to function as her private space. Her childhood bedroom housed random things like soccer trophies, old photos, and random clothes that she didn't use anymore. It held a lot of memories but was chaotic and the space was not cohesive.
She wanted the room to feel personal, grown-up but also serene. A space that would make her feel at home yet allow her to daydream. A place where she can be surrounded by things that she loved—like art, posters from her favorite concerts, photos of her travels, and friendships.
We relocated most of the things to another area of the home and started fresh. Things that she wanted to hold on to were boxed and stored and others we donated. She loved her bed, so we kept the bed and newish table. We took down all the photos and redid the wall space. We brought in a low credenza for her record collection and books.
After Havenly
Kalya, our designer sent us a layout plan along with the products she had chosen for us after the concept phase. We made the purchases based on her suggestions and had them shipped home. My favorite addition to the room is the mirror. It not only opens up the room but adds color to the space. The photos and art make it personal and the colors of the velvet chair and the fun pillow cases tie everything together.
Products we Bought
I would say we spend under $2000 for the room refresh. Here are some things we bought…
Mirror: Empire Art Direct $400
Chair: World Market $150
Low Credenza/Bookshelf: Urban Outfitters $500
Modern Globe Floor Lamp: $300
Cushions Society6 $100
Prints: Society6 $100+
Bearaby weighted blanket $250
Berber Rug from Morocco $1000 (We bought it during a trip to Marrakesh)
Drapes: West Elm Worn Velvet Curtain in Regal Blue $250
Frames: Ikea
Plants: Local Plant shop at Deep Ellum
Bed: Z Gallery (old)
Table (old)
Happiness guarantee with Havenly
I LOVE the Happiness guarantee with Havenly! If you are not happy with their design, they are not happy. The designers work tirelessly to make sure your Havenly design experience is delightful. That's why they offer the Havenly Happiness Guarantee.
My daughter adores her new "grown up" room and loves being surrounded by her collection of posters and postcards and being a plant mama! The plants in her room have taken a life of their own and keep multiplying by the day 🙂
If you are planning a room design or refresh, take the design quiz. You can use my referral code "outsidesuburbia" to get 25% off Havenly's Mini, Full & In-Home design packages.
Note: This post may contain affiliate links, partnership or sponsored content. If you purchase an item via one of these links, we may receive a small commission at no extra charge to you. But as always images and opinions are our own. For more information on our affiliates and privacy policy at Outside Suburbia see here.
CONNECT WITH US