Deep Ellum is filled with many murals, all sorts of creative professionals like movie makers and animators, music producers and promoters, architects, designers, furniture makers, set designers, and on and on. The area is an explosion of creativity.
One sunny day after visiting the Dallas Museum of Arts, we stopped at the Deep Ellum area of Dallas, dubbed Dallas' original walking neighborhood for more art. Only this time it was murals on the street walls not art on the museum walls. I have never been to this side of town was intrigued by the many murals I had seen online. We loved wandering through the many alleyways looking for the vibrant Deep Ellum Murals.
42 Murals project was created as an opportunity to provide local, national, and international artists to showcase their talent through murals painted on many of the historic buildings in Deep Ellum. The goal was to increase awareness of art in Deep Ellum and Dallas by providing free public art for visitors.
See a visual story of the Deep Ellum Texas Murals here
Elm Street is dotted with murals in the nooks and crannies of various alleys and side streets from Good Latimer to Malcolm X and in between Elm Street and Commerce. The murals explore much of Deep Ellum's musical history, with murals of blues greats, newer artists, and other local characters. The best way to explore the murals is to just wander up and down the street and find them! That's just what we did….
Map for DIY Walking tour of the Murals in Deep Ellum Dallas
Start with a mural of a Texas Flag named "Deep Texas" at the Stirr restaurant and club, you can find "Truelove Series: Akard & Elm 1938" a black and white mural here as well, and a few others.  Then walk east on Main Street, on Pryor Street till you find "Trust Love" a cute romantic mural where lots of proposals and photo shoots happen. At the end of Main street you will find the "Derealism Portrait" a must see and "Heavy is the Head that Wears the Crown" another favorite which is located on 2633 Main street.
If all that walking got you hungry, within a few blocks you can find the best burgers in Dallas, Tex-Mex, Asian, Austin-style cafe's, small bistros with a Texas twist… they got fine dining too!
Deep Ellum Restaurants
Some suggestions from friends who followed this DIY walking tour of Deep Ellum Murals:
Start with cocktails at Hide, stop for a meal at Zatar, for some Lebanese Cuisine (try their signature dish Moujadara croquettes – lentils and caramelized onions with a perfectly crispy outside) and finish with alcohol infused pops at Picole Pops on Main street. 
There's often a big line to get into this popular BBQ spot, but it is worth the wait! Don't miss New Orleans style beignets Le Bon Temps and some shopping at Jade & Clover, a cute gift shop that has everything from sage to jewelry, plants, terrariums and more.  You will find plenty of things to do in Deep Ellum, Texas — live music venues, cool bars, and casual eateries.
A few other favorite restaurants in Deep Ellum
Biscuit Bar: Fast casual restaurant for biscuits, tots, and beer on tap
Emporium Pies: Made from scratch pies and coffee
Cane Rosso: Wood-fired Neapolitan pizza, pasta, and dessert
Ichigoh Ramen: Ramen and other Japanese shareables
Stirr: New American restaurant with a rooftop bar with a view
Vidorra: Hip (rooftop) restaurant with margaritas and Tex-Mex fare
Jeni's Ice cream: Artisan flavors like
Le Bons Temps: Cafe with classic beignets, ice cream, and coffee
Bobaddication: Bubble tea stand with other Asian treats.
An Art walk in Dallas among the Deep Ellum Murals
The mural project would not be complete without our Texas Flag (named Deep Texas which you will find at the STIRR club)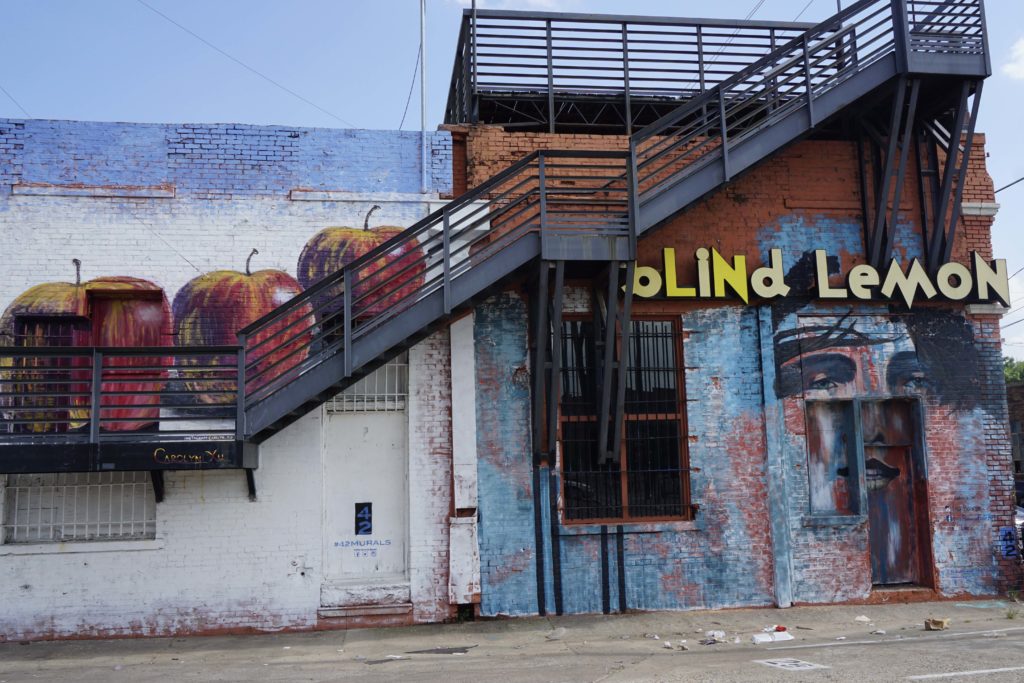 I hope you enjoyed the art walk among the murals in Deep Ellum, Dallas. You can take the bright yellow Dart train from the suburbs to the Deep Ellum station and enjoy the area. You can see more information about the murals, the artists and also see a virtual tour at 42 Murals' website.
We love finding street art when we travel, so far we have seen murals in Austin, street art at Clarion Alley in San Francisco, Wynwood Walls in Miami, and even seen an alleyway filled with vibrant murals in Kenya.
PIN IT FOR LATER
CONNECT WITH US