We were on a road trip from Texas to Colorado and just passing through Santa Fe, the nation's oldest state capital. I spent just a weekend in Santa Fe and promptly fell in LOVE! Can you blame me, Santa Fe is a destination for art lovers, the light here is compared to that of Provence and favored by many artists. Not to mention the backdrop of the snow-capped Sangre de Cristo Mountains that the city enjoys.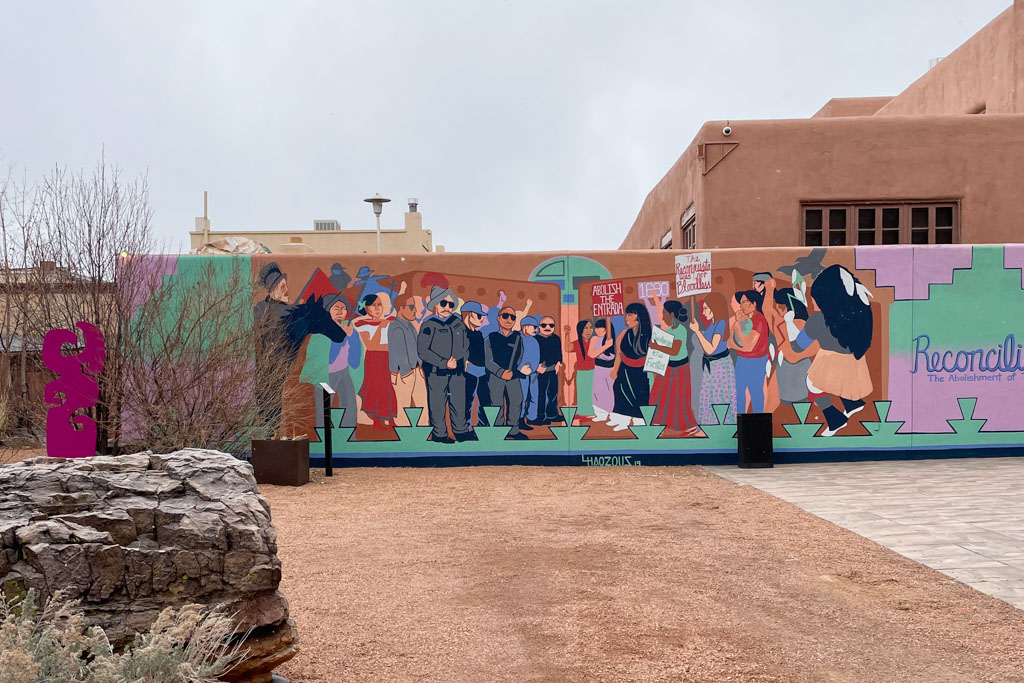 Sitting at 7000 ft above sea level, Santa Fe is a rugged beauty that has desert views as far as the eyes can see, historic adobe buildings, a plaza filled with art museums, and the fragrance of spicy chile peppers from famous eateries fill the nostrils – it is hard not to fall in love with Santa Fe!
Such a feelin's comin' over me
There is wonder in most every thing I see
…
I'm on the top of the world lookin' down on creation…
Your love's put me at the top of the world...

Carpenters
We started our morning with a walk on the Camino Encantado trail led by our nature guide from Four Seasons Santa Fe. He pointed out the unique cacti that were used for cooking and making cocktails, educated us on the history of the area and talked about the women that shaped Santa Fe.
The air was crisp and the view of the Sangre de Cristo Mountains was clear – the polar vortex will bring some snow later in the day but for now, we enjoy the view and our brunch of eggs and chilaquiles at the restaurant.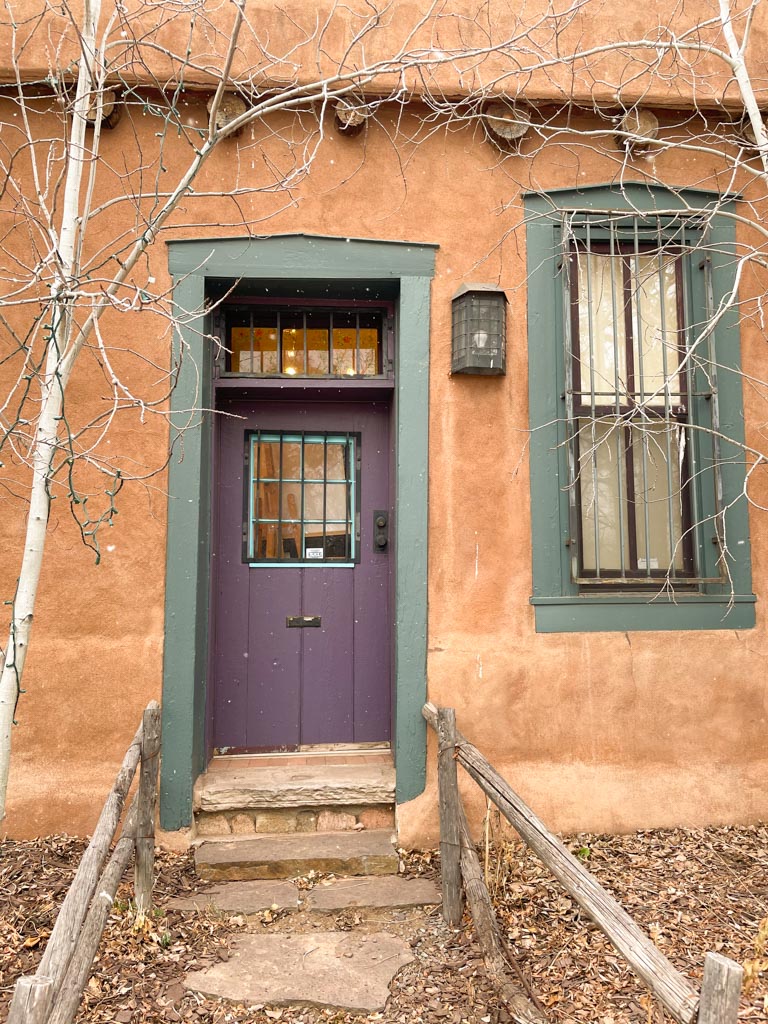 Armed with a map of the city different and hoping to beat the snow that is on the forecast, we head into town. We wander the plaza, window shop for some time, enticed by the red chili garlands hanging everywhere we decide it is time for lunch. We get some pozole and enchiladas smothered with the famous hot sauce at The Shed before heading to Canyon Road.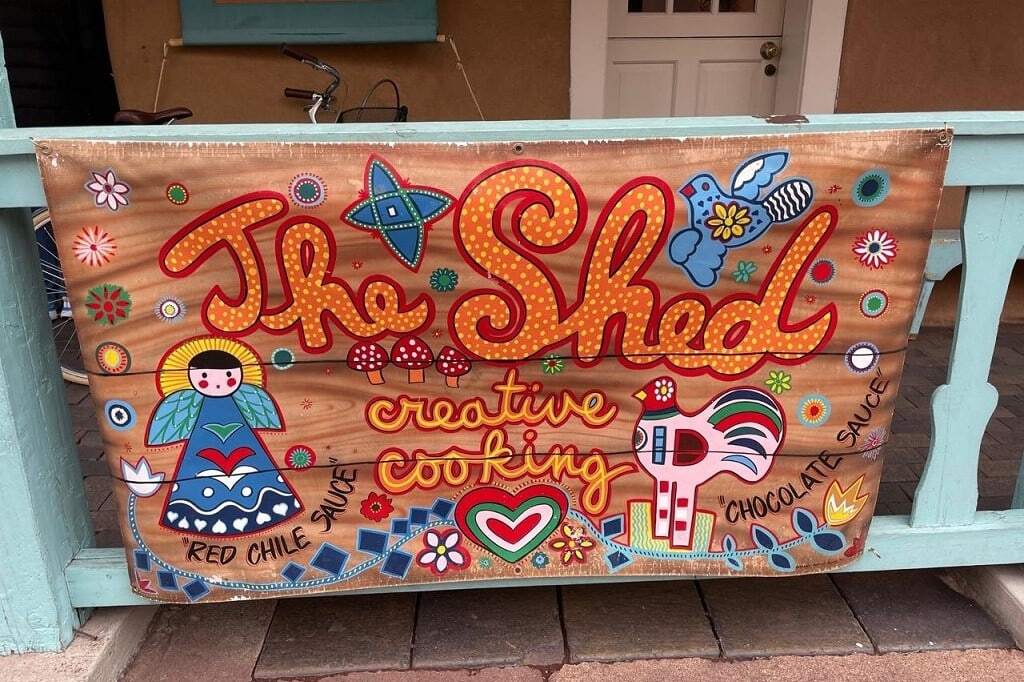 Situated just east of the Santa Fe Plaza, Canyon Road is home to many art galleries selling artwork created by famous artists, hand-woven Navajo rugs and Southwestern wood carvings. The area is an art lover's mecca and it was the only thing on my Santa Fe itinerary, for this quick weekend trip!
Art Museums in Santa Fe
Santa Fe is famous for its museums — New Mexico Museum of Art, Museum of International Folk Art, IAIA Museum of Contemporary Native Arts (MoCNA is the country only museum for contemporary Native artists), New Mexico History Museum at the historic Palace of the Governors, and my favorite, the Georgia O'Keeffe Museum (which houses more than 3,000 her works) located behind the Eldorado Hotel. These world-class museums are a must-see for arts and culture lovers visiting New Mexico and Santa Fe.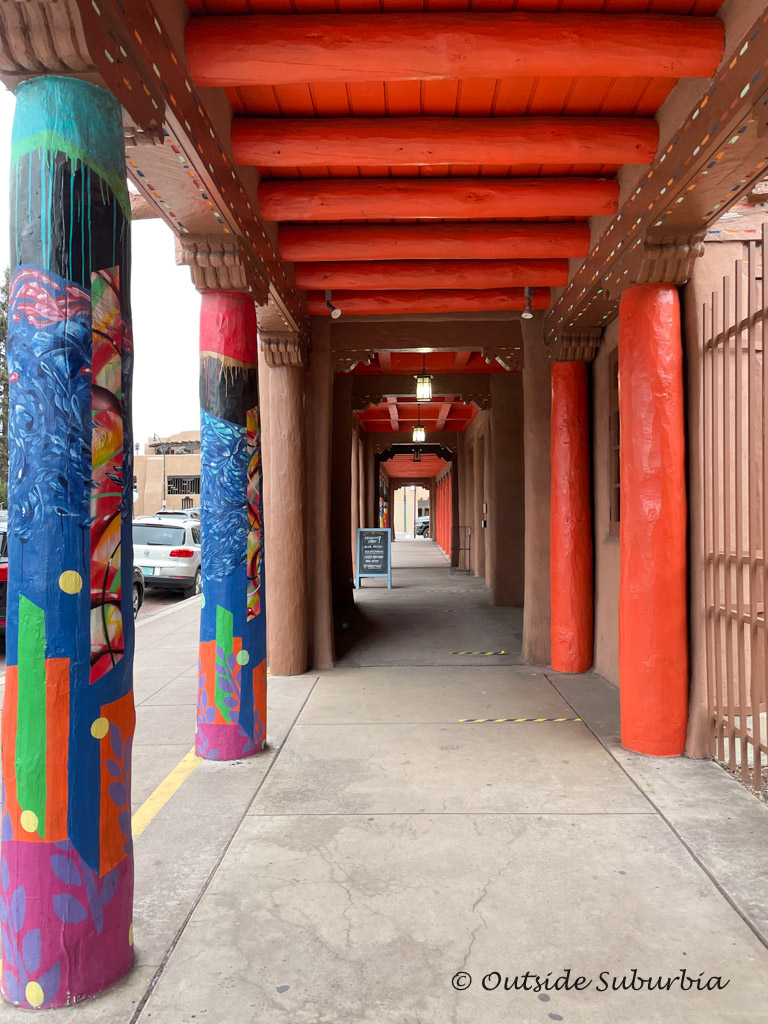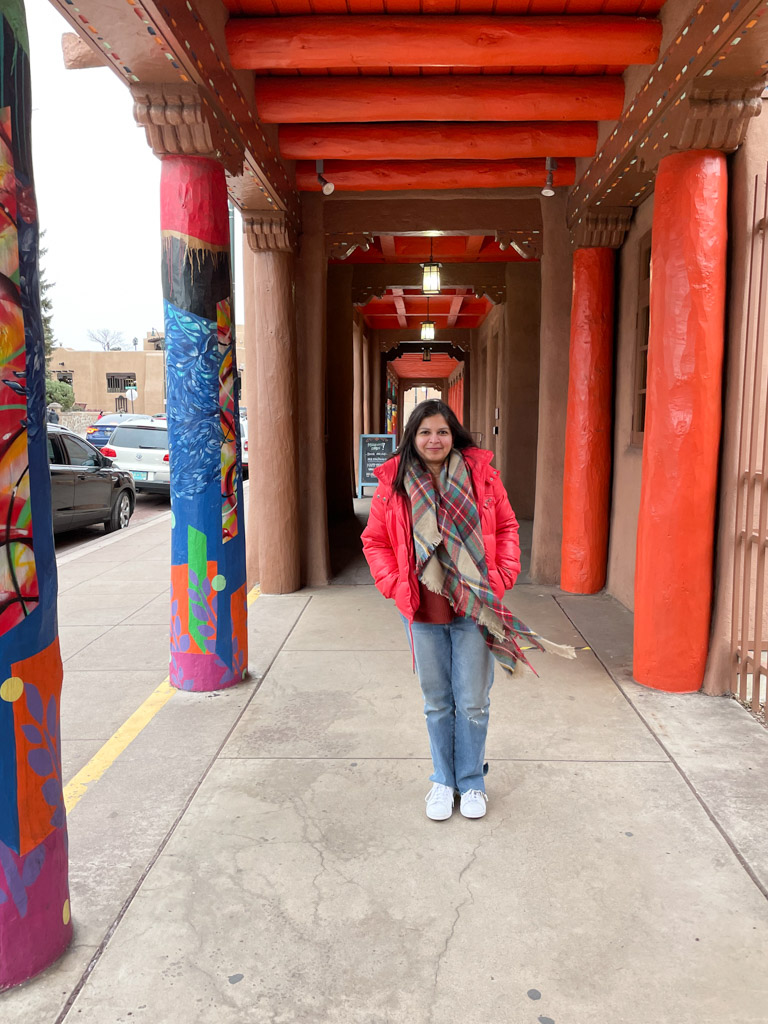 In fact, Santa Fe received a "Creative City" designation (the first and only one in the United States) from the United Nations Educational, Scientific and Cultural Organization (UNESCO) in 2005.
When we were in Santa Fe, most museums were still closed due to COVID, so we spent an afternoon admiring public art, gallery strolling and popping into the different studios – there are more than 150 galleries along Canyon Road in Santa Fe, where you can find everything from jewelry and pottery to sculptures and paintings.
See a visual story of Santa Fe Weekend and other ideas for Girls Weekend Getaway Trips
Public Art & Galleries on Canyon Road in Santa Fe
Canyon Road is truly a feast for the eyes: Many of the galleries on Canyon Street are housed in historic adobe buildings with brilliantly colored windows, and public art installations are often showcased outside.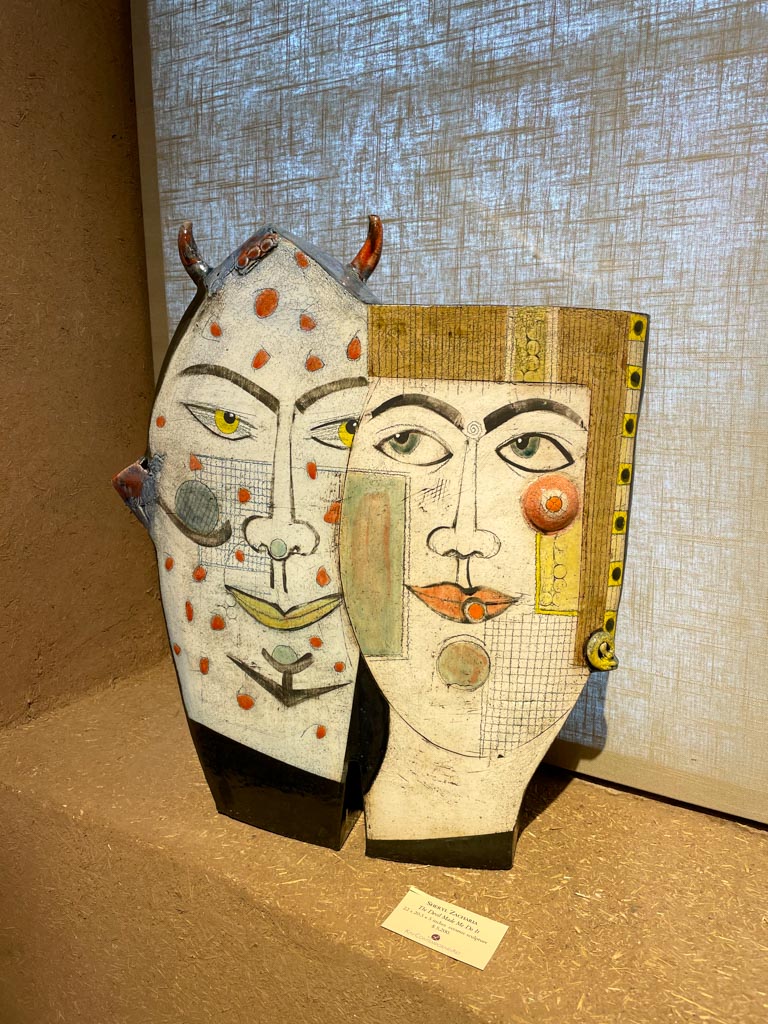 The best way to experience this art district is simply by strolling down Canyon Road to admire all the public art and it is a wonderful way to experience art even if you don't want to go inside the galleries. I was impressed with everything from the variety of art to the pueblo architecture and snapped a few photos (with permission from the gallery).
We ended the day back at the resort with fire side s'mores and watching stars. The snow storm caught up with us the next morning!
Photos from our Gallery Stroll on Canyon Road
An easy mile-long stroll, Canyon Road is one of the most picturesque places in Santa Fe. This historic, tree-lined pathway is the heart of the arts in Santa Fe and has evolved into a major art market containing the highest concentration of galleries in the country.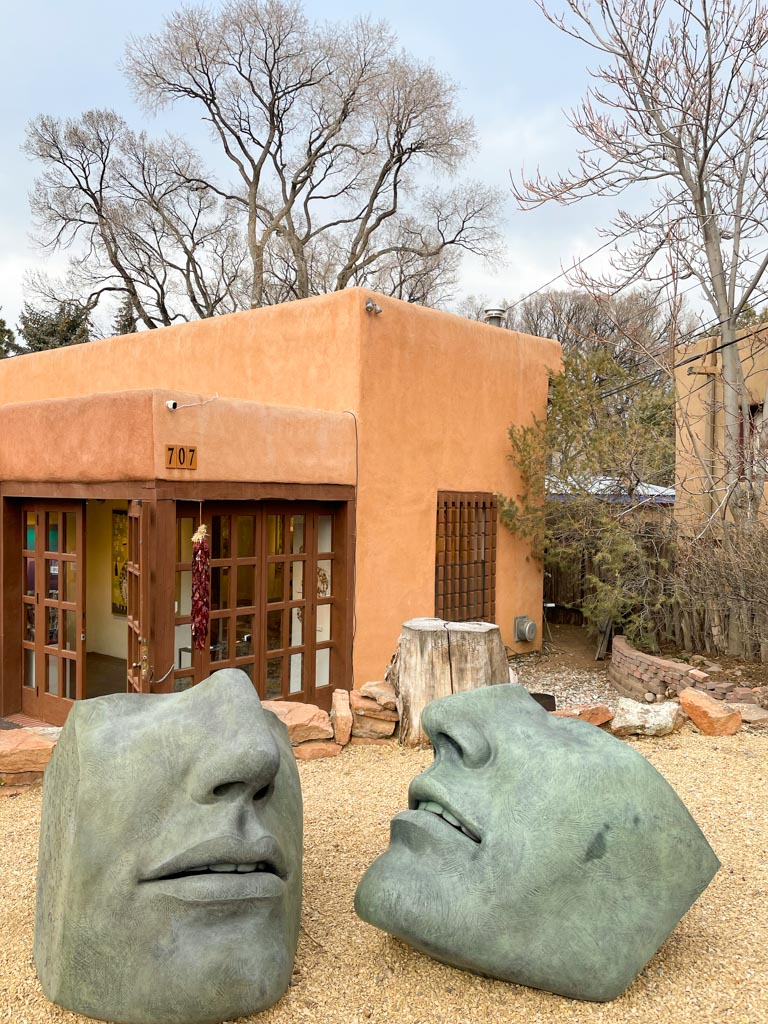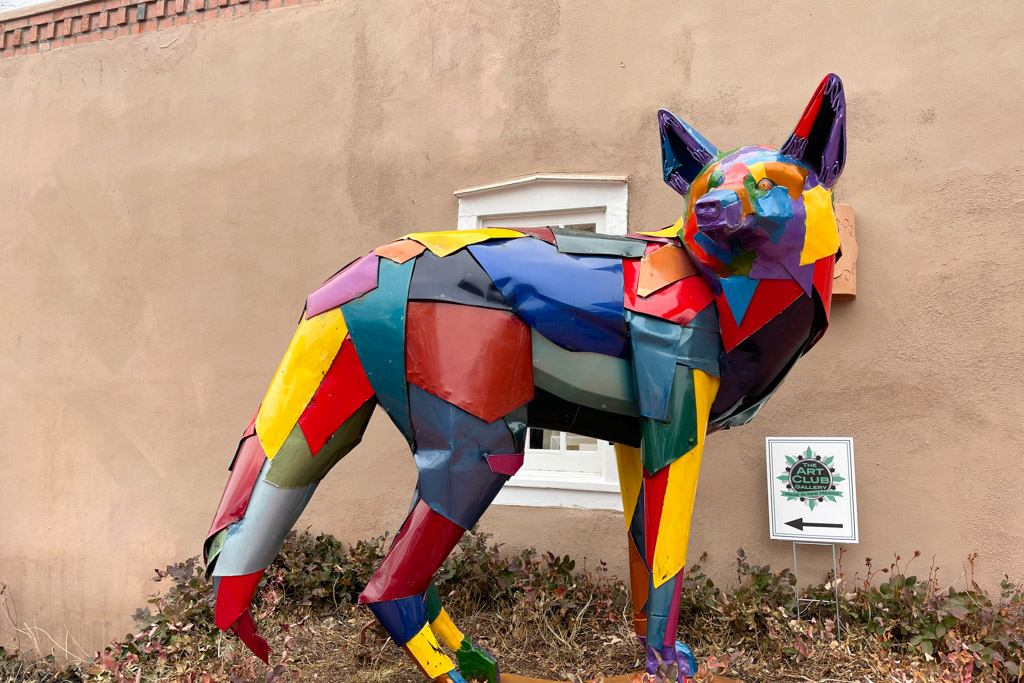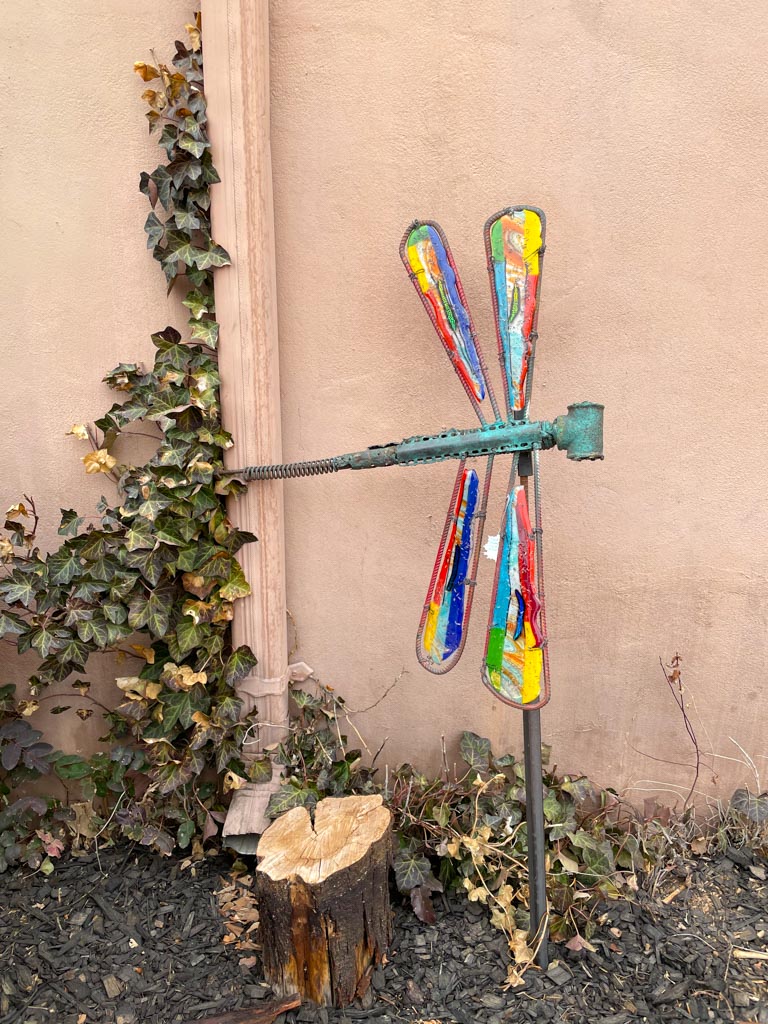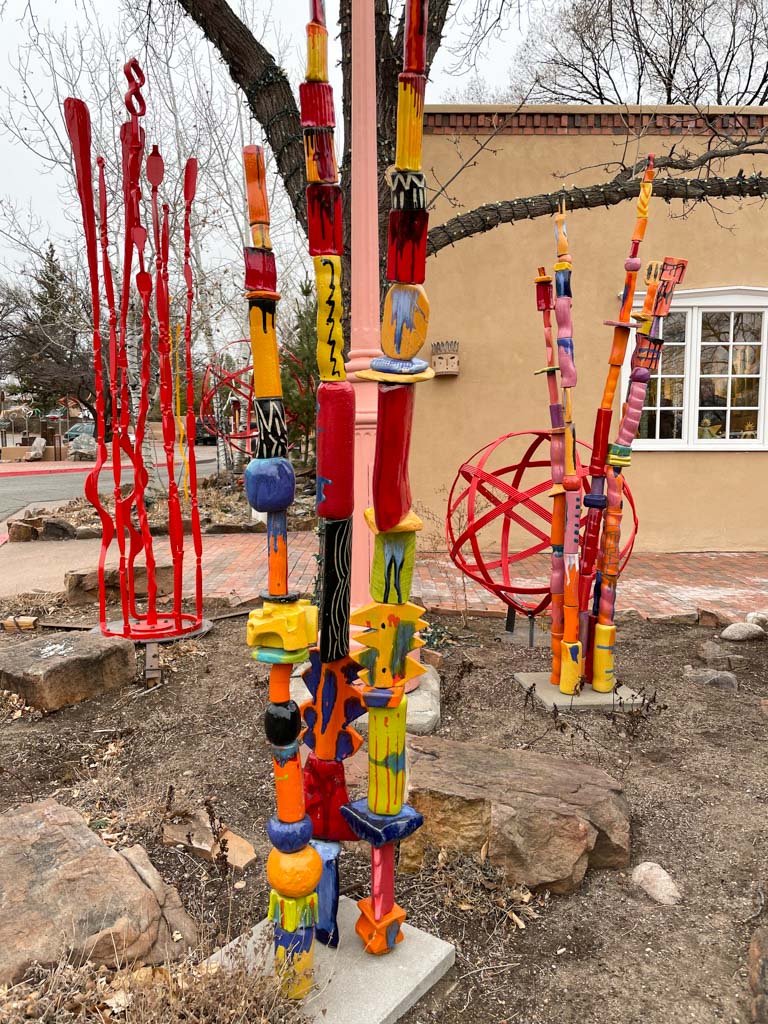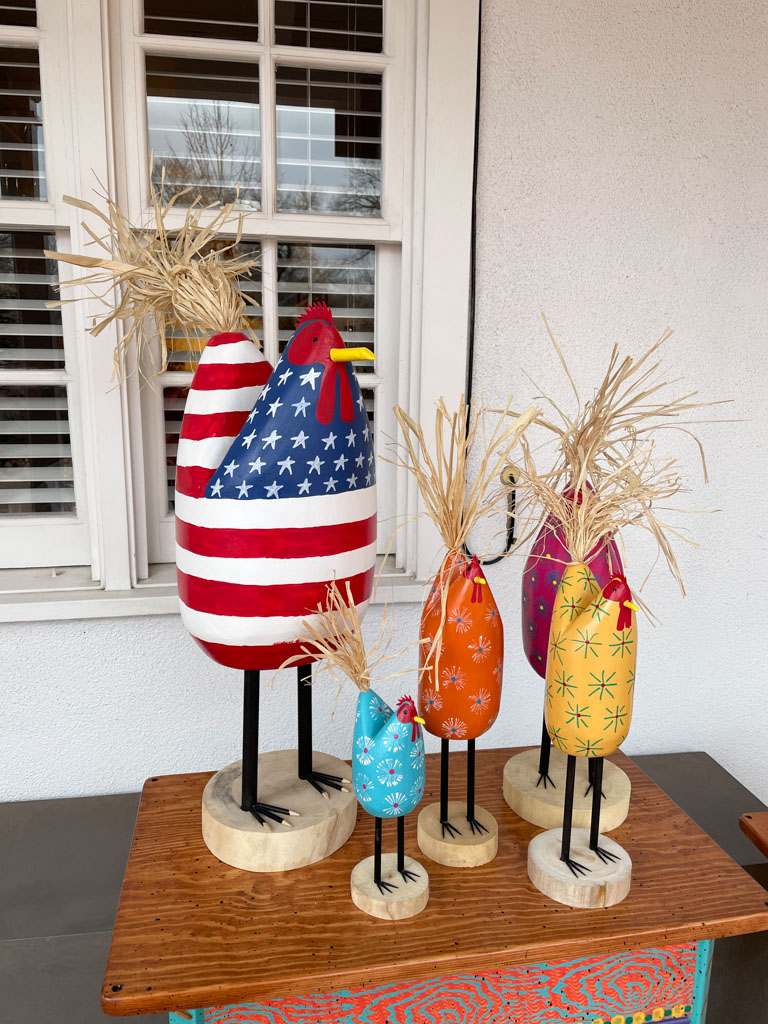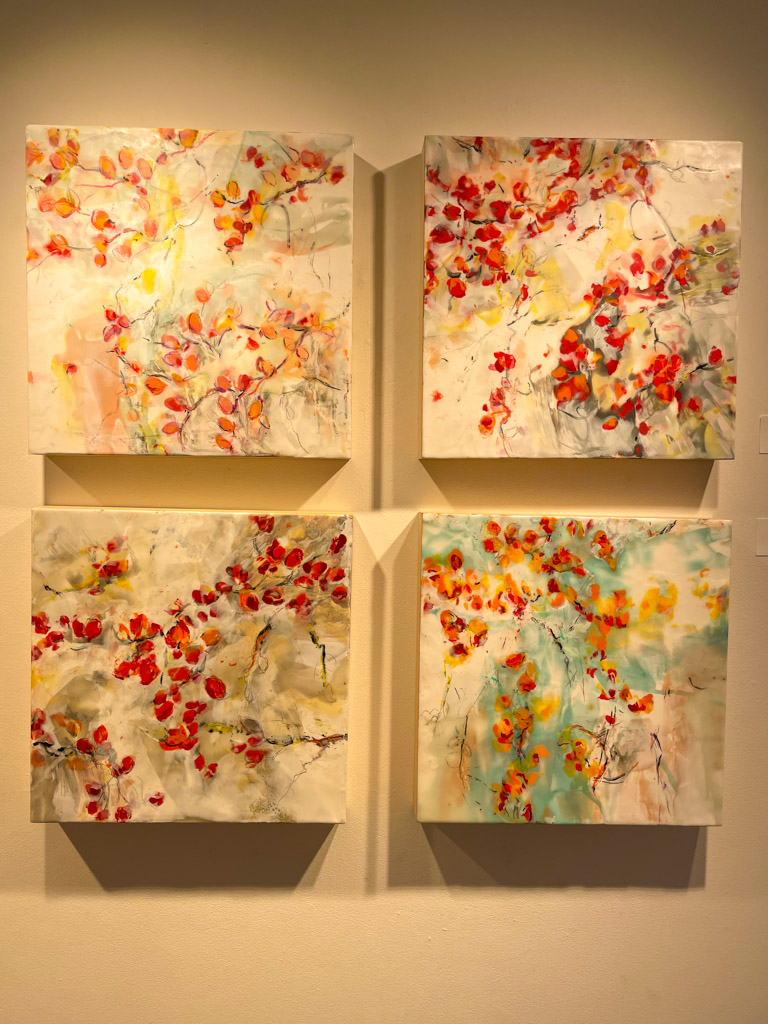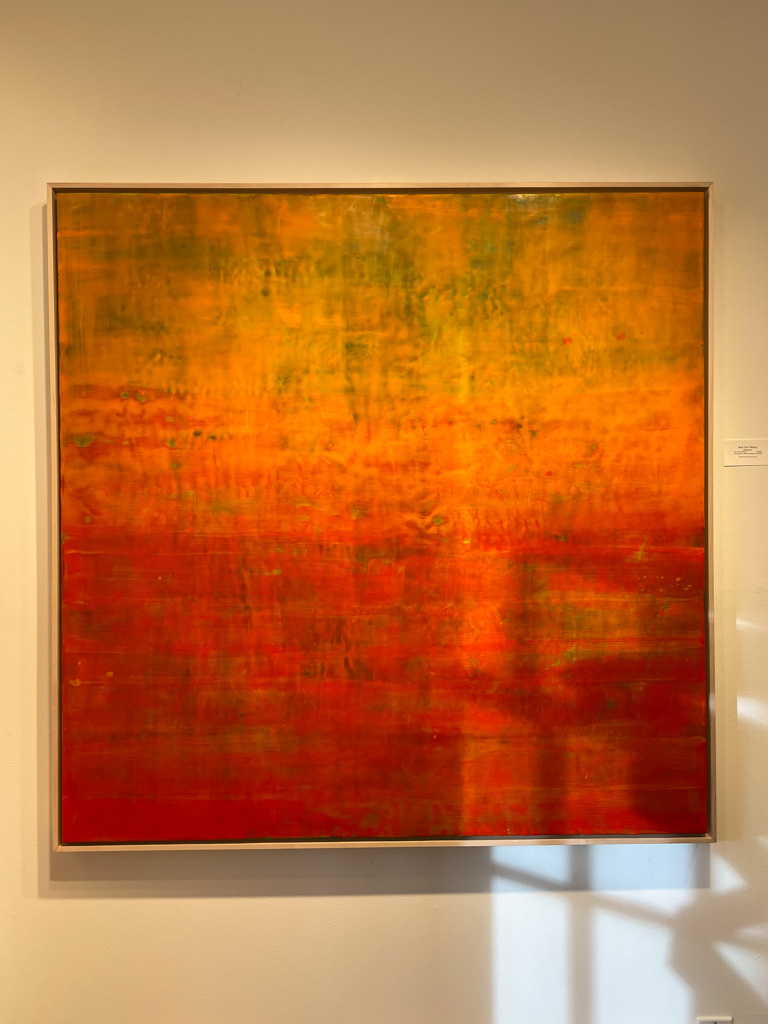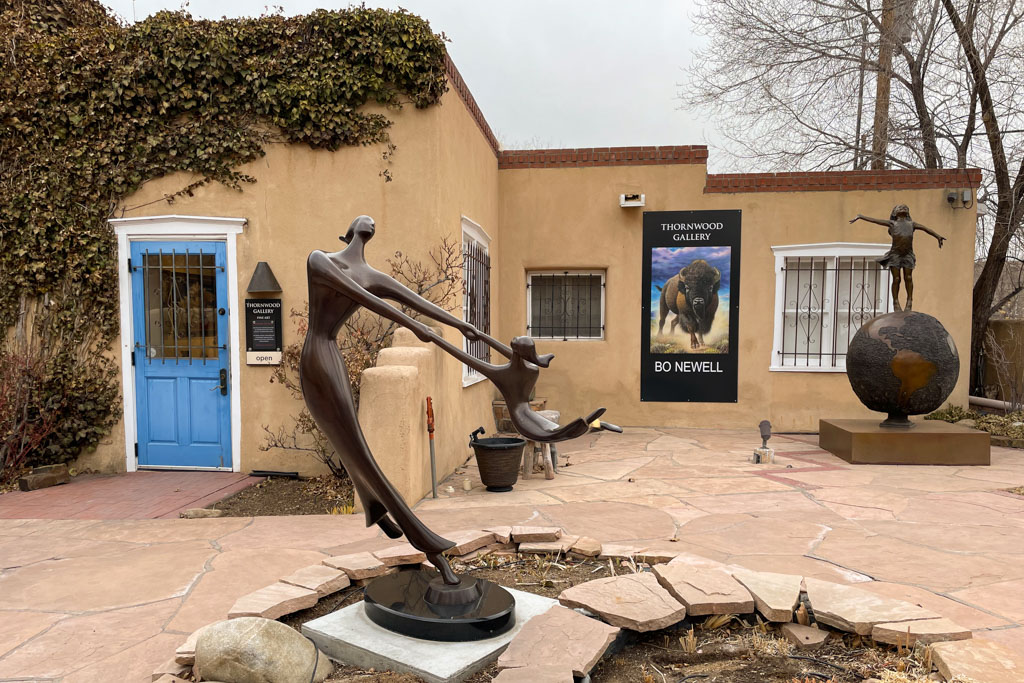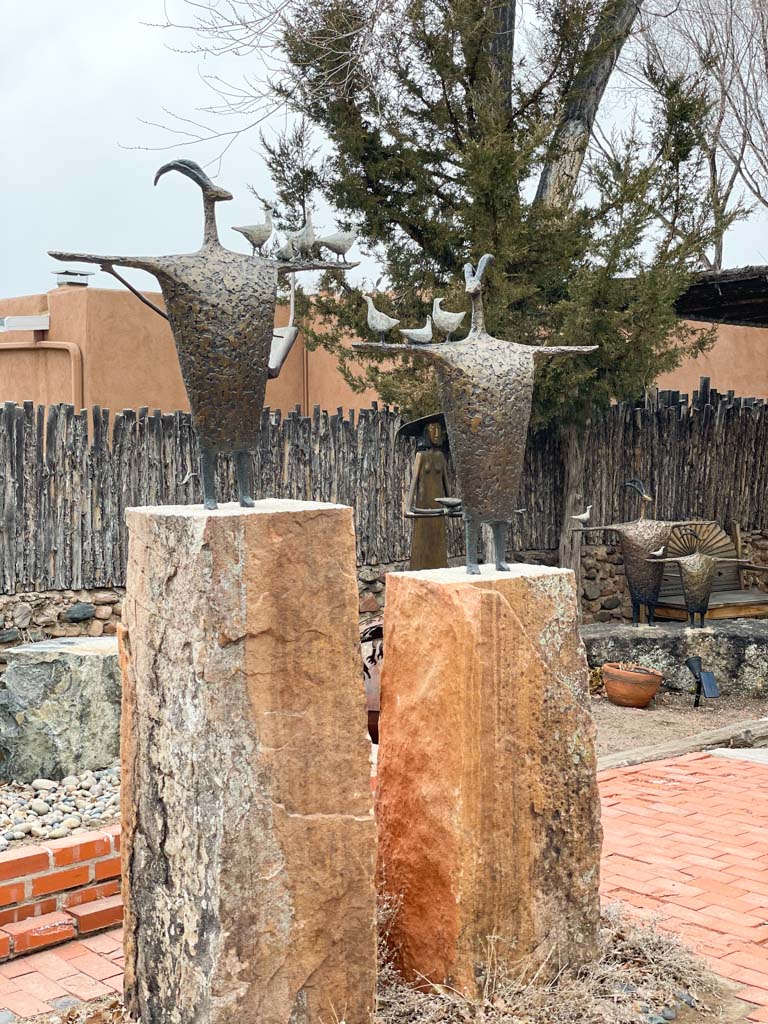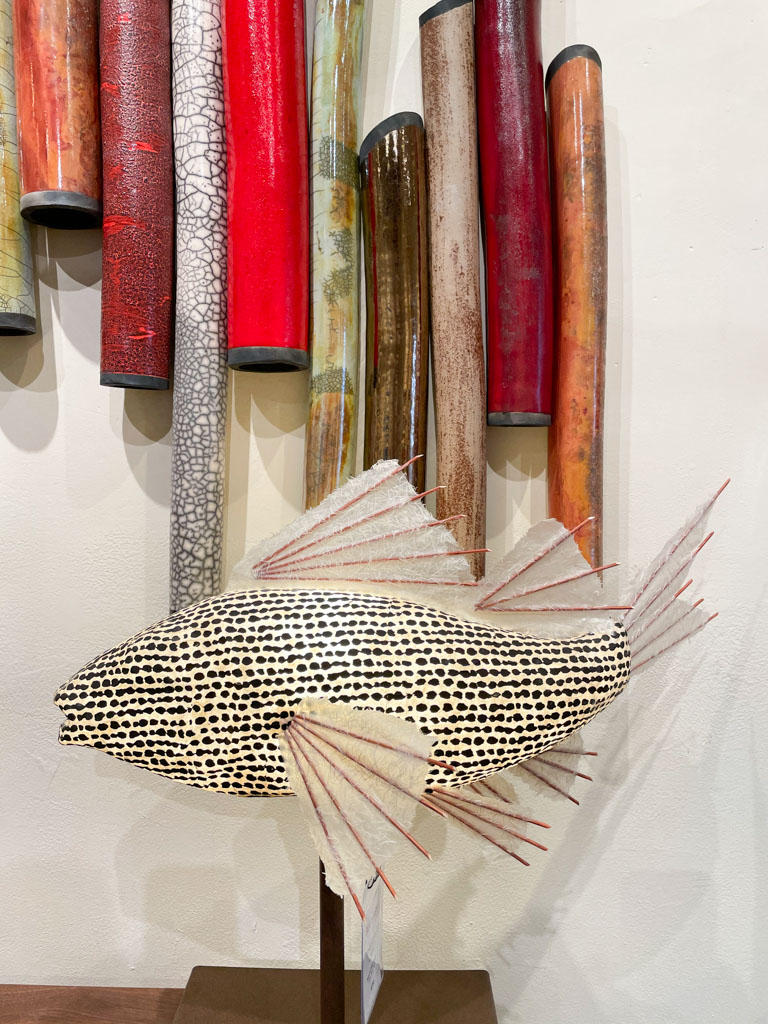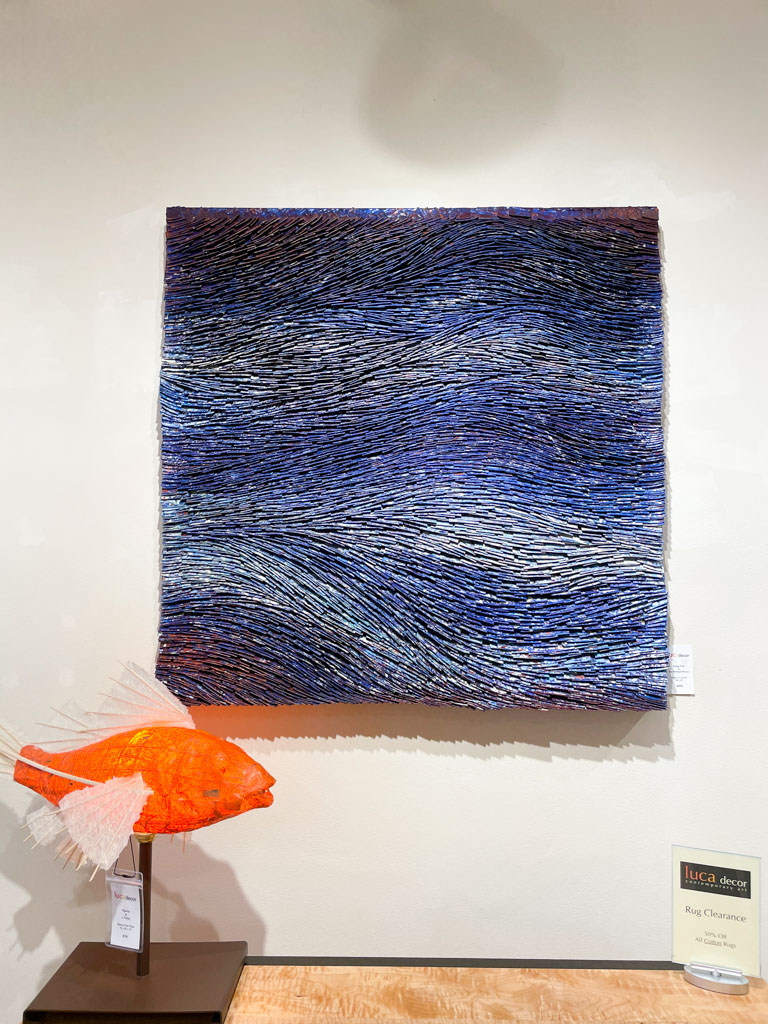 Artists represented in more than 150 galleries show their works inside and outside Pueblo-style adobes and homes, where you'll find fine art of every variety. Outdoor festivals are held throughout the year — including October's Paint & Sculpt Out and the magical Christmas Eve Farolito Walk when adobe walls and roofs are decorated with farolitos, candles glowing in paper bags.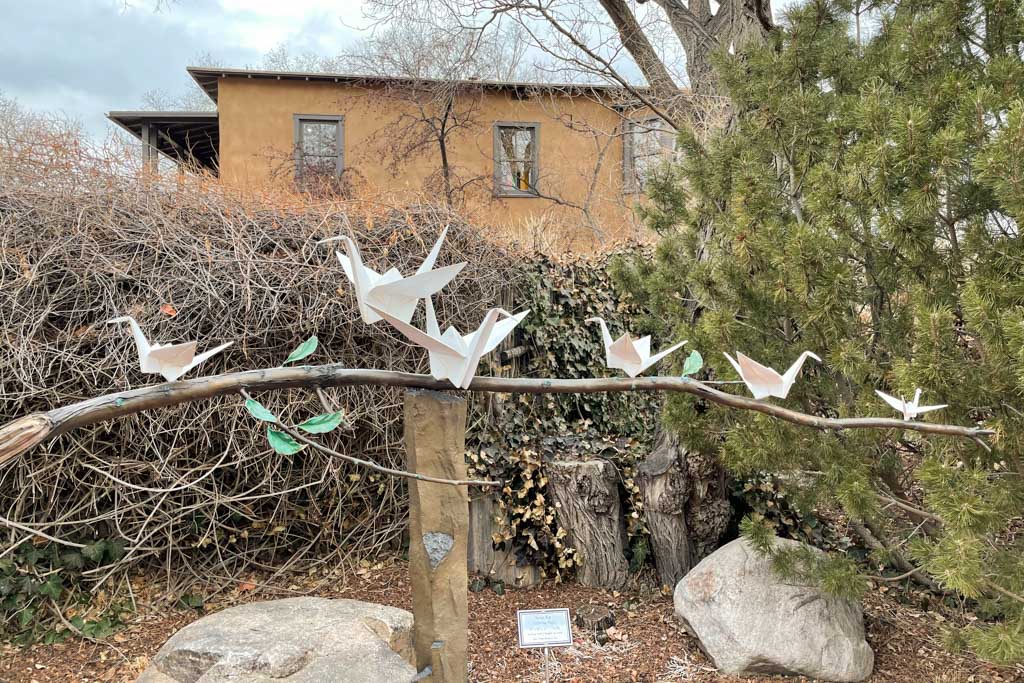 One of my favorite galleries was a visit to Kevin Box Studios to see origami castings. Kevin Box turns origami folds and details of delicate paper into museum-quality metal sculptures. His work is one of a kind. I hope to someday visit his property located on the original Turquoise Trail, an ancient trade route. Box Studio is located in a master planned property by the Frank Lloyd Wright School of Architecture.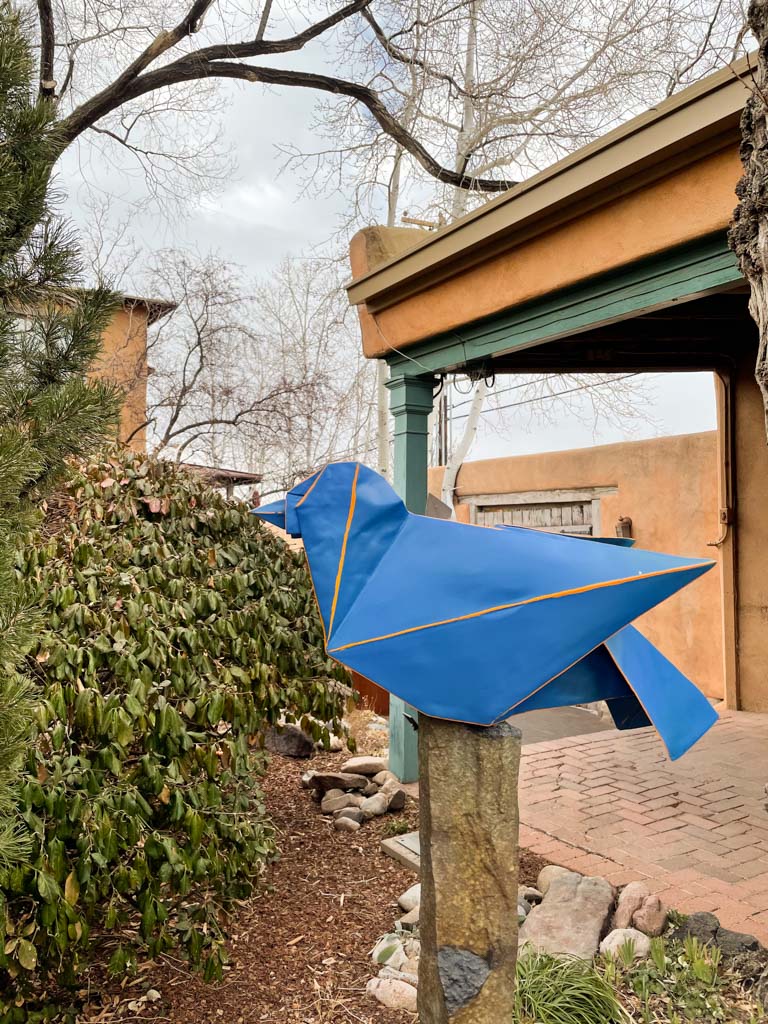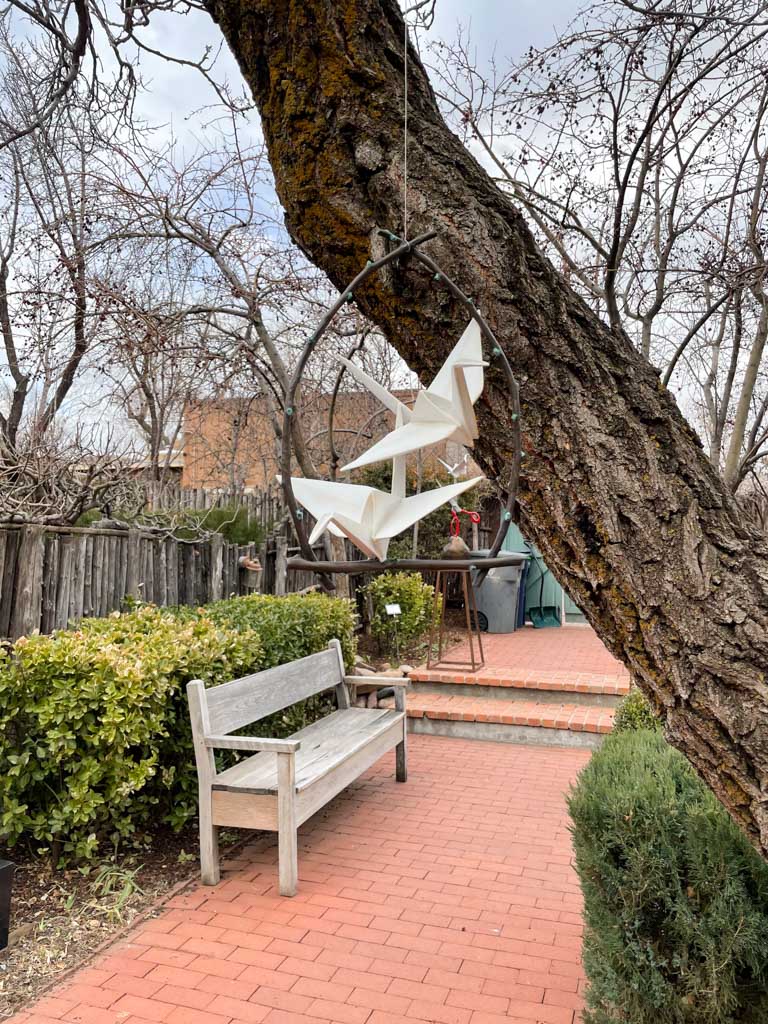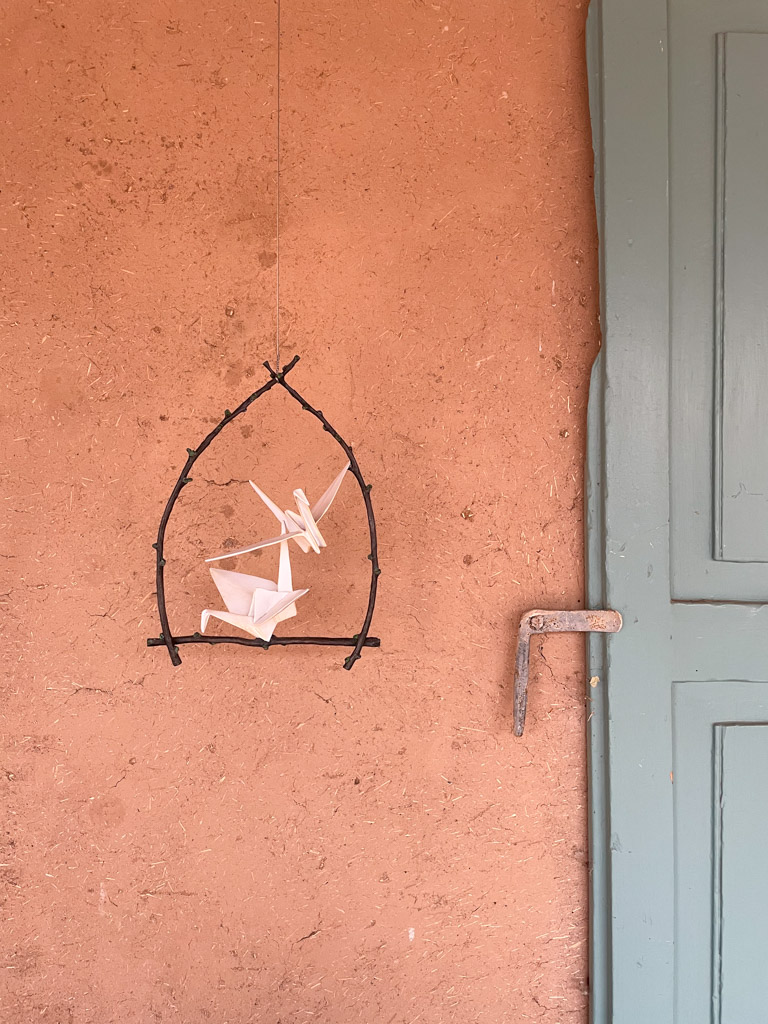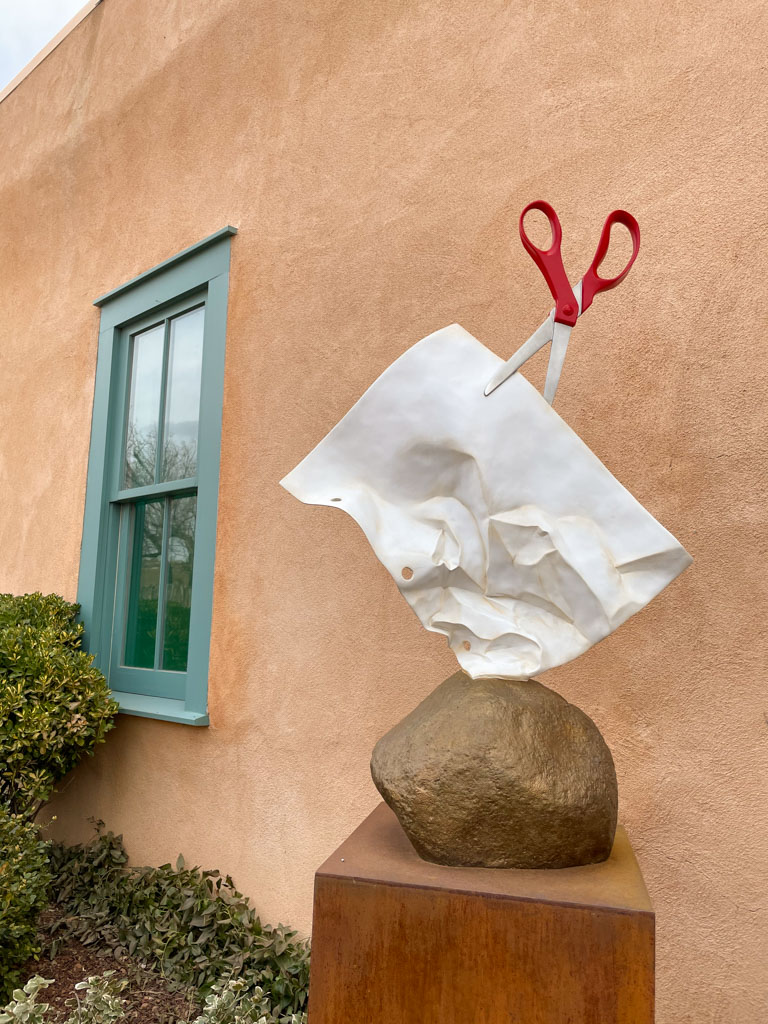 If all the gallery hopping got you hungry, stop at The Teahouse for some food or drinks. They have nice teas and a lovely patio for outdoor seating!
For more information on the galleries, restaurants and boutiques along Canyon Road (and upcoming special events), visit their website.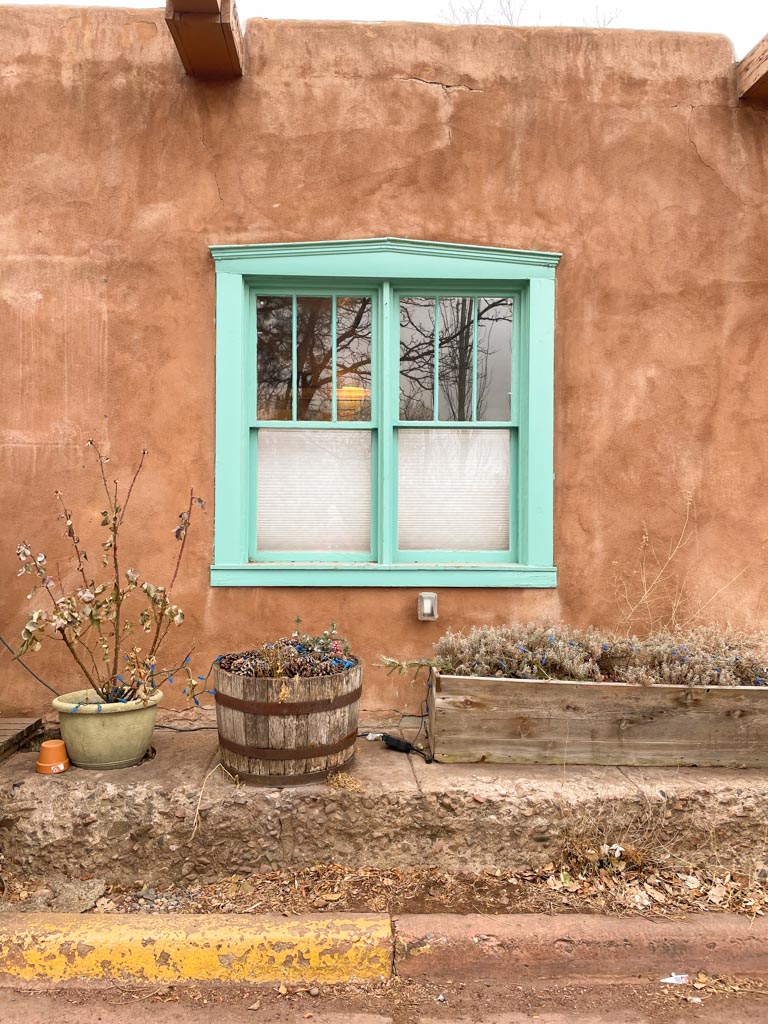 If you fall for the charm of this incredibly artsy street in Santa Fe, two other spots you might enjoy are Meow Wolf Santa Fe and the historic Railyard. Railyard is 13 acres of open space that have been developed to include a park, plaza and pedestrian promenade that hosts a variety of galleries and public art. The Railyard also hosts a weekly farmers market on Saturday.
Where to eat in Santa Fe
We only had a few meals in Santa Fe but they were memorable. Friends recommended these restaurants in Santa Fe:
Geronimo Restaurant: Eclectic American fare served amid elegant, minimalist decor in a circa-1756 adobe home. They have a Vegetarian Four Course Prix Fixe that has Wild Mushroom and Sherry Bisque Asparagus, Shiitake & Oyster Mushrooms and Fresh Meyer Lemon Crépe made with Lemon Curd, Crème Fraiche & Limoncello on the menu 🙂
Paper Dosa: Indian Fare
Compound Restaurant: Adobe styled and chef owned restaurant with garden patios
Cafe Pasqual's Santa Fe: Moles and pupusas are a must here and grilled rack of lamb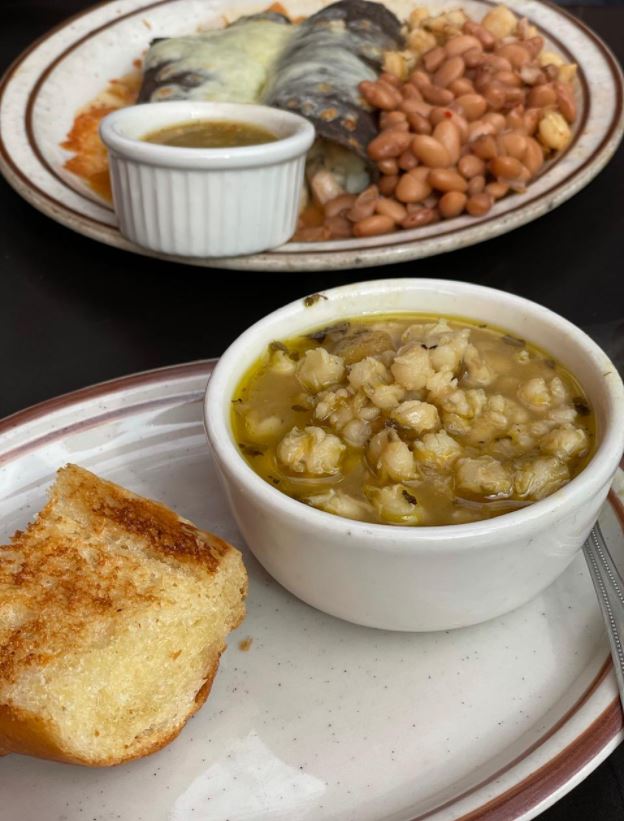 We loved The Shed where we had our lunch at their open patio. Ask for the sauce on the side if you can't handle spice. The state's flavorful red and green chiles are a staple feature on Santa Fe menus. Made from red or green chiles (which are the same type of pepper) the flavor just depends on when they are harvested. Ask for "Christmas-style," if you want to combine both red and green chile sauce.
Santa Fe also has a margarita trail, where you can sample margaritas at more than 45 different establishments in the region and collect stamps in a Santa Fe Margarita Trail smartphone app. You can redeem it for a prize.
If you go: Other Things to do in Santa Fe
Don't miss the museums mentioned above and a gallery stroll in Canyon Road. It offers a window into New Mexico's past and shows how the area is influenced by Native American and Spanish cultures and traditions.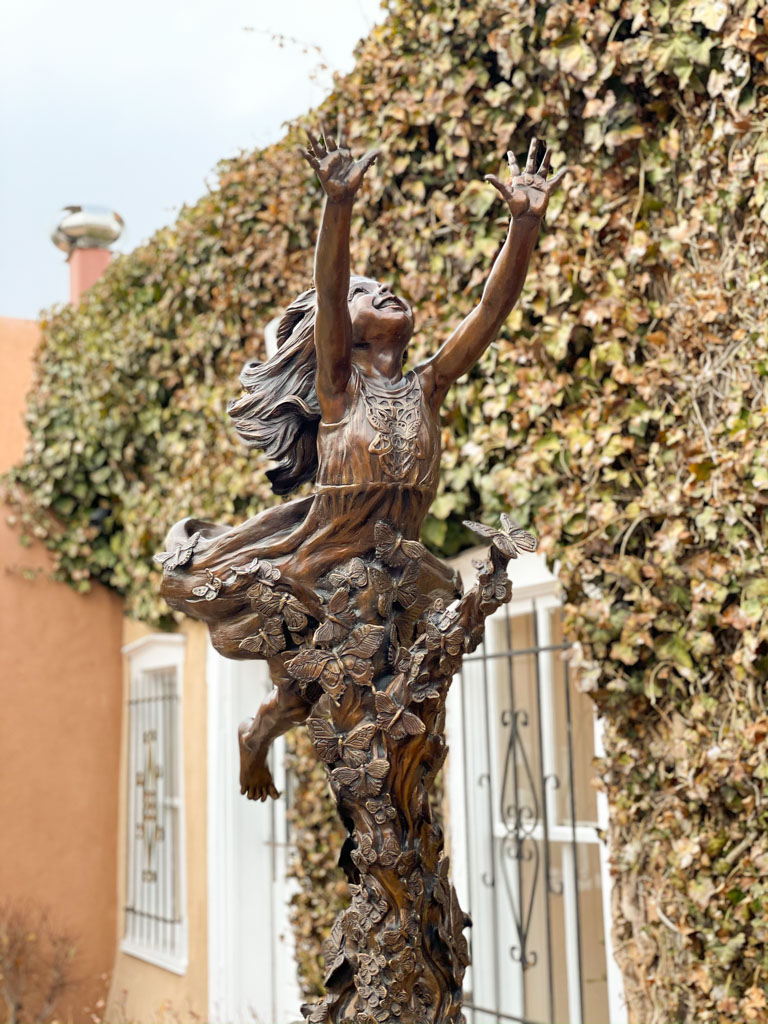 Plan a visit to Bandelier National Monument to see the historical exhibits and ancient cliff dwellings of the Pueblo Native Americans.
One of the popular day trips in Northern New Mexico is the Enchanted Circle Scenic Byway, the 84-mile trip takes you on a scenic drive through Wheeler Peak, Eagle Nest, Angel Fire, Taos, and Red River.
The Santa Fe Opera House is one of a kind venue, an open-air theater surrounded by the Sangre de Cristo and Jemez mountain ranges. The sunset is spectacular here which is why patrons arrive up to three hours prior to the show to tailgate in the parking lots with picnics, gourmet meals and drinks.
Looking for some unique New Mexico art and crafts? Many of the local artists from the surrounding Pueblos set up mini shops beneath The Palace of the Governors and sell handmade art, crafts and jewelry through the Palace's Native American Artisan Program. You can buy directly from local artists and support their work.
Santa Fe is a city for all seasons, but the holidays are filled with culture and holiday traditions as well as fresh falling snow. Santa Fe is just a short drive from the slopes of Ski Santa Fe, a great spot for some winter adventures.
Where to stay in Santa Fe
We loved Four Seasons Santa Fe, where we spent our weekend. You might also like the Loretto Inn in Santa Fe, New Mexico, or the Rosewood Inn of the Anasazi which is located closer to the city center.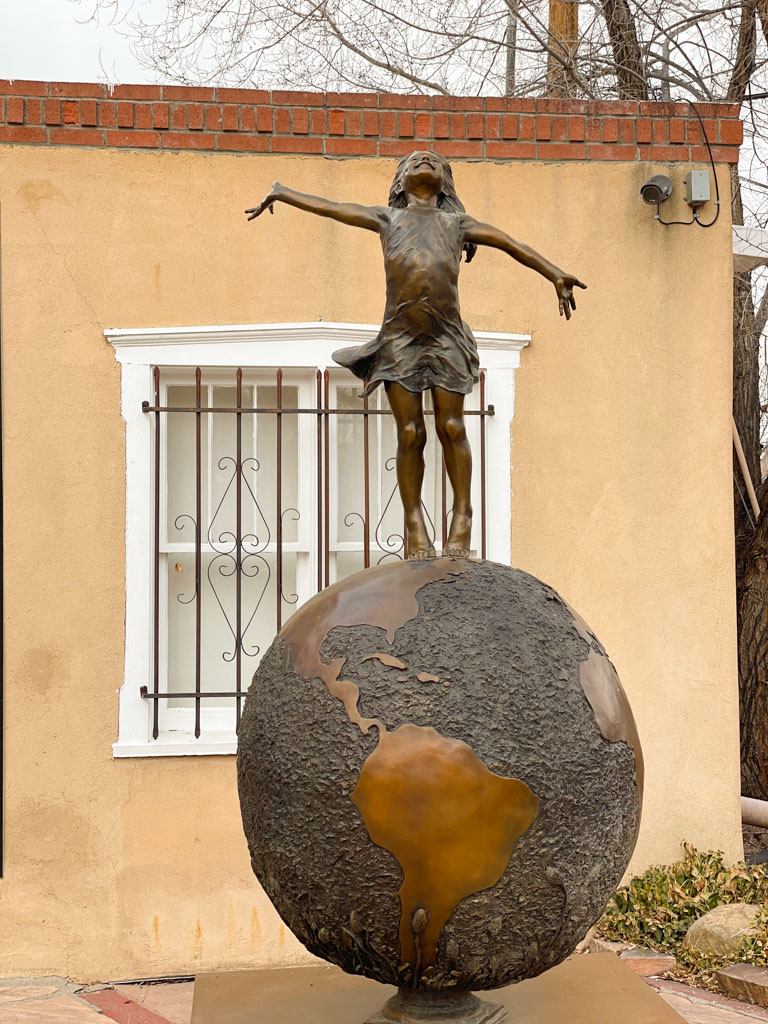 Until next time Santa Fe!
Santa Fe is an excellent place for art lovers to spend a weekend enjoying the many museums, galleries, and art experiences. Hope this post inspired you to plan your trip to #TheCityDifferent!
If you like Santa Fe, you might also like Sedona
PIN IT FOR LATER
Note: This post may contain affiliate links, partnership or sponsored content. If you purchase an item via one of these links, we may receive a small commission at no extra charge to you. But as always images and opinions are our own. For more information on our affiliates and privacy policy at Outside Suburbia see here.
CONNECT WITH US