Have you heard of this travel trend: Revenge Travel?! We had a little taste of it ourselves during our Texas to Colorado Road trip, an unforgettable drive that had us toss caution to the wind and go on a risky road trip during the recent snowmageddon. Plowing through snowed in highways and icy roads, we drove 15 hours and nearly 1000 miles towards the ski slopes of Colorado when snow decided to cause havoc in Texas.
I take to the open road. Healthy, free, the world before me

– Walt Whitman
I'm partial to spending summer in the mountains but whether you are visiting during Spring, Summer, Fall, or Winter, there is no shortage of adventures in Colorado. From Llama hikes, flyfishing, zipping around in alpine coasters in summer to skiing, snowmobiling and snowshoeing in winter the list of activities available in Colorado is endless.
With towering pine trees, snow-covered mountains, sleepy ski towns bustling with winter worshippers, there is so much to see and do during winter in Colorado. This Texas to Colorada road trip itinerary takes you through some of the cities, has detours ideas to National Parks and small towns. If you love long drives, open vistas, and views you will want to keep reading.
While we did this Texas to Colorado road trip in winter, it works great for spring or summer as well, in fact the drive might be less stressfull! I'm hoping to try a fall trip to Telluride someday.
But first, What is a Revenge Road trip?
Revenge travel is a phenomenon that travel experts and trend watchers are predicting will be seen a lot, once the caution around Covid-19 subsides – a trend where we will look at travel as a gift and travel more to make up for lost trips as restrictions ease. In other words, revenge travel is taking extra trips or splurging more on travel than you ordinarily would, all because you've been deprived of it for so long. Go big or Go home will be the travel theme soon and we are here for it!
Call it post-pandemic travel or revenge travel, it sounds ominous, but really revenge travel is much like the concept of revenge spending which happens when consumer spending explodes after a period of restrictions. Revenge Road Trips could very well be the first form and possibly preferred mode of travel as we emerge from lockdown. It insulates risk to a certain degree.
Texas to Colorado: Our Road trip Itinerary
We were crazy to drive 18 hours from Texas to Colorado when you can get there in under 3 hours by flight if you ask me. Then again Covid makes you do some crazy things! Yep, I'm chalking this revenge road trip to Covid induced craziness. And we were celebrating a special boy's 18th birthday… whose only wish was a ski trip with a couple of his close friends.
Our Texas to Colorado road trip itinerary took us from Dallas to Santa Fe, where we spent a weekend, and then through some treacherous roads and icy patches to Breckenridge. While our destination was the ski slopes in Breck, I'm including other stops that you can tackle or tumble through – trips that we have done before or a couple that is still on the travel wishlist that we haven't had the chance to tackle yet.
Texas to Colorado Road trip Ideas & Itinerary
We started our Texas to Colorado Road Trip in Dallas. If you are planning a winter road trip, make sure your Vehicle has the right tires if not rent one. Learn from our mistake – our BMW had performance tires and not really good on icy road – something we wish we had known before we embarked on our adventure.
Texas to Colorado Road trip Map
How to Use This Map: Use your fingers or computer mouse to zoom in on the details. Click the tab in the top left-hand corner of the map to view the layers (places and the driving route). You can click the icons on the map to get more information about each point of interest.

If you click the star next to the title of the map, this map will be added to your Google Maps account. To view it on your phone or computer, open Google Maps, click the menu button, go to "Your Places," click Maps, and you will see this map on the list.
Texas to Colorado Drive:
[3 Different Route options]
If you are crazy enough to drive this route during normal times, here are 3 different options. We started with the Cañon City route. But the road conditions were icy, and our car was skidding in the snow – at one point near Las Vegas, NM it went on a 360-degree spin and our hearts almost stopped. Luckily there was no other vehicle on the Highway.
Then came Ratón Pass, a 7,834 ft elevation mountain pass on the Colorado-New Mexico border located on the eastern side of the Sangre de Cristo Mountains between Trinidad, Colorado and Raton, New Mexico. With steady hands on the steering, we made it through…
We managed to make it to Cañon City and were 10 minutes into driving on CO-9 and had to stop and call for a tow truck. It was getting dark and we didn't want to attempt crossing the tricky Hoosier Pass at night. (More about it below).
So we drove back up to Cañon City and over some pizza, decided on the Denver route. It turned out to be a little longer (we reached our vacation home at 3 am, 5 hours later than what we had planned) but definitely safer!
Here are the different route options for your Texas to Colorado drive:
Cañon City, Colorado
Take Texas 121 TEXpress/Texas 183 TEXpress, US-287 N, Ranch to Market Rd 1061, US-385 N, … and CO-9 N from Cañon City through Hoosier Pass (drive through the small towns of Guffey, Hartsel, Fairplay, Alma) to Boreas Pass Rd in Breckenridge.
Canon City is a great stop for amazing family fun! Enjoy the amazing views at the Royal Gorge Bridge, get your adrenaline going at the whitewater rafting in Colorado, and tackle the tallest dunes in North America at Great Sand Dunes National Park, if you plan to stay a day or two.
Through Colorado Springs
Take Texas 121 TEXpress/Texas 183 TEXpress, US-287 N, Ranch to Market Rd 1061, US-385 N, … and I-25 N to Colorado Springs and CO-285 and CO-9 to Breckenridge.
Through Denver, Colorado
Take Texas 121 TEXpress/Texas 183 TEXpress, US-287 N, Ranch to Market Rd 1061, US-385 N, … and I-25 N to Denver and I-70 to Breckenridge.
Dallas to Denver Drive
The drive from Dallas to Denver should take around 12 to 13 hours if you didn't stop in Santa Fe as we did. If you want to break your journey, Amarillo is great for spending a night or two. Our friends did just that before meeting up with us in Raton. They loved this Airbnb they stayed at in Amarillo.
See how we spent our day in Santa Fe
Houston, Texas to Colorado Road Trip
We started our Texas to Colorada road trip from Dallas but if you are driving from south Texas and are looking for a stop along the way, then you can't go wrong with the twin cities of Dallas and Fort Worth. There is enough to keep you busy for a couple of days.
Houston
Houston needs no introduction, but if this is your first time, you must visit the Space Center Houston. The kids always enjoy the astronaut training where you get to visit the buildings on campus, with stops at the astronaut training facility and the Saturn V rocket. Also, make time for visiting Kemah Boardwalk for some fun rides and arcade games. The Houston Museum of Fine Arts and the Museum of Natural Science are good places to explore and exercise those brain cells. Galveston is just an hour away and you can easily add it as a day trip from Houston.
Dallas
Dallas has great museums, lakes and botanical gardens and in my humble opinion some of the most wonderful restaurants. We have some Michelin star-worthy restaurants in Dallas and we have our famous Tex-Mex and BBQ too.
See this post for some fun things to do in Dallas with kids or this one if you are on a Girls trip to Dallas.
Fort Worth
There is just so much to do in Fort Worth. From visiting the Stockyards to Sundance Square, there are plenty of experiences for the entire family. Kids will love the Fort Worth Museum of Science and History (fwmuseum.org). The world-renowned Kimbell Art Museum ( kimbellart.org) displays art from antiquity to modern times and the Fort Worth Modern Art Museum presents modern art in a gorgeous setting. Don't miss the Japanese gardens, it is one of the best places to see cherry blossoms in spring and fall colors in DFW.
Grapevine
Grapevine, Texas is a quaint town with a main street that is home to wine tasting rooms, one of a kind shops, galleries, a vintage railroad, all anchored by a Glockenspiel Clock Tower. Grapevine is considered the Christmas capital of Texas and a great place to visit during winter.
Amarillo
Amarillo is a great stop for a day or two. You can make your mark with spray paint at the famous Cadillac Ranch. Drive to nearby Palo Duro Canyon to see the Grand Canyon of Texas. Caprock Canyons State Park and Alibates Flint Quarries National Monument are not too far from Amarillo.
Austin to Aspen Road trip
If your road trip is taking you from Austin, Texas to Aspen or anywhere in Colorado then you will want to head to Amarillo, spend a night and then drive to your destination in Colorado. The drive will take about 18 hours.
From shopping on funky South Congress Avenue to stand-up paddleboarding on Lady Bird Lake and seeing live music, there is always plenty to do in the capital of Texas. Trendy eatries to funky food trucks, the Austin food scene is diverse and can't be missed!
While I can't really say I have spent much time in Aspen, I have been to Maroon Bells in Snowmass and love the hikes there especially in Spring when the aspen groves are beginning to turn green and there is a little dusting of snow on the mountains. Fall is spectacular as well when the trees put on a show with their crimson and golden hues.
Aspen, though is still on that travel wish list I mentioned earlier!
Dallas to Telluride Drive
The Dallas to Telluride drive is another popular road trip for Texans. You can get there in 15 hours if you don't stop. Or stop at Santa Fe or Albuquerque before driving through Durango to Telluride.

I will report back soon with details about Telluride 😉 Fingers crossed for a fall road trip!
Palo Duro Canyon State Park
Located in the Texas Panhandle, a little outside the town of Amarillo in Texas is Palo Duro Canyon State Park is a must-visit. Also called the Grand Canyon of Texas, the Palo Duro Canyon is the second largest canyon in the country. We are yet to make it here, it was closed due to the snow. Palo Duro Canyon State Park is rugged, beautiful and colorful. You can explore the canyon by foot, mountain bike, horse, or car. They have more than 30 miles of hiking trails in the park.
Caprock Canyons State Park
If you are spending a day in Amarillo, plan to visit Caprock Canyons State Park to see the bison roam the plains. Located approximately 100 miles southeast of Amarillo, this park is home to the Texas Bison herd, which is considered a keystone species within the prairie ecosystem.
See Other Texas State Parks we love and think you will too!
Capulin Volcano National Monument
At Capulin Volcano National Monument in New Mexico, you can explore an extinct cinder cone volcano. Part of the 8,000 square mile Raton-Clayton Volcanic Field, Capulin Volcano showcases the volcanic geology of northeastern New Mexico. You can drive up to the rim of the crater and even hike down into it. You can learn more about the area's history and geology at the Visitor Center.
The views are spectacular from the top of the volcanic rim, you can see 4 different states including Texas, New Mexico, Colorado, Oklahoma, and sometimes you can even see Kansas! It also has one of the darkest night skies in the country.
Colorado Springs
If you not rushing through the road trip, your next stop while driving to Denver from Texas should be Colorado Springs. This popular city is located on the eastern foothills of the Rocky Mountains. There are many adventures to be had here, plan 2 to 3 days in Colorado Springs.
Colorado Springs is famous for the stunning red sandstone formations at the Garden of the Gods park. 15 miles of trails, some as short as a half-mile long, take you through slabs of sandstone rocks that rise up to meet the sky. Stop by the Garden of the Gods Visitor & Nature Center to learn more about how the geological wonder formed.
Pikes National Forest is an easy drive from Colorado Springs where you can go hiking, fishing, camping, boating and cross-country skiing. Climb 143 steps to the top of the Devil's Head lookout for spectacular views or hike all the way up the 14,115-feet Pikes Peak mountain that inspired Katharine Lee Bates to write America the Beautiful. It is one of the 53 mountains in Colorado that achieves a height of 14,000 feet+ If hiking isn't your thing, you can always drive, bike, take the cog railway (currently closed) or shuttle up the mountain!
Denver
The mile high city offers a wide array of attractions from interactive museums, incredible zoos, and one of our son's favorite Baseball fields. There really is a lot of fun things to do in Denver with kids. There are green spaces and vintage ice cream shops to keep the little ones entertained, and plenty of things to do with teenagers in Denver as well — art museums and districts, unique book stores and historic shopping districts. How cool is this Blue Bear!
Hoosier Pass
The high elevation mountain pass is part of the Great Continental Divide and sits at an elevation of 12000-foot. Hoosier Pass runs for about 20 miles from Fairplay to Breckenridge.  It's a winding up and down road with some pretty sharp turns and switchbacks. The views of the Mosquito mountain range is just breathtaking! Located on the Continental Divide, this road is usually open all year long.
During winter storms, however, the road can be closed. It's traversable by all vehicles when the weather is good and visibility is clear. But is occasionally closed during winter storms (like the one we were driving through). 
Great Sand Dunes National Park
Great Sand Dunes National Park has some of the tallest dunes in the country. It is so unique! Surrounded by mountains, you will find an endless area of sand dunes stretching in every direction.
Sandboarding, sledding, and skiing are permitted anywhere on the dune field away from vegetated areas. From the main Dunes Parking Area, it's a minimum 0.7 mile (1km) hike to get to some of the small or medium-sized slopes. See the National Park's website for more details and gear rental info.
Rocky Mountains National Park
Rocky Mountains National Park is one of the most popular and favorite national parks in Colorada and the country. This highest-elevation national park has 355 miles of hiking trails, scenic driving routes, more than 50 lakes and streams for fishing, and teeming with wildlife. You can see elk, moose, and bighorn sheep if you are lucky.
The best way to explore Rocky Mountain National Park is by driving through the many scenic drives inside the park. The drive to Bear Lake is always a favorite! They are beautiful year-round! You are sure to fall in love with the wildflowers in summer or golden aspens in autumn and snow-covered mountain peaks in winter.
Make sure to stop at Estes Park that sits on the eastern edge of the Rocky Mountain National Park, the Big Thompson River runs right through the middle. Locals call it the gateway to the Rockies!
Breckenridge
Breckenridge's (frequent visitors and locals call it Breck) got some of the best views in North America and the best ski schools for beginners (both kids and adults). Prepare to be wowed as soon as you settle in for a ride on the Colorado SuperChair. From this high alpine perch, you get a great view of much of the Tenmile Range. Breckenridge Ski Resort's five peaks are nestled right in the middle of this Tenmile Range.
From small antique shops to souvenir shops there are plenty of restaurants, coffee shops and bars in the historic mining town center of Breckenridge. I may have got more ski jackets than I really needed. Did I mention I don't ski! But I did fall in love with the winter landscape and the snow-covered mountains of Colorado.
Vail
Vail village is bright and cheery with hanging flower baskets in summer. The rivers are filled with fishes, the hiking is good and from Ziplines to Adventure Courses to Mountain Coaster, options for adventures are endless on the Vail Mountain. We took a Llama to lunch one day and had a picnic, twirled and trapezed through a garden at the Betty Ford Alpine Gardens, the highest garden in the US! I loved our summer adventures in Vail!!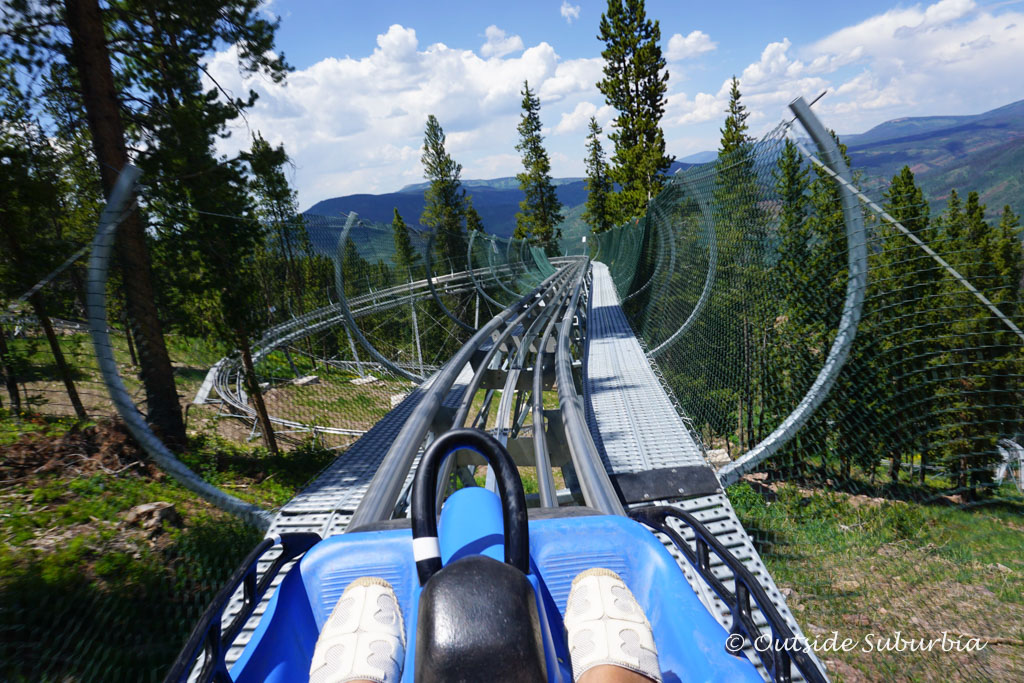 Vail village is chic and Après Ski is taken seriously, so come prepared with your outfits and accessories. Walking into the village, you might think you are in Switzerland or somewhere in the Alps – that is because Pete Siebert and Earl Eaton, the founding fathers of Vail modeled it after ski resorts in Austria. The cobbled stone walkways are heated so that the snow does not accumulate, pretty ingenious if you ask me!
See our Summer adventures in Vail
I hope you found this Texas to Colorado road trip Itinerary, ideas and travel inspiration helpful in planning your trip.
Travel Industry experts believe revenge travel is a good thing, and speculate that travelers will come to look at travel as a gift, traveling more to make up for lost trips as restrictions ease. Tell me, are you planning some revenge travel or road trips?
PIN IT FOR LATER
Note: This post may contain affiliate links, partnership or sponsored content. If you purchase an item via one of these links, we may receive a small commission at no extra charge to you. But as always images and opinions are our own. For more information on our affiliates and privacy policy at Outside Suburbia see here.
CONNECT WITH US