Planning a trip to the mountains this summer or fall? If you have been following us for a while you know we love escaping to the mountains in summer. We love spending summer in the mountains and have been to Vail, Whistler, Whitefish…. the Swiss Alps. With more than a handful on the wishlist like Telluride, Vermont, Canadian Rockies, Patagonia and the Italian Alps – we can't wait for our next Mountain Getaway! If you love the mountains and wondering how to pack all your essentials efficiently, here is our Mountain Getaway Packing List and tips.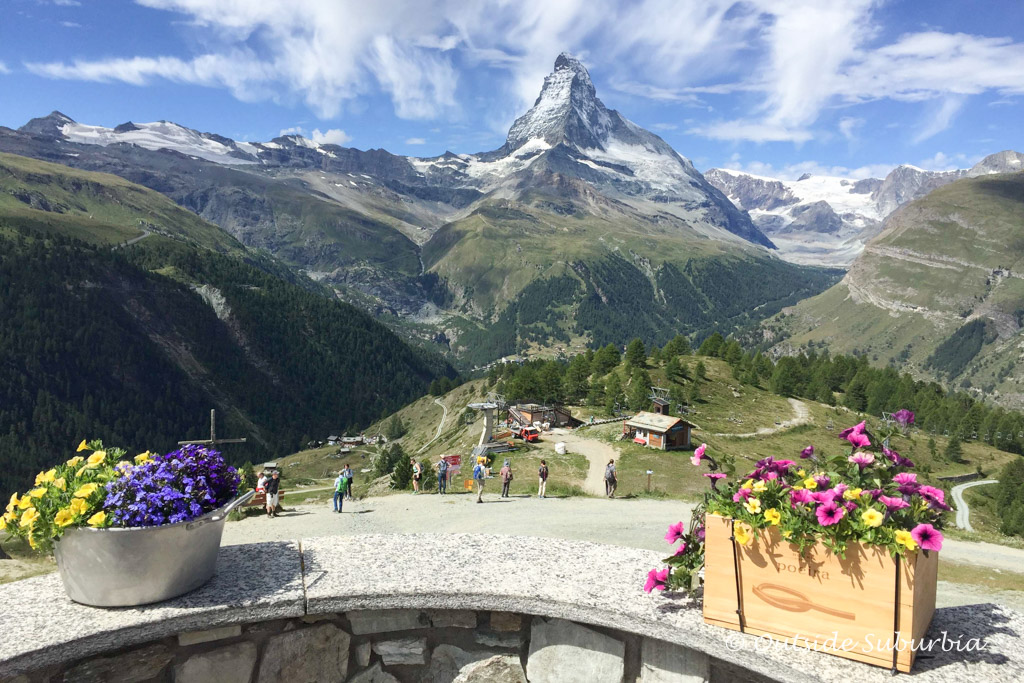 Mountain getaways help us escape suburbia life, we love that crisp mountain air, the snowcapped mountains, the hikes rather walks in nature. The weather is usually much cooler in the mountains and mountain activities also typically require special gear and clothing even if you are not a serious hiker or climber. Layering is the key. Most mountain towns are small, so they may not have everything you need and in your size if you forget to pack an important item.
A little planning always helps before you go on your Mountain Getaway, whether it is a week or weekend trip. We usually travel with just our carryon luggage, so packing right is important. Activities in the Mountains are endless, you will most likely start your day with hikes or mountain adventures and end the day with a nice dinner in town. The mountain towns always have a fun and vibrant arts and culture scene to check out as well which means pack one or two nice outfits.
Packing list for a Mountain Getaway
Make a list of the activities that you plan to do during your mountain getaway. Include any activities that require specific gear, such as hiking or skiing, along with those requiring special outfits and shoes, such as a dinner out in a mountain resort.
Plan for the weather
Check the current weather forecast in the area that you're traveling to and pack appropriate clothing for the conditions. You will need warm winter clothing for spring and winter trips, such as a snowsuit, parkas, jackets, sweaters, gloves and hats. If you are planning a fall or summer mountain trip, plan your clothing so that you can dress in layers. Layering examples include shorts, long pants, T-shirts, light sweaters and light jackets. Although during the day, it can get quite warm, nights and mornings are often cold. Bring at least three pairs of socks and underclothing, regardless of the season.
I like to pack my Uniqlo Heattech layers, one pair of jeans, a pair of hiking pants and yoga pants, thin sweaters, a nice hoodie and a couple of light jackets. I love this cozy fleece hoodie with a sweater-knit look and thumbholes – it is stylish and supremely comfortable. Choose jackets that are packable, waterproof and windproof.
The same goes for Mr. Suburbia – slacks, jeans and a pair of hiking pants and some quick-drying shirts. Lightweight hiking shirts with long sleeves that can be rolled up and buttoned and convertible pants with pant legs that zip off into shorts are his must-haves. Having multiple pairs of jeans or trousers in different shades of khaki isn't really necessary.
Pack 2 to 3 pairs of shoes and good socks
Pack just 2 to 3 pairs of shoes – one for hiking and outdoor activity, a pair of tennis shoes for day wear and one nice pair of shoes for dinners. Wear the heavier, bigger shoes on your trip while traveling to the mountains. Regardless of your activity plans, you will likely spend more time walking during your mountain trip – so having the tennis shoes is smarter than having two pairs of fancy heels. Bring extra shoelaces and bandaid for blisters, especially if you will be hiking. Stay away from cotton socks since cotton absorbs sweat, your feet can stay wet when hiking. These merino wool socks with light cushioning for impact absorption without added bulk amazing. I love shoes from Columbia that keeps me warm and is also waterproof.
Think versatile layers
Versatility applies to accessories, too. I love bringing a couple of scarfs. Adds a little color to the outfits. This luxe cashmere scarf is a nice item to pack for your mountain getaway. Bring a neutral scarf that can be used as a bathing suit cover-up, sarong, picnic blanket, satchel and head wrap for those bad hair days.
Hats and hiking poles
Don't forget hats! Summer or Winter, every season calls for a hat! It keeps your head warm in winter, the sun off your face in summer, and your head dry in rain. Hats are just as essential as hiking shoes!
I haven't used hiking poles yet but these lightweight trekking poles have great reviews. I will have to invest in some soon, the Trekking poles improves your balance and also helps alleviate pressure on both your spine and legs. You can't bring them in your carryon and probably have to check them in.
Roll your clothes
Roll your clothing instead of folding it. The smart travelers will vouch for this! Rolled clothing takes up less space in your luggage and rolled clothing doesn't wrinkle as much. While knit fabrics resist wrinkles, making them a suitable choice for travel also pack tops and shirts made of polyester, nylon and merino wool, which move moisture away from the body and also dries faster. Packing the clothes in packing cubes helps to keep them organized as well.
Bring sunscreen
Pack liquids, such as hair and skincare items that you need but don't forget to include sunscreen when you travel to the mountains. I like Supergoop and Neutrogena sunscreen sticks since they are easier to pack in a carryon and don't leak. When you are at higher altitudes regardless of the season, you are exposed to harsh rays of the sun, so always bring lip balm, sunscreen and sunglasses along with your other personal items.
Bring your medication and other essentials
Bring extras of any prescription medications or over the counter medicines that you need like Advil or Tylenol. Pack a copy of your prescriptions for medications and prescription glasses or contacts. It is always good to be prepared. Take it easy the first day and just enjoy the mountain town and the views. Give yourself a day to get acclimated to the elevation before going on strenuous activities and hikes.
Run a load of laundry at the lodge
Avoid overpacking. Unless you are going on an adventure that requires special gear, pack two main outfits for daily wear and one evening outfit for a summer mountain trip to the mountains. Also keep in mind that most of the cabins or lodges in the mountains are equipped with washers and dryers, so, more often than not, packing an outfit for every day of your stay isn't needed. You can do a load of laundry (pack these single load detergent packs or travel size ones that you can use for handwashing the clothes in a sink) while on vacation can save you a lot of packing hassle.
Rent the gear that you can't bring
If you are planning on a spring and winter ski mountain trip you DON'T have to buy or bring the gear. You can RENT them. You can choose companies like Kit Lender that will have you looking like a pro before stepping foot on the mountain.  You can rent insulated jackets, ski pants, helmet, goggles and gloves. Your rental will arrive via Fed Ex to the vacation rental and you ship it back to them after your mountain getaway. Just bring your own pair of socks, beanies, a quality base layer top and bottom and other things on the packing list for your mountain getaway.
Wondering what to wear on your ski trip, see this first time skier's guide.
PIN IT FOR LATER
Note: This post may contain affiliate links, partnership or sponsored content. If you purchase an item via one of these links, we may receive a small commission at no extra charge to you. But as always images and opinions are our own. For more information on our affiliates and privacy policy at Outside Suburbia see here.
Follow Outside Suburbia on
Instagram | Facebook | Twitter | Pinterest | Tripadvisor