When we were in Bora Bora, the ridiculously gorgeous atoll in French Polynesia we had the unique opportunity to visit the 'Forbidden' islet of Motu Tapu, which used to be the private beach of the Polynesian Queen Pomare IV. It was one of the most incredible experiences ever. Our very own French Polynesian Private Island – although for only a day… we had the entire island to ourselves! This little piece of paradise was a few minutes boat ride from the Hilton Bora Bora resort where we stayed at. An Exclusive Private Island Experience in Bora Bora!
When we arrived at this secret island, it literally was like stepping into your own screensaver! Surrounded by the mountains and powdery white sand beaches, waters in shades of blue that is only possible in this South pacific Seas and verdant trees for shade… We enjoyed our 'Day in Paradise' with a feet-in-the-sand gourmet lunch prepared on-site by the Hilton staff, lounged on the private white sand beach and snorkeled in the crystal blue water that was filled with bright color fishes! There was even a baby shark and a stingray that came to visit is right by the picnic table.
The meal was spectacular — from the lobster to the island specialty of Poisson Cru which is raw red tuna in coconut milk, I seldom eat fish but tried it a little and thought it was delicious. All prepared right on the small island by the crew who came along with us. We walked around the little beach, took some family pictures in our whites outfits. We changed into the swimsuits we brought along and enjoyed the day in the ultimate private island escape in Bora Bora… the images and memories forever etched in our minds.
Motu Tapu it is said to be the most photographed islet in the South Pacific, you can see why. p.s. I didn't alter or edit the pictures in any way, just some cropping, it is really this gorgeous!
Photo Diary of our Exclusive Private Island Escape in Bora Bora at Motu Tapu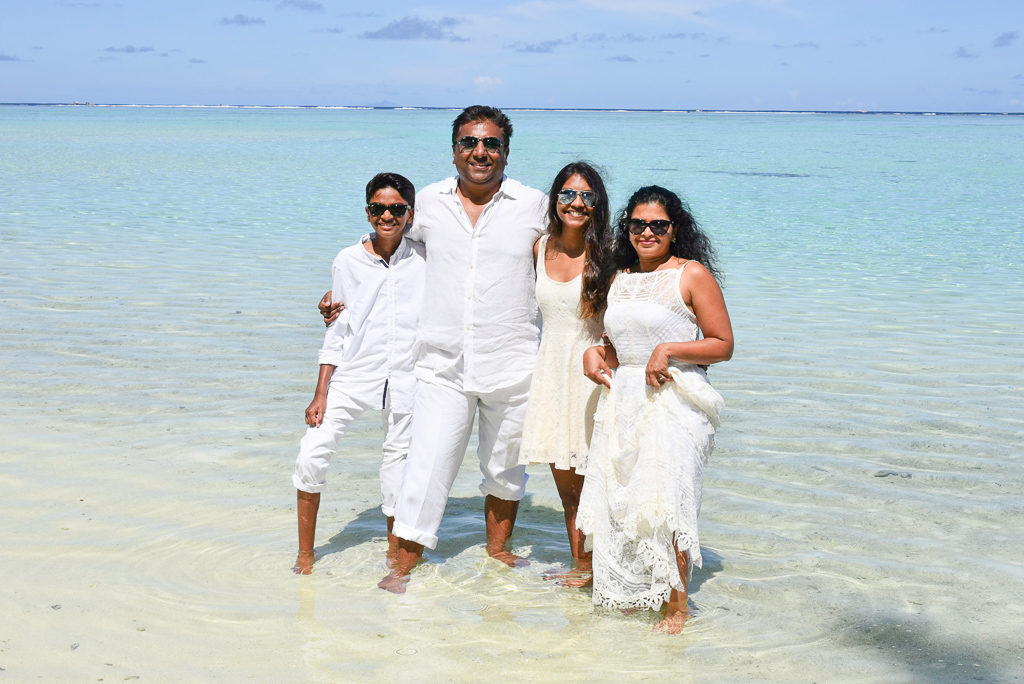 I hope you enjoyed the photo blog of Private Island Experience. You can book this experience through the Hilton Bora Bora resort.
Cheers!
Priya
PIN IT FOR LATER
Note: This post may contain affiliate links, partnership or sponsored content. If you purchase an item via one of these links, we may receive a small commission at no extra charge to you. But as always images and opinions are our own. For more information on our affiliates and privacy policy at Outside Suburbia see here.
CONNECT WITH US