Tuscany, in Central Italy with its capital of Florence has a rich artist and architectural heritage. Touted as the cradle of the Renaissance, Florence is one of Europe's great art cities. There is so much exquisite art and architecture, it's difficult to know where to start – from Giotto's frescoes, Michelangelo's David, canvases by Botticelli, Leonardo da Vinci and a whole host of other greats in the Uffizi Gallery. Here are our top things to do in Florence. If you are traveling with kids do the museum visits in bite-size portions so that they don't get burned. I find a bribe of gelato for good behavior always does the trick with little ones with limited attention span.
With so much to do, start with the top things to do in Florence
Visit the domed cathedral, Santa Mari del Fiore also known as Duomo built by Filippo Brunelleschi
Climb up the Campanile and visit the Baptistery buildings next to the Duomo
Check out the shops on Ponte Vecchio, the only bridge across the Arno in Florence until 1218
See the Michelangelo's David at Galleria dell Accademia
Admire Botticelli's famous The Birth of Venus in Uffizi Gallery
Don't miss the Piazza della Signoria with its copy of Michelangelo's David
Watch a sunset and soak in the great view of the city from Piazzale Michelangelo
Stroll around the Oltrarno quarter with its artisans' workshops
Drive through the wine country on a road trip to Siena and San Gimignano
No trip to Tuscany is complete without a day trip to Pisa – to Piazza dei Miracoli.
And of course eat in the many trattorias, gelaterias and wine bars as you can manage
What to eat in Florence
There is nothing better than tucking into bowls of fresh pasta in Tuscany, even a simple arrabbiata sauce is utter perfection with some house wine and fresh bread. We like to ask locals where there eat and follow the directions rather than eating near the major attractions which tend to cater to tourists.
Gelato is perfect for any time of the day, look for seasonal flavors and gelato made by hand using traditional recipes – they usually display artigianale proudly. Quality gelato is made using only the finest, freshest ingredients. No artificial colors or additives here and the color is key. Banana should be white like the fresh fruit (not bright yellow) and pistachio a light brown not green. Gelato should look authentic to the color of the original ingredients. Most wine bars allow kids, stop in for some house wine or limoncello – a lemon liqueur from Southern Italy.
Popular Florence Tours
Where to stay in Florence
From boutique hotels with amazing views like Villa La Vedetta and Relais Santa Croce to luxury hotels like Four Seasons Hotel Firenze housed in a magnificent Renaissance palazzo to other estates a short drive away from the city center, there are plenty of options. We think St.Regis Florence is perfect for families. It is a historic hotel designed by Brunelleschi, with a full service spa, great food and lots of amenities for families. Suites range from 50 to 200 square meters and come with butler service. Their Family Traditions program includes a cookie turndown service, kid-sized robes and slippers, complimentary meals for children, and a connecting room at half price. See other family-friendly properties here.
Photos from our Florence Trip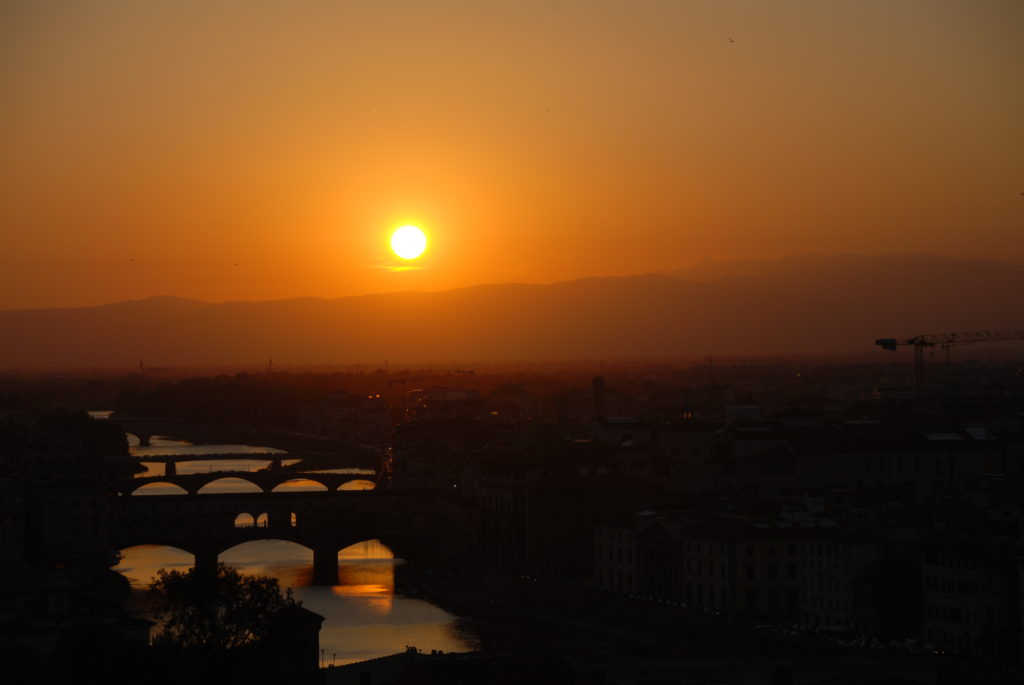 PIN IT FOR LATER
Note: This post may contain affiliate links, partnership or sponsored content. If you purchase an item via one of these links, we may receive a small commission at no extra charge to you. But as always images and opinions are our own. For more information on our affiliates and privacy policy at Outside Suburbia see here.
Follow Outside Suburbia on
Instagram | Facebook | Twitter | Pinterest | Tripadvisor