We had a free day in Florence and decided to go on a road trip to Tuscany. We rented a car for the day and drove through vine-clad hills of Tuscany through the beautiful wine country for a day trip and spent a day in Siena and San Gimignano without actually making it into any wineries.
The tall cypress trees, windy roads and postcard-worthy landscape of Tuscany kept us busy with our eyes glued to the window that we didn't miss the wine. We did stop at a couple of vineyards on the way – just for a couple of pictures and for the kids to see the grapes up close. Although we did make a note of the name of the wineries we passed by, some of these were ranked among the best in the world just so we can try the wines later.
A Road Trip in Tuscany
Tuscany is just one of a kind with its wealth of historic treasures, art, extraordinary wine region, its coastal areas and little picturesque villages. All that delicious pasta, olives, truffles… I could go on and on, there are really many reasons to visit Tuscany.
Driving through the countryside with rolling hills and landscape dotted with wineries is an experience not to be missed even if you can't stop at tasting rooms to taste some of the wines. We would need to go back, stop at the wineries along the way and make that drive into Liguria. It was a short road trip to Tuscany but it was fun nevertheless because, as with all road trips, it's all about the journey. It was a fun and memorable road trip through the Tuscan Hills.
A stop in San Gimignano
San Gimignano is a small walled medieval hill town in the province of Siena, Tuscany, north-central Italy. Known as the Town of Fine Towers, San Gimignano is famous for its medieval architecture, unique in the preservation of about a dozen of its tower houses, which, with its hilltop setting and encircling walls. 
The Historic Centre of San Gimignano is a UNESCO World Heritage Site. It was our first stop. The town also is known for the white wine, Vernaccia di San Gimignano, produced from the ancient variety of Vernaccia grape which is grown on the sandstone hillsides of the area. House wines anywhere in Italy, served out of the colorful ceramic little wine pitchers was so good too.  It took us about an hour from Florence to San Gimignano.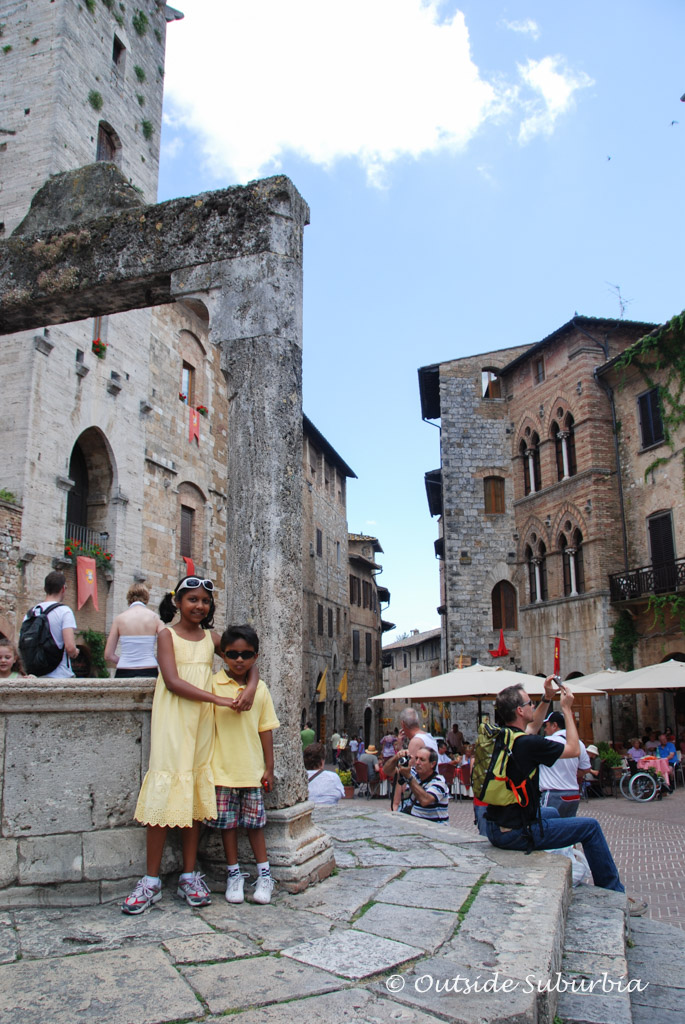 Kids enjoyed San Gimignano and the colorful flags. We had a nice lunch at the city center with Vernaccia Di San Gimignano and enjoyed some gelato later. I checked out their ceramic store and brought home a wine jug.
A day in Siena
After lunch and enjoying some gelato, we drove to Siena. We sat in the Piazza del Campo which is regarded as one of Europes greatest medieval square marveling and taking in the beauty and architecture.
Siena is pretty compact and can be easily visited in a day. After being there, I suggest spending at least a night to enjoy the sunset and a nice dinner in town. Most people(like us) visit Siena as a day trip from Florence. If you have just one day in Siena you can still visit all the sites. Start with a visit to the Duomo, wander around in the historic old town, climb up the Torre del Mangia for one of the best views in all of Italy.
You can't miss Torre del Mangia, the tower offers one of the best views over Siena. Make time to climb up to see views of the Piazza del Campo and the surrounding area.
The Palio di Siena (known locally simply as Il Palio) is a horse race that is held twice each year, on July 2 and August 16, in Siena. Ten horses and riders, bareback and dressed in the appropriate colors, represent ten of the seventeen contrade, or city wards.
The race itself, in which the jockeys ride bareback, circles the Piazza del Campo, on which a thick layer of dirt has been laid, three times and usually lasts no more than 90 seconds. It is common for a few of the jockeys to be thrown off their horses while making the treacherous turns in the piazza, and it is usual to see unmounted horses finishing the race without their jockeys.
Siena Cathedral is beautiful with ornate facades, mosaics and white and black striped marble. You will find works of art by Bernini, Michelangelo Giovanni and Donatello inside. It is an amazing example of Renaissance art. Visit the Biblioteca Piccolomini (Piccolomini Library) filled with frescoes, Piccolomini Library, Crypt, Baptistry, Beneath the Cathedral and Gate of Heaven.
The Cathedral recently opened its door to the very top of the building. On the "Gate of Heaven" tour you can visit a series of rooms that were never before open to the general public. On reaching the area above the star-spangled vaults, you can walk above the nave and admire a series of panoramic views both inside and outside the Cathedral.
See more details about hours and ticket information here. Get The Porta del Cielo ticket if you want to see the Gate to Heaven or The "Opa Si" Pass if you just want to visit the Duomo and other parts of this magnificent church in Siena.
D pretend to ride his little Ferrari car we got at the Ferrari store in Rome, around the medieval square. We then headed back to Florence enjoying the panoramic countryside as the sun started to dip on what was a gorgeous day in Tuscany.
We hope to go back to Italy and Tuscany for a longer vacation someday to stay in a Tuscan villa and explore Umbria at a much slower pace. I would love to go when the sunflowers are in bloom. If you have seen my profile picture you know how crazy I am about sunflowers. Driving through the Tuscan countryside and visiting Montepulciano and Pienza is on my bucket list!
Popular Tours to Siena & San Gimignano
Have you been to Tuscany, Tell us your experience of this beautiful region of Italy! We would love to go back and spend more time.
PIN IT FOR LATER
Note: This post may contain affiliate links, partnership or sponsored content. If you purchase an item via one of these links, we may receive a small commission at no extra charge to you. But as always images and opinions are our own. For more information on our affiliates and privacy policy at Outside Suburbia see here.
CONNECT WITH US