Culture lovers have limitless museums and exhibitions to explore this year when visiting Madrid. From the classic visits to El Prado Museum and The Reina Sofia Museum to the lesser-known artist homes like the Sorolla and Cerralbo museums, travelers can dive deep into Spanish history through art. Read on to discover lesser-known museums, exhibitions, and galleries in Madrid.
Art Museums & Galleries in Madrid for Culture Lovers
Madrid is known for its incredible museums with extensive artworks by some of Spain's most influential artists like Picasso, Velazquez, El Greco, etc. While most travelers plan to visit some of the Spanish capital's best-known museums like the Prado Museum, the Reina Sofia Museum, and the Thyssen-Bornemisza Museum, there are many more houses-turned museums and exhibitions worth visiting for anyone looking to delve further into Spanish culture.
Sorolla Museum
The Sorolla Museum, one of Madrid's most important house-museums, is set in the former family home of Joaquin Sorolla, otherwise known as the "Master of Light" for his iridescent canvasses. One of the best-preserved house-museums of an artist in Europe, the Sorolla Museum successfully retained the home's original atmosphere, while housing Sorolla's largest collection of works. Situated in the Chamberi neighborhood, this family home is where Sorolla lived from 1911 until his death in 1923, when it was donated to the Spanish government by his widow with the condition that it be turned into a museum to honor her late husband.
In the museum, which opened ten years later, travelers will see the house's original décor, over 1,200 of Sorolla's paintings and drawings, and the art pieces he collected throughout his lifetime including sculptures, ceramics, traditional clothes and jewelry, letters, and photographs.
Cerralbo Museum
Once home to the 17th Marquis of Cerralbo, this mansion-turned-museum next to the Plaza de España showcases a stunning display of 19th century opulence. Visitors to this lesser known, yet influential museum are transported to the life of aristocracy through the Neo-Baroque and Rococo design elements that adorn the palace. The Marquis of Cerralbo donated his home to the Spanish nation in order to keep his collections together, resulting in the Cerralbo Museum, which is made up of over 50,000 objects of grandeur for travelers to gaze at, including paintings, sculptures, ceramics, weapons, and much more.
Lázaro Galdiano Foundation Museum
Located in a stately mansion in the Salamanca neighborhood, the Lázaro Galdiano Museum houses an exquisite collection of 4,820 artworks, divided across four floors to enhance visitors' experiences while they discover the museum's masterpieces. This museum was once home to José Lázaro Galdiano, a clever businessman and renowned publisher with a large art collection and a great love for books.
During his lifetime, Lázaro Galdiano was known for hosting literary gatherings, with some of Spain's most influential writers like the prominent essayist, philosopher, and poet, Miguel de Unamuno. At this museum, visitors will find paintings by some of the most celebrated artists of their time including, Goya and El Greco.
Don't miss: Hieronymus Bosch's St. John the Baptist in Meditation, Goya's Witches' Sabbath
Centro de Arte de Reina Sofía: Contemporary Art Museum
Opened by Queen Sofía in 1986, the Centro de Arte de Reina Sofía is Madrid's avant-garde center for contemporary art. The sleek modern building was created by the architect Antonio Fernández Alba and has features that recall the Pompidou Center in Paris, especially the three glass towers that house the elevators on the outside of the building. There is also a lovely garden in the inner courtyard filled with sculptures.
The museum represents Spanish contemporary art with a collection that includes masterpieces by Juan Miró, Pablo Picasso, and Salvador Dalí.
Prado Museum
Prado Museum is located in the heart of Madrid and if you are an art lover you can't miss it. Inaugurated in 1819, Prado Museum is the home to more than 7,000 paintings and is one of the places you must visit in Madrid. The world-class Prado Museum displays an endless array of masterpieces created during the Golden Age of Spain. The museum is housed in an 18th-century Royal Palace that rivals the palace of Versailles.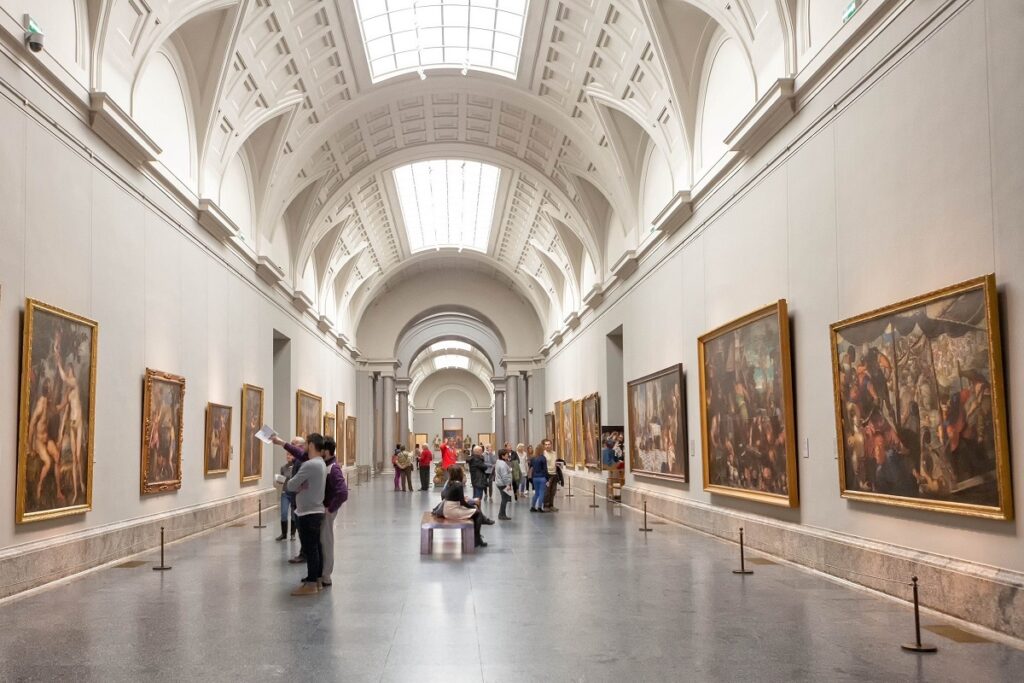 Thyssen-Bornemisza National Museum
The Thyssen-Bornemisza National Museum is the public institution that houses in the Villahermosa Palace one of the most important pictorial collections in the world with almost 900 works of art collected over seven decades by the Thyssen-Bornemisza family. The Spanish State acquired ownership of the Collection in 1993, thus giving rise to the Paseo del Prado, Triangle of Art in Madrid.
The Prado, the Reina Sofía, and the Thyssen-Bornemisza, three of Madrid's main museums, are all on a great boulevard with gardens and fountains created in the 18th century, popularly known as the Art Walk or Golden Triangle of Art. It's home to works by universal great masters, from Velázquez, Goya, Picasso and Dalí to Van Gogh, Hopper and Joan Miró.
You can download this Essential Art Walk app to learn more about 24 great masterpieces they hold between the 3 museums. A Do it yourself tour of Art in Madrid.
Spanish Masterpieces from The Frick Collection
Until July 2023, Madrid's Prado Museum welcomes New York's iconic, The Frick Collection, and will house nine emblematic works by some of the country's most influential artists: Velazquez, El Greco, Murillo and Goya. Henry Clay Frick was an American businessman who became one of the protagonists in the history of art collecting when he moved to New York in 1905 and built a neo-Renaissance palace on Fifth Avenue, which he filled with hundreds of masterpieces of European art from the Modern and Early Contemporary Ages. His home would later open its doors as a museum in 1935, housing Spanish gems like "The Expulsion of the Merchants from the Temple," by El Greco.
For more information on these museums and many more, visit www.esmadrid.com/en
Photos courtesy of ESMADRID.com
PIN IT FOR LATER
Note: This post may contain affiliate links, partnership or sponsored content. If you purchase an item via one of these links, we may receive a small commission at no extra charge to you. But as always images and opinions are our own. For more information on our affiliates and privacy policy at Outside Suburbia see here.
CONNECT WITH US