I love finding Flower Fields and visiting Farms close to home near Dallas and when we travel. Whether it is a restaurant with a Farm in Chennai, an Organic Farm in Cabo, or a Tomato Greenhouse in Friðheimar, South Iceland, seeing where your food comes from and frolicking among rows of colorful blooms is my idea of fun.
We have lived in the suburbs of Dallas for over 20 years and made many memories and weekend trips to farms and flower spots in the DFW area – from blueberry picking to some of the beautiful bluebonnets trails! The photo above is from nearly 15 years ago!
See this post for a few inspiring Spring & Flower Quotes
Farms near Dallas where you can Pick you own Produce
Skip the produce aisle and make your way to these farms near Dallas to pick your own apples, blueberries, strawberries pumpkins, or toppings for your pizza. When the kids were little we used to visit the farms to play with the little farm animals, cuddle with goats, and pick berries. We would come home with our tummies full of berries (hands up if you are guilty of munching on a few before it makes to the basket), freshly made blueberry pies, and homemade lemonade. I rounded up a few Texas farms near Dallas where the farmers open their doors and share their bounty and hard work.
Blueberry Hill Farm in Edom
Located about 20 miles west of Tyler, this is one of our favorite blueberry farms near Dallas we have visited. You can pick organically grown blueberries, raspberries, and blackberries in the buckets that are provided. Once you bring the baskets in, they are weighed and (at the time of this post) Blueberries cost $2.95 per pound.
There is a cute red barn house with a country store and tables outside where you enjoy some blueberry lemonade and blueberry pie from the bakery. Check their website for blueberry recipes like the blueberry cobbler, blueberry pound cake and blueberry muffins. The berry picking season usually begins Memorial Day weekend and lasts through mid July. During the season the farm is open seven days a week from 7am to 5pm.
10268 FM 314, Edom, TX 75756
Blase Family Farm near Dallas
For a farm visit closer to Dallas, head over to Blase Family Farm in Rockwall. Mini buckets are provided for the little ones, or you can bring your own basket if you like. The farm follows organic practices and has shaded picnic tables for a perfect day of picking and snacking. Jill Blase, owner of Blase Family Farm makes blueberry popsicles from scratch that are available for purchase.
This farm near Dallas offers pick-your-own blueberries that usually go from the end of May until the beginning of July, and a pumpkin patch during October.
1232 E Fork Rd, Rockwall, TX 75087
Pick your Strawberries at this farm near Dallas
Chris and Kylie Demases's Pecan Creek Strawberry Farm in Pilot Point is a short drive from Dallas where you can pick your own berries. Their family coming from a long family tradition of farming. The peak season for strawberries starts in April and runs till the end of May. Hours are on Mondays, Wednesdays and Saturdays from 10 a.m. until they sell out. Check their social media page for field updates before heading there.
12141 Foutch Rd, Pilot Point, TX 76258
Strawberry picking at Storm Farms in Arlington
Storm Farms in Arlington is another place to go for Strawberry picking. Beyond strawberry picking, they also have watermelons in summer, pumpkins during Fall. Check their Facebook page or website before heading out.
Storm Farms usually open Memorial day. You pay by the pound, which is about $8 per pound. Around the same time as strawberry season, you can also pick tulips until the first weekend in May for only $2 a stem. During summer watermelons are available and come Christmas, you can get your holiday wreaths and trees at this farm in DFW.
Fall is the time for fall gourds and pumpkins! From the last weekend in September until Halloween, you can find pumpkins at different sizes and shapes at Storm Farms.
3010 South Bowen Rd. Arlington, TX 76016

Pick Peaches at Ham Orchards in Terrell
Ham Orchards consists of 100 acres containing five orchards with approximately 10,000 peach trees and a few additional fruit trees. Over 30 varieties of peaches are harvested mid-May through mid-August. Perfect place to go Peach picking near Dallas and don't forget to try their amazing ice cream and peach cobbler. It is considered one of the best in Texas!
Peach trees aren't usually very tall, and the branches spread which makes the peaches easy to pick. They also have two blackberry patches. One is located behind the Farm Market Store and open to the public for pick your own during blackberry harvesting season.
The traditional freestone peach varieties peak late June and early July, but it is subject to change. Check Ham Orchards before you make the trip. Bring your cooler if you want to bring home their pre-packaged ice cream. The store is open Monday through Saturday from 9-5 during the season.
11939 County Road 309, Terrell, Texas 75161
Jenkins Farms Peach Orchard
Jenkins Farms Peach Orchard is another spot for peach picking near Dallas. This peach farm is located near Bonham, TX about 1.5 hours north of the metroplex. Call ahead ((903) 583-2220) or check on their Facebook page to make sure what is in season.
The farm is located 10 miles North of Bonham, TX on Hwy 78 to Mulberry FM 274 left about 1.5 miles on the right watch for sign. Peaches ripen end of May-July at this pick your own peach farm. The farm has over 1200 trees that are mostly peach, but also have some pear, nectarines, plum, and apple trees. They also have a few persimmons, pomegranates, and apricots.
Bonton Farms, an urban farm in Dallas
What started as a mission to restore lives, create jobs and give hope to a once forgotten and neglected neighborhood is now an urban farm. It houses free-range chickens, goats, turkeys, rabbits and beehives that provide an abundance of fresh eggs, milk and honey along with a variety of produce.
While you can't pick your produce you can walk the farm or participate in a free farm tour and also visit the Farmers Market, Market Cafe, and Coffee House to sample some farm to table goodies.
6915 Bexar St, Dallas, TX 75215
Pure Land Farm in McKinney
In a 28 acre lot in McKinney, Texas, the father-daughter farmer duo Jack and Megan Neubauer, run Pure Land Farm. They started the farm together and went from corporate jobs to full-time farming in 2012. You can pick your own vegetables at this DFW farm – everything from peppers, okra, carrots, onions, garlic, greens and radishes. They even have blackberries during the season.
Pure Land does not use synthetic pesticides, herbicides, fertilizers, or other additives. Sign up online and when you arrive to pick, you check in at the silver '68 Airstream trailer. Pick up your basket, then go collect your harvest. Pay for what you pick. Picking starts from 9 a.m. to noon every Wednesday through Sunday. Get more details and directions on their Facebook page or website at purelandorganic.com.
7505 County Road 201, McKinney TX
Delaney Vineyards in Grapevine
If you are looking to visit vineyards near Dallas there are a few of them in and around Dallas. Delaney Vineyards is one of my favorites. We visited a while back when they used to do their yearly grape harvest in August.
This winery facility, a replica of an eighteenth century french chateau is a great venue for special events and weddings.
Few other wineries near Dallas:
Kiepersol Winery is about 2 hours away near Tyler
Eden Hill Winery & Vineyards in Celina
Hidden Hangar Winery in Denison
San Martino Winery in Rockwall
Sugar Ridge Winery & Bistro in Bristol near Ennis
Lavon Farms in Plano
Lavon Farms, located in Plano, Texas, is owned by the Moore family known for their high quality raw, unpasteurized Jersey/Guernsey whole milk. Make an appointment before stopping in at 5:30pm on Monday, Tuesday, Wednesday for a walking tour of the farm. The 30-minute tour consists of photo ops with the heifers and a demonstration in the milking parlor, where you can learn about the milking process. The tour costs $3 per person.
Lavon Farms' raw milk is sold by the gallon ($10) along with various cheeses, unsalted butter, farm fresh eggs and ghee can be found at their farm store.
3721 Jupiter Rd, Plano, TX 75074
Flower fields near Dallas
Nothing makes me happier than walking in fields covered with sunflowers, bluebonnets, tulips, or lavenders, wildflowers or any type of flowers really! Some of my best memories are the ones where we went chasing after butterfiles and blooms.
Bluebonnet Fields in and around Dallas
For Texans, the best place for spring family portraits are among bluebonnets. Ennis is an hour-long drive from Dallas, is the best place to find them.
See our most recent visit to the Ennis Bluebonnet Trails
Lavender Field in Gainesville, Texas
Lavender Ridge Farms is located 8 miles east of Gainesville and about an hour drive from Dallas. The drive takes you through the countryside and open skies that we Texans love. Originally a strawberry and melon farm in the 1920s & 1930s, Lavender Ridge Farms opened in 2006 as a lavender, cut-flower, and herb farm. Run by siblings Jerry Ware and Jane Dane, the land here has been in the family for over 150 years and will be for many years to come. Apart from the lavender they also have a variety of perennials and lots of birds and hummingbirds visiting.
See my visit to this Lavender field in Texas
Tulip Field Near Dallas
Looking for a tulip field near Dallas where you can see rows after rows of colorful tulips? then Texas Tulip Farm in Pilot Point is your place!
Set on a farm only 45 minutes drive from Dallas, the pictures looked like a mini getaway to the tulip fields of Holland. For a minimum entrance fee and $2.50 a stem, you get to pick the tulips you want in a cute basket. Then you pay for the tulips and the staff puts them in gel and wraps them beautiful to take home and enjoy. Texas Tulips has brought the joy of Holland tulips right here to Texas!
See our visit to the Texas Tulip Field
Sunflower Fields near Dallas
How far do you drive to see sunflowers? It is a silly question, I know… but whether you want to visit sunflower fields for the 'gram or do it just because the cheery yellow blooms make you happy… in my books, the miles don't matter, the memories do! We once drove several hours in Provence to find lavender and sunflower blooms – one of my best travel memory EVER!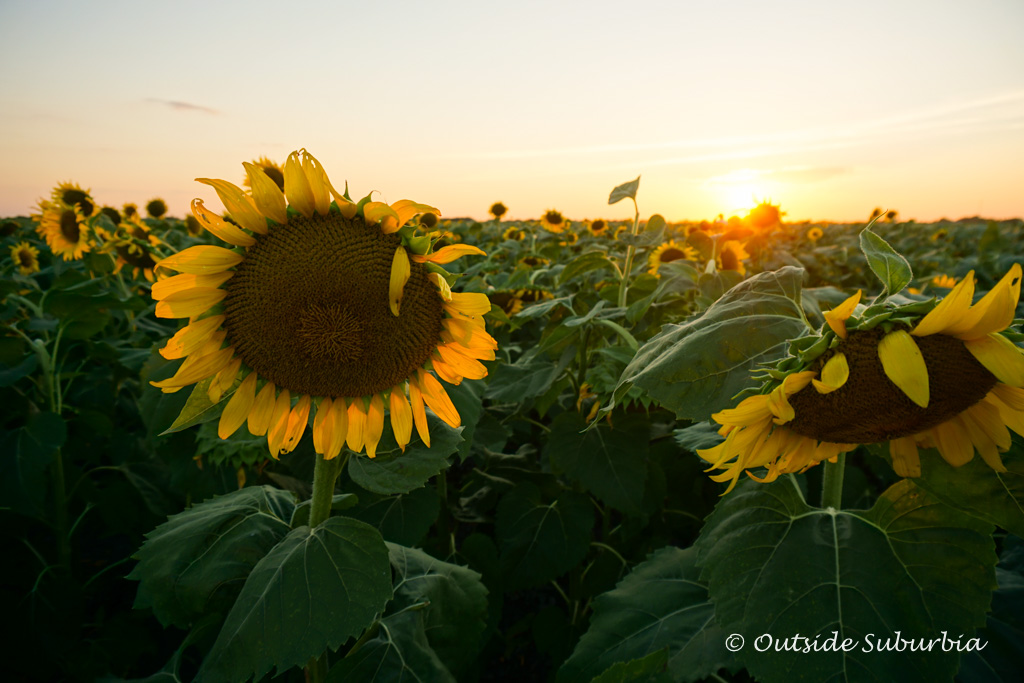 Here are a few places near Dallas where you can find sunflower fields:
About an hour south of Dallas in Hillsboro along Highway 35, you'll find the sunflower field at this location: 32°04'39.5″N 97°06'18.1″W. It is right off the highway, so you just park on the shoulder and take a photo in front of the rows and rows of flowers
You can find a couple of sunflower fields right off of the highway in Ennis along Hwy 287, north of the Texas Motorplex.
And the sunflower field closed to Dallas and the suburbs is on Fiddlers Road in Whitewright, TX. The sunflower photos here are from this field near Dallas, about a 45 minute drive away.
These are private farms, be respectful of the flowers and crops. We visited 2nd week of July when the sunflowers were in full blomm.
Wild Berry Farm
While most sunflower fields around Dallas are found along the highways, there is one place where you can pick your own blooms. At Wild Berry Farms in Sadler, TX, about an hour north of Dallas, you can pick your sunflower stem for $2. There is a $5 entrance fee.
Their sunflowers season is usually in June/July and then again in September/October, but make sure to check their site before visiting.
They also have berries, seasonal veggetables, pumpkins in fall and other farm animals on-site that kids can pet.
Yesterland Farm in Canton
Join this farm for Butterfly Releases, Flower Fields, Amazement Rides, Animal Town, Spring Photo-Ops. Come mid-September, Yesterland Farm in Canton has sunflowers during their opening weekend! While they don't mention it specifically on their website, their Instagram usually has updates on the sunflowers!
Sustainable Flowers grow locally in a Dallas Farm
Sarah Jo with the help of her husband Matt, runs Everbloom Fields an urban flower farm located in the Dallas-Ft.Worth area. While you can't really visit their small farm you can support them by buying from their beautiful bouquets at the Farmers Market. Small in scale but big in heart, their offer seasonal, and sustainably grown flowers to the community. Grown on half-acre field behind a 100 year old farmhouse just south of Dallas, the family grows an impressive variety of heirloom and native flowers. You can also subscribe to get seasonal flowers!
Other Gardens in Dallas
If manicured gardens are what you are looking for, here are a few in DFW area that you might like:
Dallas Arboretum
This beautiful garden in Dallas needs no introduction, we find ourselves there every spring to see the thousands of tulips and azaleas. The woman's garden overlooking the reflection pool and lake is probably my most favorite spot in this 66-acre botanical garden located on the shores of White Rock Lake in Dallas.
Visiting the Dallas Arboretum is a yearly tradition for us. Two very special events I love at the gardens were: when Dallas Arboretum hosted a show by Seattle Glass artist Dale Chihuly and a ZimSculp show by artisans from Zimbabwe.
8525 Garland Road in East Dallas, TX
Nasher Sculpture Center
The Raymond and Patsy Nasher Collection includes more than 300 sculptures by most of the 20th century's greats like Rodin, Calder, de Kooning, Giacometti, Matisse, Miró and Picasso. It is a tranquil place with a lot of lush landscape and greenery. I love the willow trees here.
2001 Flora St, Dallas, TX 75201
Texas Discovery Gardens
A 7.5-acre organic urban garden located inside Fair Park in Dallas is a great place to visit to see native plants and flowers. My favorite is the indoor tropical butterfly house, the Rosine Smith Sammons Butterfly House and Insectarium which features hundreds of free-flying butterflies! A great spot for photos in Dallas if you love butterflies like me!
3601 Martin Luther King Jr Blvd, Dallas, TX 75210
Flippen Park
Flippen Park, located in the highland park in Dallas is a small park area surrounded by residences. The gazebo is the perfect place for photos and to enjoy the beautifully landscaped grounds. There is also a nice fountain and reflecting pool.
4421 N. Versailles Avenue, Dallas, TX
Rose Garden in Tyler
Tyler in east Texas is known for its rose cultivation and is home to the nation's largest public rose garden. This quaint town is known as the official Rose Capital of America. You can see thousands of roses in shades of yellow, pink and mauve blooming on the well manicured grounds of the Tyler Municipal Rose Garden, a perfect place for photos and a nice picnic!
See my last years' mother's day visit to the Tyler Rose Garden
Fort Worth Botanic Garden
Established in 1934, the Fort Worth Botanic Garden is one of the oldest botanic gardens in Texas. While you can find roses, spring blooms and a variety of native flowers, my favorite is the Japanese Garden here. It is a great place to see cherry blossoms in spring and falls colors in Dallas.
Due to COVID, most farms let in fewer people than usual, to ensure social distancing. Call the orchard or farm ahead before visiting. Hours, prices and produce vary by season. Some of these farms near Dallas require you to book a spot before going out to pick. Wear closed shoes and always be respectful of the crops and plants.
Visit pickyourown.org for a list of pick-your-own farms and orchards in your area.
PIN IT FOR LATER
CONNECT WITH US