Because of its stunning scenery and accessibility to Papeete, Moorea is visited by many western tourists who travel to French Polynesia. Moorea is a popular honeymoon destination. We went for the turquoise waters but quickly fell in love with the explosion of velvet green mountains jutting out of the ocean even before the ferry docked. One of the best things to do in Moorea is to go on an ATV Tour to see these verdant mountains.
Moorea is one of the many beautiful atolls in French Polynesia, it is extra special because of its shape. The island is shaped like a heart! After a few days in Bora Bora, we flew back to Tahiti and took a ferry to Moorea.
The heart-shaped island with its breath-taking scenery and warm Polynesian hospitality instantly captured our hearts. The fern-covered cliffs, green meadows, majestic mountains were everything and more you envision when you hear the words South Pacific Islands. We hired a car and did a road trip around the island which was easy to cover in half a day even with frequent stops to photograph the lush landscape and beautiful bays. It is a single road and you can cover the entire island in about 38 miles or so.
When we returned the car after our short road trip around the island we saw some ATVs coming back after a tour and after inquiring we found that the Moorea ATV tour takes you through the road not easily accessible by car. It ventures past pineapple plantations, across streams, into deep valleys and up close to the mountain peaks. We signed up for the tour and enjoyed the views. Here is a photoblog of our ATV tour thorough the Yellow lizard island…
Photo Blog of our Moorea ATV Tour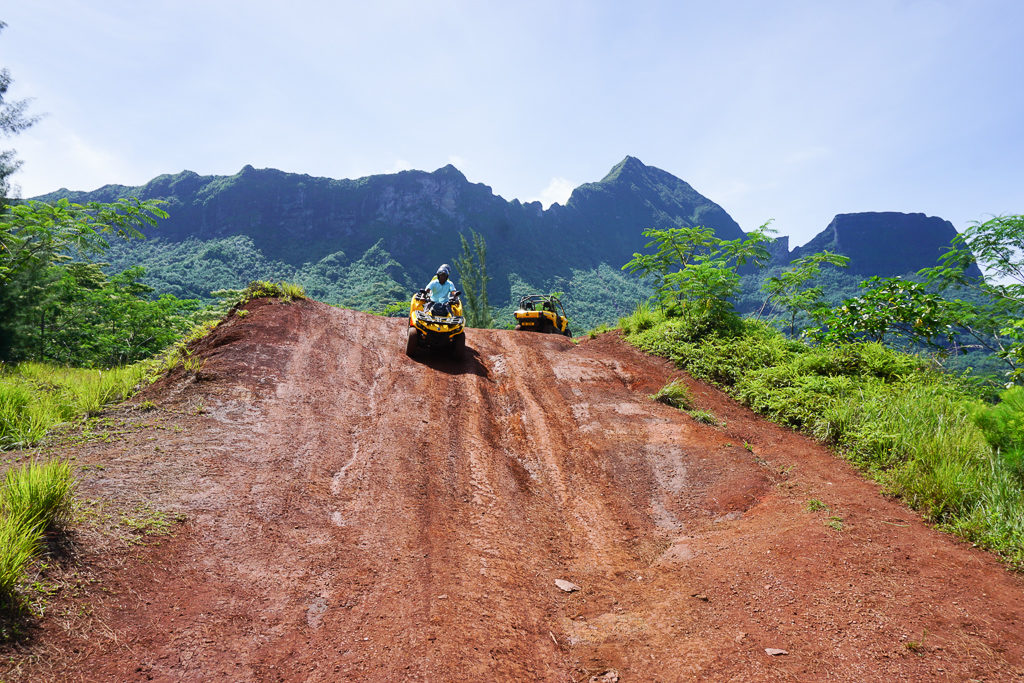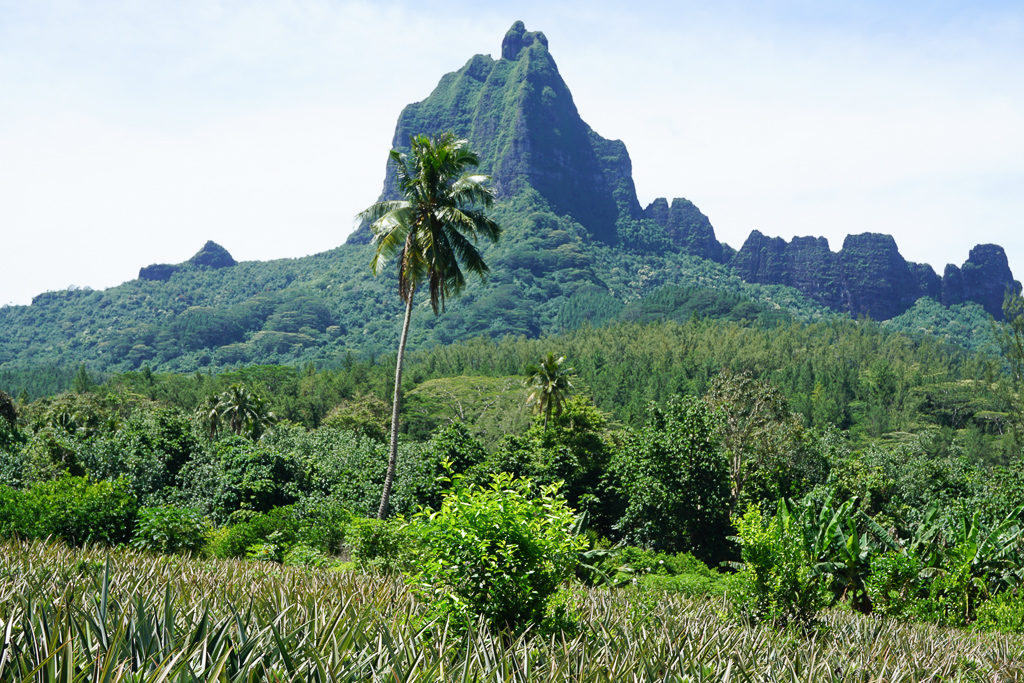 We stopped at the store in the Agricultural school to get some fresh pineapple juice and bought some homemade jams to bring home. We also saw a few Tahitian Vanilla plants and learn that the Tahitian Vanilla has its roots in the Mexican vanilla and taste like licorice. It takes about 5 years for the plants to produce the vanilla and about 9 months for each of the pods to mature and they have to be manually pollinated.
We stopped at the Belvedere Overlook point from where you can see the twin bays of Cook and Opunohu. It was so picturesque! You can see Opunohu Bay, Moorea, which is the same bay Captain James Cook anchored in 1777. We loved the fishing outrigger boats docked by the lagoon waters – they are called vaa and used for fishing and sport. Tahiti is the world champion in outrigger boat races we were told. So you will see a lot of them docked in the waters when you go on a tour around Moorea.
Additional information
We rented our ATV for our Moorea tour via Albert Transport which is where we got our car rental as well. They will pick you up from the resort and drop you back.
Bring some snacks and water, apart from the stop for the pineapple juice at agricultural school there were no other stores around.
Wear long pants, the ATV motors are made in Canada and got really hot, we were in shorts and it got pretty hot towards the middle of the tour
Put on mosquito repellent since you will be driving through the jungle and plantation area.
Moorea is probably the greenest place we have ever been, after Kauai – what is the greenest place you have been to?
PIN IT FOR LATER
Note: This post may contain affiliate links, partnership or sponsored content. If you purchase an item via one of these links, we may receive a small commission at no extra charge to you. But as always images and opinions are our own. For more information on our affiliates and privacy policy at Outside Suburbia see here.
CONNECT WITH US