The South Coast has some of the most scenic spots in Iceland – from walking behind a waterfall, checking out the view from the craggy cliffs of Dyrholaey and getting up close to glistening icebergs in a black sand beach, there is so much to see and do. While Golden Circle in Iceland is extremely popular, I highly recommend spending a couple of nights in Southern Iceland to enjoy the stunningly varied landscapes it has to offer.
Visiting South Coast of Iceland
Situated four and half hours drive away from Iceland's capital, Reykjavík (on a good day with clear roads in summer), without stops, you'll be driving for nine hours in total if you decide to visit the South Coast of Iceland and back in one day. Trust me you will want to stop at the scenic points and a few unmarked ones along the way.
Plan for a night or two at the Southern Coast of Iceland and visit the area which really gives Iceland the name, the land of fire and ice. The landscape and weather change dramatically every few minutes, so plan accordingly.
South Coast of Iceland Map
While there are many tours (like this full day tour from Reykjavik) you can book, the best way to see Southern Iceland is by renting a car and hitting that ring road (officially referred to as Road Number 1), a road that runs circular through the entire island. Coming from North America it was an easy transition for us as Icelanders drive on the right. You can rent a car (See here for great deals from AutoEurope, you can save up to 30% and also get upgrades).
Use this South Coast Iceland map to plan your adventure.
10 Scenic Stops on the South Coast of Iceland
What is on the South Coast of Iceland? Seljalandsfoss is considered the beginning and Jökulsárlón glacier lagoon is widely considered the end of the South Coast. For the purposes of this post we will start at the first and most famous spot, Seljalandsfoss and make our way through the 10 stunning scenic spots on the South Coast of Iceland:
Seljalandsfoss
Skógafoss
Reynisfjara & Reynisdrangar
Dyrhólaey
Vik
Fjaðrárgljúfur Canyon
Skaftafell & Svartifoss
Vatnajökull
Jökulsárlón
Diamond Beach
There are many more unmarked spots, waterfalls and adventures on the South Coast of Iceland. One of the best adventures in the Southern part of Iceland, after a stop at Seljalandsfoss waterfall and Skogafoss waterfall, was riding Snowmobiles on the Mýrdalsjökull, an icecap covering one of Iceland's largest volcano, Katla. We were able to explore and experience the wilderness and the breathtaking views over South Iceland on this ride.
See a visual story of the spectacular sights and adventures in Iceland
Seljalandsfoss
Seljalandsfoss waterfall is considered a must-see stop on the South Coast sightseeing route, in large part due to the fact that visitors can actually walk behind the cascading water here. This makes the stop particularly beloved by photographers who jump at the chance to snapshot the waterfall from behind.
Skógafoss
Skógafoss is one of the largest waterfalls in Iceland, which boasting a drop of 60 metres and a width of 15 metres, and another major attraction along the South Coast. You can feel the power as the water pounds through this 25 meter wide falls from that height. You can walk up close or take the 60-meter staircase to the top and view the falls from above.
Dyrhólaey
Dyrhólaey's origin can be traced back to when it was a volcanic island, separate from mainland Iceland, known as "Cape Portland". Today, Dyrhólaey is a small peninsula that is connected to the rest of the country. We stayed at the lighthouse here for a night and woke up to some amazing view. You can still visit the lighthouse but unfortunately, you can't rent it anymore.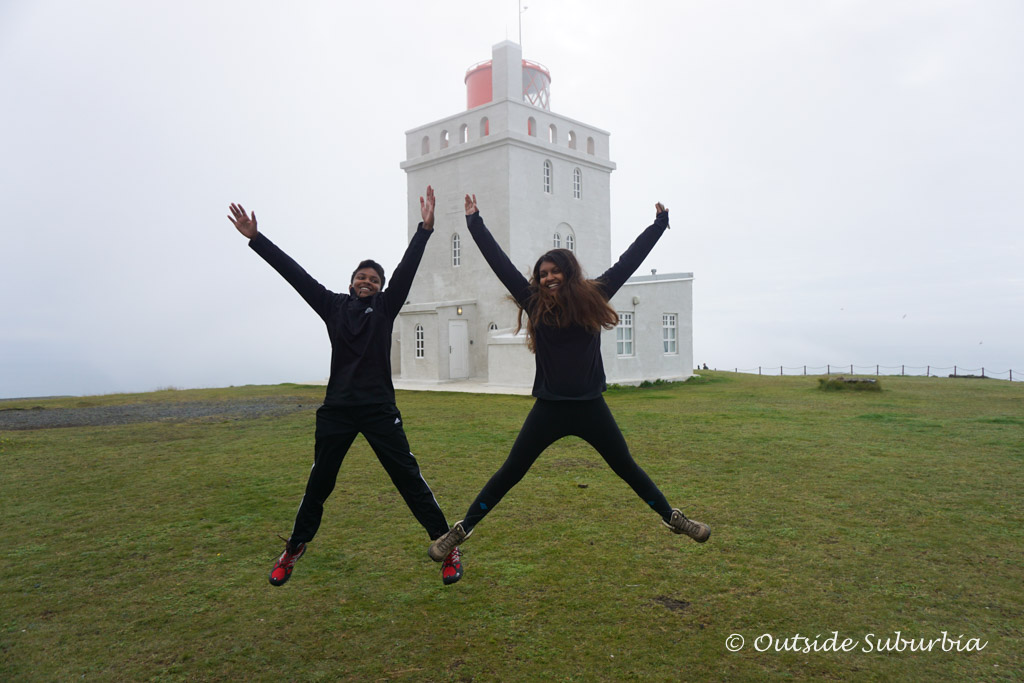 This promontory is best known for its fantastic views over Iceland's South Coast, as well as the birdlife. Puffins, Pufflings (baby Puffins are the cutest!) and other seabirds can be seen on the Dyrhólaey's towering cliff faces and the enormous rock arch that dominates the scene.
Reynisfjara & Reynisdrangar
Reynisfjara is an excellent example of the volcanic shorelines that characterize Iceland's coasts, it one of the most popular stop-off points for sightseeing tours along the South Coast. The black sand beach of Reynisfjara between Vík í Mýrdal village and Dyrhólaey, roughly 180 kilometers from Reykjavík.
1991, National Geographic voted Reynisfjara as one of the Top 10 non-tropical beaches to visit on Earth. Don't miss Reynisdrangar, an impressive rock formation situated near the shore of Reynisfjara beach on the South Coast of Iceland. The basalt sea stacks situated under the mountain Reynisfjall. You can climb the basalt columns but be careful, as they can be slippery. The waves and currents at this beach can be unpredictable so keep an eye on them.
Vík: the Southern most village in Iceland
Vík í Mýrdal is a small coastal village found on Iceland's South Coast. With a population of only 300 people, it is the southernmost village in Iceland. It is a great place to spend a night if you are exploring the many adventures in Iceland's South Coast. It is also the lunch stop and souvenir shopping destination for those partaking in a sightseeing tour.
The trolls at Reynisdrangar which are 66 meters high rock pillars that jot out of the ocean south of Mt. Reynisfjall can be seen and photographed from Vik.
Skaftafell & Svartifoss
At some point during initial settlement in Iceland, Skaftafell was inhabited as a farmstead and was the location for a number of administrative meetings between different Chieftains. The Öræfajökull eruption of 1362 decimated the community in its entirety, making the area uninhabitable. Hence, the area has been referred to as "the wasteland" or Skaftafell ever since.
Today however the region boasts incredible beauty, the country's tallest peak, Hvannadalshnúkur, as well as the country's tallest waterfall, Morsárfoss is here in this area.
A short hike from the visitor center brings you to Svartifoss waterfall, flanked by impressive columns.
Fjaðrárgljúfur Canyon
Fjaðrárgljúfur Canyon's 100-meter cliffs hold a two-kilometre long river in South Iceland. A relatively quiet spot on the South Coast, it is a little off the beaten path. The road to get here is unpaved and a little bumpy but worth it getting off the Ring Road to get to this spot. There are a couple of narrow pathways that take you up the steep walls of the canyon.
Fjaðrárgljúfur is pronounced Fyath-raor-glyu-fur, try saying that a few times!
Vatnajökull
With a total surface area of 8,100 km2 and an average width of 400 metres to 600 metres, Vatnajökull is the largest glacier in both Iceland and Europe. Vatnajökull reaches a maximum ice width of approximately 1000 metres and has over thirty different outlet glaciers! That should give you some idea as to the glacier's scope. You can see it right from the Ring Road. One of the best adventures in Iceland is the glacier hikes.
In fact, the South Coast of Iceland has some of the best adventures where you can walk on glaciers, go waterfall chasing, climb on top of old volcanoes or thousand-year-old canyons carved by ancient rivers.
Vatnajökull National Park covers approximately 11% of the country, covering canyons, mountains and even volcanoes. Another excellent example as to why Iceland is known as the "Land of Ice and Fire".
Jökulsárlón
In my opinion, Jökulsárlón glacier lagoon is the prettiest spot in Iceland. How often can you drive up to an icy blue lake with giant chunks of ice floating in the water? The best part is that you can actually ride a boat to get a closer look at the glacier wall and icebergs. This is area so serene and beautiful and one of my favorite spots on the Southern coast of Iceland.
You can do a boat tour on the Jökulsárlón Glacier Lagoon or the nearby smaller Fjallsárlón Glacier Lagoon. The Zodiac boats get you up close to the ice than the Amphibian boats. We saw an Ice shelf calving while we were there. A surreal experience and one of the best tour in Iceland!
Diamond Beach
Only five minutes walk from Jökulsárlón Glacier Lagoon, Diamond Beach is a strip of black sand beach where icebergs wash up onto the Icelandic coast. The icebergs glisten like diamonds against the jet black sand giving the beach its name. If you plan to be here around sunset, the photos of the icebergs catching the sun are brilliant. Diamond beach is one of our favorite place for photos in Iceland where we spent a good couple of hours admiring and photographing the "diamonds."
Book your Iceland tours here:

Where to stay when visiting the South Coast
We stayed for 3 nights at this Hotel in Vik, a modern hotel on the South Coast of Iceland. It had floor-to-ceiling windows and a nice restaurant where we had the best Icelandic lamb soup. There are a few other guesthouses and cottages in the area as well.
Don't miss spending a night or two inside Þingvellir National Park on the "Golden Circle" route of Iceland. ION Adventure and Luxury hotel would also be the perfect place from where you can see the Northern Lights if you are traveling in the winter months.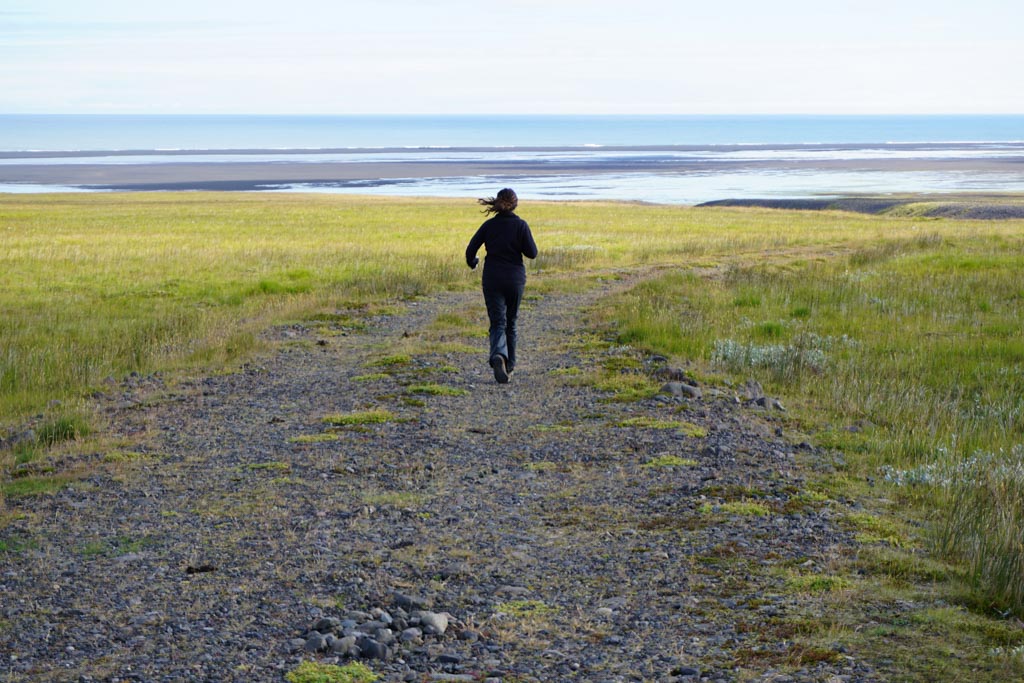 I hope you find this guide to South Coast helpful when planning your trip to Iceland.
PIN IT FOR LATER
Note: This post may contain affiliate links, partnership or sponsored content. If you purchase an item via one of these links, we may receive a small commission at no extra charge to you. But as always images and opinions are our own. For more information on our affiliates and privacy policy at Outside Suburbia see here.
Follow Outside Suburbia on
Instagram | Facebook | Twitter | Pinterest | Tripadvisor