If you are looking to find Street Art in the Americas and Canada, you have come to the right place.  Here is a list of places in Canada, North America and South America where you can find some amazing street art and murals.  Photos were taken by travel bloggers during their travels, along with tips on where to find these wonderful and sometimes whimsical street art.
Street Art in Canada
Street Art in Sherbrooke, Quebec, Canada
Contributed by Lee and Stacey from One Trip at a Time
Sherbrooke in Quebec is probably not high on tourist lists, but if you make the journey out there you will be rewarded with some of the most stunning murals we have ever seen. There are 16 murals in total dotted around the city featuring many different aspects of the city's history and culture. You'll find everything from a giant bookshelf to a fire station, a typical street scene and waterfall, to clever murals such as a building being pulled like curtains/drapes to reveal a beautiful lake or a building façade being lowered into place with people already looking out of the windows!
All the murals also contain animals to find, or amusing situations portrayed within them and are worth more than a quick view as you take in all the quirkiness contained within them. There are two different circuits are suggested by the city – one is a 3.5km walk to see 10 of the murals and the other is a 7km walk to see all 16 murals. The routes can be found, together with more information about each of the murals in this excellent flyer.
Street Art in Toronto, Canada
Contributed by Liliane Fawzy from MyTotontoMyWorld
"Toronto is a street art heaven. We've got a ton of different locations to hit up for street art and dozens of incredible murals to check out and sometimes it can be hard to know where to start. If you're short on time or only interested in visiting one spot then that spot has to be Graffiti Alley.
Graffiti Alley is located all along Rush Lane between Portland Street and Spadina Avenue. It may be difficult to spot if you don't know what you're looking for but the people walking through a random alley will definitely let you know you're in the right spot! The alley continues for half a kilometer and some of the side alleys also have pieces so there's definitely plenty to see. The best thing is that some of the pieces change fairly regularly so even if you've been before there's definitely a reason to come back. The only pro tip I'd throw out is to make sure you're wearing proper shoes since it's definitely an alley and there's sometimes puddles!"
Giants in Vancouver, Canada
Contributed by Dhara from It's Not About the Miles
From Main Street to Downtown, and from East Vancouver to Granville Island, Vancouver BC has lots of great street art. But my favorite is quite definitely Giants, on Granville Island. Literally a gigantic mural, Giants spans six huge concrete silos. Each silo is 70 feet tall and 35 feet wide, so the art covers a total 360-degree area of 23,500 square feet!
The creators of Giants are Osgemeos, identical twins from Brazil that are famous for their huge art installations all over the world. The two brothers, Gustavio and Otavio Pandolfo, wanted to create something unique for Vancouver BC, moving away from the traditional two-dimensional world of street art. The result, Giants, is the largest mural of their career and the largest public art display in Canada. The size of the mural, the theme, the bright colors and the whimsy in the work are all hallmarks of the best street art. The work keeps your eyes riveted and your shutter finger busy as you try your best to capture the drama of the mural through your lens.
The Giants mural is located on Granville Island in Vancouver BC, at the Ocean Cement plant, very close to the Granville Public Market.
Street Art in the United States of America
Street Art in Hot Springs, Arkansas
Contributed by Deepika Pillai at Deexterous.
Hot Springs is nestled in the Ouachita mountain range. On the historic central avenue, you will find the masterpieces created by Pepe Gaka. Right across from these bold murals is the historic bathhouse row – with eclectic buildings from mid-18th to 19th century, and in Spanish and Italianate styles; linearly aligned with formal entrances, outdoor fountains and promenades.
Pepe Gaka has captured gorgeous portraits and colors of the Quapaw tribe who are important to the history of the region. The French called this tribe 'Arcansas' and that's how the state supposedly got named. The mural is a celebration of the Quapaw tribe, peace loving folks, who put aside their weapons and soaked in all the energy from the healing waters while in this valley.
Giuseppe Percivati, also known as Pepe Gaka, was born in Italy and has lived all over the world. He has been a street painter since 2011 and shuttles between the Philippines, USA & Europe. Check out this video on the making of the murals at Hot Springs. See here for a detailed 3-day itinerary on Hot Springs, Arkansas.
Street Art in San Diego
Contributed by Priya at Outside Suburbia
Balboa Park is around 100 years old and one of our first stops anytime we are in San Diego.  It is one of the largest urban parks at 1200 acres, larger than even NYC's Central Park.  We love strolling through the Spanish styles buildings and gardens, visiting the many museums.  Balboa Park is home to the famous San Diego Zoo, historical Old Globe Theatre, San Diego Museum of Art, Aircraft Museum, Natural History Museum among others and a picturesque Spanish Art Village. 
At the Spanish Art Village you can see many murals and also watch artists in actions or visiting the many galleries.
We saw this beautiful and inspiring Kelsey Montague #WhatLiftsYou Mural at Horton Plaza Park. It was right across from The US Grant Hotel where we stayed when visiting San Diego.
Street Art in Los Angeles, California
Contributed by Kalena McElroy at LostAndAbroad
Los Angeles is a mecca for street art enthusiasts. Large vibrant murals can be seen on nearly every main road in the city with many people visiting well-known areas like Melrose to see and photograph the art each day. A little-known district for street art is Historic Filipinotown, located just outside of Downtown below Echo Park.
Filipinotown's street art movement started in 2014 and the area now boasts over 110 pieces of artwork with new creations popping up nearly each week. This is all thanks to Gabba Gallery's Alley Project that has drawn local and international artists like Dourone, Phobik, Morley, Hero, and WRDSMTH to the once drab suburb. Explore the alleyways surrounding Beverly Boulevard and North Vendome Street to get a close-up of the neighborhood's most exceptional pieces.
Street Art in San Francisco, California
Contributed by Priya at Outside Suburbia
Street art in San Francisco is not hard to find but there is one street in Mission that is filled with some amazing works. Take an uber or drive to Mission District for a do-it-yourself art walk, starting with the Clarion Alley. Clarion Alley runs one block (560 ft long and 15 ft. wide) in San Francisco's inner Mission District between 17th & 18th and Mission and Valencia streets. Clarion Alley Mural Project (called CAMP) was established in 1992 by a volunteer collective of six residents and artists, who were inspired by the murals of Balmy Alley.
Go back onto Mission Street and turn right on 18th Street. About a block past Valencia Street is the Women's Building. The building's exterior walls are adorned with the MaestraPeace mural, a massive work that pays homage to famous women. The work was painted in 1994 by seven Bay Area female muralists and was restored in 2012. The building is painted on two of its sides – the front entrance, facing 18th Street, and the side facing Lapidge Street. Its front entrance features a naked, pregnant goddess with butterfly wings, grasping the sun as its rays shine down.
Street Art in Miami, Florida
Contributed by Eileen at Pure Wander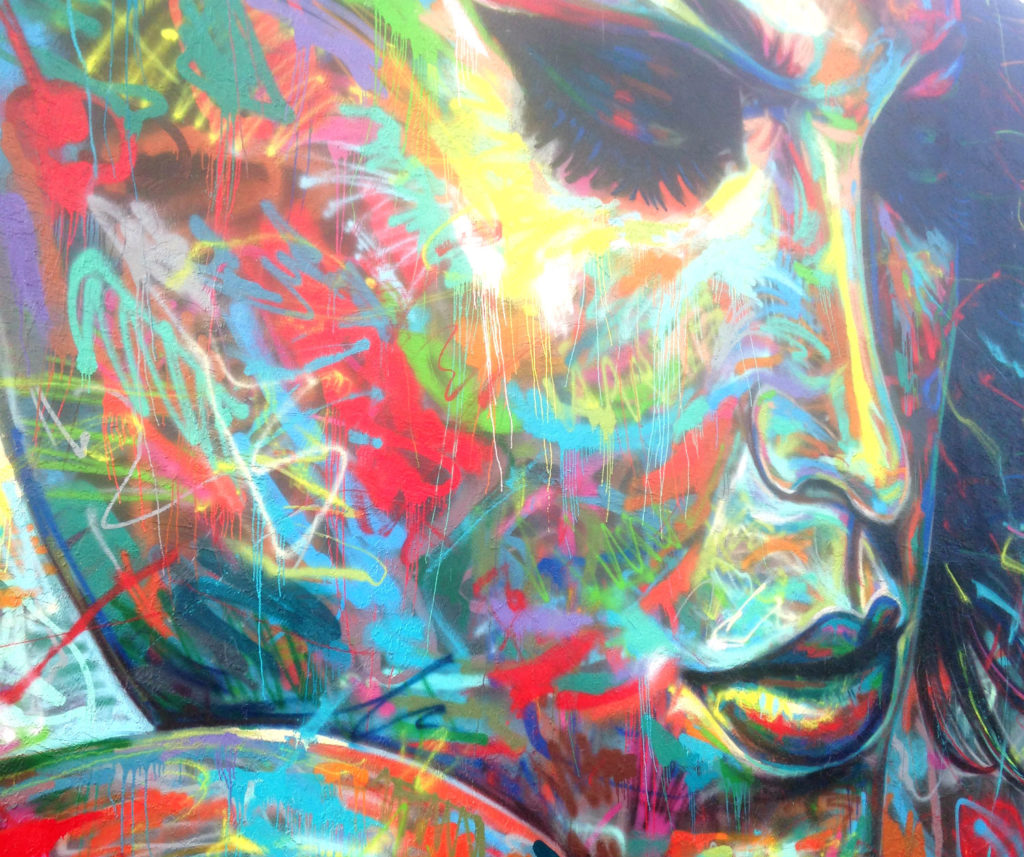 Miami is crawling with vivid street start in every color of the rainbow. But you'll find the biggest concentration of talent and creativity in the neighborhood of Wynwood. What started as a working class area blossomed into the epicenter of Miami's fashion scene in the 1920s. Then after World War II, Latinos moved into to give Wynwood flavor and depth.
Taking inspiration from its roots, the streets now celebrate all things that encompass the Miami spirit. You can see murals along brick and mortar businesses and perched atop abandoned billboards. If you rather have a more curated walk, stroll through Wynwood Walls, which is an ever-changing outdoor exhibit that invites artists from all over the wall to showcase their street art. Regardless where you roam, keep an eye out for some famous installations, including those by Audrey Kawasaki, Lady Pink and Conrad Flores.
Street Art in Orlando, Florida
Contributed by Ana Wildgust from Chasing Wildgusts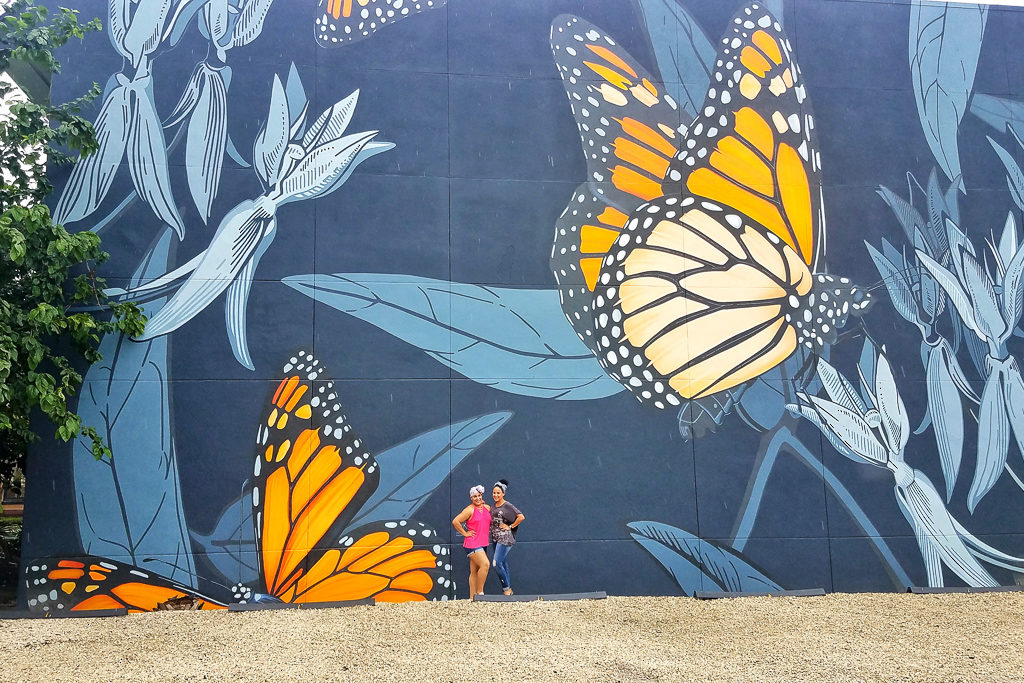 Called Midnight Dream, this mural was done by Jane Kim of Ink Well Studio. It's part of the Migrating Mural, a series of public art installations across North America that highlights wildlife along migration corridors it shares with people. The subject of this Migrating Mural is the monarch butterfly, famous for its brilliant coloring and improbable and spectacular migration, which can span thousands of miles from Mexico to Canada. Florida is one of a handful of U.S. states with year-round monarch populations. More about the Nature Concervancy here.
Midnight Dream depicts monarchs flitting about a patch of butterfly weed, a tribute to the magical qualities of this delicate insect. A sister mural, Milkweed Galaxy, can be found at Full Sail University on University Blvd. in Winter Park.
Street Art in Chicago, Illinois
Contributed by Teresa Peek at Tour Through A Lens
There are several "types" of street art in Chicago. When most people for street art here, they're directed to Pilsen. True, Pilsen has a seemingly never-ending street art and graffiti culture, but there are countless other locations and types around the city to explore. I'm going to focus on one area tourists often rub shoulders with but miss.
Beginning in 2016, Chicago's Columbia College and the Wabash Arts Corridor collaborated to bring about large, international-style murals in the South Loop nicknamed the "Big Walls". Both local artists, such as AMUSE.126, LadyLucx, Gloe and CzrPrz, and international artists, such as Collin van der Sluijs, Marina Zumi and Ricky Lee Gordon, to name a few, were more than a dozen artists invited to participate. Given Chicago's history with graffiti, this was a dream come true for many of the local artists, including women artists. New walls are emerging this year so be on the lookout.
The majority of the murals can be found between 600 S Wabash and 1200 S Wabash, zigzagging in and out of the alleys. Others are a bit more hidden. I include these murals and others on my Loop Alley Photo Tours where I talk about Chicago's history and current state of graffiti as part of the tour. Be sure to find and appreciate the "Big Walls" next time you're here!
Street Art in the Short North, Columbus, Ohio
Contributed by Ketki Sharangpani from Dotted Globe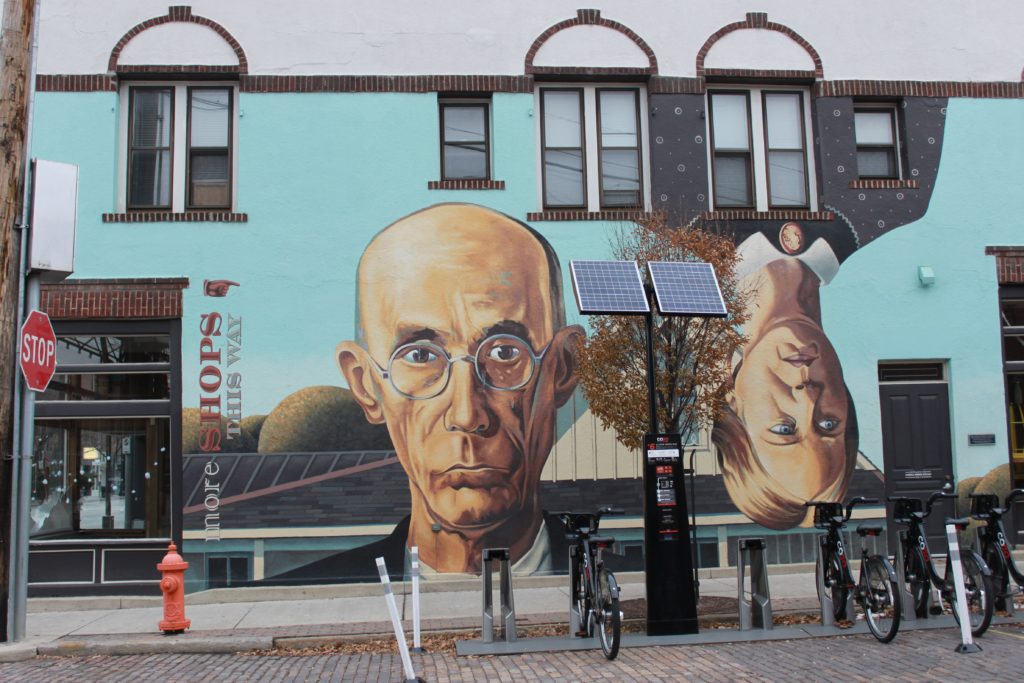 The mile-long Short North Arts District in Columbus, Ohio is full of art galleries, theaters hosting visual and performing arts events, and musicians performing on the street. Short North's lighted arches make an offbeat statement of their own and the many boutique stores, eateries, bars and cafes keep attracting visitors. The trendy district has been Columbus' art hub since the 1980s.
This vibrant district also boasts of excellent murals and street art. Short North has many iconic permanent murals; the most famous among them are the Short North Gothic Mural with its unique take on the original painting and the sideways Mona Lisa Mural. Other popular murals include the Train and Union Station murals. Most of these murals are located along High Street and can be easily seen by walking down the road. Others are located in the side streets and need some exploration on foot.
The Short North also holds temporary mural festivals during the year. The Short North District Arts Trail is an easy way to explore most of the murals. Walking through the colorful streets of Short North is a delight; you are certain to discover beautiful, thought provoking, and unexpected pieces of art in the alleys.
Street Art in

Brooklyn (Bushwick), New York
Contributed by Anisa from Two Traveling Texans
You will find some amazing street art in the Bushwick neighborhood of Brooklyn New York. Joseph Ficalora, the curator of the Bushwick Collective, wanted to the art to be therapeutic and beautify the community. It was not supposed to be political. You will also find some art in the area that is not part of the Collective. Many world class street artists have worked in the area including Lexi Bella, Dasic Fernandez, Deface, Adam Fu, Pay to Pray, Pixel Pancho, and Invader. The murals are changed about once a year. Unfortunately, some graffiti artists have taken the liberty of defacing some of the murals with tags, a mix of letters and numbers.
To see the murals of the Bushwick Collective, take the L train to the Jefferson subway stop. If you want to learn more about the Bushwick Collective and the murals in Bushwick, consider taking a Brooklyn street art walking tour.
Street Art in Asheville, North Carolina
Contributed by Paige Wunder from For the love of Wanderlust
One of the many things that Asheville is well-known for is its amazing art scene. And that goes further and just the artists creating in studios, it spills out onto the streets and on old shipping containers. In fact, Asheville has one of the most amazing street art scenes that I've ever seen.
Although street art can be found all over Asheville, it's most concentrated in its funky River Arts District. Over by the Wedge Foundation Brewery you will find dozens and dozens of old shipping containers covered with massive murals and tiny works of street art by the amazingly talented artists of Asheville.
It's really hard to pick a favorite, but one of the works that always stands out most in my mind is this sloth wrapped up in a blanket. It's just so sweet and always brings a smile to my face. You're sure to find art that blows you away in this one-of-a-kind city tucked in the mountains of North Carolina.
Street Art in Raleigh, North Carolina
Contributed by Mikkel from Sometimes Home
One of the reasons I absolutely love living in downtown Raleigh, North Carolina is because of the support for the arts. There are plenty of options to exercise your creative brain, whether it's attending a gallery opening or a new exhibit at a local museum. Another thing I completely love about this city is the street art! There's mural large and small, colorful and in simpler palettes too. Walking around the downtown area near the Capitol Building will reveal a lot of murals – well over five to ten in just a small area.
One of my favorites is the colorful geometric pictured – it's also one of the newest. The artist Lisa Gaither is a talented, local painter who is hired by many businesses to make an ordinary wall into something extraordinary. (I was so excited to see her latest work in progress at Morgan Street Food Hall too!) Marbles Kids Museum commissioned her for this beauty but it's truly fun for all ages.
Street Art in Portland, Oregon
Contributed by Chris from Explore Now or Never
In addition to its renown as a bicycling capital and foodie mecca, Portland, Oregon is alive with a thriving street art scene. in fact, the Portland Street Art Alliance is a network of artists and professionals dedicated to promoting "creative interventions" for urban buildings in the city that need them and developing spaces for self-expression here. They also spearhead restoration projects of community murals, hold forums for dialogues on important community art issues, and actively work to help local artists find paid work.
You'll find this awe-inspiring mural depicting a woman at rest at the corner of NW Lovejoy Street and NW 25th Street right downtown on a medical building. Take a few moments to experience the peace and serenity embodied by this powerful mural as you gaze up and contemplate the power of the feminine mystique. Read more here on other fun things to do in Portland.
Street Art in Philadelphia, Pennsylvania
Contributed by Neha Kulshrestha from TravelMelodies
When a city boasts to have over 3600 murals, then it is inevitable to not miss the art. Most of the walls in Philly attract local artists to spread their imagination and paint these blank canvases with love. There is a special Mural Arts program, the largest in the US to display some great works of local artists. Who would not love to have color splashed in their neighborhood?
We were lucky to witness this stupendous piece of art on the 13th street on a wall in the parking lot across the Green Eggs Café. We were awestruck looking at the details and the magnitude. There are many walking and trolley tours conducted by Mural Arts Philadelphia that showcase the talent and the beautiful stories associated with them. If you want to explore at leisure, just like us, the best way is to walk or drive across the streets of Center City and that too free. So, what are you waiting for? Buckle up and explore this open art gallery.
Street Art in Hot Springs, South Dakota
Contributed by Niki from Chasing Departures
South Dakota isn't exactly a place that jumps to mind when someone mentions street art. To be honest, I was surprised to see the mural on the side of the police station downtown. But there it was! The police station appeared to be on one of the main roads through Hot Springs, so it is very easy to find if you ever find your self in southwestern South Dakota. Hot Springs itself looked to be a cute little tourist town full of history!
Street Art in Nashville, Tennessee
Contributed by Haley from Ready Set Jet Set
Nashville has lots of amazing street art that you can find throughout the city, like the famous #WhatLiftsYou wings by Kelsey Montague, the "I Believe in Nashville" mural, and the colorful Stay Tuned Nashville mural. The one in this photo is a brand new #WhatLiftsYou mural on the side of The Cleo in East Nashville, featuring a real basket under the hot air balloon! You'll find street art everywhere you go around Nashville.
Street Art in Chattanooga, Tennessee
Contributed by Vita Zakhu from My Walk in the World
Chattanooga business, Koch's Bakery, beautified their storage building's wall with a mural of donuts flying among the clouds in 2014. After the $11,000 mural was completed, the city of Chattanooga claimed it as an illegal 'advertisement' although there was nothing to suggest it was an ad.
The public protested with "fight crime, not art" – petitions were signed, press was called and a battle between local business and big city began. Even a Twitter profile was created with the hashtag #SaveTheDonuts. Four years later, the donut mural still stands bright and cheery on Chattanooga's south side. It's now become one of the most 'photo-worthy' spots in The Scenic City. If you're nearby, don't forget to head around the corner to get a taste of the donuts that inspired it all!
Where to find the mural: The corner of W 20th St and Broad St. around the corner from Koch's Bakery.
Street Art in Austin, Texas
Contributed by Susan Davies from Travel for Life Now

Most people who are interest in street art have heard of Graffiti Park in Austin, Texas. And, most will head right there to see it. Graffiti Park/Hope Outdoor Gallery is a street art mecca in Austin. Seven years ago, artists began painting on the walls. It's large and some of the work is very good and some more amateur. You can also buy a bottle of spray paint and make your own tag. It's pretty touristy, but we did saw more seasoned artists spray painting while we were there. It is being torn down to make way for a condominium. Originally, the deadline for demolition was in June. It has been extended to October, so there is still time to see Graffiti Park.
But, street art in Austin is much more than that. There is great street art all over the city—Downtown, Central, South, East, North and West Austin all have tons of murals. On our most recent trip there, we rented "Birds"— electric scooter—and took a tour of East Austin. It was a fun afternoon searching out some of the well-known murals. So, if you're in Austin, go see some of the street art.
Street Art in Dallas, Texas
Contributed by Priya from OutsideSuburbia
Deep Ellum in Dallas,Texas is filled with all sorts of creative professionals like movie makers and animators, music producers and promoters, architects, designers, furniture makers, set designers, and on and on. So the area is explosion of creative.
42 Murals project was created as an opportunity to provide local, national, and international artists to showcase their talent through murals painted on many of the historic buildings in Deep Ellum. The goal of the Deep Ellum Murals was to increase awareness of art in Dallas by providing free public art for the visitors.
Elm Street is dotted with murals in the nooks and crannies of various alleys and side streets from Good Latimer to Malcolm X and in between Elm Street and Commerce. The murals explore much of Deep Ellum's musical history, with murals of blues greats, newer artists, and other local characters. The best way to explore the murals is to just wander up and down the street and find them.
We also love the beautiful Kelsey Montague #WhatLiftsYou Mural in Plano, at Shops at Legacy.
Street Art in Houston, Texas
Contributed by Shobha from JustGoPlaces
Houston has embraced street art in a big way with everything from wall-size murals, to decorated electric boxes and a dedicated street art museum. They are mostly located in Houston's downtown districts. Thanks to Houston's urban sprawl though, these areas are quite spread out. The street art in areas though tend to be clumped together. You will need to drive between street art locations in different districts as well.
One of the best places to find street art is the so-called Houston Graffiti Building and its environs (1503 Chartres St, Houston, Texas 77003). When we went, we had the privilege of watching photoshoots for Latina girls celebrating their Quinceanara (15th birthday coming of age celebrations) complete with entourage and photographers.
Houston's street art is not relegated to pedestrians either. The city gets so hot many people do stay in their cars. To keep the city attractive as well as appeal to drivers, street art appears in the form of "mini murals" on electric boxes controlling the traffic lights in the city. Similar to the large murals, these mini murals are also done by big name street artists who travel from different parts of the world in order to increase their visibility by exhibiting in Houston.
Street Art in Central America
Street Art in Baja California Sur, Mexico
Contributed by Isabella from Boundless Roads
The bright giant murals are the highlight of the capital city of Baja California Sur, and definitely what makes it so peculiar, besides the awesome beaches and the water sports activities you can do there. The murals initiative has started a year ago by Comex, a paint company, which called on a group of 27 artists from Mexico and abroad, with the purpose to brighten up the city with their creativity, reviving dull corners while telling local stories and promoting the ecological commitment of the community and their particular attention to the Marin life and its resources.
The artists met up with the locals and participated to the social life in order to understand the essence of the place, and represent it in their wonderful art work. The result was like magic. Wherever you walk around the city center it is impossible that you don't bump into one of these splendid joyous paintings. Although it was an initiative with a social purpose and a promotional goal, there is no doubt that everybody, tourists included are benefiting from it. It's just a pleasure to the eye seeing those amazing and funny works of art while walking around.
Street Art in South America
Street Art in Mendoza, Argentina
Contributed by Talek Nantes from Travelswithtalek
Mendoza, Argentina is wine country. It is the capital of Mendoza province in north-central Argentina. The city has the Andes on the east eastern side and stretches to the Pacific Ocean on the west. It is the fourth largest metropolitan area in the country and it packs a punch in terms of culture and food but especially wine.
Many visitors come to Mendoza to taste the exquisite wines, visit wineries and experience the tastings. Mendoza was awarded the 8th Wine City of the World in 2005 and its reputation as a major player continues to grow particularly for Malbec wines.
The Malbec was transported from France where it was a second-rate wine to Mendoza where it flourished with the ideal soil and weather of Mendoza. The city is so invested in the wine culture that even its remarkable street art reflects the industry. Here a lizard takes a sip of Malbec in downtown Mendoza.
Street Art in Ushuaia, Argentina
Contributed by Lori Sorrentino from Travlinmad
Ushuaia, Patagonia sits at the end of the world – el fin del mundo – at the southernmost tip of Argentina in South America. The dusty industrial town is a major shipping port for Tierra del Fuego on the Beagle Channel near the infamous Cape Horn. Ushuaia is a base for local adventure travelers who hike the National Park here or jump off to explore Antarctica.
It's a quirky antarctic place, with cluttered streets filled with tour hawkers, local markets, and the kind of urban art that makes you stop and take notice. It's a different kind of street art, born from struggle, protest, and pain. It seems to reflect life in this part of Argentina, and the past and present hardships suffered by many who live here.
Ushuaia has a gritty feel and its remote location at the end of the world makes you wonder if it's even more forgotten by a country that's been known to lose touch with its people. The most poignant example I found was of the Desaparecidos – "the disappeared". This long harrowing nightmare following a coup in 1976 affected thousands of Argentine families, when a military junta seized power in the country and went on a campaign to wipe out alleged left-wing terrorism. Thousands of citizens disappeared in the middle of the night, and never returned.
If you find yourself in Argentine Patagonia, spend a day exploring the street art in Ushuaia. Your heart will never be the same.
Street Art in Sao Paulo, Brazil
Contributed by Noel Morata from TravelPhotoDiscovery
You can find amazing street art all over Sao Paulo, a city of over 12 million people in Brazil. The street art here is a combination of grafitti, tagging and official street art or murals that you will find all over the city. The most colorful and in abundance is in the area of Madalena which is a trendy and fun area to explore.
There are a few alleys in the district which is filled with popular street art from local artists in the area, although the entire neighborhood is filled with street art along with cool galleries and shops, bars and eating venues. If you are exploring Sao Paulo for a few days of more check out my post on free things to do in Sao Paulo here for more details and inspiration of places to see and do in the city.
Street Art in Rio, Brazil
Contributed by Nicole LaBarge from Travelgal
Rio may be known may be known for its beaches but it is also a city full of street art. My favourite piece is by Eduardo Kobra, a world renowned Brazilian graffiti artist. It is actually the largest street art mural in the world and it can be found at Rio's Olympic Boulevard.
The work depicts a Tajapo boy from Brazil, a Mursi woman from Ethiopia, a Kayin woman from Thailand, a Supi man from Northern Europe, and a Huli man from Papua New Guinea. They represent humanity's common ancestors and is over 32,300 square feet. Rio's Olympic Boulevard is along the waterfront by the Museum of Tomorrow and the Te Amo Rio sculpture.
Street Art in Bogotá, Colombia
Contributed by Ingrid Truemper blogs from Second-Half Travels
Colombia's formerly crime-ridden capital Bogotá has been reborn as a vibrant tourist destination as well as an internationally famous mecca for urban art. Graffiti and street art were decriminalized several years ago, resulting in an explosion of creativity. Urban artists come from all over the world to participate in Bogotá's thriving street art scene. Over 6,000 murals adorn the city, with more being added constantly. The city even holds an annual street art competition; the winner is granted a wall and the materials needed to create a massive work of art.
Street art can be found throughout the city, including downtown, but the historic center of La Candelaria is ground zero. Businesses in La Candelaria frequently commission urban artists to decorate their walls with murals, and its narrow, cobblestoned streets burst with bright color.Don't miss the popular free Graffiti Tour (donations requested) of La Candelaria for an insightful introduction to the area. This is the original Bogotá street art tour and is run by artists and people involved in the Bogota urban art scene. See here for a 3 week itinerary for visiting Colombia
Street Art in Medellín, Colombia
Contributed by Dorene Wharton from Travel Life Experiences
Medellin, Colombia is a city in mass transformation, shedding its dark past as once one of the most dangerous cities in the world to a creative, accessible, and safe city. Nothing articulates this more than through the street art in the neighborhood of Comuna 13. Here, the walls are the canvas to tell the areas difficult history, beautify the city, bring optimism and peace to its residents and now explain its history and its massive change to curious tourists.
More importantly, the now famous street artists, musicians, and community leaders have shown kids that there are better, more productive and creative ways to channel self-expression through art instead of gangs and violence.
Most notable works in Comuna 13 include the paintings from Mashheroes of showing role models of helping to make the area a better place and other street art that tells the story of the controversial Operation Orion military operation in 2002. For more information about Comuna 13, the street art and tours you can find it in our Colombia posts here
Street Art in Valparaiso, Chile
Contributor by Jackie Szeto and Justin Huynh from Life Of Doing
We recommend seeing amazing street art in Valparaíso, Chile. Valparaíso (or "Valpo" as the locals call it) is a two hour bus ride from Santiago, Chile's capital. You can spend a few days exploring the city's murals. It's easy to spot the street art as they are located everywhere.
The main areas for street art is in Cerro Concepción, Alegre, Bellavista, and Polanco neighborhoods. Cerro Concepción, Alegre, and Polanco have colorful, creative, and sometimes political artwork that covers the entire buildings.
If you're looking for more graffiti and edgier artwork, check out Bellavista area. One of the best things to do is to go to random residential area and walk around on your own to uncover street art. If you're short on time, take a guided tour and learn the history of the artwork and the artists.
PIN IT FOR LATER
Follow OutsideSuburbia
Instagram | Facebook | Twitter | Pinterest | Tripadvisor