What do you think of when you see your souvenirs you have collected over the years?
Do your travel keepsakes and souvenirs invoke memories of your trips to faraway places, are you reminded of conversations with locals… what your learnt about the meaning behind that token of travel that you had acquired or are you reminded of a cheesy and touristy souvenir stall that sells garish trinkets and mass produced statuettes, miniature landmarks and T-shirts and shot glasses and the likes? Here are a few souvenir shopping tips to avoid falling into collecting meaningless mass produced trinkets.
What exactly is a souvenir?
The word's origins can be found in Latin  – subvenire, "to occur to the mind" and later Middle French – souvenir, "to remember". In the late eighteenth century, English speakers began to use the term much as we do now, primarily to refer to the objects themselves, though it can also be used as a verb  – "to take as a memento". A souvenir is an item that evokes a specific memory, a definition that can apply to any object.
I have had the habit of collecting magnets as mementos from our travels and now have a fridge door overflowing with them ranging miniature turtles, sand in bottles, mini landmarks, colorful city names.  It is fun to pause and look at them and think about our trip and be transported there for a brief moment till I find my supplies for dinner and close the fridge.  But beyond that I find there is no meaning behind them.  I do save the maps, museums tickets, pamphlets and love looking back, but the souvenirs I cherish the most are the one that have a story behind them.
In this day and age of social media where we document everything about our travels – right from sunrise to sunset … from what we ate, to where we ate and who we had that cocktail with… We like to document it all!  Why do we need a physical object, a souvenir when we have all these breadcrumbs that we leave behind that we can find our digital trails again?  Because we want to look back and remember and reminisce that slice of time with something tangible, because it transports us back to that time of a idyllic beach vacation and reminds us of the care free beach bum days in the sun. It helps us travel back to the beautiful ancient cities we explored in awe, strolling the markets and museums.
We love the soaps we bought in Provence after walking around stores in Gordes talking to a man who owns his own lavender fields and makes soaps and oils.  I love my little yellow wine jug that says "vino" from Tuscany, I rarely use it but it reminds me of the house wines we drank in the Trattoria that we ate every night.  A friend once got me some lamps from Turkey and a scroll from Egypt, I'm yet to travel there but love looking at them everyday dreaming about my trip there someday.
Masks from Venice are the pinnacle of mystery, beauty, and seduction. Nothing catches the imagination more than these pieces of art. Venetian mask or an eye mask can be made of papier-mâché and leather, feather, lace, filigree or combinations of the above.  We are always ready for a masquerade ball, or a party!
I bought a pair of lovely handmade tan espadrilles from Barcelona that I adore.  We went looking for them in Granada and Seville but didn't see them or was not looking from them in the right place.  Yes you can buy them from your department stores or online but to me every time I wear them it reminds me of our summer trip to Spain and brings a smile. And then there are the clothes, which tend to be my most treasured souvenirs.  I have below the knee skirt from a London high street store, bought few years ago, it probably is dated, looks a little out of style but every time I wear it make me feel like I'm getting ready for a afternoon tea at one of the elegant high tea places in London.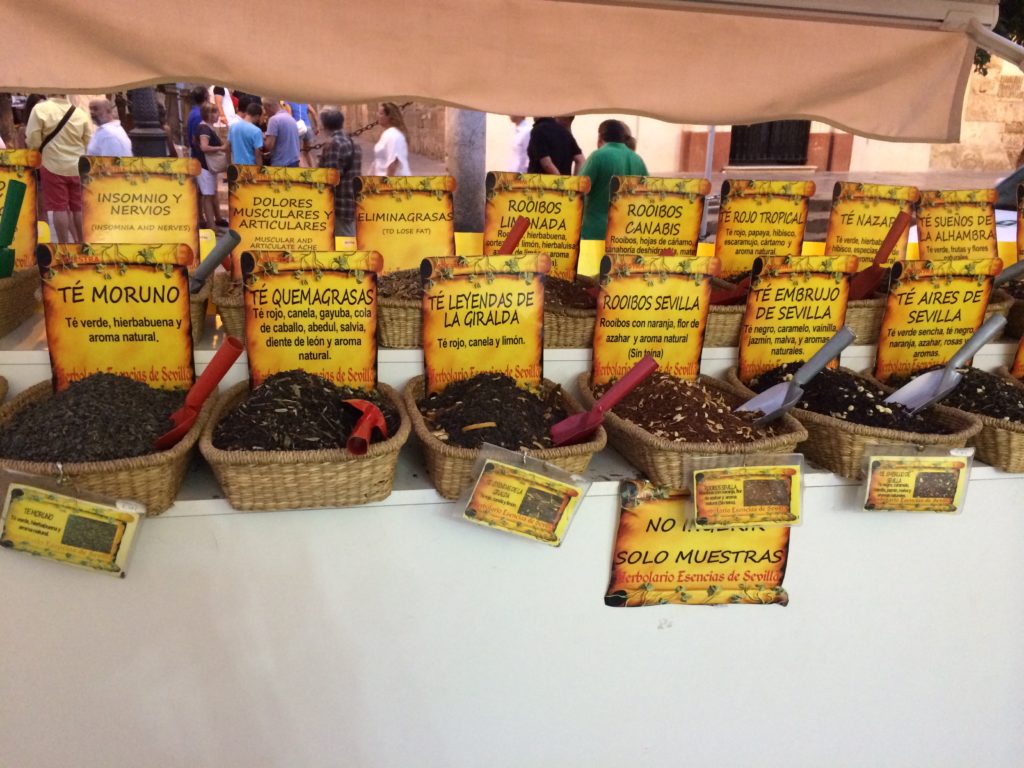 Sometimes Souvenirs don't last very long, we bought spices from Seville that got used up a month in and now use my herb-de-Provence so sparing, my husband teases me – "You know you can buy it from the store down the street right" little does he know that every whiff of the lavender in it takes me back to the Sault, don't think the little can of McCormick is going to do that.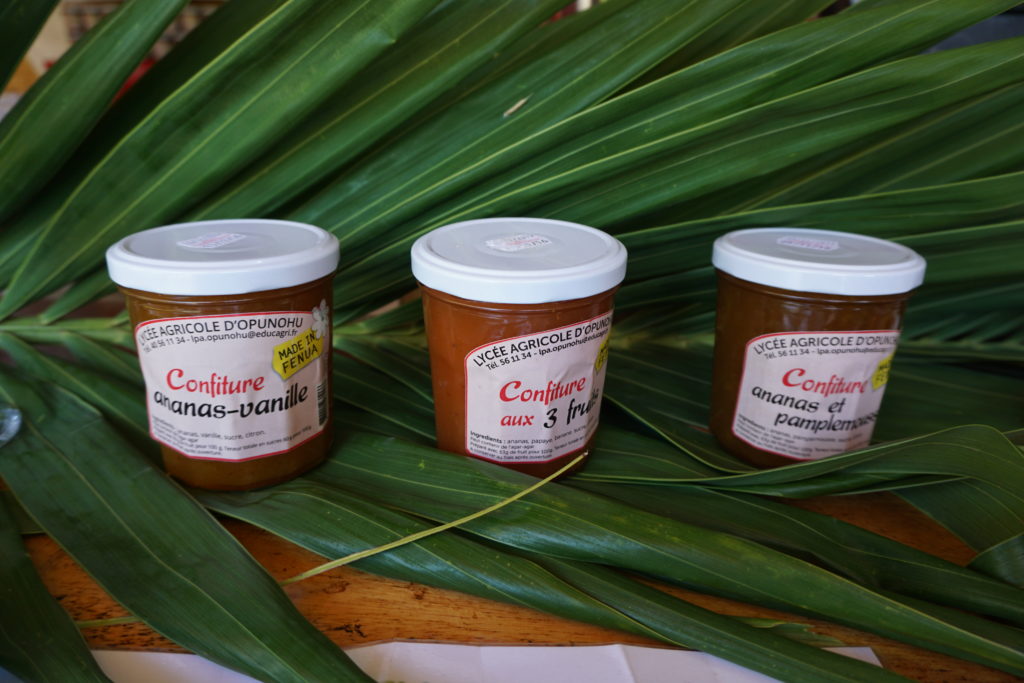 We enjoyed our Papaya, banana, pineapple Jam from the French Polynesia, with every bite reminds me of the turquoise waters and our ATV ride through the pineapple fields of Moorea.
On a trip to Mexico we stopped at Playa de Carmen city to have some authentic tacos and stroll along 5th Avenue stores and watch the Mayan women weave crafts and bought a few of these wristbands.
We loved these fans from Seville that kept us cool during the hot days exploring Andalucía. The hand fan, or also known as 'abanico', is a perfect complement used by a Flamenco dancer used in the intense and exotic "Flamenco" flashing fan in their hand or by the popular "Sevillana" to provide a sense of privacy, mystery, and allure, while providing relief from the baking hot summers of Southern Spain.
Picture above is a collection of wooden boxes with intricate inlaid work near Alhambra, Granada. If you look closely there is also a miniature version of the fountain from "Patio de los Leons" or Patio of the Lions ton one of the boxes – hat is the cusp of beautiful Nasrid art, the fountain with the 12 lions is said to signify the "The fountain is the Sultan, which smothers with his graces all his subjects and lands, as the water wets the gardens."  we walked into the little store and saw the artisans working on them right there.  How beautiful are these little boxes?
We were recently in CapeTown, South Africa and were looking for gifts that the kids could take back home for their friends.  Just around the corner from Taj Cape Town where we stayed was the Greenmarket Square.  A cobblestone historic square filled with little shops and eateries, it is the second oldest public space in Cape Town. There was stunning canvas artworks on sale, along with leather goods like sandals, hand-crafted jewelry, ornaments, and much more in the bustling and colorful market.  We bought some bead jewelry from the entrepreneurial and friendly young man.
Souvenir Shopping Tips
Buy small and locally handmade items, if possible directly from the artisan 

Buy something useful be it a vase, jewelry or pouch, rather than figurines and statues that just gather dust

Research what the local specialty is and try to buy that

Don't wait till the end of the trip to buy the souvenirs, collect them along the way

Make a scrapbook from the photos, tickets, maps and other small items

Stay Away From Touristy Souvenir Shops
A collection of refrigerator magnets may show off where we have been, but if our only memories of getting them are the tacky shops, their value as souvenirs is negligible. A souvenirs can be anything – from coins and currency, coffee cups, art prints to little piece of jewelry, as long as those objects have a meaning, trigger a memory and remind you of your travel story.  If you are bitten by the wanderlust bug like us and are either travelling, planning a travel or looking back fondly on your travels –  then your souvenirs should be good.  After all travelling is not about the stamps on your passport or the curios you collect but the memories you make along the way.  Does your souvenir spark your memory? Great! If not, throw it away…. you deserve better souvenirs!
What Souvenirs do you collect from your travels that sparks your memory?
Updated 2018