Bishop Arts is home to Dallas' famous Emporium Pies and some really cool art galleries and stores. Located in the heart of North Oak Cliff, the Bishop Arts District is home to over 60 independent boutiques, restaurants, bars, coffee shops, and art galleries, making it one of Dallas' most unique neighborhoods. The Bishop Arts District is only 10 minutes south of downtown but seems worlds away. It is certainly one of Dallas' most charming neighborhoods. Along with great coffee, shopping and nightlife, the area plays host to countless family-friendly events, wine walks and street fairs.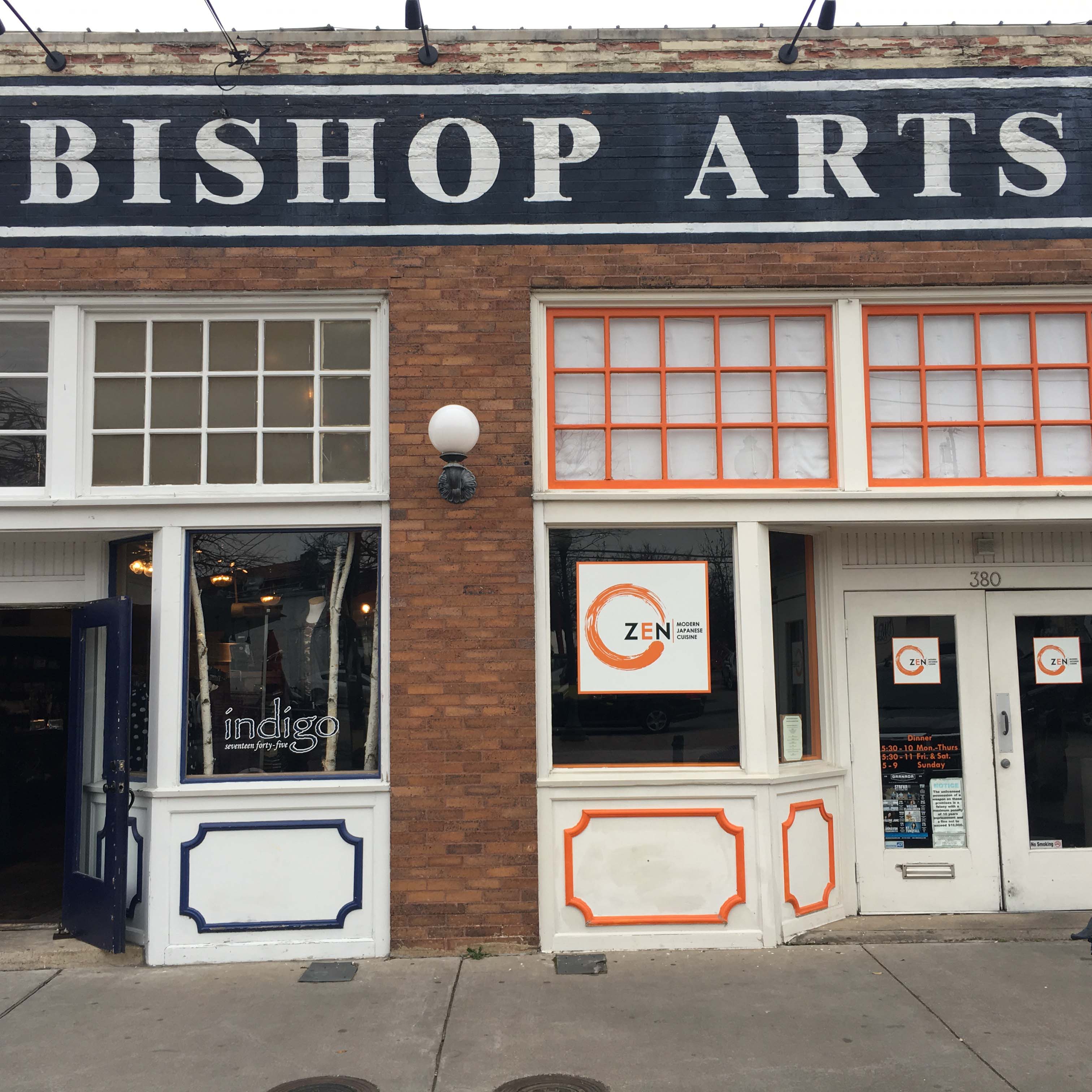 Bishop Arts, Dallas most independent neighborhood
This funky little District is a neighborhood rich in history, and said to be the site of Dallas' busiest trolly stop in the 1930s. Since the area's revitalization, the Bishop Arts District has been featured in the New York Times, USA Today and The Daily Beast for its small-town feel, hidden-gem appeal.
We love coming out here from the 'burbs for breakfast at Oddfellows or dinner at Bolsa but we always make sure to take home some goodies from Emporium Pies. You can easily spent a day here browsing the galleries, shopping at the different boutique stores and sampling the eateries. You can stop at Fete-ish to snag a one-of-a-kind gift, grab an authentic Cuban sandwiches at C. Señor or sit down for a farm to table meal at Bolsa… the options are endless. The Dallas Zoo is not too far away, so add that to the itinerary and you got yourself a trip worthy of a staycation!
Some of our favorite stops in Bishop Arts District are…..
Artian's Collective
Over 150 Dallas-area artisans showcased in a warm, eclectic showroom. An extraordinary array of mediums are presented here. You can find some unique Texan art here.
410 N. Bishop Dallas, TX 75208
Simply Austin
A furniture store that carries modern furniture and Texan accessories.
401 N Bishop Ave Dallas, TX 75208
Oddfellows

Start the day with some mimosa or blody mary with some fried chicken waffle and red velvet pancake in their cherry yellow patio. Don't you love that yellow awning! Breakfast, lunch and dinner all showcase farm-fresh ingredients in casual-chic atmosphere. Their coffee and Beignets are pretty sweet too!
316 West 7th St.
Dude Sweet Chocolate
A great boutique chocolate shop with concoctions like Madras curry toffee, When Pigs Fly Fudge, Hippie crack… the names are half the fun. We enjoy learning about the different types of chocolate and how they were created, and engineered, these artisanal chocolate are created with locally sourced and seasonal ingredients.
408 West 8th St. Dallas, TX 75208 (There is a new location in Plano downtown)
DIRT Flowers
The pretty flower and plant store that carries arrangements that is modern with a Bohemian flair. With the cutest storefront displays this floral boutique is more of an art gallery. Run by Chris and Sonya Eudaley, who live on top of the shop with their dog, Blue, call it an artists' studio. Repurposed coffee cans are used as vases, and old newspapers are used to wrap bouquets. Bring in five cans, and you'll get a 10 percent discount on a potted purchase. You order their creations from their website too.
417 N. Bishop Ave. Dallas, TX 75208
Bolsa and Bolsa Mercado

We love the patio at Bolsa where innovative farm to table American fare is served in a hip vibe. It was the first farm to table we visited in Dallas and love their Stubborn mule and Bolsa Sangria. Locally sourced and seasonally inspired, the menu changes with the season. Part of the Bolsa groups, the Mercado is a spot where you can pickup daily to go heat-n-serve meals, gourmet specialties, desserts, smoothies, fresh juices, artisan beer and wine.
634 W Davis St.
Eno's Pizza Tavern
Eno's is a thin crust pizza tavern with a hip atmosphere (their Spinach & Black garlic with truffle oil alone is worth the drive from the 'burbs)
Emporium Pies
A specialty pie shop in the heart of the Bishop Arts District. All their pies are handmade and change with the seasons. Pies contain no artificial preservatives, hydrogenated oils, dyes, or corn syrup. Lines get pretty long but do stop by for a slice or take some home, but don't go home without tasting a slice of pie here!.
314 N Bishop Ave. Dallas, TX 75208 (Don't you love the address ) They have a location in McKinney at 107 S Tennessee St, McKinney, TX 75069
If you are from Dallas or the suburbs and haven't visited the Bishop Arts District yet, put it on the calendar soon.  If you are visiting Dallas, make sure to stop by for at least a meal and spent a couple of hours in this unique part of town for and authentic Dallas experience.
PIN IT FOR LATER