Grab a camera or iPhone and let me show you around the best spots for photos in Dallas, Fort Worth and the suburbs – yes the 'burbs have some cool places for taking photos too!  And these places are also the best places for taking pictures of the kids in Dallas and the greater DFW area. These Instagrammable spots in Dallas are guaranteed to add some pop to your feed, you might even run into some of your favorite Dallas fashion bloggers doing a photoshoot.
When we travel I don't typically seek out Instagrammy locations but seek out experiences. But when we are home in Dallas it is fun to find Instagram spots on weekends when we don't have plans with friends or other commitments.  We have vibrant murals, neat architecture and cool sculptures and some great photo ops in Dallas. 
Instagrammable spots in Dallas aka Best places for photos in Dallas
Dallas Arboretum
This one tops my list of places to take classic family photos in Dallas. If you visit the arboretum on any given Saturday or Sunday, you will see what I mean – countless people taking family, engagement or quinceañera photos. The Dallas Arboretum offers a beautiful backdrop for photos no matter what season it is. During Spring the gardens are bursting with colorful spring blooms and come Fall the garden is filled with pumpkins and fun festivals.
One year the famous glass artist Chihuly had an exhibit here and stone works by Zimbabwean sculptures, ZimSculpt was on display during summer a couple of years ago. You can bring a picnic to enjoy among the hundreds of Tulips, Hyacinths, Camellias, Narcissus. If you are lucky you can see cherry blossoms and azaleas blooming at the gardens.
White Rock Lake
Until you have actually seen a Texas sunset, you won't believe it.. the sun seems much larger and the sky turns into candy cane pinks and oranges during summer sunsets and best place to see it is at the White Rock Lake.  Plan for a little pre-sunset hike. The 9-mile loop around the lake is also extremely picturesque.  You can great shots from the dock or take a kayak out on the lake for a serene shot.
You get some coffee at the cafe nearby or bring a picnic and take that sunset silhouette photo for the 'gram. It is also a great place to see some fall colors in Dallas.
Dallas Zoo
There are plenty of things to do at the Dallas Zoo from feeding giraffes to watching wadding penguins but don't miss a photo with the BIG Dallas the sign at the entrance. See here for 9 best things to do at the Dallas Zoo.
West Village
Located in Uptown, West Village is Dallas' most dynamic neighborhood where you find a nice mix of restaurants, shops and art. You can find the Be Bold Texas mural here in the parking lot next to Malai Kitchen along with a few other colorful ones. Texas native Ricardo Paniagua's vibrant Super Deluxe mural is also here which makes in on many of the Dallas blogger feeds. Enjoy the urban West Village which has direct access to the DART Rail, and you can take the Historic McKinney Avenue Trolley from here or head to Katy Trail for a walk or a picnic.
SMU Campus
The SMU campus has a tree line boulevard perfect for those engagement shots, go during weekends when school is out.
Highland Park Village
On an average day when the sun is out and the sky is blue, you are guaranteed to run into a couple of Dallas fashion bloggers and her photographer here.  Can you blame them, it looks like a European village with beautiful trees, pretty tiles and plenty of photo-worthy nooks and corners. 
And when you are tired of shooting you can go shopping. They got all the good stores here from Chanel to Cartier!  The Royal Blue Grocery is pretty popular, we like to go to Bird Cafe to get some lunch and people watch… and maybe do a little shopping after 🙂 It has nice outside seating with bistro-style chairs and more marble tables – making for another great photo-op.
Harwood District
From the turquoise walls of Magnolias coffee shop to the beautiful pink panels of Hotel St. Germain, this is another area loved by fashion bloggers.  We love the areas around the beautiful Crescent Hotel for some nice photos. The Grove in Harwood has white-washed wood with blue flowers, hammocks and cozy spots spot for some great pictures.
Margaret Hunt Hill Bridge
Head to Margaret Hunt Hill Bridge for some of the best views of the Dallas skyline. Nearby Trinity Groves has some of the best eats and Instagrammy walls.
Bishop Arts District
The Bishop Arts District is home to several unique, eclectic spots, and mural is one of them. You will find Dallas Strong mural at Strut in Bishop Arts. You can find some nice murals here along with the cute You + Me Love Equation Mural which is at Corner of Davis St and Madison Ave in Bishop Arts District. Wandering this eclectic neighborhood you will find many great Dallas Instagram spots!
Stop at Emporium pie shop for a homemade pie and some cute photos. With locations in Bishop Arts, McKinney and Deep Ellum, Emporium Pie Shop is a favorite among locals and visitors. The Bishop Art location has a musical wall while the Deep Ellum location has mural that says "Fine Pie for Fine Folk".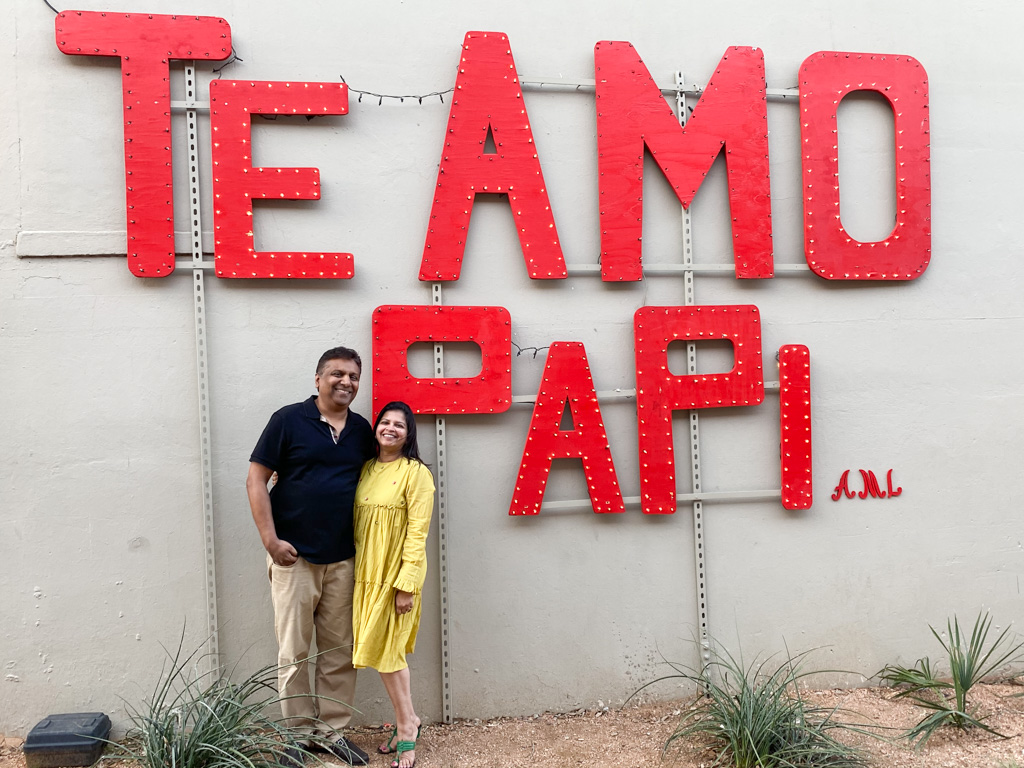 Eye Sculpture in Downtown Dallas
Located in the heart of downtown Dallas by the boutique Joule Hotel and Café Strada, The Eye at The Joule is a 30-foot eyeball sculpture by Tony Tasset. It's like the Eye that watches over Dallas and probably appeared in more selfies than you can imagine. Head to Mirador at Forty Ten for a nice view and photo of the giant eyeball of Dallas.
Reunion Tower
A classic Dallas postcard spot, the grande dame of the Dallas, Reunion Tower is home to the giant green sphere that defines the Dallas skyline. Take the elevator to the top of the tower for a 360-degree view of the city on the observation deck. Keep your eyes peeled, lots of proposals happen here.
Deep Ellum Murals
Deep Ellum area is an explosion of creativity from music producers and promoters, architects, designers, furniture makers, set designers to tattoo artists. The area is filled with some of the best murals in all of Dallas.  To find all the Deep Ellum murals (Click on the link for a DIY walking tour map)
Wander down Elm Street which is dotted with murals in the nooks and crannies of various alleys and side streets from Good Latimer to Malcolm X and in between Elm Street and Commerce.  You can find a mural of a Texas Flag and the American Flag here. Perfect Dallas Instagram spot and a great place for taking pictures in Dallas!
The Traveling Man
Built of polished metal sheets by artist Brad Oldham, the traveling Man is the most recognizable symbol of the city of Dallas next to the reunion tower. It was created to honor the area's railway history. The Traveling Man tells the story of the giant robot, and as you wander through the Deep Ellum neighborhood, he seems to come to life in a way to tell his tale.
There are three sculptures – the first one called Awakening has just a portion of the Traveling Man's head and one of his hands i.e. clamps emerging from the ground while his pal songbird is standing close by. The second one is called Waiting on a Train and can be found reclined and playing the guitar with a smile. The third one is the most popular one – Walking Tall, here The Traveling Man is seen taking a jolly stroll on Elm Street with his buddy songbird on his arm.
While this list just focuses on the best places to take photos and Instagram spots, from Art Museums to Rodeos, Dallas had loads of fun things to see and do.
See here for the best Christmas Photo ops in DFW
Best places for photos in Fort Worth
Magnolia Street
Magnolia Street in Fort Worth is filled with many cute shops and fun murals. It is very similar to Bishop Arts District in Dallas. We love getting vegan food at Spiral Diner. Melt Ice cream had a yellow wall that you can't miss and this coffee and amor which is the perfect backdrop for coffee lovers.
Downtown Fort Worth
The Sundance Square in downtown Fort Worth has some of the best spots in Fort Worth to take a picture for Instagram or otherwise. The buildings are stunning, streets clean and people super friendly. The cascading fountains in Fort Worth Water Gardens at Commerce St is another cool place to take some photos.
Fort Worth Zoo
The Fort Worth Zoo houses over 540 species including 72 species of mammals and 148 species of birds and a great place to take the kids to learn about the animals. We love taking the Yellow Rose Express Train, it makes for some cute photos of the kids. There are many photo ops here like the Country Carousel, Petting Carol and the parakeet feeding area.
WestBend
WestBend is another area that has some great Instagram spots in Fort Worth. It is located just south of I-30 along the Trinity River in the city's University District. This modern district has nice restaurants, stores and office spaces. Stroll through the area to public art and murals. You will also find Laura Kimpton's Love sculpture here and great spots by the Trinity River.
Fort Worth Stockyards
Stockyards is a popular tourist attraction in Fort Worth and it is a great place to take some photos in The Old West! There are many murals, cute shops that sell boots and hats. There is also a daily cattle drive featuring the famous Texas Longhorns. You can find Longhorns along the street setup for a photo. You might have to pay the cowboy $5 for the photo op.
Fort Worth Japanese Garden
Japanese gardens, it is one of the best places to take photos with some pretty cherry blossoms in DFW. It is the best place for a quick leaf-peeping trip where you can see deep burgundies, pretty reds and golds during fall.
Inspiration Alley at the Foundry District
The Foundry District itself is home to unique retail establishments, restaurants and some great murals. 3,600 square feet of wall space in an alleyway is covered with original murals by North Texan artists. Your Instagram feed will be an explosion of creativity with photos from here. And you can find 28 Mantras in the Foundry District, I plan to go capture them someday but on this day I was just looking for some "wings" 😉
Some of the Mantras painted on the walls and floors of the Foundry district are: Where I am right now is exactly where I need to be, I am that I am, I am enough, Live and let live etc. Perfect for motivating your crew! You will find them at Weisenberger Street just east of Carroll Street
Best Places to take Pictures in Plano
Plano, which is one of 12 suburbs in the greater Dallas area, holds its Plano Balloon Festival each year in September. There are special theme and character hot air balloons. You can watch the balloons being inflated and witness the spectacular evening glow. It is one of the best events in Plano and provides for some amazing photo opportunities.
Haggard Park in downtown Plano is nice for some photo ops in Plano. It has a very nice Gazebo, a little creek with a fountain, footbridge, and flowers depending on the time of year. There are some murals right across from the train tracks as well on 15th street just east of Highway 75.
West Plano has some neat murals and photo op spots as well. The exposed bricks and the area by the fountain in Shops at Legacy is always popular for senior and prom photos. You can find this cool flowery wings by artist Kelsey Montague part of her #WhatLiftsYou series can be found next to the Francesca store at Shops at Legacy.
Arbor Hills Nature Preserve is another area that is awesome for photos with light filtering in through the trees.
During Bluebonnet season you can head to the aptly named Bluebonnet trail in Plano for some nice photos with the pretty Texas State flowers. The open green spaces around the JCPenny building on Legacy is another popular spot for taking Bluebonnet Photos. There are various spots in the Dallas-Fort Worth area to take family photos with these wildflowers.
Did you know you can swim in the Texas shaped pool in Plano? This 160000 gallon salt water pool is family friendly has been around since 1961. It has a shallow area "South Texas" for small kids to play. There are a diving board, 2 water slides and an island in the middle. It is open Memorial Day through Labor day and you can bring own coolers and snacks. Bring a drone if you want to capture the whole pool.
Best places to take Photos in Rockwall
The Harbor at Rockwall is one of the best places near Dallas for sunsets! Watch the Texas sky explode in oranges and reds here by the lake. One of the best places near Dallas to get a photo by the water. There are several restaurants in the area for a nice meal while you watch the sun dip.
Best Places for taking Photos in Allen
The shopping area of Watters Creek has a water feature and some cool murals including this lemony sunrise proving for a fun backdrop.
Another cute mural in Watters Creek in Allen.
Best Place for taking Photos in Richardson
The Prairie creek park in Richardson has a great waterfall and makes for a nice natural background.
Best Place for taking Photos in Irving
There is nothing more romantic than a gondola ride through the canals of Venice. But if you make a trip to Italy, the next best thing is to do a gondola ride through the waterways of the Mandalay Canal in Irving. Gondola Adventures Irving is a first-class gondola experience offering cruises on Lake Carolyn and through the Mandalay Canals. The narrow canals have some private inlets with refreshing waterfall views, and the gondolas share the private waterway with just a few, perfect for some nice photos.
Best Places for taking Photos in Frisco
The Star in Frisco is a premier sports and entertainment district in another Dallas suburb. It is home to the Dallas Cowboys World Headquarters and you get into a huddle with the boys here – the sculpture that is, for a cool Instagram photo in Frisco. See here for more fun things to do in Frisco.
Nearby is the Texas Sculpture garden that pays tribute to Texas artists and their work. Designed with lakes, water features, native landscaping and walking trails, the Texas Sculpture Garden holds some unique works by Mac Whitney, Andrew Rogers, John Henry and more.  Enjoy the works and take some cool photos with these urban sculptures.
Popular Place for taking Photos in McKinney
Adriatica in McKinney makes for a great place to take those Senior, Prom, Graduation, or Engagement photos – it looks like you are somewhere in Europe. Downtown McKinney also has some nice exposed brick backgrounds and a nice urban look.
Have I missed any other cool Instagram worthy spots in Dallas and the suburbs?
PIN IT FOR LATER
CONNECT WITH US