Did you know you can find these beautiful purple carpets of lavender fields right here in Texas! Yes, there are Lavender Farms in Texas and there is even a Lavender Festival hosted by the city of Blanco. Here are a few Texas Lavender Fields (some near Dallas) where you will find these pretty purple flowers right here in the Lone Star State!
Lavender is a flowering plant in the mint family native to the Old World. These days it can be found anywhere from Cape Verde and the Canary Islands, southern Europe across to northern and eastern Africa, the Mediterranean, southwest Asia to southeast India.
Lavender is one of the best and most versatile herbs there is — the herbs can relieve pain and tension, enhance blood circulation, and treat respiratory problems. The sweet, soothing smell always puts me in a good mood 🙂
They are cultivated extensively in temperate climates as ornamental plants for garden and landscape use, and also commercially for the extraction of essential oils. From the beloved fragrance to the beautiful purple color of the flowering plant, lavender fields are a popular destination for photographers. Visiting the lavender fields of Provence seems to be on everyone's Wanderlust!
I'm crazy about sunflowers, antique roses, and lavenders!  One of my absolute favorite trips so far is our trip to Provence where we visited some lavender fields.  Since we were there at the end of July, we narrowly missed the peek lavender season by a week.  Lavender in Provence, France is usually harvested by the middle to end of July. 
While trying different searches to see if I can find one where the blooms and harvest run a little later, I ran into a site that had pictures of lavender farms in Texas. The sight of the Lavender field in full bloom is a sight to behold, not to mention the smell- miles and miles of purple blankets stretching as far as the eye can see. So to have found it right in our backyard when I have been looking for it halfway across the world.. was exciting, to say the least!!
We have these lavender carpets right here in Texas, Provencal view right here in our backyard!!! I did some digging into where and when is the perfect time to see the lavender fields in Texas and this is what I found… The ​City of Blanco is the Lavender Capital of Texas and holds a Lavender Festival every year at the beginning of June! I also found some Lavender fields near Dallas, just an hour away!
The History of Texas Lavender Fields
For many years, visitors to the Texas Hill Country have enjoyed the beauty of the rough landscape and winding rivers. Much of this rocky limestone land, however, hasn't been highly sought after for its agricultural use.
In 1999, Robb Kendrick and his wife, Jeannie Ralston, pioneered the way for a new agricultural industry in the area. Kendrick, a National Geographic photographer, while shooting a story for the magazine in Provence, France, noticed that the hilly terrain and the scorching hot summers there were similar to that found at his land near Blanco in the Texas Hill Country.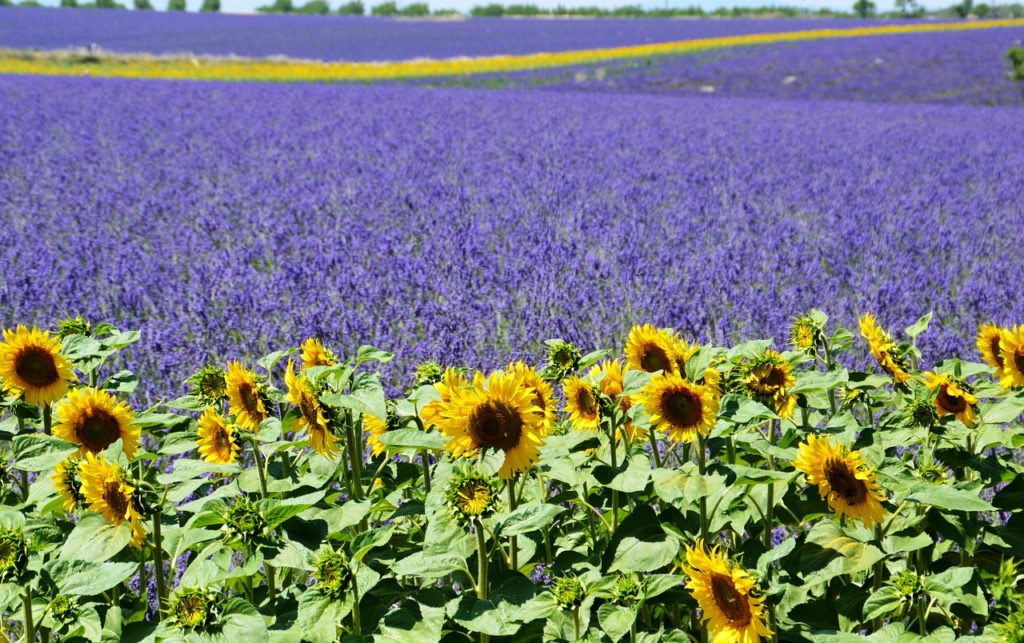 In 1999, the Kendricks planted 2,000 plants, paving the way for the current Blanco lavender growers, many of who were inspired by seminars conducted by the Kendricks.
The Blanco Lavender Growers Association has remained a united group, building upon the experiences of the Kendricks. These pioneers have endured periods of non-stop rain and periods of non-existent rain, each time more committed to this new agricultural crop. They readily share each new experience with each other and with guests to the Texas Hill Country who share their love of lavender. They organize the Lavender Festival each year, usually the first week of June.
Texas Lavender Fields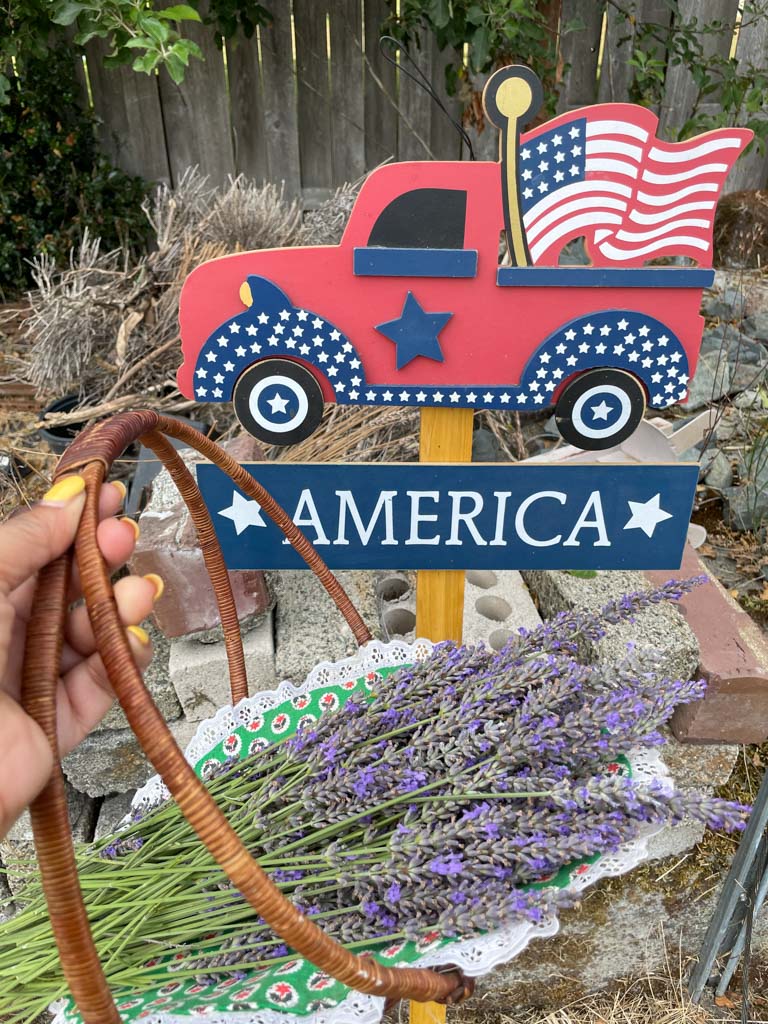 Lavender Ridge Farms
Lavender Ridge Farms is located 8 miles east of Gainesville, Texas. Originally a strawberry & melon farm in the 1920s & 1930s, Lavender Ridge Farms opened in 2006 as a lavender, cut-flower, and herb farm. The land here has been in the family for over 150 years and will be home sweet home for many years to come.
Apart from the lavender they also have a variety of perennials and lots of birds and hummingbirds visiting. They have cooking classes (with lavender of course) and a café. This lavender farm is near Dallas and is a perfect place for a day trip to have a picnic or to take a family picture!
Prayer Lavender Garden
Here is another lavender farm near Dallas, located in Rockwall, Texas. Prayer Lavender Garden is a small, family owned and operated Lavender farm which was established in 2016 after being awarded the Young Farmers Grant from the Texas Department of Agriculture.
The owners opened the public in June 2018. They have over 2000 Lavender plants on their 3-acre farm, along with a variety of herbs, an apiary, an outdoor children's play area and miniature farm animals. They have a little barn filled with handcrafted Lavender bath/body and culinary products, including freshly roasted coffee, assorted tea blends, and ice cream.
This small Lavender Farm is open Fridays through Sunday and 4th Fridays of the summer months you can enjoy complimentary Lavender Prosecco Punch with your breakfast or lunch while shopping for some lavender products.
Map of Lavender Farms and Fields in Texas
There are a few more Texas Lavender Farms little ways down – in the Texas Hill Country. Here is a map to find them.
How to Use This Map: Use your fingers or computer mouse to zoom in on the details. Click the tab in the top left-hand corner of the map to view the layers (places and the driving route). You can click the icons on the map to get more information about each point of interest.

If you click the star next to the title of the map, this map will be added to your Google Maps account. To view it on your phone or computer, open Google Maps, click the menu button, go to "Your Places," click Maps, and you will see this map on the list.
Hill Country Lavender
Texas' first commercial lavender farm, Hill Country Lavender offers panoramic views with the lavender plants spread in neat rows across a scenic hilltop. They offer to cut your own lavender on certain weekends and beautiful handmade lavender products for purchase year-round from their retail locations.
You can cool off with fresh-squeezed lavender lemonade, homemade lavender cookies, stroll through the field and cut your own lavender, purchase lavender plants to take home, and stop by and shop the lavender gift store featuring a full in of lavender products. They currently have two locations, you can see their website for more details.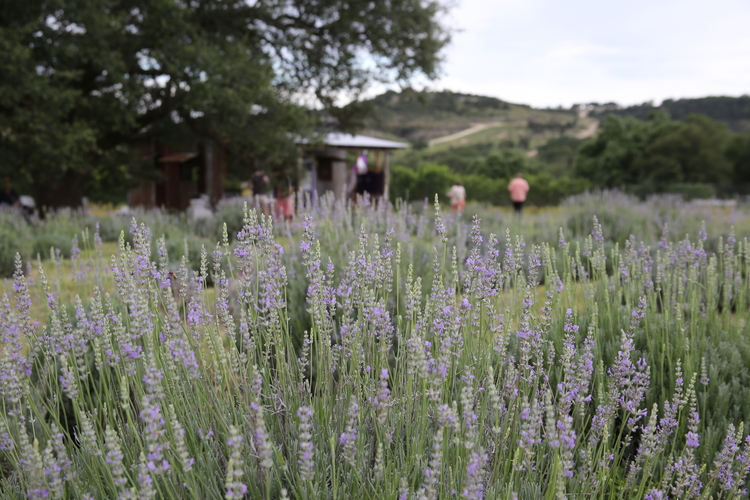 Imagine Lavender Farm
Imagine Lavender Farm is located in Blanco County on the Rocking "L" Ranch which is owned and operated by the Logue and McFarling families. The lavender fields are set back from the highway to increase serenity and afford sweeping views of the hill country.
Their plots of Lavender and designed beds are situated among native landscape to allow native wildlife to remain. These fields have suffered repeated drought over the last few years as has the entire region and therefore has been sustained through partial replanting.
Visitors can enjoy the farm by walking through a lavender labyrinth, a rosary made of lavender, plots of lavender, or enjoy a stroll through the artistic tree stump pathway to the hidden swing concealed by oak trees hundreds of years old. There is also an array of whimsical items placed about the fields, including a handmade gypsy trailer.
During your visit plan on staying for demonstrations of the soap making process on Saturday and Sunday. They have natural handmade lavender bath, body and culinary products available for purchase as well.
They also have an official Monarch Waystation. Along with lavender, stands of Milkweek are present in the field which is necessary for the survival of the Butterflies. It serves as a conservation area for the monarchs to live and thrive as they migrate across Texas.
Chappell Hill Lavender
An aromatic lavender farm with quaint surroundings and a scenic hillside view, about 8 miles north of historic Chappell Hill, just off of the Texas Independence Trail. Nestled in the heart of bluebonnet country the farm is a delightful day excursion from most anywhere in South Central Texas, with many other attractions close by.
Three thousand lush plants cascade down over rolling acres to a gazebo and pond offers a peaceful setting for picnics or just relaxing with a cool glass of lavender tea or lavender lemonade.
During the cutting season which usually begins in August, you can stroll the fragrant rows and cut your own fresh lavender. There is no admission charge to visit the Chappell Hill Lavender Farm. Visting during there Their famous Lavender and Wine Fest to enjoy the lavender and meet vendors from the area.
Becker Vineyards Lavender Farms
The Becker Lavender Farms is so close to the fields in Provence. Located in Stonewall near Fredricksburg, three acres of lavender fields were planted alongside Becker's impressive winery after the Beckers visited the Rhone region.
The 10,000 square foot reproduction of a nineteenth-century German limestone barn was surrounded by native Texas hardwood trees, fruit trees, a well, windmill, and an 1890 log cabin. But Texas weather wrecked a nightmare on Becker's lavender vision and the plants didn't do well in the heat. The Becker's kept searching for varieties that stood up to the extreme weather and zeroed in on the Spanish varietal of lavender that did much better in the hill country summer.
Now, visitors to Becker Vineyards can enjoy the rewards of Becker's unwavering determination. You can taste award winning wines from the winery and enjoy the lavender fields. Guests can enjoy the lavender blooming season is from April through May and can stroll through the plants or sit under the pavilion while enjoying a glass of wine.
They also offer a myriad of lavender products including handmade lavender soap, eye pillows, sachets, lotion, shower gel, grape seed scrub, lip balm, candles and much more. The Becker Vineyards Lavender Festival takes place on the first weekend of May.
Rough Creek Ranch and Lavender Fields
A working roping horse ranch and lavender fields, Rough Creek is one of the oldest and largest lavender farms in Wimberley. You can visit the farm, walking through the fields, picking your own lavender and browse their on-site store. Thousands of lavender plants bloom around June, depending on Mother Nature. Rough Creek Lavender Fields is located in the heart of the beautiful Texas Hill Country, just 7 miles NW of Wimberley on FM 2325.
Rockin H Lavender Farm
This lavender farm is new and high on my wishlist to visit. At Rockin H Lavender Farm, you can not only walk among rows of lavender, but you can also stay in beautiful casitas for a Texas weekend getaway. It boasts a mini plunge pool and some of the best sunsets in Texas.
Husband and Wife, Rick and Leslie, started this lavender farm along with the bed and breakfast in 2016 and the fruits of their hard work, this Texas lavender farm is now flourishing. Don't miss a visit to this hidden gem in Santa Anna.
At Rockin' H Lavender you will find two different types of lavender, Spanish and Grosso. The Spanish blooms from late April into the middle of May, and Grosso Lavender blooms from late May into the middle of June.
The Best Lavender Festivals in Texas
Blanco Lavender Festival
This popular Lavender Festival is one of the oldest Lavender Festivals in Texas. It is usually hosted at the beginning of June but it changes year over year. See their website for more details.
Lavender Festival in North Texas near Dallas
The North Texas Lavender Festival is new and where many local lavender farms and vendors come together to showcase their products. It is usually hosted towards the end of June and there is a $15 admission charge.
Keep in mind the Blooming season is the end of May – July and that is usually the best time to visit these Texas Lavender fields.
What do you do with all that cut culinary lavender from the lavender fields? Make some lavender scones and lemonade, of course, if you have other recipes that use lavender please share with us!
Lavender Scones Recipe
Lavender Scones
Lavender Scones with hint of Lemon that is sure to bring back memories of wandering in Lavender fields.
Ingredients
3

cups

all-purpose flour plus more for surface

3/4

cup

granulated sugar

1

tablespoon

baking powder

1

teaspoon

dried lavender buds

1

teaspoon

kosher salt

1/2

teaspoon

baking soda

3/4

cup

1 1/2 sticks chilled unsalted butter, cut into 1/4″ cubes

1

cup

plus 2 tablespoons buttermilk

2

teaspoons

finely grated lemon zest

1

teaspoon

vanilla extract

2

tablespoons

sanding or granulated sugar

1 1/2

cups

store-bought lemon curd
Instructions
Arrange racks in upper and lower thirds of the oven; preheat to 425°F. Line 2 baking sheets with parchment paper. Whisk 3 cups flour and next 5 ingredients in a large bowl. Add butter; rub in with your fingers until mixture resembles coarse meal.

Whisk 1 cup buttermilk, zest, and vanilla in a small bowl. Add wet ingredients to dry ingredients. Stir until shaggy dough forms.

Transfer to a lightly floured surface; knead until dough forms, about 5 turns. Pat into a 10×6″ rectangle. Halve dough lengthwise. Cut each half crosswise into 4 squares. Cut each square diagonally in half into 2 triangles. Divide between baking sheets. Brush with 2 tablespoons buttermilk. Sprinkle with sanding sugar.

Bake until scones are golden and a tester inserted into the center comes out clean 13-15 minutes. Transfer to wire racks; let cool. Serve warm or at room temperature with lemon curd.
Notes
Dried lavender buds (culinary lavender) are available at some supermarkets and natural foods stores.
Lavender Lemonade Recipe
Lavender Lemonade
Ingredients
2

cups

sugar

1 1/2

cups

lemon juice

1/2

gallon

water

1

cup

lavender tea

feel free to adjust to your personal taste
Instructions
Make lemonade either from scratch or concentrate.

Separately, make a lavender tea, using either some dried lavender in cheesecloth.

Let the tea steep for about 15 minutes; remove the lavender.

Pour the tea into the lemonade.

Use about 1 cup of lavender tea for every gallon of lemonade.

Add plenty of ice, and a lavender sprig in each glass for a garnish.
Notes
NOTE: From concentrate, mix one can with 2 cups water and 1 cup tea.
Lavender Lemonade with Coconut Water
For a healthy version of lavender lemonade, make it with coconut water.
Ingredients
1 1/2 cups freshly squeezed lemon juice, from about 9 lemons
1 3/4 cups sugar
8 cups (fresh or packaged) coconut water 4 cups water
1/2 recipe Homemade Lavender Syrup (see recipe below)
Directions
Place lemon juice, coconut water, sugar and water into a pitcher and stir it until all sugar is fully dissolved. Next, pour 1/2 of the lavender syrup that you made in the pitcher and stir, taste and serve!
Lavender Syrup Recipe
Ingredients
2 cups sugar
1 1/2 cups water
3 tablespoons dried lavender
Directions
Mix the sugar, lavender, and water in a medium saucepan. Bring to a boil on medium-high heat. Boil for about 1 minute. Remove from the heat, cover and set aside. Let this sit for about 20 minutes. Strain the syrup and add violet food coloring here if you are using some.
Allow syrup to cool. You can store the syrup in an airtight container in the fridge for up to 2 weeks.
You can find a few other lavender recipes like Lanventini (made with lavender sugar) and Lavender Chantilly Cream shared by the nice folks at Pelindaba Lavender Farm, in this post about San Juan Islands, WA.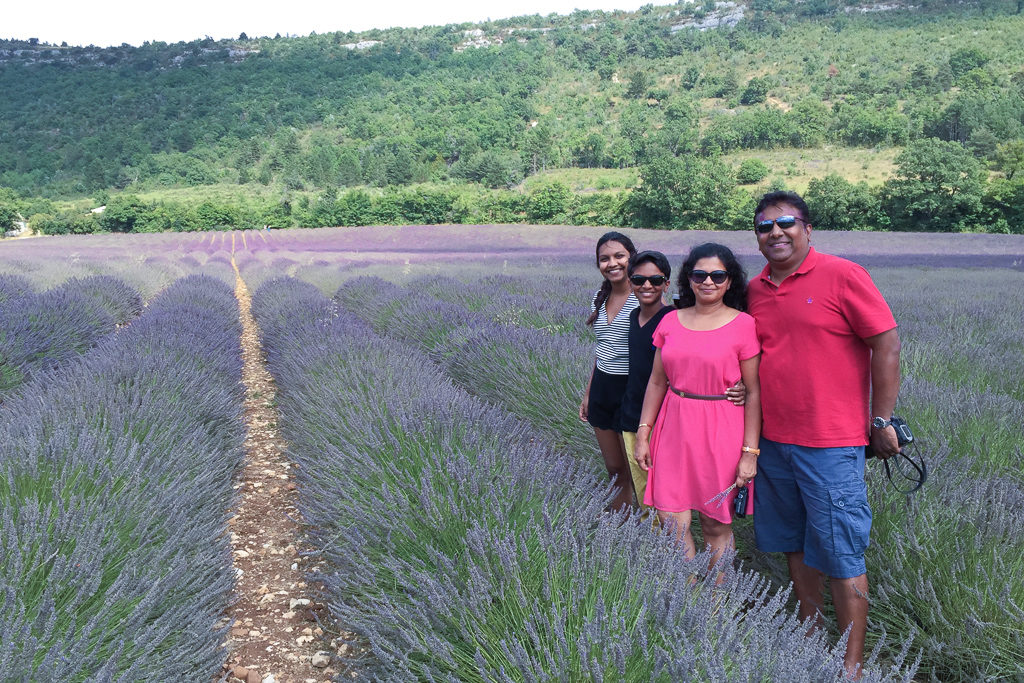 PIN IT FOR LATER
Do you have Lavender fields around where you live and what is the best time to visit the fields?
Originally posted in June 2017, updated May 2021.
CONNECT WITH US